Ina Garten has become a face of familiarity among those who enjoy the Food Network, and her recipe making skills have been demonstrated time and time again.
Perhaps you trust and enjoy Ina Garten's recipes, the flavors she uses, and the way she writes them. But you may also be looking to expand your own culinary knowledge as well, using Ina as your scaffold.
If this is the case, then this is the article for you. We have curated some of our favorite Ina Garten Zucchini recipes (see also: Ina Garten Brownies Recipes To Try Today)so that you can keep your culinary journey going, without having to endlessly search for a recipe you enjoy.
If you like Ina Garten, and Zucchinis, then keep reading to learn some new recipes presented in a familiar way, below! 
Keep reading to learn all this and more!
This recipe comes from Garten's book called 'Cooking For Jeffrey' showing her classic home cooking style as suited to her husband's tastes, the kind of cooking Garten loves.
The recipe is simple but really satisfying, a great inclusion at any dinner party or potluck but specifically a great vegetarian choice for a party, or just a healthy home dinner.
The ingredients are pretty easy to find and you don;t need any crazy cooking skills, just patience and a little trust in Ina's methods.
The outcome is crunchy, cheesy, and substantial all while being a healthy and welcoming dish any meat lover or vegetarian would love.
If the aforementioned Zucchini recipe is not to your taste, maybe not cheesy enough, or too crunchy, this sauteéd dish presents a different way to cook zucchini that is still super scalable, satisfying, and sustainable.
Bear in mind, as with the previous recipe, that when serving vegetarians to sub teh parmesan for something similar like pecorino romano, or look for a vegetarian parmesan that doesn't contain rennet, a meat product.
Instead of halving your zucchini and roasting them this recipe presents a chance to cut them into half moons and suteé them.
With some basic and parmesan this is really tasty, and you can simply serve this in a dish at a potluck for a tasty salad to compliment other dishes.
Yet, this could work perfectly with pasta, or for a carb free meal. The zuchs become nice and jammy or you can keep them al dente.
From Ina Garten's 'Make It Ahead' cookbook we get this humble but luxurious tart.
While parmesan can be a great pairing with the humble Zucchini, there is potentially nothing better to pair with the green vegetable than goat's cheese.
Moreover, this is a great recipe to test your cooking skills and embrace something that requires some cooking skills.
This is another perfect centerpiece for a summer table, served with potatoes or more greens, or any sides you like.
The puff pastry is ideal to compliment the creamy goat's cheese and the earthy zucchini, a perfect vegetarian dish to indulge to your heart's content.
Plus there's a lot of room for variability, adding the ingredients and flavors you enjoy yourself.
This tian really demonstrates Garten's knowledge and love for French cuisine, sharing this simple but tasty dish that turns humble vegetables, with zucchini as the star of the show, into something really special and beautiful.
From Garten's cookbook 'Barefoot In Paris', this is a great one to have in your arsenal.
A tian is basically a more simple version of Ratatouille, which doesn't require too much layering but utilizes its basic concept. In a simple layer, courgette, onion, tomatoes and potatoes.
Simply spending some time to cut the veg into thin coins, and to layer them alternately, creates a really beautiful dish.
While this can be a great vegetarian meal with some rice or pasta, it's also a perfect side dish to serve a crowd with some meat such as chicken or salmon.
Zucchini Bread? If you aren't privy with the versatility of this humble legume, you may be wondering what is going on here.
But don't worry, as zucchinis are a moist ingredient they are commonly used in pancake batters, and bread, even in muffins, to bring tenderness as well as health.
The recipe is a simple wet and dry combination of ingredients that is as simple as any basic cake recipe you have tried before.
The resulting bread is super moist and tender, and can be a great canvas for any additional flavor, whether that's fresh butter or cheese, or even deli meats.
Moreover, this base recipe for zucchini bread provides the perfect palette to add your own flavors too, whether you want to go sweet or savory it's up to you.
This demonstrates Ina's love of French cuisine again with this take on the classic French 'gratin' recipe.
While gratin has been done a thousand times, Garten's spin is unique and ideal or substantial vegetarian main that is satisfying and meat free.
Combining both parmesan and gruyere is an ideal combination for flavor highs but also for melty goodness.
The breadcrumbs atop the dish make everything satisfyingly crunchy, while the rice provides the perfect flavor sponge and carb to soak up all that goodness.
This is perfect for a vegetarian at a dinner party, with no love lost, or can be a simple weeknight warmer to use up leftover rice or veg.
Over to Italy  now, another country Ina loves, where she riffs on the classic zucchini fritters that are common in Italy and the wider Mediterranean.
This is from Barefoot Contessa At Home by Garten and shows how you can achieve this classic Italian dish at home without much effort.
The batter is really easy to make and is a European pancake, so more savory than sweet, unlike its American variation.
Yet, the pancakes are small and thick like an American pancake, but keep a crunch and satisfying bite to them from the zucchinis.
The result is a delicate flavor of earthy zucchini and complimentary flavors enjoyed in the Med, that can be enjoyed at breakfast, lunch or dinner.
This is a pretty simple soup that utilizes Zucchini as the star of the show.
Vichyssoise may sound pretty intimidating, like some unique French soup, and while the latter is true it's just a fancy word for a type of soup that is actually really easy to make. 
 You simply simmer the vegetables and add the rest of the ingredients, choosing to blend or leave chunky as desired. It's a really tasty and healthy soup that you can alter to your own preferences.
It can be an ideal starter or just a winter warming soup to give you the vitamins you need in winter.
Final Thoughts
As you can see the zucchini is a really welcoming vegetable to use in the kitchen. It can be pretty plain in its flavor, with mild and delicate vegetal or earthy flavors, but is super easy to use and find in stores.
This said, it's still a really healthy ingredient and is super versatile, even able to be used in breads and cakes as demonstrated in the article.
There's no surprise Ina loves the green and humble zucchini and that Barefoot Contessa uses them regularly, as well as being a common ingredient in many European cuisines and subsequent dishes. 
While humble you can make them into something really special and beautiful or you can respect their humbleness and simply halve them and roast them.
We hope these recipes give you the inspiration to get back into the kitchen today and fill your family and friends with the nutrition and satisfaction a zucchini can bring, to both meat eaters and vegetarians alike.
Frequently Asked Questions
Who Is Ina Garten?
Ina Garten is a self taught cook who is mainly famed for her show on the Food Network known as 'Barefoot Contessa' which is also a gourmet food store.

While working a normal job she taught herself how to cook after gaining an interest in French cooking from travels with her husband to Europe. 

She soon took a step to open her own gourmet cooking store, taking over 'Barefoot Contessa', which would eventually sell specialty food items from Europe, as well as having a deli and its own cooks and bakers.

She would later move on to create the Barefoot Contessa cookbooks that were successful in the early noughties and late nighties. As of 2023, she had produced 13 cookbooks with 14 million copies in print.

Building on her success she would go on to create the Barefoot Contessa television programme on the Food Network TV channel.

She would later earn a Daytime Emmy for her show, gaining some of Food Network's highest ratings.
8 Amazing Ina Garten Zucchini Recipes To Try Today
Course: Cookbooks
Directions
Pick a recipe from above
Click the recipe name and visit the website
Collect the ingredients and the food
Enjoy – don't forget to leave a review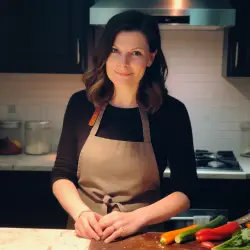 Latest posts by Barbara Hunt
(see all)