An Ina Garten spinach gratin is a velvety creamed spinach dish baked under a layer of crispy, melted cheese. Baking the creamed spinach under a layer of cheese is what turns this dish into a spinach gratin.
This Ina Garten spinach gratin recipe will have you making the creamed spinach from scratch, using a combination of mostly frozen and longer life ingredients, making it easy to plan in advance and whip up last minute.
You can skip to the recipe and video if you like, otherwise read on for my top tips and step by step guide.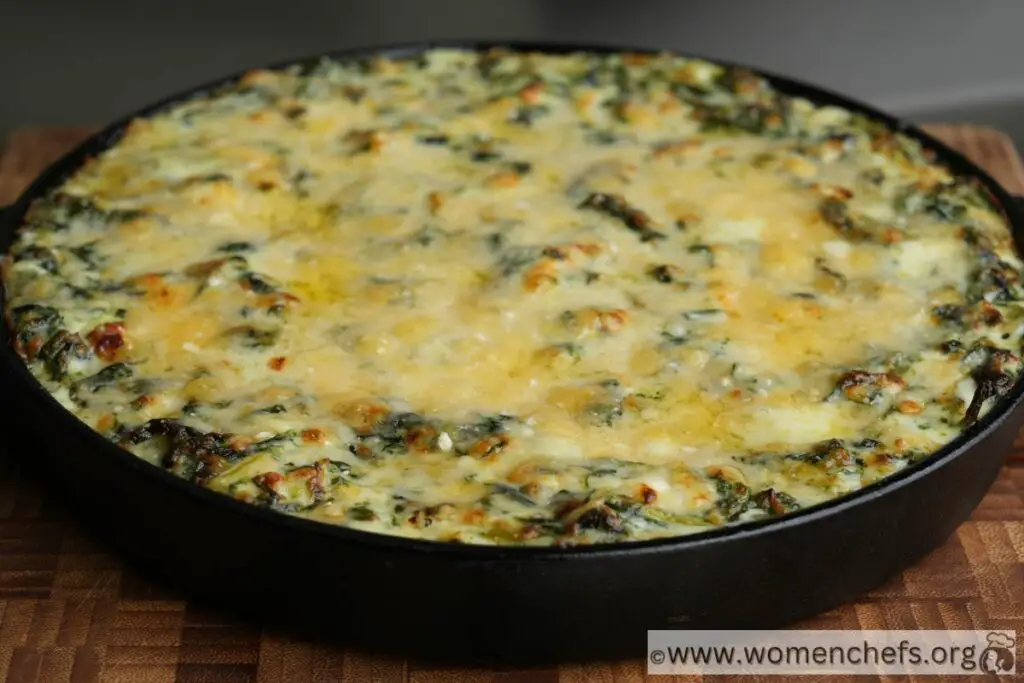 Serving Suggestions For Ina Garten's Spinach Gratin
The combination of spinach, cream, milk and a touch of cheese gives Ina's creamed spinach filling a soft velvety texture. Toping it with cheese and baking until its crispy and golden brown adds texture to the dish and makes it even more moreish.
This Barefoot Contessa spinach gratin is particularly good to serve in cooler months and works well with many main dishes, especially anything chunky with lots of sauce or juice.
I can highly recommend either veal osso buco or chicken cacciatore. The thickened creaminess goes particularly well with both and will help soak up the wonderful flavors.
Spinach gratin is also a particularly good option for Thanksgiving and makes our list of great Ina Garten Thanksgiving dishes.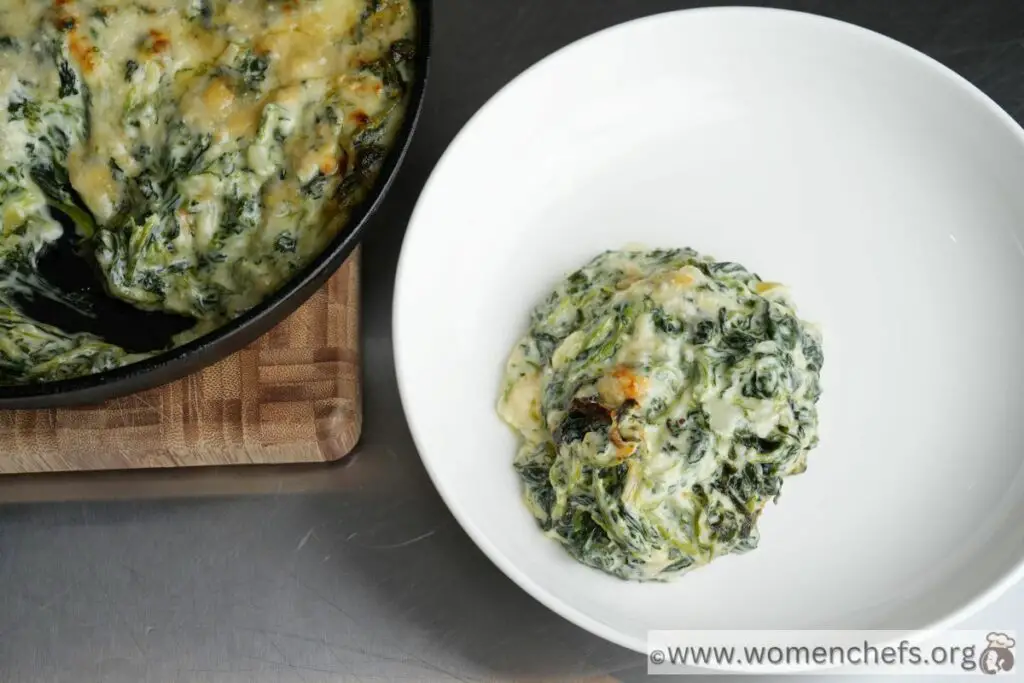 Other Ina Garten gratin dishes
A gratin is essentially the French way of cooking anything in a white creamy sauce, topping it with a layer of cheese and baking it in the oven. Because a gratin is traditionally French, it is common to see gruyere cheese used as the top layer, as in this Ina Garten spinach gratin recipe.
Potato gratin is probably the most common gratin variant. Check out Ina's Ina's potato gratin recipes. Potato gratin is a classic however Ina's spinach gratin tends to be less filling than potatoes and can make a great side alongside more traditional crunchy roast potato dishes.
Another popular gratin is zucchini gratin by Ina Garten. It tends to have chunkier vegetables and more bite than a velvety spinach gratin, perhaps more similar to a potato gratin.
Tips For Making Ina's Spinach Gratin
Use these tips to make Ina's spinach gratin quick & easy every time:
Make your own creamed spinach: You could buy creamed spinach ready made, top it with cheese, bake it and call it spinach gratin. You could do that but honestly, don't! Making the creamed spinach base is so quick and easy. The ingredients are inexpensive and readily available and will taste so much better than the ready made version.
Use frozen spinach: Its by far the quickest and easiest way to make either creamed spinach or spinach gratin. Its frozen fresh so still has all of its nutrients. Its also inexpensive and freezes for long periods making it super convenient. You can use fresh spinach, but you will need buckets of fresh spinach to get the quantity you need and will need to use it within days of buying it before it goes slimy.
Defrost the spinach ahead of time: Defrosting your spinach in the pan as you are making the dish will result in a pool of water, and you will end up with a gratin soup! Defrosting it in advance is best. If you don't have time, adding it to boiling water for a few minutes will do the trick.
Squeeze excess water out of the spinach. The more water you can squeeze out of the defrosted spinach, the better. I use my hands to squeeze the water out. You could also wrap the spinach in a tea towel and ring it out. 
Cook the flour: The flour goes in the pan once the onion and garlic is cooked. You will then need to stir it, and cook it off for a few minutes. This is an important step, the last thing you want is a flour-tasting spinach gratin.
Preheat a cast iron pan or a heavy baking dish: This will give you those perfectly crispy edges all round. It adds an extra textural layer to the dish.
Step-By-Step Guide To Make Ina Garten's Spinach Gratin – With Photos, Tips & Tricks
In this section I will show you what each step in the process should look like to make this dish.
If you want to skip the details you can scroll past this section and head straight to the ingredients and instructions. I also have a video below the instructions which will walk you through the process.
#1. Preheat The Oven

No explanation needed here. The oven needs to be hot before the gratin goes in – 400f.
Tip, if you are planning on using a cast iron pan (like I do), put the pan in the oven from now so it will be hot and ready to go.
#2. Prepare The Ingredients
If using frozen spinach (which is easiest), make sure to defrost it first. Once defrosted, squeeze as much water out of the spinach as you can with your hands. Soggy spinach will make a soggy gratin.
Measure the other ingredients out, peel and chop the onion, mince the garlic (if using) and grate the cheese. Get everything ready because once you start cooking, its comes together quickly. The last thing you want is to overcook your ingredients in the pan.
#3. Time To Cook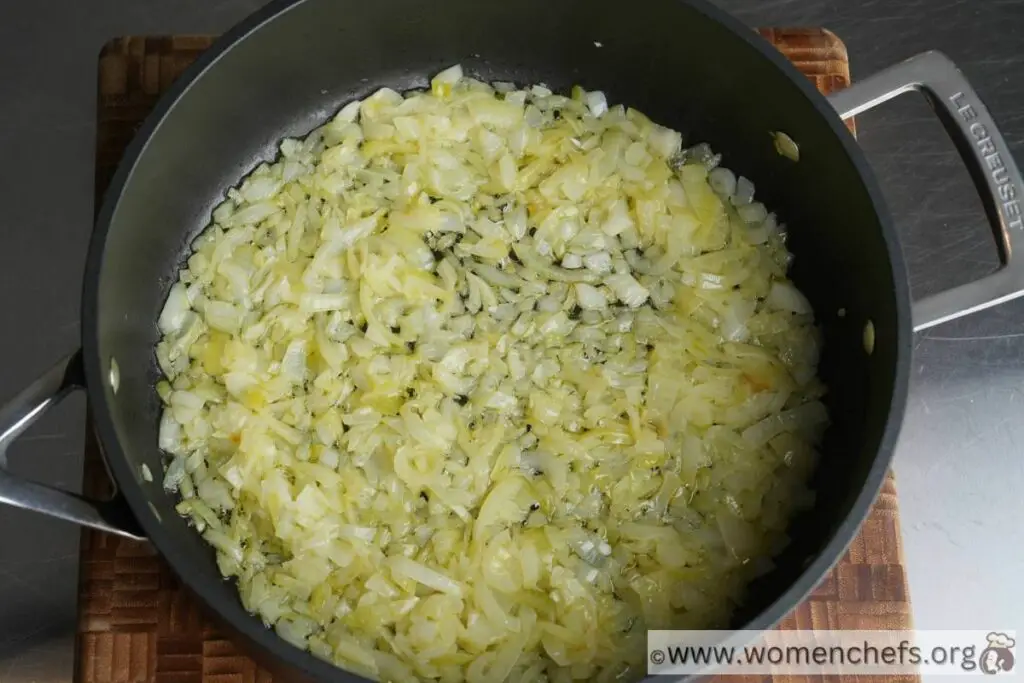 Melt the butter in a pan, then add the onions and garlic. Cook over medium heat for about 15 minutes, until translucent. The flour is then added, and cooked by stirring constantly for about 2 minutes. Finally, the milk and cream are added. Simmer for 7-8 minutes or so, or until the mixture thickens – it will be quite thick once done. 
#4. Add The Spinach And Cheese And Stir to Combine
Add the spinach and half of the cheese directly to the pan on top of the thickened cream mixture. This is when you also add your seasonings; salt and pepper. Taste and add more if needed.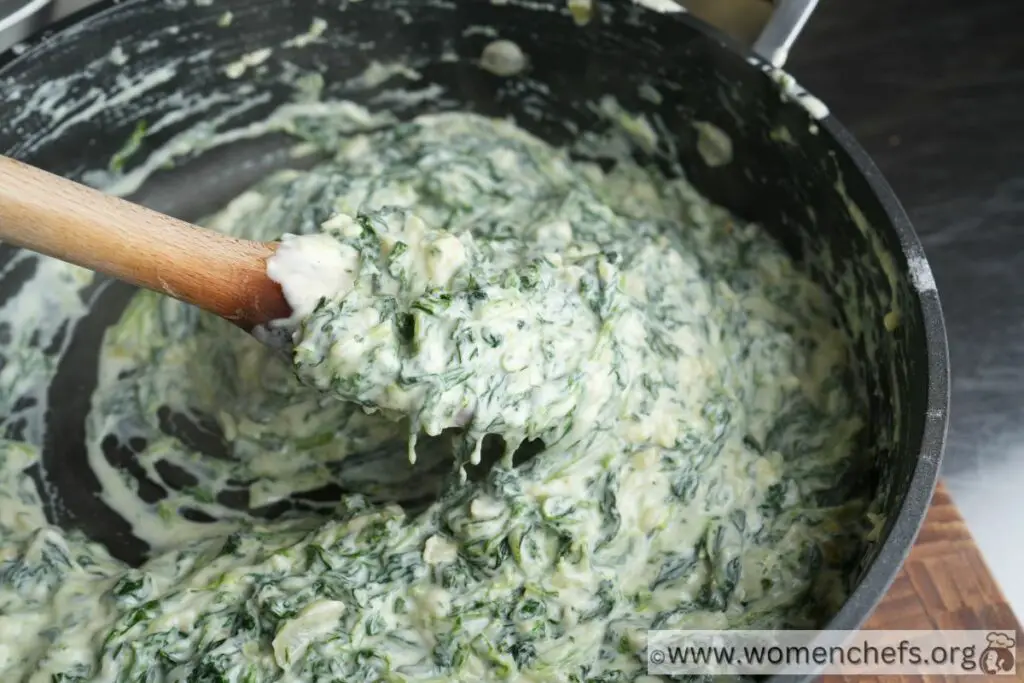 Stir well to combine. The mixture will be quite wet but should not be runny!
At this stage you have made an Ina Garten creamed spinach. You could confidently serve this as is or even bake it in the oven to create a crispy top. By following the next steps (topping with cheese and baking), you turn this creamed spinach into a true spinach gratin Ina Garten style.
#5. Top With Cheese And Bake!
Transfer the spinach mixture from your pan onto a deep oven-proof dish. I love using pre heated cast iron for those beautifully crispy edges.

Sprinkle the rest of the cheese and bake in the oven for about 20 minutes, until golden and bubbly on top. Be careful when you take it out – it will be hot and runny!
Ina Garten Spinach Gratin
Course: Ina Garten
Difficulty: Easy
Recreate Ina Garten's Spinach Gratin with this recipe. A warming side dish with a creamy & velvety filling, topped with crispy melted cheese.
Ingredients
2 ounces (approximately 4 tablespoons) unsalted butter

2 large yellow onions, chopped

2 large cloves of garlic, minced

3 tablespoons all-purpose flour

1/4 teaspoon grated nutmeg

1 cup heavy cream

2 cups milk

3.5 pounds frozen chopped spinach, defrosted

1 cup freshly grated parmesan cheese

1 teaspoon salt

1/2 teaspoon freshly ground black pepper

0.5 cup grated gruyere cheese
Directions
Prepare the spinach: Defrost (if using frozen) and drain the spinach thoroughly. Squeeze out any excess liquid and set the spinach aside.
Preheat the oven: 400f. Add cast iron pan to the oven (if using).
Prepare ingredients: Using a deep sauté pan, melt the butter over medium heat. Stir in the chopped onions and garlic and cook them until they become translucent (around 15 minutes). Next, add the flour and nutmeg, and keep stirring for an additional 2 minutes. Then, add the cream and milk and continue to cook until the mixture thickens (around 7-8 minutes).
Combine ingredients: Add the spinach and half of the parmesan cheese into the creamy sauce. Fold and stir until well combined. Taste and season the mixture with salt and pepper as needed. (This is your creamed spinach base)
Bake the gratin: Transfer the creamed spinach mixture into a baking dish.
If making creamed spinach: Put in the oven as is and bake for 20 minutes until it's heated through and bubbly.
If making spinach gratin: Sprinkle the remaining parmesan and the gruyere cheese on top. Bake in the oven for approximately 20 minutes until it's heated through and bubbly.
Serve and Enjoy: Serve while hot with a large serving spoon.
Spinach Gratin Frequently Asked Questions:
How Do I Store Leftover Spinach Gratin?
Since the gratin serves 7-8, it's unlikely all of it will be eaten on the same day. Once it's cooled, transfer the leftovers in an air-tight container, and refrigerate it. Consume the leftovers within 3 days.  
Can I Freeze Spinach Gratin?
Yes, you can freeze spinach gratin. Once the gratin is fully cooled, transfer it into freezer-friendly bags or containers. Place them in the freezer; they should last there for up to 2 months.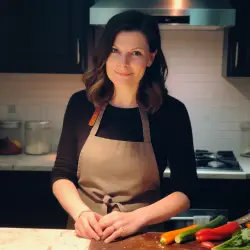 Latest posts by Barbara Hunt
(see all)