Potatoes au gratin is a decadent French dish, also known as gratin dauphinoise, which features sliced potatoes baked with cream and grated cheese, and it dates to as far back as 1788.
What's more, it contains high amounts of vitamins, protein and minerals, including vitamins A, B6, B12, and C, and iron.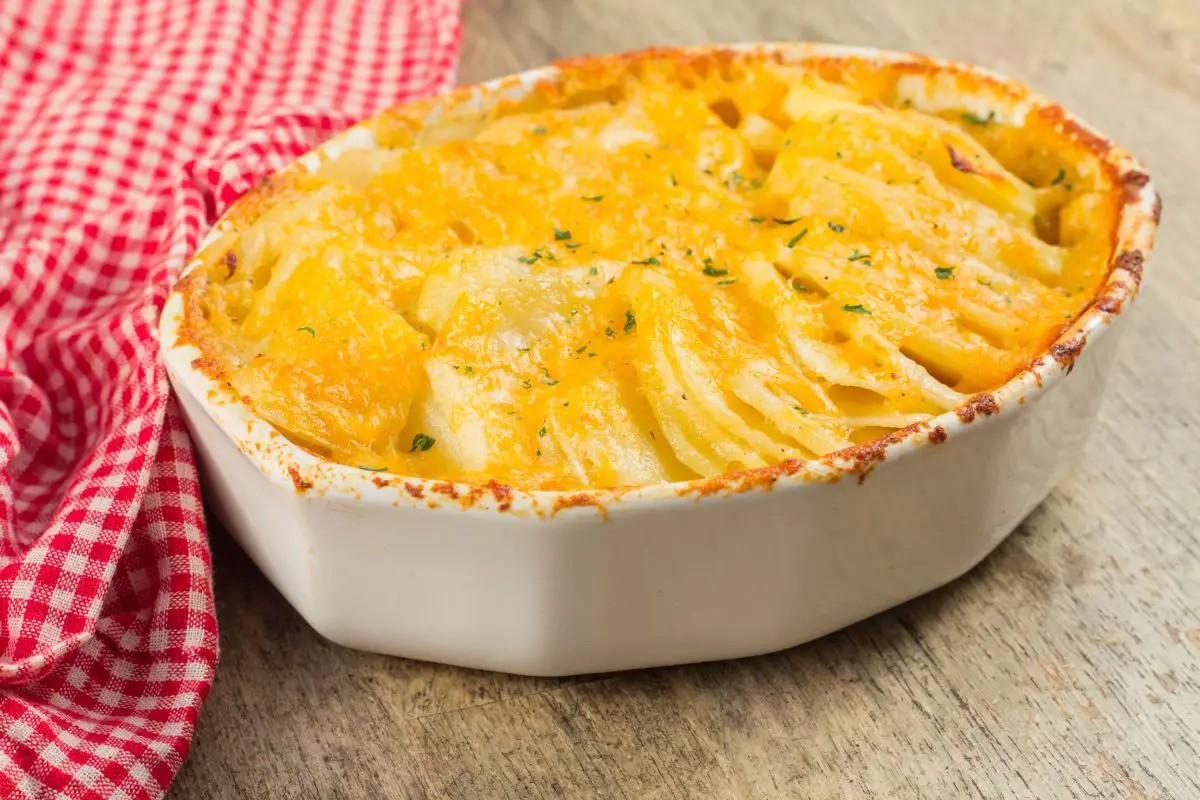 Ina Garten, as we all know, is a whiz in the kitchen, and if there was any particular ingredient that she's best known for using, it has to be potatoes. They feature in all of her cookbooks, and often multiple times.
In this article, we're going to walk you through Ina Garten's famous potatoes au gratin recipe, before going through an alternative potatoes au gratin recipe that's inspired by Ina Garten, and possible ideas for variations of her recipe.
Then we will be following that up with honorable mentions of other potato based dishes from Ina Garten, before topping that off with a section where we answer all of your most frequently asked questions on the subject.
And without further ado, let's get straight to it!
Ina Garten's original recipe for potato and fennel gratin has become a big hit – and with good reason, too…
It's a perfect side dish to serve at the holidays for several reasons. It's suitable for vegetarians (but not for vegans), and is excellent comfort food.
What's more, the recipe makes enough servings for up to 10 people, so it's perfect for entertaining dinner guests.
Moreover, there's more to it than simply sliced potatoes in cream or cheese.
Thanks to the addition of fennel bulbs, Ina Garten's potatoes au gratin recipe has a strong and distinctive taste, which for many people, elevates the dish to a whole new level.
It takes approximately an hour and three quarters to make in total from start to finish.
And to make it you will need the following ingredients: fennel bulbs, olive oil, salt, unsalted butter, yellow onion, russet potatoes, heavy cream, ground black pepper, and shredded Gruyère cheese.
All you have to do is sauté the onion and fennel on a medium to low heat for approximately 10 minutes until tender.
Then thinly slice the potatoes before mixing the slices in some of the other ingredients, and baking them in a preheated oven at 350 degrees Fahrenheit for an hour and a quarter, topped with the remaining heavy cream and Gruyère cheese.
When the potatoes are browned and tender, simply remove them from the oven and allow the dish to cool for about 10 minutes before serving to your guests.
As far as we're concerned, this is the best variation of Ina Garten's potato au gratin recipe, (see also: 9 Best Ina Garten Roasted Potatoes Recipes To Try Today)and it's a perfect variation for people who love potatoes au gratin, but don't necessarily like the taste of fennel.
Disliking the taste of fennel is understandable, it's strong and distinctive.
This version is inspired by Ina Garten's potato and fennel gratin recipe, and it is almost exactly the same, except that there is no fennel, and you can use any potatoes along with any grated cheese.
Other than that, the method is exactly the same.
Claire Onidi has also taken the time to add in a few tips regarding the type of potato to use, substituting milk and butter instead of heavy cream if you wish, or adding some pressed garlic for a kick of flavor.
This version is much more palatable, and as such you may decide that it's a more favorable alternative than the original recipe.
Ideas For Variations Of Ina Garten's Potato And Fennel Au Gratin Recipe
As we have discussed already, you can make a very simple change to Ina Garten's fennel and potato gratin simply by removing the fennel bulbs if you don't like the taste of them or if you can't get hold of them.
But that's certainly not the only variation available to you…
Replacing The Fennel Bulbs With Fennel Seeds
If you do like the test of fennel but can't find any fennel bulbs in the fennel aisle, then you can still get the taste that you're looking for. Simply head over to the spice aisle of your grocery store and pick up some fennel seeds.
To use the fennel seeds, simply apply them to your taste to the yellow onions while you are sautéing them.
Replacing The Fennel Bulbs With Extra Yellow Onion
A convenient alternative to adding fennel bulbs to your gratin would be to simply use extra yellow onions in its place. This will result in a well-rounded overall flavor.
Replacing The Fennel Bulbs With Some Shallots
Shallots represent another alternative to fennel bulbs. Although they can be eaten raw, we would recommend that if using them, you should sauté them with the yellow onion.
Replacing The Fennel Bulbs With Some Chopped Leek
Substituting fennel bulbs with some chopped leek in your recipe will completely transform the overall flavor of the dish, giving the gratin a crisper and fresher feel.
Replacing The Fennel Bulbs With Sliced Red Onion
Red onions also make for an excellent substitute for fennel bulbs in this recipe because they have a delightful sweetness to them that's sure to be a great crowd pleaser when you're entertaining.
Honorable Mentions Of Other Potato Based Dishes From Ina Garten
Here follows the links to several yummy potato based recipes from Ina Garten, in no particular order:
All of these recipes can be readily found online, using the links provided, and you may be interested to know that there are even more potato based recipes from Ina Garten available in several Ina Garten cookbooks.
Wrap Up
And that's a wrap! We hope you have enjoyed this article, and that you have identified a recipe that interests you, that you would consider making for your family.
Having tried Ina Garten's potato gratin recipe both with and without fennel bulbs, we can recommend both of them.
But we agree that leaving out the fennel is not so bad, and the recipe works perfectly well without it, and may even be considered more favorable for picky eaters.
Still here? Check out our handy, in depth FAQ section, where we answer all of your most frequently asked questions on the subject of potatoes au gratin.
Frequently Asked Questions
What's The Difference Between Potato Au Gratin And Scalloped Potatoes?
Scalloped potatoes are generally a dish of potato slices that are cooked in cream, whereas potatoes au gratin is a dish composed of scalloped, sliced potatoes cooked within a cheese mixture, that's usually made with both cream and cheese.
Which Cookbook Has Ina Garten's Potato Au Gratin Recipe?
You will find Ina Garten's potato au gratin recipe in The Barefoot Contessa Cookbook.
Can You Make Ina Garten's Potato Au Gratin Ahead Of Time?
To be honest, we don't recommend making Ina Garten's potato au gratin recipe ahead of time.

That said, however, we don't see an issue with preparing the dish earlier in the day, and simply baking it in time to serve as an evening meal. 
What Does Fennel Taste Like?
Fennel has a distinctive yet very mild anise or licorice flavor that can become quite sweet when it's sautéed with yellow onions.
What If I Don't Have Or Don't Like Fennel?
Fennel can typically be found in the produce aisle of your local grocery store. But failing that, you may find some fennel seeds in the spice aisle that you can use in its place.

Fennel is an acquired taste, however – it's not for everybody, and many picky eaters may not enjoy it.

The simplest way to recreate Ina Garten's potato and fennel gratin recipe without fennel is to make the recipe as directed but omitting the fennel completely.

Alternatively however, if you wish you can replace the fennel bulbs with fennel seeds, or replace the fennel bulbs with extra onion, or some chopped leek, or some sliced red onion, or some shallots.
How Do You Make Scalloped Potatoes Not Runny?
We're very pleased to report that there's a quick and easy fix to prevent your potato au gratin recipe from becoming too runny…

All you have to do is add in some instant potato mix and stir it in so that it can act as a thickening agent, and make the sauce thicker. If you do this lightly and gradually, you can prevent the creamy sauce from becoming lumpy.

And because it tastes of potato anyway, it's not going to affect the overall flavor of the dish. 
2 Best Ina Garten Potatoes Au Gratin Recipes To Try Today
Course: Recipes
Discover the best Ina Garten inspired potatoes au gratin recipes on the net, including Ina's original potato and fennel gratin, several variation idea & FAQ section.
Directions
Pick a recipe from above
Click the recipe name and visit the website
Collect the ingredients and the food
Enjoy – don't forget to leave a review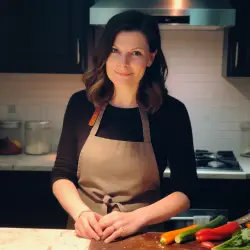 Latest posts by Barbara Hunt
(see all)