Ina Garten's chicken cacciatore recipe will give you deliciously moist and tender chicken pieces cooked in a rich tomato sauce, packed with flavor and perfect for dipping with bread or enjoying with creamy mash.
The sauce is the hero of the dish, flavoured with robust and nutty mushrooms, sweet peppers, tangy onions and fresh spices. Adding capers and olives adds a saltiness that makes the sauce perfect to eat on its own!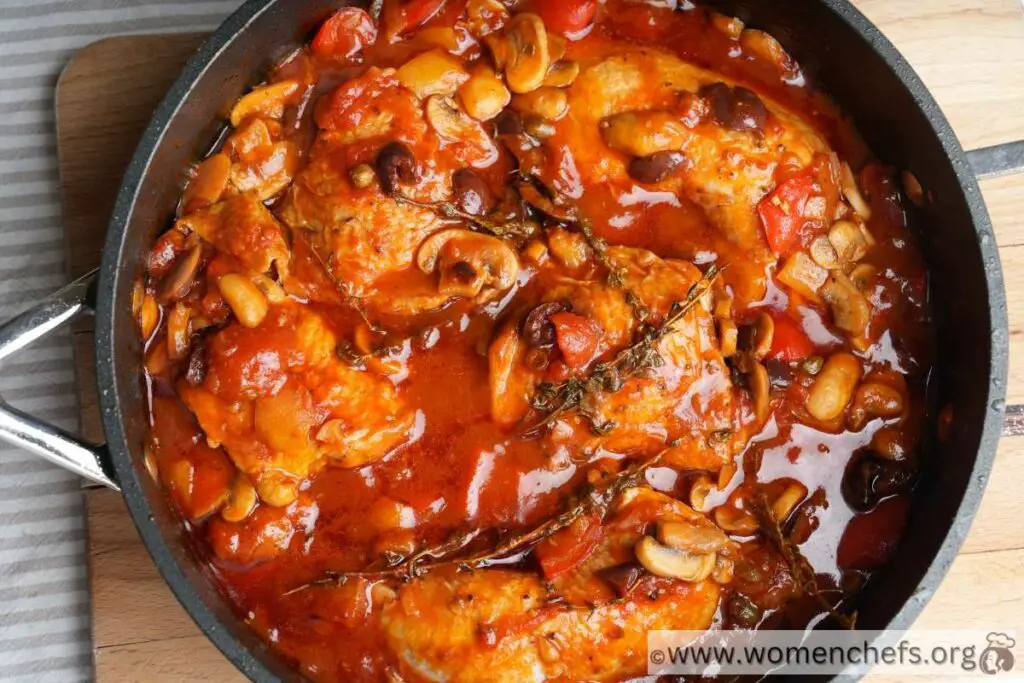 Chicken cacciatore is an American twist on classic Italian cooking and is one of our favorite chicken dinners.
Tips For Making Ina Garten's Chicken Cacciatore Recipe 
I love this recipe for lots of reasons, one of them being because most of the cooking happens in one pot.
Another reason to love Ina's chicken cacciatore recipe is the sauce is delicious in its own right! Eat it the next day on bread or mix it through pasta for a quick and delicious meal.
Because I absolutely adore Ina Garten, I have made this recipe several times now, and I believe I have perfected it.

Here are my top tips, so you can make the perfect recipe too:
Brown The Chicken Well: One of the processes of making this recipe is to brown the chicken pieces in hot oil. This step is quite important, but you will have to watch the chicken like a hawk, to avoid burning it.
Discard The Fat: Once the chicken is browned, it will release a lot of fat in the pan. Discard the fat but dont wash the pan before starting the next step. This is important otherwise you will end up with a very oily dish. 
Check The Pot Frequently While Simmering: The chicken and tomato sauce will need to simmer until the chicken is fully cooked. However, you will need to check it regularly to ensure that it has enough liquid. I often have to add a little bit more.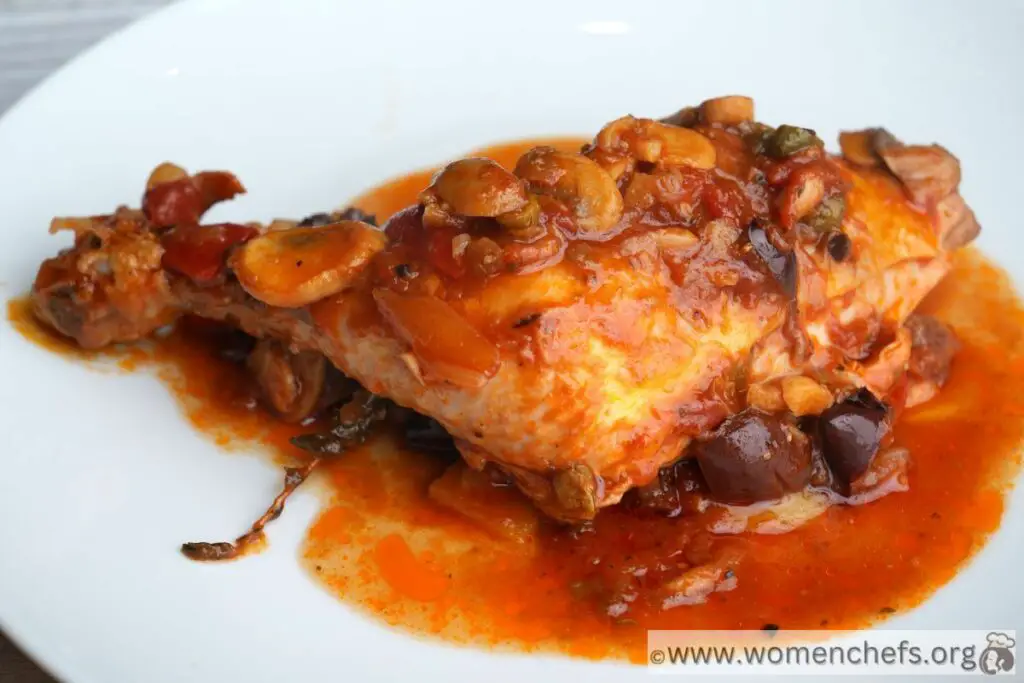 What Do I Serve The Chicken Cacciatore With?
This dish is very versatile, many different sides go well with it.
My personal favorites are:
Buttered Bread or garlic bread
Baked/Steamed Potatoes
Steamed Vegetables
Cooked Rice
Leafy Green Salad
And many other delicious chicken sides. The bread and gratin recipes are my favorites though, because they are great for soaking up the sauce!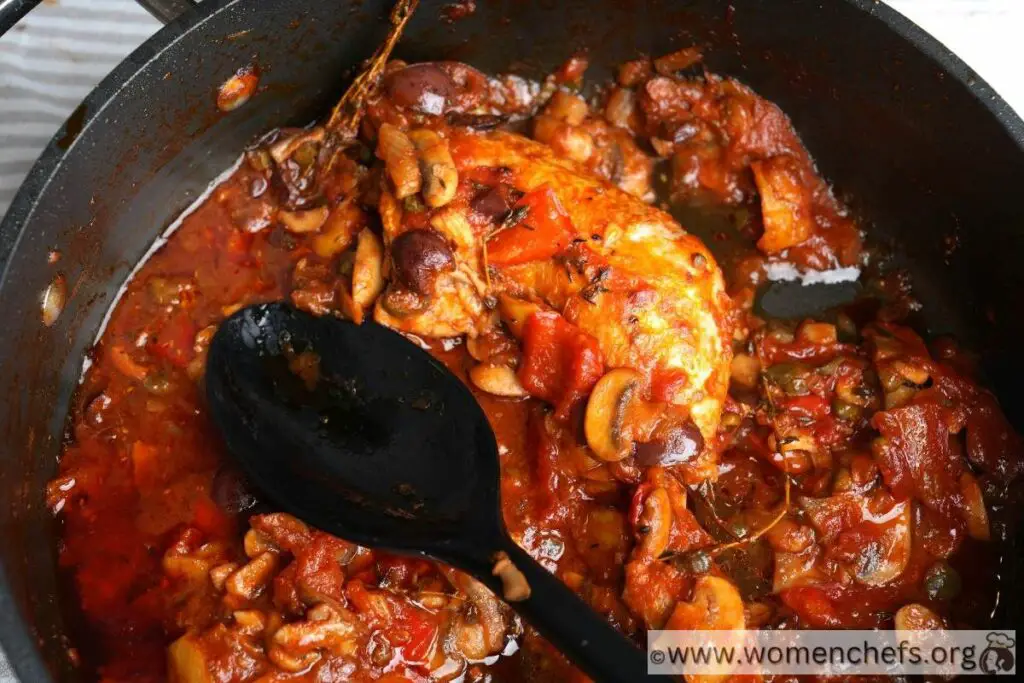 Chicken Cacciatore Recipe Variations
You cannot beat a classic recipe, but when you cook any recipe, it's always a good idea to add your own touch. After all, you are cooking for yourself or your family, we all have different tastes and preferences, so a little adjustment can just be what you need to achieve the perfect dinner!
Here are some optional variations of this recipe:
Baking the chicken cacciatore instead of simmering it as the original recipe suggests. Instead of simmering the sauce with the chicken until it's fully cooked, pop it in a preheated 400°F oven for 20 minutes. This will infuse a unique and delicious flavor into your cacciatore.
Instead of chicken, try a different meat like sausages. You might not call it chicken cacciatore if you dont use chicken but the principle is still the same – a hearty, easy to cook dish made with a filling protein and a rich and aromatic sauce the family will love. Sausages are a great option because they will give your sauce a delicious flavor, cook quickly, are relatively inexpensive and will be popular with almost anyone. If you want a similar recipe designed specifically for sausages, you could check out Ina's sausage and peppers recipe.
Add some olives & capers. Adding olives and capers to this recipe can really enhance the taste. If you are an olive and a capers lover, add a handful to your dish. 
Add some carrots. Carrots work very well in this dish, I have personally made this dish with carrots several times, and it works fantastically well. I typically add 1 medium-sized sliced carrot just before I add the chopped tomato cans. 
Not a fan of mushrooms? Substitute them for zucchini. Zucchini works really well with tomatoes, and they can absorb flavor very well too. When I substitute the mushrooms for zucchini, I use the same amount as listed in the recipe. 
Finish the dish with some fresh herbs. Before you serve, add some chopped fresh herbs such as parsley, it can really elevate the dish and add something aromatic to it and color, of course.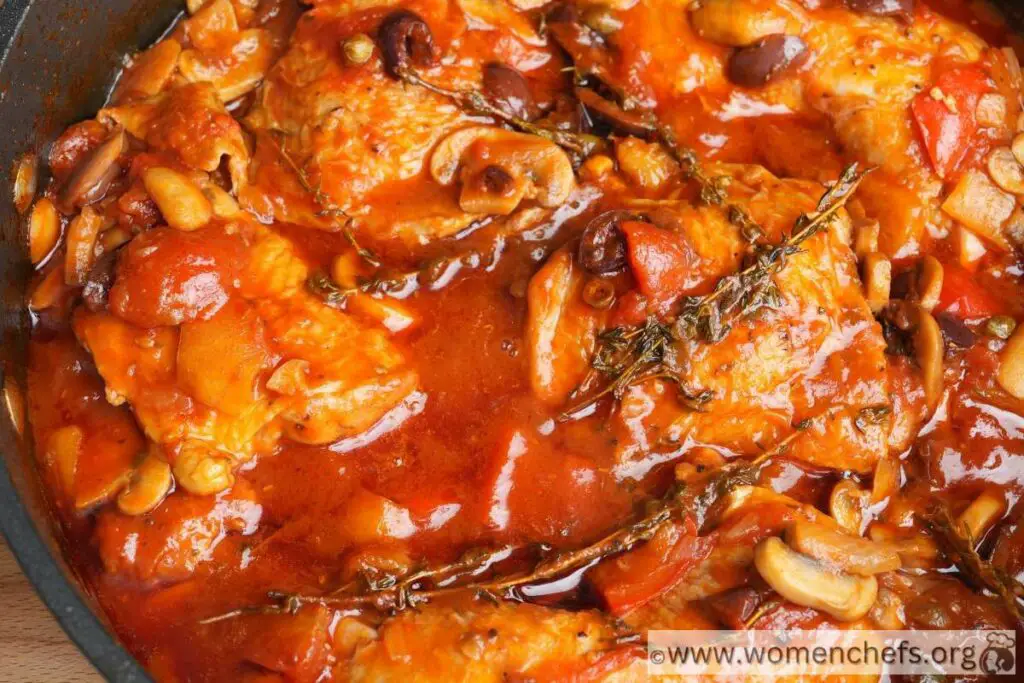 A Photo Guide To Making Ina's Chicken Cacciatore – With Tips & Tricks
A Barefoot Contessa chicken cacciatore recipe is relatively easy and can be broken down into 4 main steps.
I will quickly run you through the steps of making this delicious Ina Garten chicken recipe using our original photos. This will give you a sense of what happens at each step. Ive made this dish a lot so I have added some tips & tricks along the way.
Feel free to head down to the next section if you dont need the photos and want to get straight to the ingredients list and directions.
#1. Season And Brown The Chicken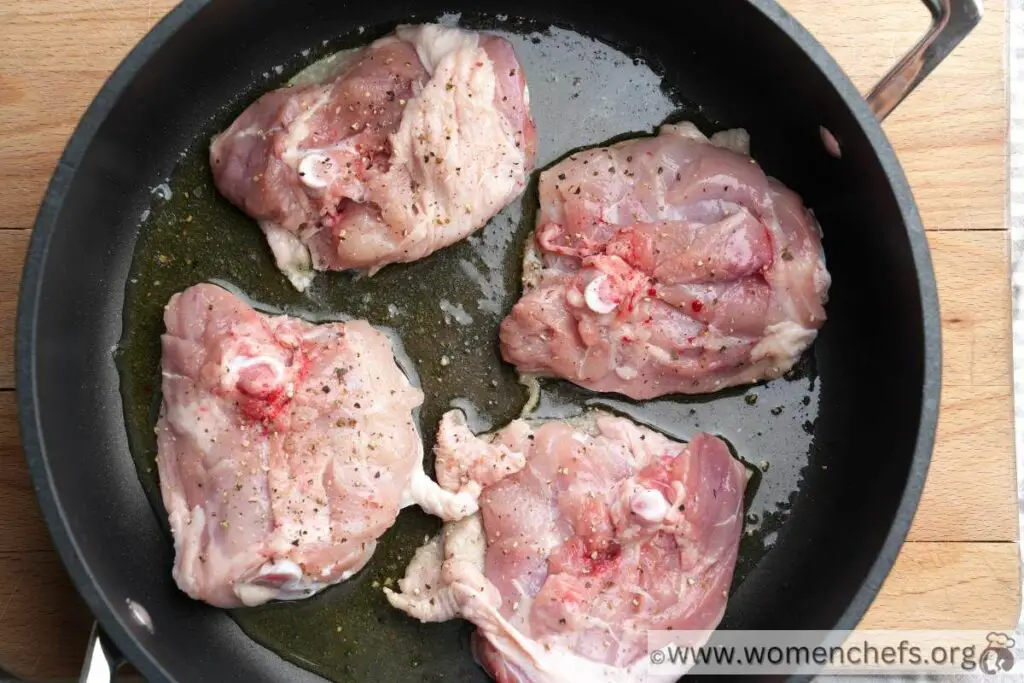 Before frying, pat the chicken dry with disposable paper towel. Once the pan and oil is hot, add the chicken skin side down first. This is all meant to get you maximum crispyness.
Cook both sides until the chicken is browned and the skin is crispy. When done, remove the chicken and discard the excess fat. Discard the fat but dont wash the pan. Use the same pan for the vegetables so you keep those delicious chicken flavours.
#2. Cook The Vegetables For The Sauce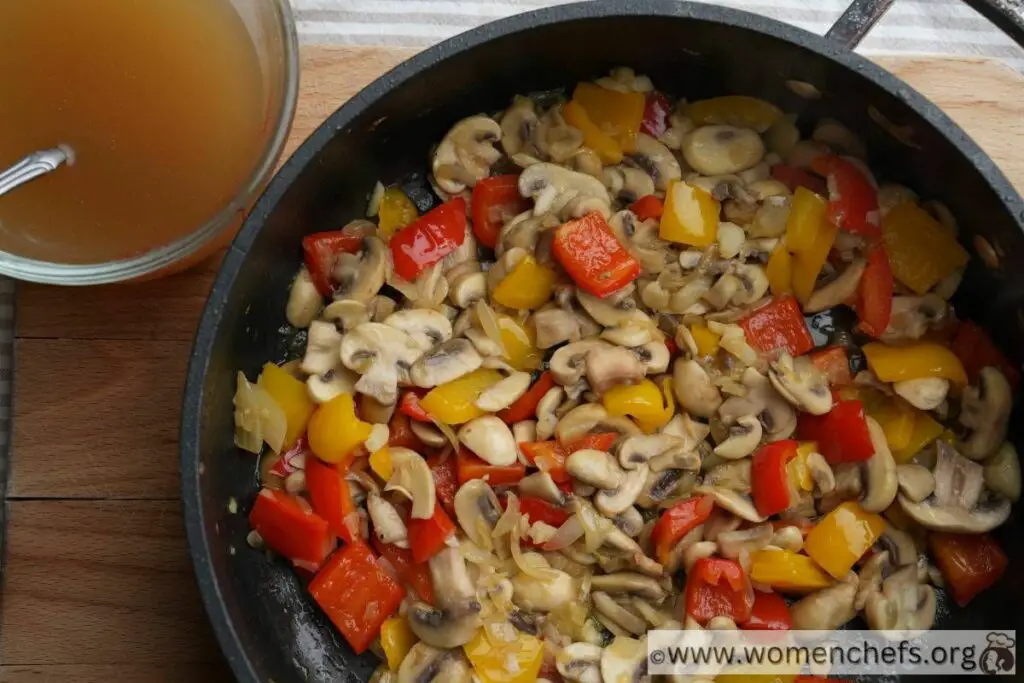 Add the vegetables to the pan, cooking until soft. Follow the order suggested in the detailed recipe below so you dont overcook anything.
#3. Create The Sauce and Add The Chicken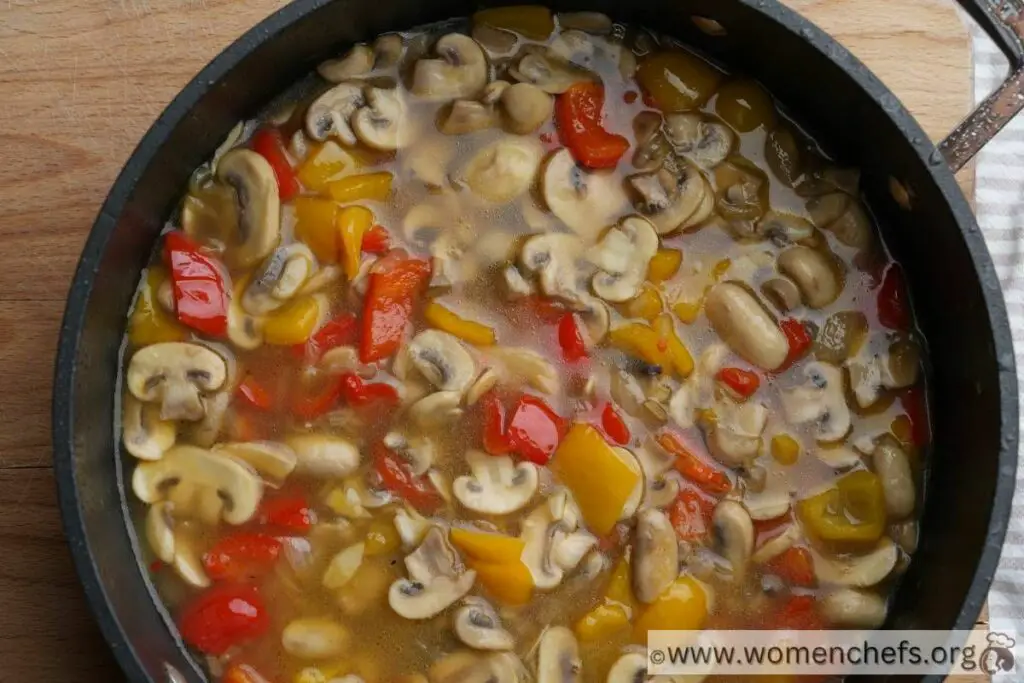 Add the chicken stock and wine first. Simmer until reduced by half. This is important to cook the wine down.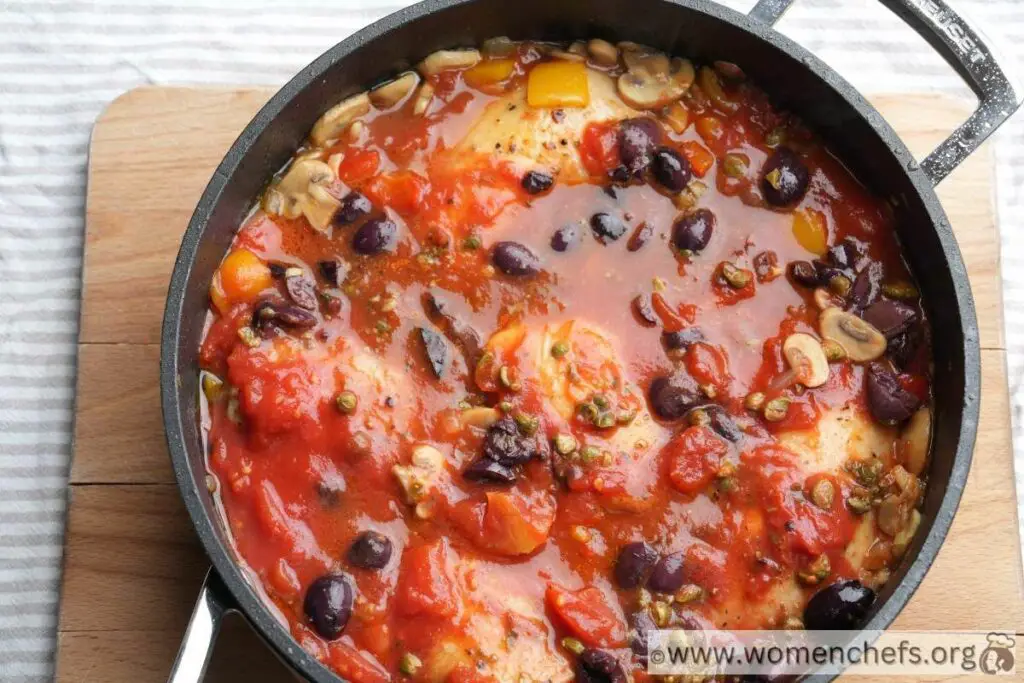 Add the tomatoes and chicken to the pan, along with any spices. The chicken should be mostly covered by the liquid.
#4. Simmer, Remove Lid To Thicken – Serve and Eat!
Simmer while partially covered for 20 to 30 minutes. Remove the lid for the last few minutes and allow the sauce to thicken. Once thickened, its ready to serve and eat.
Remember to mop up that delicious sauce!
Ina Garten's Chicken Cacciatore FAQs:
How to Store Chicken Cacciatore?
The best way to store the chicken cacciatore is to cool it fully first when it's cooked.
Then, transfer it to an air-tight container and refrigerate immediately. Consume the cacciatore within 3 days.
Can I Freeze Chicken Cacciatore?
The chicken cacciatore can absolutely be frozen. However, it's important that you freeze it using the right containers. I like to use containers that are specifically designed for freezer storage. You can also use freezer-friendly bags, but it can be a bit messy, since the chicken cacciatore is quite liquid. Once the dish is cooled, transfer it to your desired freezer storage bags or container, seal them tightly, and freeze. They can last for up to 2 months.
How To Reheat Chicken Cacciatore?
If you are reheating the dish straight from the fridge, you have several options; microwave the chicken cacciatore for several minutes, put it in the oven for about 10 minutes using an oven-proof dish, or heat the dish in a saucepan.
 Is Ina Garten's Chicken Cacciatore Healthy?
Chicken cacciatore is quite a healthy dish; it contains chicken, and plenty of vegetables.
On top of that, it's relatively low in calories, but high in protein.
Ina Garten's Chicken Cacciatore
Course: Main
Cuisine: American
Difficulty: Easy
Savor Ina Garten's Chicken Cacciatore recipe – a rich and savory dish with tender chicken, sweet peppers, and nutty mushrooms. A culinary delight!
Ingredients
3 tbsp extra virgin olive oil

8 to 10 pieces (5-6 Ib) of drum sticks, thighs etc

2 onions, sliced

4 garlic cloves, minced

1 medium sized red pepper, cut into small pieces

1 yellow pepper, cut into ½-inch pieces

1 Ib of mushrooms, washed and sliced

1 cup of chicken stock

1 cup of dry white wine (I like pinot grigio)

1/2 cup of pitted kalamata olives (optional)

2 tablespoons of drained capers (optional)

2 cans of chopped tomatoes

1 bunch of fresh thyme

1-2 pinches crushed red pepper flakes

1/3 tsp of salt

1/3 tsp of ground black pepper

1-2 bay leaves
Directions
Heat 2 tbsp olive oil in a deep pot over medium-high heat.
Season the chicken pieces with the salt and black pepper, then brown them in the hot oil, doing so in batches if needed.
Once all the chicken is browned, transfer it to a plate and discard most of the excess fat.
Saute the onions and crushed red pepper flakes over low heat for 8 to 10 minutes, seasoning with salt.
Stir in the garlic and cook for approximately one more minute.
Add the diced peppers and cook until they become soft over a few minutes.
Incorporate the mushrooms and season with salt to your taste.
Pour in the chicken stock and white wine and simmer until it reduces by half. This should take 15-20 minutes.
Return the browned chicken to the pot and add the cans of tomatoes. If using, this is the time to add the capers and olives too.
Place thyme, and bay leaves in the pot.
Bring the mixture to a boil, then reduce the heat to a simmer.
Partially cover the pot and simmer for 20 to 30 minutes.
During the cooking process, periodically check the sauce level and add water as needed, ensuring it remains at the same level as the chicken.
If the sauce appears overly oily, skim off the excess fat.
Prepare a large serving platter and transfer the chicken to it after removing it from the pot.
Pour the sauce over the chicken.
Check the sauce's seasoning and adjust if necessary.
It's time to serve and enjoy!
Notes
You can store the chicken cacciatore once the leftovers are fully cooled.
Then, transfer it to an air-tight container and refrigerate immediately. Consume the cacciatore within 3 days.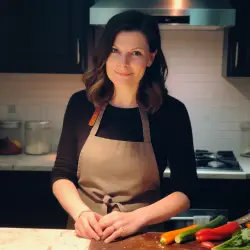 Latest posts by Barbara Hunt
(see all)