Ah, Chicken Fettuccine Alfredo—the epitome of comfort food.
It's the dish you yearn for after a long day, the meal that feels like a warm hug from the inside out. But not all Chicken Fettuccine Alfredo recipes are created equal.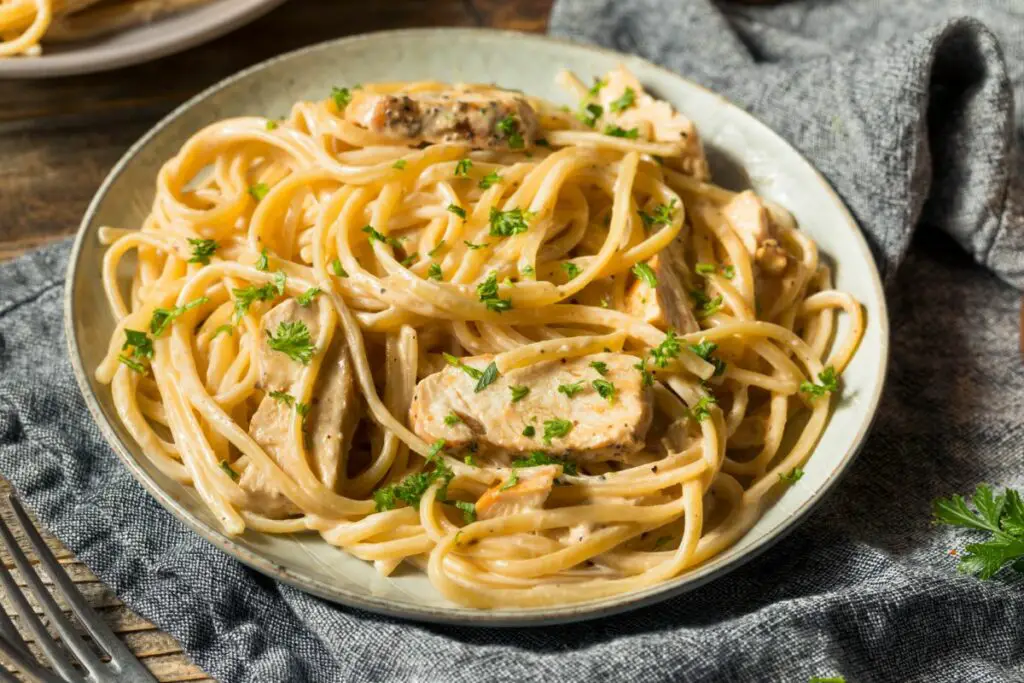 From the type of pasta to the creaminess of the Alfredo sauce and from the quality of the chicken to the choice of spices, there's a whole world of variety.
In this guide, we will delve into this classic dish, offering a range of recipes that bring their own twist to this Italian-American favorite.
Forks at the ready!
Classic Chicken Fettuccine Alfredo Recipes
As always, we like to start with the classics. These traditional chicken fettuccine alfredo recipes are straight to the point, and they don't compromise on taste:
There's something to be said for the classics, and the basic Chicken Fettuccine Alfredo is timeless for a reason.
The traditional version involves fettuccine pasta enveloped in a rich, creamy Alfredo sauce, with tender pieces of chicken strewn throughout.
This dish revels in its simplicity, showcasing the natural flavors of the ingredients.
You know, if mom is in the title, it's going to be a good recipe.
This is another traditional chicken fettuccine alfredo recipe made with lashings of love.
Incorporating traditional ingredients like chicken, mushrooms, fettuccine, herbs, and more, this dish is comfort food at its finest.
Chicken Fettuccine Alfredo Recipes With A Kick
If you want to spice up this traditional dish, we've got some tasty recipes to tantalize your senses:
For those who crave a little heat, the Cajun-style Chicken Fettuccine Alfredo is a vibrant twist.
The dish incorporates Cajun spices and adds colorful bell peppers and onions to the mix, creating a zestier version that packs a punch.
This is a one-pot recipe, so it's easy to create something truly tasty without all the mess.
This rendition of Chicken Fettuccine Alfredo packs a punch by incorporating Ghost Pepper Colby Jack cheese.
It's not for the faint-hearted, as this cheese adds a spicy kick that contrasts beautifully with the creamy, rich base of the Alfredo sauce.
Garlic and pepper season the cream sauce while the Parmesan cheese balances the heat. A must-try for those who like to turn up the heat!
Lemon Pepper Cajun Chicken Fettuccine Alfredo combines the zest of lemon and the heat of cajun spices, all melded together in a creamy Alfredo sauce.
Chicken cutlets seasoned with cajun spices serve as the protein, while the sauce gains complexity from lemon juice, garlic, and a touch of heat from red pepper flakes.
If you love a kick of heat, stir in some buffalo sauce into the Alfredo mix.
The spiciness from the buffalo sauce cuts through the creamy Alfredo, offering a warming twist.
Elevated Chicken Fettuccine Alfredo Recipes
If you're ready to experiment with additional flavors, take a look at the recipes below for inspiration:
This is the perfect dish for anyone looking to sneak in some extra veggies.
The richness of the Alfredo sauce is beautifully contrasted by the slightly tangy sundried tomatoes and the earthy spinach, making it a well-rounded meal.
Sun-dried tomatoes are always a winner in our eyes, and in this dish, they bring an extra dash of the Mediterranean.
There's something uniquely harmonious about the combination of chicken and mushrooms.
The earthy, umami notes of the mushrooms are a natural complement to the Alfredo sauce and the chicken, making this variation a fan favorite.
Chicken Alfredo with Crispy Bacon from Paula Deen offers a smoky twist to the classic dish, featuring chicken breasts seasoned with salt and pepper.
The Alfredo sauce is enriched with sautéed onion and minced garlic and gains its luxurious texture from heavy whipping cream and Parmesan cheese.
Crispy bacon and fresh parsley add the finishing touches, making this variant both indulgent and flavorful.
The aromatic allure of basil pesto lends a fresh and vibrant element to the Chicken Fettuccine Alfredo.
The pesto enhances the creaminess of the Alfredo sauce while providing a burst of flavor that makes the dish uniquely irresistible.
Lemon Parmesan Chicken Alfredo incorporates zesty lemon and rich Parmesan cheese for a unique spin on the classic dish.
Chicken breasts are lightly dredged in flour, seasoned, and then sautéed in butter.
The sauce includes a blend of chicken broth, lemon juice, Dijon mustard, and garlic, which is then enriched with heavy cream and grated Parmesan.
Chopped fresh parsley adds a burst of color and freshness, making this dish a delightful culinary experience.
A great way to turn this comfort dish into a one-pan meal that includes greens.
The broccoli absorbs the sauce well, adding a touch of freshness to the dish.
For even more greens, add some spinach or kale to the dish.
Combine the best of both worlds with shrimp and chicken in your Alfredo sauce.
The flavors are complementary and make the dish even more luxurious.

We love that this dish only takes around 30 minutes to make, so it's great for a midweek meal.
Chicken Fettuccine Alfredo Recipes For Specific Diets
If you're vegan, following a low-carb diet, or have an intolerance to gluten, we have a selection of recipes so you don't have to miss out on this delicious dish:
For those keeping an eye on their carb count, there are low-carb versions of Chicken Fettuccine Alfredo that use alternative pasta options like zucchini noodles or shirataki noodles.
Or, by following the above, you can serve this dish without pasta altogether.
The result is a dish that's just as satisfying but aligns with a lower-carb diet.
Believe it or not, a Vegan Chicken Alfredo is entirely possible and incredibly delicious.
Plant-based chicken and a vegan Alfredo sauce make this classic dish accessible to those on a vegan diet.
Keto Cauliflower Chicken Alfredo takes a traditional dish and transforms it into a low-carb, keto-friendly meal.
Instead of pasta, cauliflower is used as the base, accompanied by succulent chicken breasts and crispy bacon bits.
The Alfredo sauce, made with heavy whipping cream, minced garlic, and shredded Parmesan cheese, adds creamy richness to the dish.
A hearty serving of baby spinach adds a nutritional punch, making it a satisfying and healthy option for those on a keto diet.
If you're gluten-sensitive or simply looking to reduce your gluten intake, a gluten-free Chicken Alfredo pasta bake offers all the flavor without the gluten.
By using gluten-free penne pasta and following this recipe to ensure your Alfredo sauce is gluten-free, you can indulge without worry.
Pairing Ideas For Chicken Fettuccine Alfredo
To bring out the best in your Chicken Fettuccine Alfredo, consider these pairing ideas:
Wines: A light white wine like Pinot Grigio can balance the richness of Alfredo sauce.
Bread: A slice of garlic bread is the perfect accompaniment, soaking up every last bit of sauce.
Salad: A simple green salad with a lemon vinaigrette can offer a refreshing contrast.
In Summary
There you have it—an in-depth look at the multifaceted world of Chicken Fettuccine Alfredo.
Whether you're a purist who sticks to the classics or an adventurer eager to try every twist and turn, this guide has something for everyone.
Enjoy your cooking journey!
Frequently Asked Questions
Can I use whole-wheat pasta?
Yes, you can certainly use whole-wheat pasta, but be aware that it has a denser, nuttier flavor that will slightly alter the dish's character.
Can Chicken Fettuccine Alfredo be frozen?
Freezing is possible, although the cream sauce may separate slightly when reheating. It's recommended to consume the dish fresh for the best taste.
What is the difference between chicken alfredo and chicken fettuccine?
Chicken Alfredo generally refers to a dish where chicken and Alfredo sauce are the primary components.

Chicken Fettuccine, however, implies that the main focus is on the pasta, and it may or may not be served with Alfredo sauce.
What can I add to fettuccine alfredo to make it taste better?
To elevate the flavor of your Fettuccine Alfredo, you can add garlic, herbs like parsley or basil, or even a dash of nutmeg. You can also experiment with add-ins like sun-dried tomatoes, spinach, or mushrooms.
What is the sauce of chicken alfredo made of?
The sauce for Chicken Alfredo is traditionally made with heavy cream, parmesan cheese, and butter. It's a rich and creamy sauce that pairs well with pasta and chicken.
Is Alfredo the same as Carbonara?
No, Alfredo and Carbonara are not the same. Alfredo sauce is made with heavy cream, parmesan, and butter, while Carbonara is made with eggs, Pecorino Romano cheese, pancetta, and pepper. Both are Italian pasta dishes but have different ingredients and preparation methods.
17 Chicken Fettuccine Alfredo Recipes You Need To Make
Course: Other Recipes
Directions
Choose a recipe from above
Collect your ingredients
Prepare your dish
Enjoy!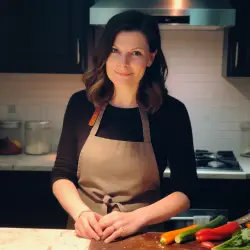 Latest posts by Barbara Hunt
(see all)