Rachael Ray, otherwise known as the "Burger Queen" over the years, has since been whipping up some amazing chicken dishes on her show – who knows… a new title may be fast approaching! 
If her burgers are anything to judge off, then you're going to be in for a treat. With this in mind, we have outlined all the best Rachael Ray chicken recipes that you need to try. 
Let's get started. 
If you're looking to add some Spanish flair to your kitchen then you can't go wrong with this chicken and chorizo recipe. Here, the chorizo is the special ingredient – transforming a boring chicken into something spectacular. 
Here, the chicken is browned with the sausages which are then sauteed with aromatics and everything is braised with pimento, fire-roasted piquillo peppers, Espelette, canned tomatoes, and stock. 
The dish will taste just as amazing as it tastes. The best part? It is super easy to make. In fact, it is so good that you'll want to make this dish every day. 
For this meal, you'll only need 10 ingredients – which may sound like a lot but is much easier than expected – to make Rachael's favorite childhood dish. 
When it comes to special occasions, Rachael explained that her family would go to a beautiful restaurant and she would order the same thing every time – roast chicken, green beans, raw cranberry sauce, and lots of salt and pepper. 
Rachael herself says that her version whips up an entire feast. However, don't let this scare you off – it is so easy, it's silly! The one thing she hopes more than anything is that you'll enjoy it as much as she does.
Plus, since it can feed more than six people, you can trust that it sufficiently feeds your whole family. 
The 10 ingredients you'll need for this recipe (which doesn't include butter, olive oil, or salt and pepper) include honey, chicken, soy or Worcestershire sauce, garlic, lemons, any green vegetable, rosemary, orange, sugar, and fresh cranberries.
Do you ever crave takeout but hate the added guilt feeling that comes along with it? Then you need to try out this Chicken Chow Fun recipe. 
Thanks to this dish, you'll receive all the delicious flavors of your favorite takeout without any of the added calories that come along with it. 
While the ingredients list may look extensive, essentially, all you have to do is chop all the ingredients, throw them in a wok, and stir-fry together. 
You won't be disappointed by the delicious results. 
Rachael Ray previously wrote a deviled chicken Francese recipe for Food Network, however, this recipe has since been redefined to create something out of this world (see also "Amazing Rachael Ray Stoup Recipes To Try Today"). 
It all started when her friend had a Francese featuring melted mozzarella cheese and pickled hot cherry peppers on the top – and the rest is history. 
Plus, it is surprisingly simple to make – don't let the long ingredients list put you off. With some simple step-by-step instructions, you'll whip up a masterpiece in no time. 
Rachael's sheet pan dinner contains tons of Greek influence and flair thanks to the feta cheese, pepperoncini, and potatoes – providing you with some big Greek flavors.
Plus, the oregano and lemon transform it into something out of this world. 
She describes this recipe as one of those meals you can't help but enjoy. The best part? It is super simple to whip up. 
Additionally, if you find yourself with any leftovers, you can transform this meal into a big Greek-style salad for the next day's lunch. 
Simply top your salad with some red wine vinaigrette, sweet peppers, peppers, celery, onions, tomatoes, cracked Kalamata olives, and cucumbers.
Crispy, tender, and crunchy, you can't beat baked chicken tenders for dinner. Plus, your children are sure to love them. 
Plus, with only 5 ingredients (excluding the salt and pepper) you can't go wrong. Here, all you need are chicken tenders, flour, eggs, milk, and breadcrumbs. 
Likewise, with only a few simple steps, you'll have it whipped up in no time. The perfect meal to feed little fussy eaters! 
Since this recipe is gluten-free, it is perfect for anyone following a keto diet. Here, the Buffalo chicken casserole is made with tons of delicious cauliflower with ample protein and fat, too. 
Despite the extensive ingredients list, this dish is surprisingly simple to make. Plus, all your efforts will certainly be worth it once you take one bite of this meal. 
Your whole family is sure to love this recipe. In fact, they'll be asking you to make it over and over again! 
While this recipe contains an extensive list of ingredients, the method is surprisingly easy to whip together. 
Since you're cooking everything directly on a sheet pan, it makes for easy clean-up when it comes to making this delicious Greek chicken meal. 
It is complete with a fresh, homemade tzatziki sauce and charred pita perfect for dipping and wrapping. 
In this recipe, deliciously sticky Asian chicken thighs feature a glaze made with sweet, garlic-ginger sauce which is then served with some rice packed with vegetables. 
It is the perfect combination of hearty protein and vibrant vegetables – providing you with a completely balanced diet. 
One tip when making this meal is to sprinkle your padron peppers or charred shishito with flaky sea salt for a fun presentation when topped on rice. 
While that step isn't necessary, it makes the dish look more appealing. 
This easy pan-fried chicken is coated with a deliciously tangy balsamic sauce and paired with a refreshing and crunchy slay for a complete meal. 
Thanks to this recipe, you're sure to be rewarded with some of the best chicken you have ever tried – it is crunchy, juicy, and extremely tasty. 
You'll never have an excuse to make plain chicken ever again! Here, a ton of delicious herbs and spices are combined to create one of the best-tasting chickens you'll try. 
Typically, this classic Southern meal is made using cooked pasta and condensed canned soup, however, you can enhance this recipe into something spectacular with the help of Rachael's recipe (Also check out Amazing Rachael Ray Leftover Pasta Recipes). 
Here, instead of overcomplicating a good thing, you are simply creating a quick roux to make a delicious sauce from scratch. 
Once done, you can control how much fat, salt, and other spices you include, as well as the quality and quantity of the ingredients. 
Plus, this makes for an ideal recipe to whip up after celebrating Thanksgiving where you make use of any leftover pulled or diced turkey to add to this casserole (Also check out Amazing Rachael Ray Turkey Meatloaf Recipes). 
These Southern fried chicken are combined with a spiced flour mixture and a herbed buttermilk brine to create something that is over-the-top delicious. 
For the best results, you'll want to brine your chicken for approximately 12 hours, although, you should avoid exceeding over 24 hours. 
You can pair these Southern fried chicken pieces with some mustard slaw or some delicious biscuits for a complete meal.
With this recipe, you'll make a creamy chicken marsala that is packed with meaty mushrooms. Plus, the entire dish can be made veggie-friendly by swapping out simple ingredients. 
For the egg pasta, all you have to do is cook 12 ounces of egg pasta, like fettuccine, tagliatelle, or pappardelle in boiling water, then toss in some butter, chives, and starchy cooking water. 
For the polenta, all you have to do is whip together the stock and milk for a creamy base then add 3 cups of liquid to your quick-cooking polenta.
Once done, stir in the butter, black pepper, and honey. Top with some grated pecorino or Parmigiano-Reggiano cheese. 
For a decadent meal, why not consider whipping up some chicken and ricotta meatballs – trust us, you won't regret it. 
While the ingredients may seem extensive, the end result is certainly worth your added effort and time. 
Here, the added ricotta is used to add a lighter texture to your meatballs which are then simmered in a deliciously spiced tomato sauce. 
Final Thoughts
Who doesn't love quick and easy meals to whip up – especially when it comes to the weekdays? This is where Rachael Ray comes in. 
Thanks to her recipes, dinnertime never has to be stressful again. 
Hopefully, this guide has informed you about 14 of the best Rachael Ray Chicken recipes that you need to try (see also "Amazing Rachael Ray Chicken Noodle Soup Recipes To Try Today").
Frequently Asked Questions
Who Is Rachael Ray?
Rachael Ray is an American chef and television personality. Through her television programs, cookbooks, and lifestyle magazines, she has promoted quick and easy meals.
14 Amazing Rachael Ray Chicken Recipes To Try Today
Course: Recipes
Explore some of the best chicken recipes by Rachael Ray that are simple, yet delicious and will make you the star in the kitchen!
Directions
Pick a recipe from above
Click the recipe name and visit the website
Collect the ingredients and the food
Enjoy – don't forget to leave a review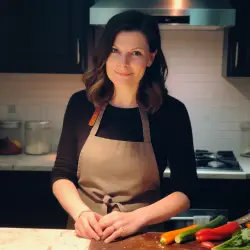 Latest posts by Barbara Hunt
(see all)