A quiche is a great recipe to learn how to make. You can make them ahead of time for a picnic or a lunch, or enjoy them warm out of the oven with a side salad for a light dinner.
They are perfect for using up leftovers as you can throw in odds and ends of cooked meat and vegetables. 
There are lots of different types of quiches, but they tend to be a classic shortcrust pastry crust filled with an egg mixture. They often have fillings like cheese, vegetables or bacon.
The quiche is then baked in the oven until the egg mixture and the pastry are fully cooked. 
If you are looking for some inspiration when it comes to homemade quiche, you should definitely have a look at some Ina Garten recipes.
Ina Garten, well known for her cooking show 'Barefoot Contessa' has an effortless cooking style that makes even the most delicious meals incredibly easy to make. 
Here are some recipes for quiches that were created by Ina Garten or inspired by her cooking style. 
This recipe teaches you how to make a classic bacon quiche – a firm favorite at any picnic or garden party.
This is a great introduction to quiche, and has all of the information you need to make the perfect pastry crust – buttery and flaky yet holds its shape. You can also use a store bought pastry crust if you prefer.
If you want to turn this into a crustless quiche, make sure the dish is well greased before you add the mixture. 
To make this quiche recipe you will need all purpose flour, salt, butter, water, eggs, heavy cream, bacon, onion, shredded cheese, and salt and pepper to taste.
The crust is baked before the filling is added. Make sure you leave the crust to cool for at least 30 minutes before you add the filling.
When the filling has been added to the quiche, bake it again for around 30 minutes until the creamy egg mixture has set. Take the quiche out of the oven and leave it to cool for at least 30 minutes before serving.
This will ensure that the party won't crumble or fall apart when you slice the quiche. 
If you are looking for a vegetarian quiche recipe then this spinach quiche by Ina Garten is perfect (see also "Amazing Ina Garten Sweet Potato Recipes To Try Today"). It is a great source of protein due to the eggs and you can add in extra vegetables if you want to. 
This quiche uses smoked gouda as the cheese, which works really well with the delicate flavor of the spinach. It also makes a nice change to the usual choices of cheddar or mozzarella.
The great thing about this recipe is that it is totally customizable – you can add a second type of cheese if you like, or dot some tomatoes on the top of the quiche before baking. 
The secret ingredient in this recipe is the dash of nutmeg. It makes a big difference to the flavor and will elevate your quiche to the next level. A top tip for cooking with spinach is that certain varieties release a lot of water.
You don't want to make your quiche filling too runny, so it is a good idea to drain the spinach or to use a paper towel to absorb some of the excess liquid before you add the spinach to the eggs. 
Quiche Lorraine is one of the most popular quiche flavors and it is considered to be a French classic.
The filling for this quiche is made with eggs, milk, heavy cream, ham (or bacon), shredded cheese, salt, pepper, and a pinch of nutmeg.
If you want to add some color to the quiche then try a sprinkle of fresh parsley in the filling or even some green onions. 
This quiche takes around one hour to cook from start to finish. It is a simple recipe that will result in a perfect quiche every time.
If you have a party coming up and you don't want to turn up empty handed, why not whip up this quick quiche lorraine? Each quiche will serve between 6 to 8 people. 
You might not think to put crab in a quiche, but Ina Garten proves that it is a great combination of flavors and textures. If you have leftover crab meat then this is a great way to use it up.
Alternatively you can buy crab meat especially for this recipe, as it is a great way to work crab into your everyday meals. 
The rich egg filling doesn't just contain succulent crab meat. This quiche is also filled with leeks, fresh parsley and gruyere cheese. The flavors complement each other really well and you will be blown away by the final result.
If you want to impress your family at the next picnic or make a sophisticated light dinner to enjoy with a prawn salad, this crab quiche is the ideal recipe. 
This recipe is technically for frittata, not crustless quiche, but they are very similar. A frittata is an Italian egg dish that is very much like a Spanish omelet.
A rich mixture of eggs and cheese, along with any other fillings you might want to include, is whisked together and then baked in the oven. It is essentially like making a quiche without using a crust. 
Frittata is a versatile dish, just like quiche, so you can customize the recipe and include lots of different ingredients. You could make a bacon and leek frittata, a tomato and feta frittata, or even a sausage and black olive frittata.
This particular uses basil, potatoes, and two different types of cheese to make an irresistible filling. Frittata makes a lovely lunch when served with a side salad, or it can be used as a side dish to a larger meal.
If you are hosting a party, you might want to consider making miniature quiches to go on a buffet table.
They also make wonderful appetizers. The only problem is, it can be quite fiddly to make mini pastry cases. A more simple option is to make mini crustless quiches. 
This recipe is for mini frittatas – as explained above, a frittata is a baked egg dish that is essentially a crustless quiche. This recipe uses a delicious filling of prosciutto, leeks, spinach, basil, and two types of Italian cheese.
You can use whatever fillings you fancy, but this flavor combination is outstanding. 
The main ingredient of quiche is eggs, so you might think that it is impossible to make a vegan quiche. You will change your mind once you try this recipe for vegan quiche.
Instead of eggs, this quiche uses silken tofu and nutritional yeast. The result is a soft texture and a warm, yellow color that is very similar to eggs. 
Make sure you remember to use vegan butter when making the pastry. This recipe doesn't use any cheese, but you could add some vegan cheese if you wanted to.
The main filling is spinach and tomato, but you could add in some onion and bell pepper if you wanted more color, texture and flavor. The filling is seasoned with garlic, paprika, cayenne pepper and ground turmeric.
The turmeric not only adds depth of flavor but also contributes to the warm yellow color. 
Frequently Asked Questions
Here are some frequently asked questions about cooking quiche.
Can You Use A Store Bought Pastry Crust? 
If you want to save yourself some time and effort, you can use a store bought pastry crust instead of making your own pastry from scratch. Most of the store bought pastry crusts are almost as nice as a homemade one. 
What Can You Put In Your Quiche? 
One of the great things about quiche is that you can fill it with whatever you fancy – bacon, crab meat, spinach, tomatoes, cheese, olives – anything goes!

It is best to cook any meat before adding it to the quiche to ensure that it is safe to eat. 
Do You Need To Use Cheese In A Quiche? 
A lot of quiches use cheese in the recipe, but it is not compulsory.

If you are making a quiche for someone with a lactose intolerance, you can use vegan butter or vegetable lard to make the pastry and you can leave out the cheese.

Cutting out the cheese is also a great way to reduce the fat in a recipe to make it more healthy. 
How Long Does Quiche Last? 
Once you have made your quiche, you can store it in the refrigerator.

Most quiches will last for around 3 to 5 days if stored correctly, but it depends on the fillings you have used and how fresh the ingredients were when you made the quiche.
7 Amazing Ina Garten Quiche Recipes To Try Today
Course: Recipes
A guide to the best quiche recipes that were created by Ina Garten or inspired by her style of cooking.
Directions
Pick a recipe from above
Click the recipe name and visit the website
Collect the ingredients and the food
Enjoy – don't forget to leave a review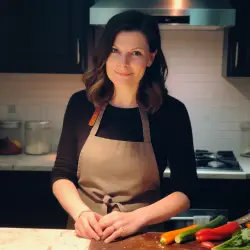 Latest posts by Barbara Hunt
(see all)