Is it a quiche? Is it an omelet? No, it's a frittata!
At least, that's what we hope you're here for because we have 12 delicious frittata recipes to serve up to you today.
A frittata can be kept simple or it can be as full of different flavors as you like. And it can be veggie or with meat.
In this list, we included some easy frittata faves as well as some experimental delights. Let's dive right in:
Named 'the only frittata recipe you'll need', this breakfast recipe starts our list off strong!
Assemble your staple frittata ingredients – eggs, salt, butter, heavy cream, and cheese – and you'll whip up something delicious in no time.
This recipe calls for a combination of mozzarella and goat's cheese, but you can also use sharp cheddar, brie, parmesan, or feta.
We think this is a great recipe to start with if you're new to making frittatas – it'll teach you how to get the basics right and then you can experiment.
Top tip: Get yourself a good quality cast iron pan to make your frittatas.
Veggie frittatas are perfect for non-meat-eating folk, or for a tasty way to get more greens into the kids.
You can even swap your normal milk for almond milk with this one (or any other milk for that matter).
This recipe has a few veggie variations to try, but the roasted red pepper and spinach frittata is our absolute favorite. Tomatoes and basil come in as a VERY close second though.
For smaller mouths, or to create the perfect finger food for a party, we love Ina Garten's Mini Italian Frittatas.
This recipe contains some delicious prosciutto, basil, lemon juice, baby spinach, leeks, and plenty of cheese.
You'll need a muffin tin, rather than a skillet, to create these tasty little morsels.
Prepare these mini frittatas in advance of your event and keep them fresh in the fridge, ready for serving.
Okay, this may sound a little strange – adding pasta into your frittata – but bear with us.
This recipe from Michele Scicolone is great for using up leftover pasta for a delicious meal the next day. And less food waste is music to our ears.
You'll need some cooked, drained spaghetti (or other pasta if you prefer), salami, mozzarella, and Parmigiano-Reggiano to make this dish.
The pasta and cheese combination in this frittata is actually delicious and it's a little more filling than a basic frittata – making it great for lunch.
The name of this recipe is too real! We've all been there – heading back to the fridge for another bite of frittata. They're just too tasty!
Melissa Hemsley's Fridge-Raid Frittata features broccoli, garlic, onion, mature cheddar, fresh basil, chives, and basil.
You can add some chili flakes for a little more bite, but this isn't essential.
Remember to steam your broccoli first and chop it finely before adding it to the Frittata mixture.
Top tip: you can swap the broccoli for cauliflower, which Melissa says tastes a lot like cauliflower cheese.
This frittata recipe is gorgeously indulgent – perfect for family brunch or a weekend lunch with the girls. And it's a big hit with pizza lovers!
You'll need Italian sausage for this frittata recipe – it's up to you if you go for something spicy or sweeter – both work well.
You'll also need a red bell pepper, fresh basil, an onion, and plenty of mozzarella.
This frittata is finished with a delicious marinara sauce. You can make your own at home or use a store-bought option if you're short on time. If you've got any leftover sauce in the fridge, this is a great way to use it up.
If you're a vegetarian, you can leave the Italian sausage and use mushrooms instead.
Not only is this instant pot frittata easy to make but it's packed full of protein too.
The prep time for this recipe is just 15 minutes – you can leave the rest of the work to your pressure cooker.
This recipe calls for bacon, onion, roasted red pepper, and baby spinach.
Create your basic frittata mix and add your cooked vegetables and bacon. Transfer the mixture into a cake tin and pop it in your pressure cooker, on high, for around 30 mins.
If you want to, you can broil the frittata for a couple of minutes afterward to brown the cheddar, but this isn't essential.
We're back with another frittata recipe that might raise a few eyebrows. But trust us, this makes for a really fun and tasty lunch.
This recipe takes your standard frittata and throws the rules out of the window by adding potato chips.
Sour cream and onion chips work really well in this frittata recipe, but honestly, you can use any flavor you like, so if you have a half bag of chips hanging around, pop them in!
This recipe recommends sour cream instead of heavy cream – keep a little of the sour cream to garnish too.
You'll need to add one and a half cups of chips to the mixture for a delicious crunch. Keep some chips to one side to serve too.
We don't know about you, but we think this is a perfect snack to serve while watching the big game with friends.
Martha Stewart's Swiss Chard Frittata takes a little longer than some of the other recipes on this list, but it's definitely worth a try.
First, you'll need to prepare your tomatoes. Take your 24 cherry tomatoes and add them to a pie dish with garlic.
Mix olive oil, balsamic vinegar, brown sugar, thyme, and salt and pour this on top of the tomatoes and garlic.
They'll need around 45 minutes in the oven to fully soften and caramelize. When cooked, set them aside.
While they're cooking, you can make your frittata. We love that this particular recipe is packed with chard.
When the frittata is finished, you can drizzle over the tomato mixture.
Calling all Halloumi lovers – this one's for you! And the good news is, this frittata recipe is pretty quick to make – prep should only take you about 10 minutes and the frittata will need just 15 minutes to cook.
You'll need a large zucchini, olive oil, chopped fresh dill and mint, 4 large eggs, and 4 ounces of sliced halloumi to make this frittata.
This recipe is to serve 2 people, but you can double it and opt for a larger pan if needed.
We love this Instant Pot Pizza Frittata recipe – not only because it takes just 20 mins to make but also – PIZZA!
As with any great pizza, we need plenty of cheese for this frittata recipe – shredded provolone and freshly grated Parmesan work best.
This recipe uses pepperoni, but you could use a different meat or make it vegetarian if you prefer.
As well as pepperoni, you'll also need dried oregano, red pepper flakes, baby spinach, fresh parsley, red wine vinegar, and some marinated artichoke hearts.
And, of course, you'll need your pressure cooker or Instant Pot on hand.
We're wrapping up our list of great frittata recipes with another way to use up your leftover pasta. If you're anything like us, we always make too much!
As well as your leftover pasta, this recipe also uses bacon, cherry tomatoes, garlic, onion, mozzarella balls, Parmesan and some tomato pasta sauce. If you have leftover sauce from the night before too – perfect. But if not, you can use jarred sauce instead.
We think this frittata recipe makes for a deliciously filling lunch – and we love that it limits food waste too.
Final Thoughts
Whether you want a simple frittata or something that packs a punch, we hope you've found your perfect recipe above.
We've included some options for the meat-lovers and veggies alike.
As long as you get the basics of your frittata recipe right, you can experiment and have fun with different ingredients and flavors. This is a great way to use up leftovers in the fridge!
Frequently Asked Questions
What Is The Main Difference Between A Quiche And Frittata?
Frittatas are cooked in a skillet and quiche is usually cooked in a tart dish. Frittatas are generally much quicker to prepare and they are firmer when finished. Frittatas are also crustless, unlike a traditional quiche.
What Size Skillet Is Best For Frittata?
You'll usually want to use a good 10-12 inch cast iron pan or skillet to make a frittata. Remember to preheat your pan before you start.
What Can You Use Instead Of Heavy Cream In A Frittata?
Sour cream, ricotta, crème fraiche, Greek yogurt, or full-fat plain yogurt work well as a replacement for heavy cream in a frittata.
Should A Frittata Be Brown On Top?
A frittata should be golden brown around the edges, and there may be a little coloring on top, but a brown frittata can often indicate that it's overcooked.

The main thing to remember is that it's cooked when the middle no longer jiggles!
Why Is My Frittata Tough?
If your frittata is tough it's very likely you've over-beaten your eggs.

Over-beating the eggs introduces too much air into the mixture, which can lead to a rubbery finish.
12 Great Frittata Recipes You Can Make Right Now
Course: Other Recipes, Recipes
Directions
Choose a delicious frittata recipe from above
Gather your ingredients
Cook your frittata
Enjoy!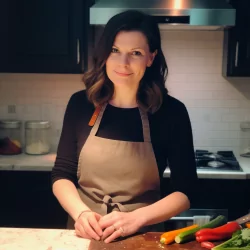 Latest posts by Barbara Hunt
(see all)