If you're bored with cereal and toast, and eggs don't tickle your fancy, then French toast is a surefire way to satisfy your rumbling stomach.
This is the perfect breakfast choice for a chilled Sunday morning with the family and a good pot of coffee. But with so many delicious toppings and recipes to choose from, where do you start?
We've got you! We've tried and tested the best French toast recipes and have pulled together our favorites just for you:
Let's start simple – a straightforward French toast to tempt your taste buds.
This is a no-nonsense recipe without all the added extras, making it a great option if you have any fussy eaters, or you don't have much in the pantry.
If you're new to making French toast, or struggle to get it right (leaving your breakfast a little more soggy than crispy and fluffy), then this is also a great recipe to start with.
This French toast recipe has all the staple ingredients – including eggs, butter, milk, vanilla extract, and cinnamon – but it's quick and easy to make. You should be able to prep and serve this dish in just over half an hour.
We recommend using a neutral oil, like sunflower oil or vegetable oil, to cook this recipe so you don't leave any overwhelming flavors on the toast.
Pop some maple syrup on the table to serve.
A lack of time doesn't mean you have to miss out on enjoying a tasty breakfast. This quick and easy French toast recipe will take you from pan to fork in no time at all.
This is another example of a great back-to-basics recipe prepared with all the essential French toast ingredients, but this one calls for a little nutmeg for added flavor.
Serve this French toast with a healthy dollop of butter and some runny maple syrup.
This is one for all the citrus lovers out there and it's sure to wake up your senses!

Prepare your French toast with day-old bread, eggs, milk, cinnamon, and butter.
When it's cooked, top with orange zest and 1/4 cup of triple sec (yes, you read that right!) Why not add some berries too for a really fresh breakfast and to get one of your 5 a day in nice and early?
For a slightly milder taste, try lemon curd on top of your French toast instead of orange zest and triple sec.
This indulgent Frech toast recipe from Ina Garten is a real winner!
Garten's recipe calls for Challah bread (although you can use Brioche if you prefer) and you can use cream instead of milk if you'd like.
With a good dash of honey and orange zest, this French toast is the perfect balance of sweet and tangy.
Ina Garten recommends serving her mouth-watering French toast with a raspberry preserve and a sprinkling of icing sugar.
We've shown some love to challah with the above recipe and now it's time for the Brioche to take center stage.
Now, we won't get into the which is better – challah or brioche – debate, but we will say that this recipe tastes divine!
Gather your ingredients – milk, eggs, honey, cinnamon, vanilla, salt, butter, orange zest, and brioche – and whip up a delightful breakfast.
The recipe recommends maple syrup, a serving of butter, and some icing sugar to serve but there's also the option of adding some granola or chopped nuts for a nice crunch.
French toast can be fairly quick to prepare, but it still takes more time than pouring cereal into a bowl.
So if you're really tight on time, you can try this overnight French toast recipe from Paula Deen.
Deen recommends preparing this recipe the night before and creating a delectable praline topping that your taste buds will really thank you for the next morning.
S'mores French toast is a real crowd-pleaser – soft and golden toast with the gooey goodness of marshmallows. What more could you want?

Once you've cooked the toast, you'll want to coat it in a mixture of cinnamon sugar and graham cracker crumbs for a delightful bite.
Layer your toast with marshmallow crème and garnish with the remainder of your graham cracker crumbs, marshmallows, and melted chocolate.
We're back with another Ina Garten French toast recipe as she's the queen of delightful breakfasts.
The Barefoot Contessa has created a beautiful, berry-inspired baked French toast recipe that you'll really want to sink your teeth into.
This recipe requires a baking dish rather than a pan as you're going to cook your French toast in the oven.
Before you do though, you want to prepare your dish and leave it in the fridge for about an hour to allow the flavors to really develop.
Once cooked, serve with orange zest, maple syrup, and confectioner's sugar.
Fruity pebble French toast is a real breakfast delight for the kids (okay, and for the adults too!)
Not only is this a tasty treat, but it's also very pleasing to the eye!
Now, we've been a little harsh on cereal in this article, but for this recipe, it really comes into its own.
You're going to start this recipe with your staple French toast supplies, but you will need crushed fruity pebbles for the full effect.
Don't worry if you don't like fruity pebbles, you can use pretty much any breakfast cereal. We love it with Cinnamon Toast Crunch or Apple Jacks.
This classic French toast recipe from Martha Stewart is great if you're looking for something a little more simple, yet equally delicious.
You can change this recipe up a little by using cinnamon-raisin bread or even croissants if they need to be used up. And you can add your favorite tipple to the eggy mixture.
Stewart's recipe will guarantee you French toast that's crispy and crunchy with a soft center.
You can serve it with any berries or syrups that take your fancy.
Paula Deen brings us this delicious Pecan Cinnamon French Toast casserole which uses sourdough instead of challah or brioche.
This dish is topped with an irresistible homemade praline made from corn syrup, butter, light brown sugar, cinnamon, nutmeg, and pecans.
You'll need to allow about 40 minutes for your baked French toast to be ready and you can then finish it with butter and syrup, and dig in!
We had to finish this list with a tropical twist to tantalize your taste buds!
For this recipe, you'll need to use coconut milk and cook your bread in coconut oil instead of vegetable oil for a tasty tropical finish.
The recipe recommends topping your French toast with whipped cream, chunks of mango, and shredded coconut, but there are plenty of tropical fruits you could add as an alternative, especially if you're not a fan of mangoes.
Pineapple or passion fruit would be a delicious alternative. You could even use a fruit syrup to finish it off.
Final Thoughts
French toast is a firm favorite with the whole family and makes a nice change to cereal or even pancakes.
You can keep it simple or create an extravagant breakfast – it's completely up to you.
We've included some mouth-watering French toast recipes in this round-up, so there will be something for even the fussiest eater.
Looking for more breakfast recipes? Take a look at our recommendations on the best Breakfast Cookbooks by female chefs.
French Toast FAQs
What's The Best Bread For French Toast?
Most recipes will use brioche or challah bread and they're both equally delicious.

It's worth remembering that one to two-day-old bread is best when making French toast as it absorbs the mixture better which will result in a tastier dish.
Should You Toast Bread Before Making French Toast?
If you're making French toast with slightly stale bread, then you shouldn't need to toast it. If not, you may want to dry it out in the oven a little first or even give it a very light toasting.

Alternatively, you can leave the slices out the night before to firm them up a bit.
How Long Do You Soak French Toast For?
Most French toast recipes recommend soaking your bread for around 15-20 minutes so it can fully soak up the eggy mixture, but you don't want to overdo it either or you could end up with a soggy breakfast.
What Is The Trick To Making Good French Toast?
Our top tip for making good French toast is to use the right bread – challah or brioche bread that is slightly stale tends to work best.

Make sure you get your egg-to-milk ratio best for the best results, and give your bread enough time to soak too.
12 Delicious French Toast Recipes The Whole Family Will Love
Course: Other Recipes, Recipes
Directions
Choose a delicious recipe from above
Click the link to visit the site for the full recipe
Gather your ingredients
Enjoy your tasty French toast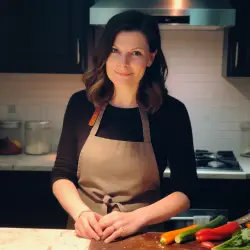 Latest posts by Barbara Hunt
(see all)