As you know, breakfast is the most important meal of the day, and it should be given the love and attention it deserves.
Whether you're a fan of sweet or savory breakfast dishes, the female chef breakfast cookbooks we have in this article will satisfy your cravings and inspire you to whip up some amazing breakfast creations in your own kitchen.
Without further ado, let's check what we have in store for you and explore the best breakfast cookbooks by some of the most talented female chefs out there!
If you're someone who struggles to find the time to prepare a satisfying breakfast in the morning, "Rise and Shine" by Katie Sullivan Morford is the perfect cookbook for you.
As a registered dietician and mother of three, Morford knows just how important it is to start your day off right with a nourishing breakfast.
Her cookbook features 75 mouth-watering recipes that are quick, easy, and nutritious. From homemade granola to breakfast burritos and smoothie bowls, "Rise and Shine" has something for everyone!
Morford also includes tips and tricks for meal prep and batch cooking to help you stay on top of your breakfast game, so trust us when we say you need this cookbook in your life… and bookshelf!
Pros:
Quick and easy recipes
Nutritious and satisfying breakfast options
Meal prep and batch cooking tips for added convenience
Cons:
Limited vegetarian and vegan options
Who says breakfast is just for the morning? "Breakfast for Dinner" is a cookbook that celebrates the versatility of breakfast foods and encourages us to enjoy them at any time of day.
This book features over 100 breakfast recipes that are perfect for dinner (or any other meal, really!).
One of the best recipes in this book is the Corned Beef Hash with Fried Eggs, a hearty and satisfying dish that is sure to please.
However, the book also includes recipes for pancakes, waffles, French toast, and breakfast sandwiches, as well as cocktails and mocktails to enjoy alongside your meal.
This cookbook is perfect for anyone who loves breakfast food and wants to enjoy it beyond the confines of the morning routine.
The recipes are creative, easy to follow, and guaranteed to please your taste buds. Plus, who doesn't love breakfast for dinner?
So, if you're looking for a cookbook that will inspire you to break the rules and enjoy breakfast at any time of day, then "Breakfast for Dinner" is definitely worth checking out.
Pros:
Creative and delicious breakfast recipes that are perfect for any time of day.
The recipes are easy to follow and guaranteed to please your taste buds.
Includes cocktails and mocktails to enjoy alongside your meal.
Cons:
Some of the recipes may be too indulgent for those looking for healthier options.
Margarita Manzke is the executive pastry chef and co-owner of République, a Los Angeles-based restaurant and bakery, and "Baking at République" is her first cookbook, which shares some of the secrets behind the restaurant's famous pastries and bread.
What makes this book special is the level of detail and precision that Margarita brings to her recipes. She includes step-by-step instructions for each recipe, along with helpful tips and techniques to ensure success.
Moreover, the book features over 125 recipes, ranging from classic French pastries to unique creations like Black Sesame Kouign Amann and Grapefruit Givré.
And if you are a fan of a good Pain au Chocolat, then consider this book a must-have as you won't find a better recipe than Manzke's for this sweet breakfast delicacy!
Pros:
Detailed and precise instructions for each recipe
Features unique and innovative pastries and breads
Beautiful photography throughout the book
Cons:
Some recipes may be more advanced and suited for experienced bakers
Last but not least, all breakfast fanatics have to go for "The Breakfast Book" by Marion Cunningham.
This book is the ultimate guide to breakfast, as there's everything in it: from pancakes and waffles to eggs, muffins, and so much more.
What's really cool about this book is that it's not just a collection of recipes; Cunningham really takes the time to teach you how to perfect each dish.
She shares tips and tricks for making the fluffiest pancakes, the crispiest bacon, and the most delicious coffee cake you've ever tasted!
And let's not forget about the blueberry muffins: they're seriously to die for.
And the best part is that the recipe is super easy to follow, and the muffins are so moist and tender, with just the right amount of sweetness.
Pros:
Contains over 280 recipes for all your breakfast needs
Cunningham's writing style is easy to follow and approachable
Includes tips and tricks for perfecting classic breakfast dishes
The blueberry muffin recipe is a standout and considered one of Cunningham's greatest achievements
Cons:
Some recipes may require specialized equipment or ingredients
Buyer's Guide
What Should I Look For In A Breakfast Cookbook?
Here are some key things to look for when searching for a breakfast cookbook:
Variety
A great breakfast cookbook should include a wide range of recipes, from classic dishes to more adventurous options.
Nutritional Value
Moreover, a good breakfast cookbook should provide options that are healthy and balanced, using fresh and nutritious ingredients.
Ease of Use
A breakfast cookbook should also have clear instructions and easy-to-follow recipes, so that even novice cooks can create delicious breakfast dishes.
Innovative Ideas
You should also look for a cookbook that offers new and innovative ideas for breakfast, whether it's twists on classic recipes or completely new dishes altogether.
Expertise
Finally, a cookbook like that should be written by an experienced and well-known chef or food writer can offer a wealth of knowledge and insights into the world of breakfast cuisine.
How Much Should I Pay For A Good Breakfast Cookbook?
The cost of a good breakfast cookbook can vary depending on factors such as the author, the number of recipes, and the quality of the ingredients, but on average, a good breakfast cookbook can range from $15 to $30.
The Bottom Line
These 6 female chefs have truly revolutionized the world of breakfast cuisine with their incredible recipes, tips, and tricks.
From comforting classics to exciting new dishes, their cookbooks are a must-have for anyone looking to create delicious and satisfying breakfast meals. So why not add these cookbooks to your collection today?
Frequently Asked Questions
What Is The Best Breakfast To Make In The Morning?
Some of the best breakfast options include oatmeal with fruit and nuts, yogurt parfait with granola and berries, avocado toast with eggs, and smoothies as all these options provide a good balance of protein, fiber, and nutrients to start your day off right!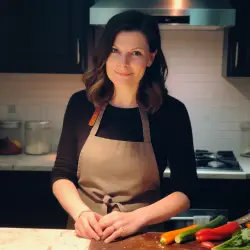 Latest posts by Barbara Hunt
(see all)