When it comes to food, for some people; it is much more than sustenance. In fact, it can be directly linked to emotions, memories, and culture – a wonderful peek into others' lives. 
For thousands of years, Black chefs – in particular, Black women – have been revolutionizing the kitchen. 
Black women can be seen as the architects of cuisine all around the world, therefore, we should make an effort to center and honor our contributions and experiences to them. 
One way to do so is by purchasing their cookbooks. Not only are you supporting female Black chefs, (see also: 7 Best Famous Black Female Chefs We Absolutely Love)but you're also enhancing your culinary skills and expanding your palate, too. 
Diversifying your cookbook collection could actually be compared to expanding your vocabulary – making you a stronger and more informed chef. 
Looking to expand your knowledge and mind? Well, food is one of the most fun ways to do so. This guide is exactly what you're looking for. 
Let's get started. 
Best Female Chef Black Cookbooks
Below, we have outlined some of the best food and stories from Black female chefs.
Here are 8 Black-authored cookbooks you don't want to miss.
When it comes to Southern cuisine, Edna Lewis is the uncontested grande dame.
Over the course of her lifetime, she has penned a quartet of cookbooks – all of which are influential culinary texts. 
For instance, her 1988 cookbook, In Pursuit of Flavor, takes you on a journey through traditional Southern dishes – using seasonal, sustainable, and local ingredients. The ideal cookbook for CSA and farmer's market enthusiasts. 
You simply can't go wrong with any of the recipes listed in her book, however, there are a few stand-out ones, including Leek and Potato Soup, Sautéed Wild Mushrooms, and Roasted Pheasant with Currant Sauce – delicious! 
Pros:
Includes possible substitutions and variations for each recipe. 
An honest guide to regional cuisine. 
Recipes are simple yet delicious. 
Cons:
Some people claim it reads like an autobiography. 
There's a lot of science that goes into baking – from fastidious temperature requirements, exact measurements, and strict processes –, it can feel somewhat intimidating to those beginning their baking journeys. 
However, this is where influencer and food writer, Jerrelle Guy, comes in.
Thanks to her debut cookbook, she has beautifully combined personal stories with the technical art of baking – providing you with an easy-to-follow and personal cookbook. 
Here, each recipe has been inspired by a particular point in her childhood and her family's tradition (many of which feature a healthy but delicious twist), as well as conversational and warm prose that works as a helping hand throughout the recipe. 
From Oatmeal Cheddar Cheese Moon Pies, Brûléed Buttermilk Pie, and Sweet Potato Rice Krispies – you don't want to miss out on these recipes! 
Pros:
A spin on classic recipes. 
The mixture of sweet and savory. 
Easy-to-follow instructions with bright colors. 
Cons:
Too many obscure ingredients. 
This is a classic cookbook crafted by the wonderful Jessica B. Harris. Here, you'll dive into the heritage, culinary history, and diverse cooking styles around Africa. 
In fact, you'll find over 200 recipes, ranging from chutneys to barbecued meats, and curries. Plus, there are a couple of anecdotes about where the recipes come from, too. 
If you need any more reasons to purchase this cookbook, just know that it received the stamp of approval from the poet, Maya Angelou. 
Pros:
A great introduction to African cooking. 
A good variety of dishes and countries were represented. 
Delicious results. 
Cons:
Some people were disappointed by the Ethiopian section. 
Holly Haines, a San Diego-based food blogger, chef, and recent author – thanks to her cookbook, Eat Your Feelings – explores cooking as a form of meditation. 
Here, she shares some of her favorite dishes to help you experience a range of different feelings and emotions. 
Whether you're kneading pretzel dough to help relieve some stress or are aggressively chopping up herbs to create a baba ganoush, Haines helps you to transform your emotions into a delicious and tangible meal. 
Pros:
Delicious food and creative organization of recipes. 
Will leave you laughing and smiling throughout. 
Tons of options for every emotion you're going through. 
Cons:
Some recipes are too simple. 
In the Carolina low country, the Gullah-Geechee has a major influence on the food of the region – whereby Southern U.S. and West African flavors and ingredients are combined to create a cuisine that is defined by seasonal produce, local seafood, and dishes to enjoy with loved ones. 
Thersa Jenkins Hilliard, author, and Hullah preservationist wrote Mama Doon's Gulla Recipes thanks to the inspiration and recipes passed down from her grandmother. 
From Grits with Pork Butt & Eggs, Gullah Hoppin' John (a famous low country dish made with cowpea beans, rice, and ham hocks), and Barbecue Pig's Feet. 
Pros:
Easy recipes to follow. 
Delicious results. 
Authentic Gullah recipes. 
Cons:
Some ingredients can be hard to come by. 
Avid cookbook collectors will often cast a wary eye on books not written by celebrity chefs.
However, songstress Patti LaBelle crafted LaBelle Cuisine: Recipes To Sing About, and you can trust it is the real deal. 
Here, you'll find Southern-accented recipes, including Pass-It-On Pot Roast, and Say-My-Name Smothered Chicken and Gravy which are all memories from her childhood – from watching her mother, aunts, and father in the kitchen – this shines in her prose. 
Likewise, if you're a fan of LaBelle's famous sweet potato pie – which is sold out on a regular basis at Walmarts across the country – then you'll be happy to know that the cookbook includes a recipe. 
Pros:
Down-home-type recipes. 
Easy to follow instructions. 
Helpful tips and tricks throughout. 
Cons:
Some readers found the recipes to be basic. 
Cuisine 
When it comes to purchasing the right female chef black cookbook (see also: 9 Female Chef Vegan Cookbooks By Black Authors You Do Not Want To Miss)for you, you'll want something that contains the type of food you're looking to cook. 
For instance, this can range from recipes represented from the Caribbean to West Africa and Southern to Creole.
Dietary Requirements
Another factor you'll want to consider is your dietary requirements – this will help you narrow down your search. 
Whether you're gluten-free, vegetarian, vegan, or pescatarian, you should be able to find a cookbook that accommodates your requirements. 
Skills
Finally, you'll want to consider your skill, too. Whether you are a beginner cook or a seasoned professional – purchasing a cookbook fit to your skill requirements will allow you to improve and expand your knowledge. 
Final Thoughts
One of the best ways to celebrate Black culture and community is through food. After all, it has the ability to bring whole communities and families together. 
With the help of these cookbooks, you'll not only be expanding your knowledge but whipping up some delicious meals at the same time. 
Hopefully, this guide has informed you about the best female chef Black cookbooks (see also: 8 Female Chef Fish Cookbooks You Do Not Want To Miss)that you need to get your hands on. 
Frequently Asked Questions
What Is Black Cuisine?
When it comes to Black cuisine, many people think of soul food or dishes from the US South, including sweet potato pie, barbecue, and macaroni cheese. 
However, the truth is, black cuisine is as diverse as any other cuisine – with tons of evolutions and variations all across the country.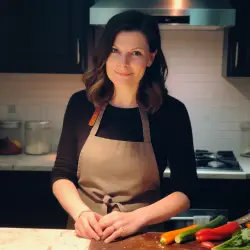 Latest posts by Barbara Hunt
(see all)