Learning to cook with fish can be quite daunting to begin with. Fish is very different to meat and requires different cooking methods.
Dani Colombatto is a photographer, stylist and writer from Texas. She is passionate about food and shares this passion by developing recipes, blogging and creating cookbooks.
This cookbook contains 115 recipes that take you through all that seafood has to offer- every texture and flavor and a dish for every occasion.
The recipes are detailed and instructive with excellent tips and advice for buying and preparing fish. 
Pros: 
Variety - There is an excellent variety of recipes to choose from 
Recipes - The recipes are instructive and easy to follow 
Informative - Alongside the recipes there is some great advice about cooking with fish 
Cons: 
Photography - The photos are excellent quality but there aren't enough of them 
This book shows you that seafood doesn't have to be a special treat that you only enjoy when you are eating at a restaurant.
The 24 recipes included in this book make cooking with fish simple and easy, so that you can include delicious seafood dishes in your day to day menu.
Whether you need a special dish for date night or something that the whole family will enjoy, there is something for everyone in this book. 
Pros: 
Variety - There is an excellent range of recipes to choose from
Instructive - The recipes are easy to follow and instructive 
Photography - The accompanying photos are very helpful 
Cons: 
Recipes - This is a shorter recipe book than some others, with only 24 recipes
If you are looking for a bumper cookbook that has everything you need to learn how to become an expert at cooking with fish, then this is it.
It has 500 different recipes, so it will last you a long time.
But it also has more than just recipes - it teaches you about the different types of fish, how to source it, how to prepare it, and how to really make the most of the flavors. 
It is divided into helpful chapters based on the different types of fish. 
Pros: 
Varieties - There are 500 recipes split into 20 different categories offering a great range 
Recipes - The recipes are clear and easy to follow 
Informative - There is plenty of information and advice which you will find useful 
Cons: 
Photography - There are not enough photos to accompany the recipes 
This is not just a fish cookbook, it's a comprehensive guide to a healthy and balanced pescetarian diet.
The recipes have seafood, vegetables, wholegrains and are a good balance of nutrients to keep your body nourished and your tastebuds satisfied.
As well as the recipes, it also includes important information on how to follow a pescatarian diet and some weekly meal plans to guide you along the way. 
Pros: 
Recipes - This cookbook contains 75 well balanced recipes 
Informative - The book has lots of advice and useful information 
Instructional - The recipes are clear and easy to follow 
Cons: 
Photography - This cookbook could do with some more photos 
This book was created by a world class spearfisherwoman and is a fantastic guide for anyone who wants to learn how to cook with seafood.
It contains 75 recipes for cooking with various types of seafood, as well as important information about selecting and preparing fish.
It promotes sustainable seafood, and puts the delicious meals into context. 
Pros: 
Experience - This book is written by an experienced fisherman and chef who has a lot of knowledge 
Informative - It is not just a recipe book but a handy guide to seafood 
Recipes - The recipes are clear and easy to follow 
Cons: 
Expensive - This book is a little more expensive than some of the others 
This is another great seafood cookbook from Dani Colombatto. It includes 95 fish recipes that take no more than 30 minutes to prepare, making it easy to fit them into a busy lifestyle.
The meals are healthy and well balanced, and the book includes some great advice on how to build a nutritious pescatarian diet and how to show off your ingredients. 
Pros: 
Recipes - The recipes are simple and easy to follow 
Time - This cookbook is ideal for people who have less time to spend in the kitchen 
Informative - As well as recipes this book has useful advice and guidance 
Cons: 
Variety - There is less variety in terms of types of fish than in other cookbooks 
This is not just a seafood cookbook, but an inside look into the life of a fisherman and the world of the fish trade - trawling, markets, buyers, chefs etc.
There are detailed guides to preparing the fish with color photographs for guidance, including fileting, skinning, boning etc.
If you want to become a true expert in cooking with fish, this book is the right choice. 
Pros: 
Informative - This book contains lots of helpful information as well as recipes 
Instructive - The photographs go alongside step by step guides for various processes of preparing fish 
Experience - There are interviews with seafood experts to give you genuine experiences 
Cons: 
Complex - This is a complex instructional book rather than a simple recipe book 
How To Choose The Best Fish Cookbook 
All of these cookbooks would be helpful, but how do you know which one is going to be the best option for you? Here are some things to consider when choosing which cookbook to buy. 
Cuisine
Some books focus on a particular type of cuisine, and others will include seafood recipes from a range of different cuisines.
You should check this before you buy the book, as you might want something with a good variety of recipes to choose from. 
Instructions 
A good cookbook will have straightforward instructions that are clear and easy to follow.
The instructions should be in a step by step format and will ideally include some photographs or illustrations to help guide you.
One of the biggest hurdles beginners will face when cooking fish is preparation - it is handy if the cookbook gives you some information about how to prepare the fish before you cook it (de-scaling and gutting etc). 
Recipes 
Before you buy a cookbook you should always browse some of the recipes to make sure that they are appetizing to you.
There is nothing wrong with trying new things, but there should be at least a few recipes that you know you are going to enjoy.
You should also check how many recipes are included in the book, as the more recipes there are the more you will be able to learn. 
Summary 
Using a cookbook that specializes in fish is the best way to learn how to cook with seafood from the comfort of your own kitchen.
These cookbooks make cooking with fish accessible to everyone, even beginners. They are all written by female chefs and include a good range of recipes that are easy to follow.  
Frequently Asked Questions 
Here are some frequently asked questions about cooking with fish. 
How Can You Tell When Fish Is Cooked? 
If you aren't used to cooking with fish it can be quite tricky to tell when it is fully cooked.
It will usually change texture, becoming softer and flakier, and will also change color. Make sure you follow the recipe carefully for each type of fish. 
Is It SafeTo Eat Raw Fish? 
Certain types of fish can be eaten raw, but you have to be careful where you buy the fish from and how you store it.
If you are new to cooking with fish then it is best to stick to more simple recipes and avoid ones that involve raw fish. 
Are Fish Recipes Healthy? 
It depends on the individual recipe and what additional ingredients are used. A lot of fish recipes are very healthy as fish is a source of lean protein and also contains a lot of healthy micronutrients.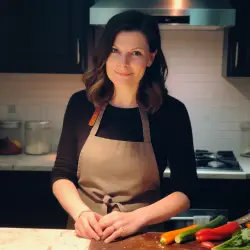 Latest posts by Barbara Hunt
(see all)