Ina Garten is an amazing all-round cook, but many would argue that fish recipes are her specialty, us included.
Her knowledge of pelagic flavors is second to none, as evidenced by the numerous amazing recipes in the books she's published thus far.
To help you sift through the wealth of Ina Garten fish dish options available to you, we've curated this list of her greatest hits.
Whether you're looking to dine out on a classic cod meal or a saucy swordfish snack, we've got the Ina Garten creations for you!
Thought of more as a fast-food fish than, say, a fancy French restaurant fish, cod gets a bad rap, but this mouth-watering recipe elevates it to the position it truly deserves, both visually and on the tongue!
It calls for skinless fillets, but before the crispy skin lovers out there turn their noses up, know that you'll be creating your very own skin made of garlic, herbs, panko bread flakes, and Ritz cracker crumbs.
Pair this super crispy embellishment with the buttery white wine and lemon sauce in which the cod is baked, and every bite will send you to seafood heaven! And get this… it's super easy to make — Woo!
It's one of those meals that will impress just about anyone, as it looks and tastes incredibly complicated, but it's deceptively simple to create.
For an even easier, yet just as tasty fish dish, we can't speak highly enough of Ina's mustard-roasted fish recipe. The hardest part of the process is making the mustard sauce, but you'll have that done in a matter of seconds.
Once the mustardy goodness is ready to go, simply spoon it evenly onto your fish fillets (skin down) until they're well covered, then pop them in an oven and bake for between 10 and 15 minutes — It couldn't be any easier!
Ina suggests a red snapper fillet, but there are no hard rules here. You can switch it out for pretty much any fish you enjoy or, of course, whatever fresh fish is readily available in your locality.
Anything from mahi-mahi to rainbow trout will do just fine.
One word of warning, though; this meal is exceedingly easy to overcook, so we'd recommend keeping sides and desserts minimal. That way you can focus on making this the main event it deserves to be.
Ina Garten's herb-roasted fish recipe is essentially just her take on the classic French (see also: 8 Best Ina Garten French Toast Recipes To Try Today)dish, poisson en papillote, involving the cooking and serving of fish within baking paper. 
Those who know their way around a conversation in French may notice that poisson en papillote literally translates as fish in paper.
Once your fish fillet of choice has been sufficiently marinated in oil and tasty herbs, all that's left to do is fold the edges of your baking paper over, and place the fish in the oven for about 15 minutes.
Ina suggests pre-heating to 400 °F, and it's absolutely essential that you do so. A hot oven is the only way to crisp up that fish skin.
We know it can be tempting to turn things down and take a recipe slow on the first try, but anything lower than 400 will lead to sogg-city.
For extra interactivity, serve the fish enclosed in the paper, and allow your guests to tear into them at will.
And don't worry if you're unsure how you'd go about incorporating baking paper into a fancy meal neatly; Ina guides you through this feat of culinary origami in the recipe.
Admittedly, this one is a little more complicated, but it's still within the realms of reality for novice cooks, and the resulting flavors are bonkers!
You've never had a curry like this before, and after you have a taste, you won't want any others ever again… It's that good.
The ingredient list is practically a scroll, so you'll need to stock up before giving it a go, but with any luck, you'll have a lot of the bits and bobs lying around already.
A good portion of the list is spices, so as long as you have a well-stocked spice rack, you'll be golden.
While our favorite thing about this dish is undoubtedly the sauce, shrimp and swordfish are the perfect oceanic pairings.
The tenderness and buttery sweetness of the shrimp marry perfectly with the various spices, and the meaty, almost steak-like texture of the swordfish makes this meal feel both elegant and substantial.
If you love curry, but you're getting a bit bored by the take-out standards, this is the perfect meal to rekindle your passion for spice.
Even those who aren't too fussed about seafood will enjoy it, as neither shrimp nor swordfish has that typical fishy taste or pong.
For the uninitiated, cioppino is an Italian-American fish stew related to the various regional fish soup recipes cooked across Italy.
As is the case with meat stew, there are countless different versions of this dish, but one relative constant is that it will contain a mix of both fish and shellfish.
Ina's not above breaking a few rules for the sake of flavor, efficiency, or perhaps just sheer novelty, but this time around, she sticks with what works, calling for a combination of Manila clams, large shrimp, lots of mussels, and some fresh fish fillets.
She shoots for halibut or salmon, but as we keep saying, you don't have to stick to her suggestions where the fish is concerned. As long as your fish is in the same ballpark as hers, it's all good.
Next time you have over an hour free to whip up some dinner, do yourself (and your co-diners) a massive favor and give Ina Garten's seafood gratin a try (see also "Best Ina Garten Potatoes Au Gratin Recipes"). 
The headlining aspect of any gratin is of course the tasty crumb crust, and this one is no exception.
Made up of panko breadcrumbs, Parmesan, parsley, tarragon, and lots of lovely garlic, the golden mantle of this recipe is out of this world!
But don't worry, once you break through that delicious crummy crust, you've still got the juicy halibut chunks swimming in creamy white wine seafood stock to look forward to.
It's not the quickest cook on the list, but if you're looking for something comforting and wholly satisfying, you have to set aside some time to give it a go.
Looking to impress a hot date with some exquisite home-cooked French cuisine? If yes, forget about the other recipes on this list and focus on Ina Garten's easy sole meuniere.
Sole is widely considered the king poisson in French cuisine and was even the favorite of actual historical king, Louis XIV.
While the flavor is quite delicate, allowing all the ancillary ingredients to shine through, it carries well itself, so it never gets lost, no matter how rich the meal becomes.
As for this meal, the flavors the sole comes up against are lemon, parsley, and butter, three ingredients that couldn't have more synergy.
They blend seamlessly into one another creating a nuanced and impactful flavor profile sure to knock the socks off anyone lucky enough to be dining with you.
If French cuisine sounds like a bit much of a muchness for your next fish recipe, allow us to introduce you to Ina's take on the European classic, fish and chips.
The key to heavenly fish and chips is getting the batter light, crispy, and golden, which is surprisingly tricky to do when going it alone, but lovely Ina guides you through the process in this recipe, guaranteeing the perfect batter.
As long as you get the fish just right, store-bought chips are forgivable, but if you really want to do this meal justice, follow Ina's lead and cut/deep fry your own chips.
Final Thoughts
There you have it — 8 of the best Ina Garten fish recipes online (Also check out Amazing Ina Garten Seafood Recipes). No, you know what… some of the best fish recipes, period!
You've got plenty to work through here, but Ina's bound to treat us all to more cookbooks as the years go by, so don't hold back. Give each and every one of these meals a go; you won't regret it!
Frequently Asked Questions
What's The Healthiest Fish?
Salmon is the healthiest of all fish. Far and away the best source of omega-3 fatty, it keeps us topped up on the key substances that our bodies can't create naturally.

But, apart from those that contain high levels of mercury, most fish are quite healthy.
What Wine Pairs Well With Fish?
It's impossible to pair just one wine with all fish, as the flavor can differ significantly from fish to fish.

Rather, you should pair wine to each individual fish, or, each individual meal if the ancillary ingredients push it in one direction or the other.

For quite salty fish, you can't go wrong with some bubbly, while moscato is a good choice for spicy fish dishes or mild white fish.

A quality pinot gris is probably the most versatile pairing, but is particularly spectacular with oily fish, which can also work nicely with a full-bodied chardonnay.

Much like moscato, sauvignon blanc goes down a treat with lean white fish, as does chenin blanc and pinot grigio, but for a dense fish, such as tuna or swordfish, give some white zinfandel a try.

Smoked fish and sherry are a match made in heaven, and pinot noir and freshwater fish work well too, or if you're eating a summary meal, a rosé might be just the ticket.
8 Amazing Ina Garten Fish Recipes To Try Today
Course: Cookbooks
Directions
Pick a recipe from above
Click the recipe name and visit the website
Collect the ingredients and the food
Enjoy – don't forget to leave a review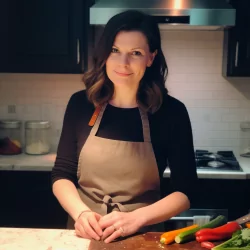 Latest posts by Barbara Hunt
(see all)