Roasting shrimp is a simple way to cook shrimp that is suitable for beginners or more experienced chefs.
It is also healthier than pan frying, which means that you can make shrimp more of a regular feature in your diet.
If you want to learn some new shrimp recipes to impress your family and friends then you should definitely think about trying some roasted shrimp dishes. 
If you don't know where to look for roasted shrimp recipes or you need some inspiration, you should try an Ina Garten recipe(see also: 7 Best Ina Garten Cranberry Sauce Recipes To Try Today).
Ina Garten, host of the 'Barefoot Contessa' cooking show, is known for her wholesome dishes and easy-to-follow recipes that make cooking more simple.
Here are some of her best roasted shrimp recipes that you will want to try today(see also: 9 Amazing Ina Garten Shrimp Recipes To Try Today). 
This delicious recipe makes the ideal appetizer for any buffet or dinner party. It is easy to make and is even suitable for beginners.
This recipe will serve 6 to 8 people as an appetizer or 3 to 4 people as a main course with a side dish. 
For this recipe, you need to peel and devein the shrimp but leave the tails on. Toss them in olive oil (not too much) and season them with salt and pepper.
Spread them out on a sheet pan and roast the shrimp in the oven for 8 to 10 minutes until pink and firm. 
As the shrimp cool down you can make the sauce. Combine ketchup and chili sauce with horseradish, lemon juice, tabasco sauce and worcestershire sauce. This dish is all about presentation – it needs to look appetizing.
You can arrange the shrimp on a plate or in a dish with the tails exposed so that you can pick them up with your fingers and dip them into the sauce. The flavors are simple but very tasty. 
This is a fantastic recipe that you will definitely return to again and again. The shrimp need to be peeled, deveined and butterflied for this recipe, so there is quite a bit of preparation time.
You can cut down on preparation time by getting ready-prepared shrimp. 
Once the shrimp are prepared, toss them in wine and olive oil. Season them with salt and pepper and allow them to sit and come to room temperature while you move on to the next step of the recipe. 
Mash fresh garlic with softened butter, minced shallots, red pepper flakes, egg yolk, lemon juice, lemon zest, rosemary, parsley, panko, salt and pepper.
Arrange the shrimp in a dish and pour over the remaining marinade before adding the garlic mixture on top. Bake for 10 to 12 minutes and serve with wedges of fresh lemon. 
This recipe is very similar to the classic roasted shrimp cocktail. The shrimp is prepared in the same way – roasted in olive oil and seasoned with salt and pepper. The difference is the sauce.
Instead of a classic cocktail sauce, this recipe uses a cocktail louis sauce which is creamier. It has similar flavors but is more sophisticated and is perfect for impressing guests at a dinner party. 
The sauce for this recipe is made with mayonnaise, chili sauce, sriracha, worcestershire sauce, lemon juice, horseradish, salt and pepper.
You also add capers and scallions, which introduces more flavor and texture into the dish. 
This simple but satisfying dish is usually made on a charcoal grill, but you can roast the shrimp in your oven instead if you want to. The shrimp is marinaded for one hour before cooking to create an intense flavor. 
You begin this recipe by making the marinade. Combine fresh garlic with minced or diced onion , mustard, parsley, basil, olive oil, lemon juice, salt and pepper.
Add the shrimp to the marinade and leave it at room temperature for one hour. If you want, you can leave the shrimp in the marinade for up to two days in the refrigerator.
Just make sure that the shrimp comes up to room temperature before you cook it, or it might end up being tough and chewy. 
Once the shrimp has been marinated, skewer 5 or 6 shrimp onto one wooden or metal skewer. If you are using wooden skewers, you might want to soak them in water to prevent them from burning.
Grill the shrimp (or cook them in the oven) until they are cooked through. Serve them with mango salsa for a perfect BBQ meal. 
Orzo is a type of pasta that is used in Italian, Greek and Middle-Eastern cuisine. Ina Garten uses orzo in this recipe to create a wonderful roasted(see also: 9 Best Ina Garten Roasted Potatoes Recipes To Try Today) shrimp dish.
The shrimp is roasted on a  sheet pan until it is pink and firm. The flavors are simple – salt, pepper and olive oil – allowing you to really taste the delicate shrimp. 
The orzo is cooked until al dente, meaning that it still has a little bit of bite and isn't completely soft.
Combine the shrimp and the orzo together, then add scallions, dill, parsley, cucumber, onion, salt and pepper. Finally, stir in the feta cheese. 
Cover the dish then leave it in the refrigerator for at least one hour or overnight. Let it come to room temperature before servings, and taste again for seasonings once all of the flavors have combined.
This is a fresh, vibrant dish that is perfect for the summer. You can add some lemon juice or serve with fresh wedges of lemon if you want to. 
Shrimp boil is usually made in a large pot over a fire, but this recipe uses a sheet pan to oven roast the shrimp instead. It is inspired by Ina's Roasted Southern Shrimp Boil recipe taken from her 'Go-To Dinners' cookbook. 
Cooking the ingredients in the oven is quicker than boiling them, so this is a great weeknight meal. Start with the potatoes, as they take the longest to cook, then you add the corn and finally the shrimp.
All of the ingredients are seasoned with the same ingredients – coriander, dill, salt, pepper, and Old Bay seasoning. 
One of the great things about this recipe is that there isn't much washing up! The potatoes are seasoned in a bowl before being added to the sheet pan.
You use the same bowl to season the corn and the shrimp, and only one pan to cook them all in. 
This recipe was iInspired by Ina's recipe Roasted Shrimp Panzanella in her 'Go-To Dinners' cookbook.
You can grill the shrimp over a medium heat or roast them in the oven – either way, make sure you cook them until they are pink and firm. 
Panzanella is a type of Italian salad that is usually made using leftover bread that has gone stale. You can make your own panzanella bread by brushing it with olive oil and then toasting it before cutting it into cubes (Also check out Best Ina Garten Garlic Bread Recipes).
The shrimp is marinated in salad dressing for half an hour before being cooked. If you have some more time, you can make your own marinate and leave the shrimp overnight. 
One of the great things about this recipe is that you can customize it to include your favorite salad items.
If you want to stick with the Italian theme, why not try sun dried tomatoes, olives and pancetta, and fresh basil leaves along with rocket and lettuce and some roasted bell peppers.
You could also add some grated Italian hard cheese, or even some fresh mozzarella torn into small chunks. 
Final Thoughts
And there you have it – seven delicious Ina Garten recipes (see also: Ina Garten Orzo Salad Recipes To Try Today)to take your shrimp dishes to another level. Love fish? You won't be able to get enough of these recipes.
So, we've given you the inspiration, but which recipe will you try first? 
Happy cooking! 
Frequently Asked Questions
Here are some frequently asked questions about cooking with shrimp. 
Should You Use Fresh Or Frozen Shrimp? 
Fresh shrimp has the best flavor but it is not always available or affordable. It is perfectly fine to use frozen shrimp as long as it has been fully thawed first.

Make sure you buy your shrimp from a reputable source and try to get sustainable seafood whenever possible. 
Do You Need To Peel Shrimp Before Cooking? 
A lot of people buy shrimp that has already been peeled and deveined. If not, you will need to do this before you cook the shrimp.

However, this can depend on the recipe as some chefs like to cook the shrimp first and then unpeel it. 
What Does Shrimp Taste Like? 
Shrimp is a very mild form of seafood. It is a combination of buttery, salty and sweet, Shrimp is very versatile and pairs well with lots of other flavors. 
How Can You Tell When Shrimp Is Cooked? 
Raw shrimp is translucent with a gray/white color. As it cooks it becomes soft, and turns more of a coral/pink color. Some of the meat is white, but if there are any translucent parts then the shrimp is not fully cooked.
7 Ina Garten Roasted Shrimp Recipes To Try Today
Course: Recipes
A guide to the best recipes for roasted shrimp that are either created by Ina Garten or inspired by Ina Garten's style of cooking.
Directions
Pick a recipe from above
Click the recipe name and visit the website
Collect the ingredients and the food
Enjoy – don't forget to leave a review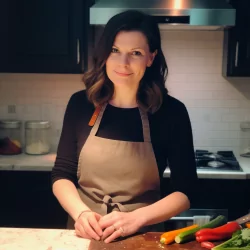 Latest posts by Barbara Hunt
(see all)