After making Ina Garten's roasted shrimp and orzo salad a couple of times now, I had to share it with my fellow seafood salad lovers!

Soft puffs of orzo pasta, sweet & juicy shrimp and crisp fresh herbs come together so simply and yet are perfect for almost any occasion.
I think what i'm saying is, when you make a roasted shrimp and orzo salad Ina Garten style, you're guaranteed it will be super easy to make, easy to customise and will wow your guests.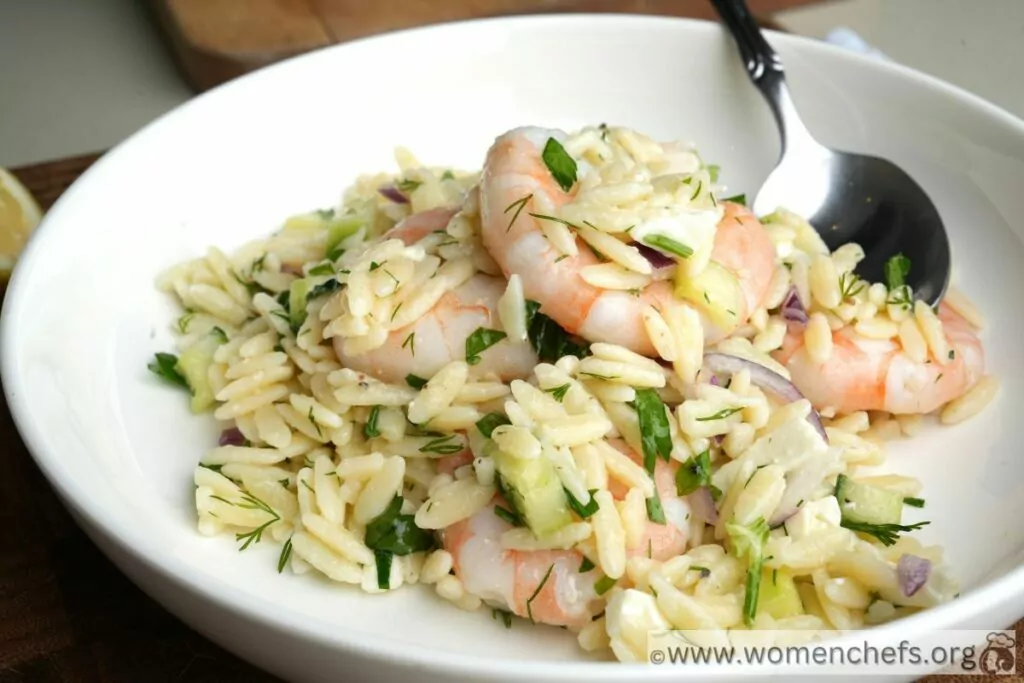 What Is Orzo?
A question I get asked a lot (including from relatives) is what orzo really is.
Orzo is basically a rice shaped pasta (weird, I know!), but it tastes so good and comforting, just like any pasta you have ever tried.

When I first saw Ina Garten's orzo shrimp recipe in her cookbook, I thought orzo was a type of vegetable! But after doing some research I quickly realized what orzo is.

However, it brought me to my next question…
Where Can I Buy Orzo?
Orzo can be picked up from anywhere, including Trader Joe's, Whole Foods, and Safeway.

I like to pick up mine from Traders Joe's. So when you are in any of these places, head for the pasta & grains aisle, and look for a rice-looking pasta. That would be orzo!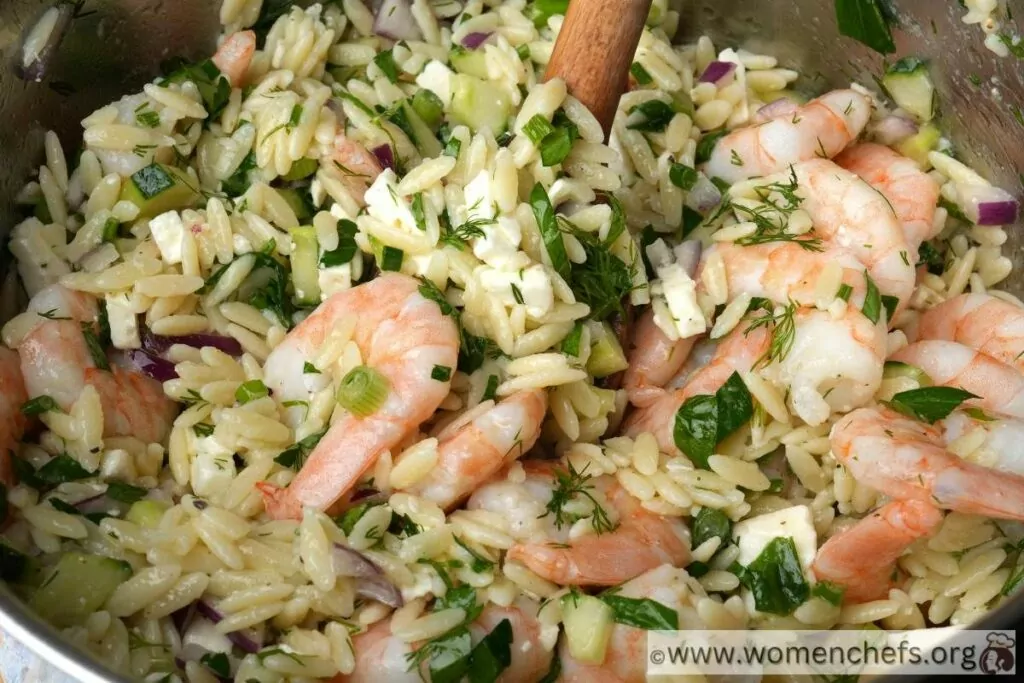 Ina's Orzo Shrimp Salad Recipe Tips:
The first time I ever made Ina Garten's orzo salad recipe, I didn't get it quite right.

I overcooked the shrimp, and the pasta ended up undercooked. The next time I made the recipe, I made sure I didn't repeat any of the mistakes I made the first time.

Which is why I wanted to share my tips for when you make the recipe:
Raw shrimp is best but you can use pre cooked. Starting with raw shrimp gives you maximum control of the flavours and will give you the most tender and juicy shrimp. Pre-cooked are fine too, but you may not want them fridge cold when you serve the dish.
Defrost the shrimp first (if using frozen). Put the frozen shrimp in a bowl filled with lightly salted water at room temperature. Change the water a couple of times when you find the water has gotten icy cold. They should defrost after 5 to 10 minutes. Dont defrost them by using any heat source – this risks cooking the outside and leaving the inside frozen.
Avoid overcooking the shrimp, or they will be tough and rubbery. Keep a close eye on the shrimp when they are in the oven. Turn them once after about 3 minutes then give them another 2 or 3 minutes.
Be careful with the seasoning. Since the recipe requires feta cheese, which is naturally very salty, add less salt as you would normally do in your meals, simply because the feta will naturally add a salty taste to your salad.
Taste, taste, taste! I undercooked my pasta simply because I didn't test it to see if it was cooked. As you are cooking your orzo, taste it to ensure it's cooked through, or to ensure you do not overcook it either. The tasting also applies to your seasonings; always start with less, mix everything, then taste. Add more seasonings if needed.
Swap herbs. The first time I made this orzo salad, the grown-ups approved it, but my kids really disliked the strong dill flavor. This is why the next time I made the salad, instead of dill, I used dried oregano. Test out different herbs and see which ones you like best.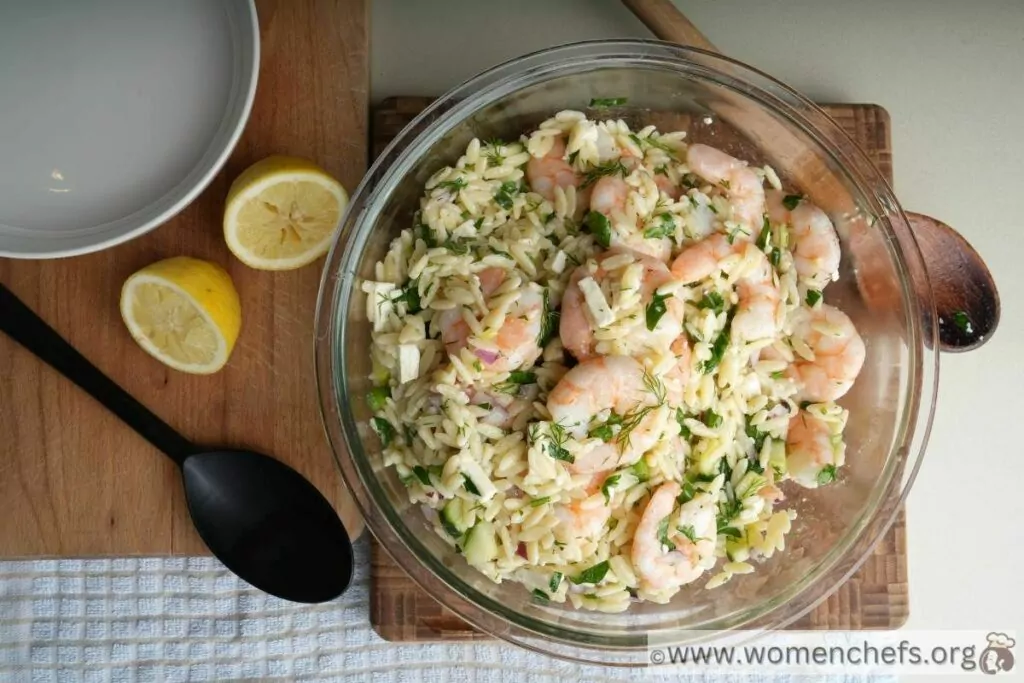 Recipe And Directions
Here are the recipe ingredients and directions.
Scroll down below this section to see step by step photos and some more useful tips regarding the recipe, should you want to!
Ina Garten Orzo Shrimp Salad Recipe
Course: Main, Salads
Cuisine: Italian
Difficulty: Easy
Savor Ina Garten's delightful orzo shrimp salad – a harmonious blend of flavors and textures. Perfect for any occasion.
Ingredients
For The Orzo:

1 tablespoon of salt

1 tablespoon of oil

3⁄4 lb of orzo pasta

For The Lemon Dressing:

1⁄2 cup olive oil

3 large lemons juiced

1 teaspoon of salt

1 teaspoon of ground black pepper

For The Roasted Shrimp:

2 lbs raw shrimp, peeled and deveined

1-2 tablespoons of olive oil

1/4 tsp of salt

1/3 tsp of ground pepper

For The Salad Add-ins:

1 cup chopped fresh dill

1 cup chopped fresh flat-leaf parsley

1 large English cucumber, seeds scooped out and diced.

2-3 scallions chopped

1 large diced red onion

1 teaspoon of salt

1 teaspoon of ground black pepper

For The Final Touch:

3⁄4 lb of feta cheese cubes
Directions
Begin by preheating the oven to 400F.
In a deep pot, fill it with water, add 1 tablespoon of salt, and 1 tablespoon of oil. Bring the water to a boil.
Add the orzo to the boiling water and allow it to simmer for 9 to 11 minutes, stirring occasionally, until it reaches the desired al dente texture. Taste it as it cooks!
Drain the orzo and transfer it to a spacious bowl.
In another bowl, combine the lemon juice, 1/2 cup of olive oil, 1 tsp of salt, and 1 teaspoon of pepper, and whisk together.
Pour this dressing over the piping hot drained pasta and mix it thoroughly.
While the orzo is absorbing the flavors, arrange the raw shrimp on a baking sheet. Drizzle them with olive oil and season with salt and pepper and toss to ensure an even coating.
Spread the shrimp out in a single layer on the baking sheet.
Roast the shrimp for 5 to 6 minutes until they are cooked; be cautious not to overcook them.
While the shrimp is cooking, chop the fresh herbs, and slice the cucumber.
Now, combine the cooked shrimp with the orzo, and then add the dill, parsley, cucumber, onion, 1 teaspoon of salt, and 1 teaspoon of pepper.
Toss all the ingredients thoroughly.
Gently fold in the feta cheese.
Allow the dish to sit at room temperature for about 1 hour to let the flavors meld, or refrigerate it overnight for even more depth of flavor.
If you refrigerate it, make sure to taste it again for seasoning and bring it back to room temperature for at least an hour before serving.
Roasted Shrimp and Orzo Recipe By Ina Garten – A Photos Guide To The Tricky Bits
Sometimes taking instructions from words on a page (or screen) might leave you with some questions. If you are like me and are a very visual person, photos can really clear things up.
If you're unsure of anything in this recipe, I have included photos of the key steps below and added any other comments I think could be helpful.
Roasting Shrimp
For best results, start with raw shrimp for this recipe (fresh or frozen are fine). Raw shrimp are grey in color and are almost translucent (kind of sea through), as opposed to cooked which have a pink/orange tone.
Spread the shrimp out and avoid overcrowding the baking sheet – you can cook the shrimp in batches if you need to. For more ideas on roasting shrimp, check out some of our favorite roasted shrimp recipes from Ina Garten.
Once cooked, shrimp tend to curl a little tighter, have an orange outer color and white flesh. The change can happen quickly so don't forget them!
Combining Everything To Serve
Add the cooked shrimp directly to the drained orzo.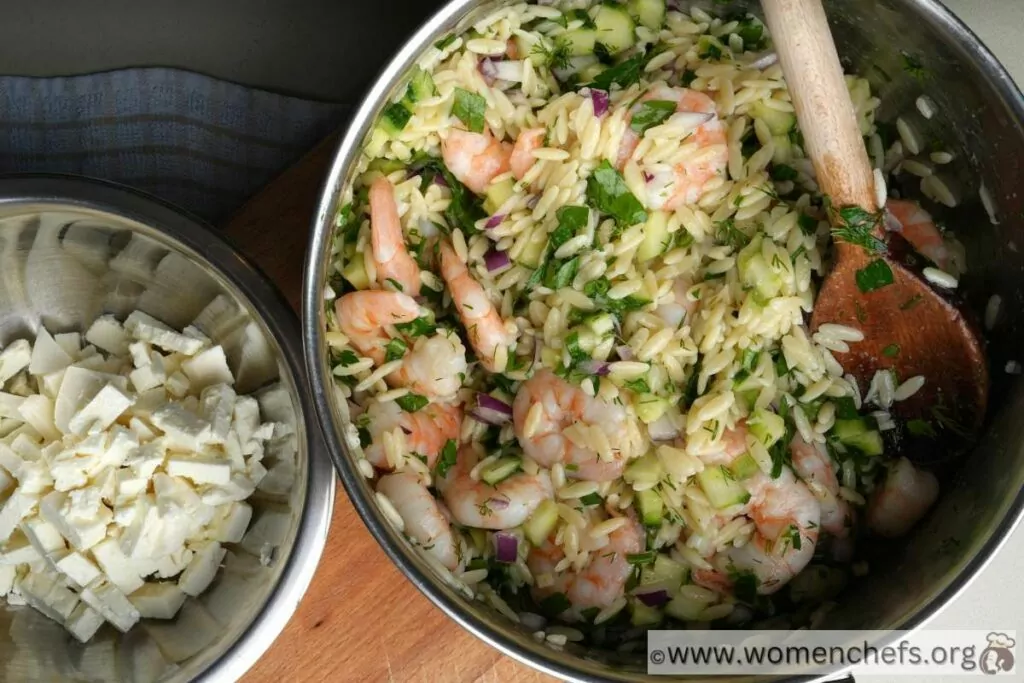 Add the chopped ingredients, excluding the feta, and mix well.
Add the feta last and toss gently. This will ensure you get those delicious chunks of salty feta.
Barefoot Contessa's Orzo Salad Commonly Asked Questions:
1. How Can I Store Leftover Shrimp Orzo Salad?
One of the best ways to store the orzo shrimp salad is in the fridge immediately after the salad is cooled. Since seafood and fish don't last very long, definitely make sure you consume the leftover salad within 2 days.
2. Can I Freeze Leftover Orzo Shrimp Salad?
Yes! Orzo shrimp salad can be freezed easily. Simply transfer your cooled leftovers to a freezer-friendly container or bag, and place them in the freezer. The salad can last in the freezer for up to 2 months.
3. Is Orzo Pasta Healthier Than Rice?
Orzo is typically considered to be healthier than white rice. Other types of rice though, such as brown or wild rice can be healthier than orzo. The key difference here is the fact that orzo typically contains gluten and rice doesn't. This is why rice is often preferred for people who avoid gluten.
4. Is The Orzo Shrimp Salad Eaten Hot Or Cold?
The salad can be eaten both hot and cold. If you are reheating it though, be careful when heating the shrimp, because you do not want to overcook it. I like to re-heat the salad on the hob, while stirring vigorously.
More Related Ina Garten Recipes You May Like: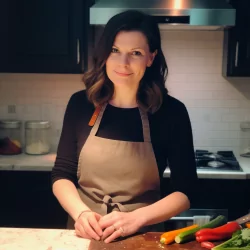 Latest posts by Barbara Hunt
(see all)