If you need a quick and comforting dinner, you have to make Ina Garten's roasted sausage and peppers recipe!
This recipe is an absolute go-to whenever I don't have hours to cook or much food in the kitchen. 

I will start with the recipe ingredients and directions. Please scroll further down to read useful information regarding the recipe, should you want to!
Ina Garten Sausage And Peppers Recipe
Course: Main
Cuisine: American
Difficulty: Easy
Ina Garten's sausage and peppers recipe: Indulge in the delightful fusion of sweet and hot Italian sausages, colorful peppers, and aromatic spices.
Ingredients
3 large yellow onions sliced

6 large different colored bell peppers (yellow and red) cut into 1/2-inch strips

3 large poblano peppers, cut into 1/4-inch strips

1 medium fennel, halved, core removed, and crosswise sliced into 1/4-inch pieces

2 cloves of garlic – minced

1 pound of Italian sausages

1 pound of spicy Italian sausages

1 can of chopped tomatoes

1/3 cup of dry white wine

1/2 cup of fresh basil leaves, sliced

1 teaspoon of dried oregano

1 teaspoon of salt

1 teaspoon of freshly ground black pepper

2 tablespoons of olive oil + extra

Shredded parmesan cheese to serve
Directions
Preheat the oven to 400F.
Combine the onions, peppers, fennel, garlic, oregano, 1 teaspoon of salt, 1 teaspoon of freshly ground black pepper, and a generous drizzle of olive oil. Ensure an even distribution of these ingredients. Spread them out in a single layer on two large sheet pans. Make sure not to overcrowd them in a smaller pan, as this can prevent the vegetables from browning properly.
Separately, on a third sheet pan or baking dish, toss the sausages with 2 tablespoons of olive oil and arrange them in a single layer.
Roast both the vegetables and sausages in the oven for 20 minutes. If you don't have three sheet pans, you can use a roasting pan for one set of vegetables or sausages, or roast the vegetables first, followed by the sausages, before continuing with the recipe.
After the initial roasting, combine the roasted vegetables in a large roasting pan. Place the sausages on top of the vegetable mixture.
Add the can of chopped tomatoes to the pan. Pour in the white wine, and then roast for an additional 25 to 30 minutes, turning the sausages as needed to ensure even browning.
Remove from the heat, sprinkle the sliced basil over the dish, toss everything well, and taste for seasonings. Serve the dish hot with freshly grated Parmesan cheese on the side.
Notes
Pro tip: You can sprinkle parmesan cheese 5 minutes before you take the trays out of the oven, if you want the cheese nicely melted into your dish!
Ina's One-Pan Roasted Sausages And Peppers Recipe Customizations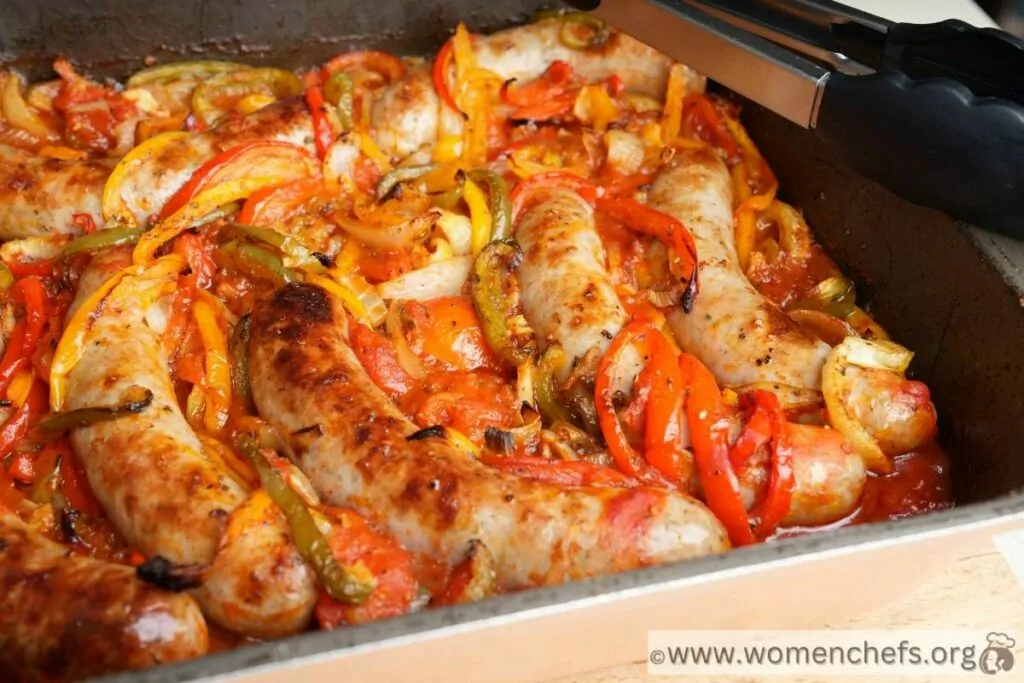 One of the best things about this recipe is how easily it can be customized.

Since the recipe is so easy, once you make it a couple of times, you won't even need to read the recipe or follow the instructions.

I often just throw sausages and veggies in an oven tray together with some herbs and spices, toss with olive oil, and pop the tray in the oven until everything is cooked.

What I found doing that is how easily the recipe can be customized.

Here are some ideas:

Choice of Sausage: Try different types of sausages such as pork, bratwurst, chorizo, or chicken sausage for a unique flavor twist.
Choice of meat: This recipe works perfectly well with other types of meat so don't worry if you don't have sausages. Its actually relatively similar to another hearty family favorite, chicken cacciatore by Ina Garten.
Onion Variations: Use different types of onions, such as red onions, sweet onions, or shallots, to alter the sweetness and flavor profile.
Herb Infusion: Add herbs like rosemary, or thyme for a fragrant and herbal touch.
Spices and Seasonings: Customize the flavor by adding spices like smoked paprika, cayenne pepper, or fennel seeds to the dish.
Cheese Topping: Just before serving, sprinkle your favorite cheese, like Parmesan, feta, or goat cheese, over the dish and let it melt.
Best Things To Serve With the Barefoot Contessa's Roasted Sausages And Peppers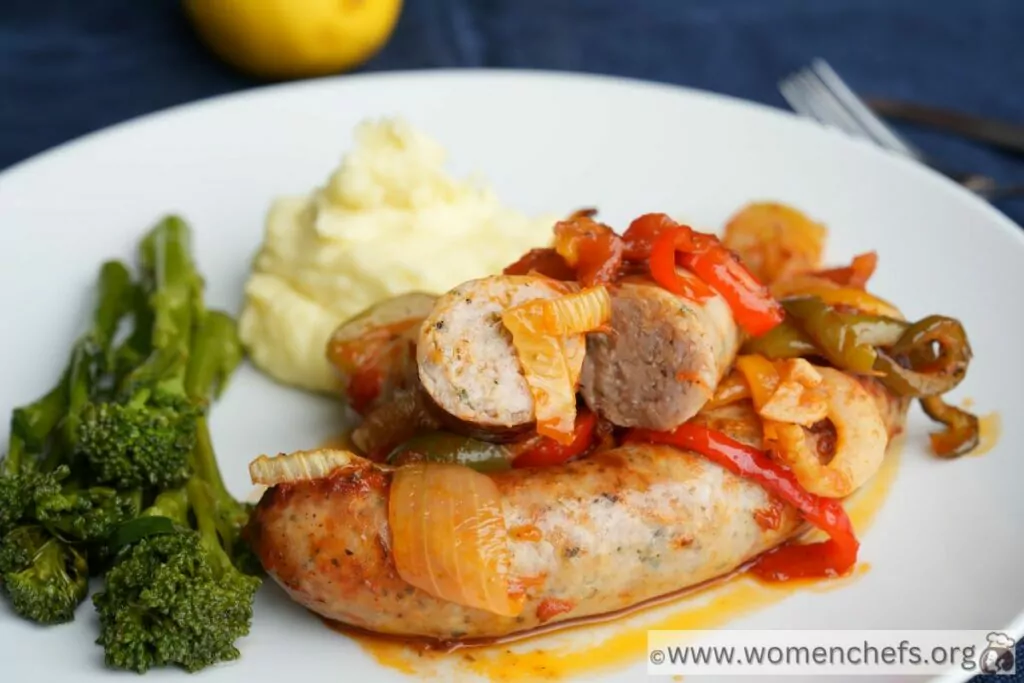 Ina Garten's sheet pan sausage and peppers can be eaten as they are, however, you can pair them with sides such as creamy mashed potatoes, green beans etc.

Here are some sides ideas that I have paired the dish with before that my family absolutely loved:
Creamy Mashed Potatoes
Roasted Potatoes
Fries
Buttered Green Beans
Buttered Bread
Pasta Salad
Leaf Green Salad
Here are some Ina Garten side recipes that you can also make to pair these one-pan roasted sausages and peppers:

Barefoot Contessa's Roasted Sausage Peppers And Onions Recipe FAQs:
How To Store Leftovers Roasted Sausages, Peppers And Onions?
Once the dish is completely cooled, transfer the leftovers into air-tight containers, and tightly close the lids. You can either refrigerate the containers or place them in the freezer. In the fridge, the leftovers will be good for up to 3 days, in the freezer, up to 2 months.
How Do You Reheat Sausage Peppers And Onions In The Oven?
Preheat the oven to 400F. Place the sausages, peppers and onions onto a baking sheet and place the baking sheet in the middle of the oven. Everything should be warmed through within 10-15 minutes. Serve immediately.
Are Ina Garten's Roasted Sausage And Peppers Healthy?
Barefoot Contessa's recipe for sausages and peppers is quite a healthy dish. It consists of plenty of veggies and high protein sausages. It can be further enhanced if you pair it with a healthy green salad or green beans for example.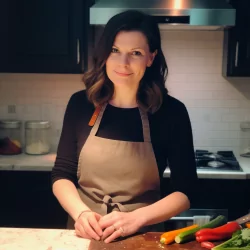 Latest posts by Barbara Hunt
(see all)