Alongside pork, beef is one of the most popular meats in traditional Filipino cuisine. And there are a host of Filipino beef dishes to try that are both super tasty and easy to make!
So, if you're looking to treat your tastebuds or serve up something unique to your guests, you have come to the right place.
Below, we've rounded up the 15 best Filipino beef recipes that you need to try today.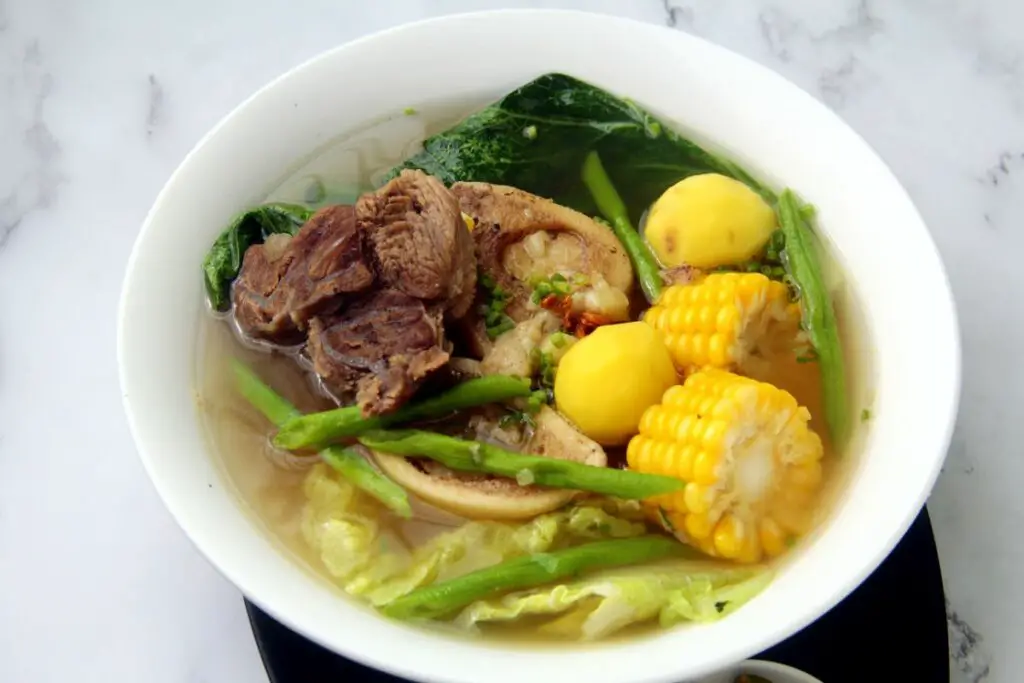 These Filipino beef recipes offer a range of flavors, from savory to sweet, perfect for serving at home or taking to gatherings!
Traditional Filipino Beef Recipes
Taste authentic Pinoy food with these traditional Filipino beef recipes.
Kare kare is a savory beef stew made with a peanut butter sauce. There's a reason it's first on this list, as it's a must-try dish that we guarantee you (and your guests) won't be able to get enough of!
This recipe is about as authentic as it gets when it comes to kare kare. It's creamy and savory with tasty ingredients that include bagoong (sauteed shrimp paste), bok choy, eggplant, atsuete seeds, and, of course, lots of smooth peanut butter.
Beef steak is a well-loved staple in the Philippines, both in households and restaurants. It's flavorsome and simple to make, involving two steps: marinating the beef and frying over medium heat – with lots of onions!
For the marinade, you'll need soy sauce, lemon, and white sugar. Use a thinly sliced tender cut of beef for the best results, and make sure to marinate for at least one hour.
If you like the taste and texture of ground beef, Filipino beef giniling is a popular dish in the Philippines that's bursting with sweet and savory flavors. You can eat it on its own or serve it with rice!
The main ingredients in this recipe include ground beef, onion and garlic, frozen mixed vegetables, tomato paste, raisins, soy sauce, and oyster sauce. You can also add red chili powder or chili peppers (use siling labuyo for extra authenticity) to give it a spicy kick.
Bulalo is a beef stew made from beef shanks and marrow bones in a soup that includes corn on the cob. It's simple, tasty, and comforting – perfect for enjoying in the evening.
Prep time is 20 minutes, but you will need to leave between two and three hours for cooking. Other than beef marrow, beef shank, and corn on the cob, you'll need onion and garlic, black peppercorns, patis, salt, chayote, and baby bok choy.
Beef tapa is one of the most popular "tapsilog" dishes in the Philippines. Tapa is tagalog for preserved meat, and the "silog" in the name refers to "itlog", which is tagalog for egg. This is a popular Filipino breakfast dish, but it can also be eaten for lunch and dinner!
What's great about beef tapa is that it's super simple to make. Once you have the beef, making the marinade is a simple combination of soy sauce, vinegar, pineapple juice, and seasonings.
Savory Filipino Beef Recipes
Enjoy a contrast of simple flavors with these savory Filipino beef recipes.
Nilagang baka is the perfect comfort food! It's a beef soup that combines potatoes, green beans, cabbage, and other vegetables, making it a simple soup that's also healthy.
We love this nilagang baka recipe the most because it's traditional and authentic. The main ingredients are beef shake, potato, corn on the cob, green beans, and cabbage, taking just five minutes to prepare and one hour to cook.
Adobo is one of the most well-known dishes in the Philippines, which uses soy sauce, vinegar, and pork. Beef adobo is the perfect variation if you prefer beef over pork, and this recipe won't disappoint thanks to its authentic Pinoy ingredients.
For this beef adobo recipe, you'll need beef short ribs, soy sauce and vinegar, yellow onion and garlic, bay leaves, sugar, and black peppercorns. The perfect recipe to make if you're yet to try Filipino cuisine!
Another perfect comfort food, mechado won't disappoint if you're craving something filling. What we love most about this recipe is its deep flavor profile, thanks to how it uses marinated beef and browned garlic.
This Filipino mechado beef stew recipe takes 30 minutes to prepare and just under two hours to cook. Tenderize the meat for at least 45 minutes and use a pressure cooker after the stew begins to simmer for the best results!
Beef sinigang, or sinigang na baka in tagalog, is a popular variation of sinigang – one of the most widely eaten dishes in the Philippines that's usually made with pork belly. The beef variation is just as tasty, so it's a recipe definitely worth trying!
The main ingredients you'll need for this recipe are beef brisket, red onion, tomatoes, taro, okra, spinach, fish sauce, pepper, and a sinigang (tamarind) mix – an essential sinigang ingredient that you should be able to find in your local supermarket.
You'll find sizzling bulalo steak in many restaurants in the Philippines. You can also make it at home, though, and this recipe is our favorite, using traditional Filipino ingredients and flavorings that make this popular dish a must-try.
The must-use ingredients here are MAGGI Magic Sarap and MAGGI Savor Classic, which are widely used in Filipino cuisine. Use beef shanks for the best flavor, and serve it on a sizzling plate to impress your guests!
Sweet Filipino Beef Recipes
Satisfy your sweet cravings with these sweet Filipino beef recipes.
Beef Caldereta is another traditional Filipino dish that's popular all around the Philippines. Like beef nilaga (listed above), it's a go-to Pinoy comfort food, made from a combination of ingredients that include beef, potatoes, tomato sauce, and vegetables.
The result is a comforting stew that's perfect for cold nights, family dinners, and taking to gatherings. Get the best flavor out of this dish by searing the beef and adding a dash of hot sauce to give it extra heat!
Craving beef stew? Beef pares is a beef stew with a Filipino twist. It consists of tender beef chunks in a rich sauce that's made from soy sauce, brown sugar, garlic, and spices. It's delicious and comforting!
The best thing about this recipe is that it's easy to make (only 15 minutes of prep time) and doesn't require many ingredients, just beef chunks, garlic, soy sauce, water, star anise, brown sugar, and chopped green onions for garnish.
Filipino picadillo is another staple in the Philippines that combines ground beef with potatoes, vegetables, raisins, and more for a comforting, filling, tasty meal. It's quick and easy to make and sure to satisfy any craving!
For this recipe, you're sure to find most of the ingredients in your pantry. This Filipino picadillo takes 15 minutes to prepare and just 45 minutes to cook, so it's also perfect for a last-minute evening dinner.
This Filipino-style beef stroganoff recipe offers an authentic Filipino twist on traditional beef stroganoff, using Filipino ingredients that include toyo and calamansi, added to cream of mushroom and sour cream.
In just 45 minutes, this recipe is sure to satisfy your beef cravings thanks to the creamy yet citrusy flavor it adds to the beef strips, which can be sirloin or prime beef. This recipe only involves five steps, too, so it's really simple!
Last but not least: beef bola bola – a popular Filipino twist on traditional meatballs that combines ground beef, soy sauce, oyster sauce, onion, and garlic, and carrots. These can be a tasty side or a filling main served with rice!
What we love the most about this Filipino beef recipe is that it's quick and easy. It takes 10 minutes to prepare and just 5 minutes to cook, making it perfect if you need to cook something at the last minute for a Filipino party or gathering.
Final Thoughts
And that finishes our round-up of the 15 best Filipino beef recipes that are easy to make and full of flavor, from savory to sweet. These recipes are ideal for serving at home or taking to gatherings – especially Filipino gatherings and parties!
Frequently Asked Questions
What Is The Most Popular Beef Dish In The Philippines?
There are many popular beef dishes in the Philippines, some of which include bulalo, beef tapa, bola bola, beef giniling, beef kare kare, beef nilaga.
What Are Popular Filipino Foods?
Some of the most popular Filipino foods include adobo, sinigang, lechon, lumpia, sisig, pancit, tinola, and beef nilaga. A few popular Filipino desserts are leche flan, halo halo, and bibingka.
The 15 Best Filipino Beef Recipes
Course: Other Recipes
Directions
Choose a dish from above
Gather your ingredients
Prepare your dish
Enjoy.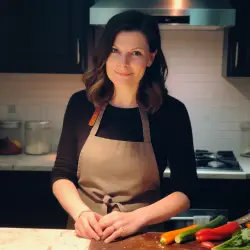 Latest posts by Barbara Hunt
(see all)