Are you ready to set off on a delicious adventure through the flavors of the Philippines? Whether you're a fan of hearty comfort food or simply can't resist the tantalizing aroma of well-seasoned ground beef, you're in for a treat.
In this article, we'll be your culinary companions, sharing some of the most mouthwatering and easy-to-make Filipino ground beef recipes.
We've scoured countless recipes to bring you the 11 best, and you won't need to be a gourmet chef to master these dishes.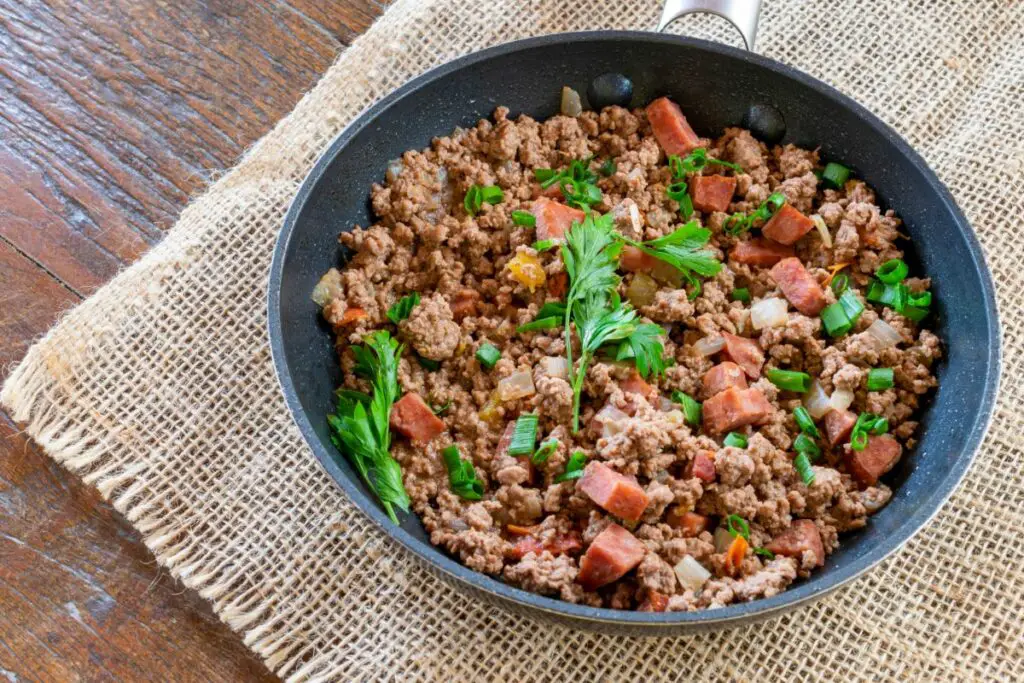 Whether you're in the mood for a quick weeknight dinner or planning a special family feast, these recipes offer a taste of Filipino hospitality that will have your loved ones coming back for seconds.

So, grab your apron, prepare your taste buds, and dive into the savory world of Filipino ground beef dishes.
Filipino Ground Beef Side Dishes
These crispy Filipino spring rolls are a delicious blend of veggies and protein kept together in a thin wrapper. Fry 'em up and serve with a sweet dipping sauce – they're perfect for sharing.
Cooking Tip: To achieve that perfect crispy texture, make sure your oil is hot enough before frying. You can test it by dropping a small piece of lumpia wrapper into the oil. If it sizzles and floats to the surface, it's ready.
Pairing Dish: Serve these delectable spring rolls with a sweet and tangy dipping sauce made from vinegar, soy sauce, and crushed garlic. It's a classic combination that elevates the flavors of the lumpia.
This next recipe is a classic Filipino snack. Putong Babi is a delightful combination of sweet rice cake and crispy pork cracklings. The perfect blend of sweet and savory.
Cooking Tip: For tender and flavored beef, marinate it in a mix of soy sauce, calamansi juice, and crushed garlic for at least an hour before cooking.
Pairing Dish: Enjoy putong babi with a side of atchara (pickled green papaya) to balance the richness of the dish with a refreshing, slightly tangy accompaniment.
Hearty and flavorful, these beef empanadas feature a savory beef filling inside a golden, flaky pastry shell.

These beef empanadas are a brilliant blend of both sweet and savory and are sure to satisfy even the hungriest of bellings.
Cooking Tip: Ensure a flaky crust by chilling the empanada dough before rolling it out. Coil dough is less likely to become tough.
Pairing Dish: Serve as an appetizer and pair beef empanadas with a simple tomato and onion salad dressed in vinegar and fish sauce. The acidity cuts through the richness of the empanadas.
Quick and nutritious, this dish combines green beans and seasoned ground beef for a simple yet satisfying Filipino side dish.

If you're looking for a side dish that is filling enough to serve around a large gathering or potluck, these sauteed green beans with ground beef work a treat.
Cooking Tip: Blanch the green beans for a few minutes before sauteing with ground beef to lock in their vibrant green and crisp texture.
Pairing Dish: Steamed rice is the perfect partner for this dish. Its neutral taste complements the savory flavors of sauteed green beans with ground beef.
Filipino Ground Beef Main Meals
A Filipino-Spanish fusion, Arroz a la Cubana is a comforting meal with white rice, savory ground beef, tomato sauce, and a fried egg on top.

This is a true comfort food experience that brings diverse flavors together in perfect harmony.
Cooking Tip: You can use ripe plantains to add a touch of natural sweetness to this dish. They should be soft and slightly brown.
Pairing Dish: Arroz a la Cubana is often served with tomato ketchup and eggs. The creaminess of the egg yolk and the sweet tang of ketchup balance the flavors nicely.
Have you ever heard of beef macaroni sopas? These are a delightful twist on the classic chicken noodle soup.

This heartwarming dish features a tender chunk of ground beef, macaroni pasta, and an assortment of hearty vegetables, all swimming in a comforting broth.

A warm, nourishing hug in a bowl, perfect for chilly days or whenever you crave a bowl of comfort.
Cooking Tip: To enhance the flavor of your sopas, saute the ground beef with garlic, onions, and tomatoes until the meat is browned.
Pairing Dish: Sopas is a complete meal on its own, but a side of pandesal (Filipino bread rolls) or garlic bread is a delightful addition to a heartier feast.
This next recipe is a Filipino omelet with a savory surprise. Ground beef, along with onions and garlic, is mixed with beaten eggs and lovingly pan-fried to create a satisfying dish.

It's an excellent choice for a quick and flavorful meal, whether you enjoy it for breakfast or any time hunger strikes.
Click here for more giniling recipes.
Cooking Tip: Beat the eggs until they're well-mixed but not too frothy before adding the ground beef mixture. This will result in a smoother and more even texture.
Pairing Dish: Serve tortang giniling with a side of sinangag (garlic fried rice) for a satisfying breakfast or brunch option.
Filipino Picadillo is a delightful stew that showcases ground beef, tomatoes, potatoes, bell peppers, and green peas coming together in perfect harmony. It's a delicious blend of sweet and savory flavors that create a hearty and comforting fish that's a family favorite.
Cooking Tip: To enhance the flavor, let the picadillo simmer for a little while, allowing the ingredients to meld together. You'll be rewarded with a richer taste.
Pairing Dish: Enjoy picadillo with a side of steamed white rice and sliced banana for a sweet contrast to the savory meat.
Filipino-Style Western Food
This juicy and flavorful beef patty is generously seasoned with a unique blend of Filipino spices. It's served in a bun with your choice of favorite toppings, creating a local twist on the classic burger that's truly mouthwatering.
Cooking Tip: For juicy burgers, don't press the patties down with the spatula while cooking. Though this looks fancy and like you're in a diner, it squeezed out the delicious juices.
Pairing Dish: Serve your Filipino beef burgers with a heap of kamote fries (sweet potato fries) for a twist on the classic burger and fries combo.
Filipino-style lasagna is a hearty pasta dish that combines layers of lasagna noodles, a meaty tomato sauce, and a creamy cheese topping.

It's a Filipino favorite that adds a comforting twist to the classic Italian dish, making it a delightful and indulgent meal.
Cooking Tip: Layer the lasagna with a generous amount of cheese between each pasta sheet. It creates a gooey, cheesy delight when baked.
Pairing Dish: A simple Caesar salad with a creamy dressing is a perfect side for this cheesy lasagna, providing a fresh and crunchy contrast.
The final recipe on our list is a Filipino-style spaghetti. It's a unique twist on this beloved Italian classic. The sauce combines ground beef, hotdogs, and a touch of sweetness, resulting in a distinctive and much-loved Filipino comfort food.

The sweet and savory blend in this dish is sure to please your palate.
Cooking Tip: For that signature sweet spaghetti sauce, use banana ketchup in the recipe. It gives the dish its distinct Filipino flavor.
Pairing Dish: Garlic bread and a sprinkle of grated cheese make the perfect companions to your sweet Filipino-style spaghetti. The combination of flavors is simply irresistible.
Final Thoughts
In a world filled with diverse flavors and culinary wonders, Filipino ground beef recipes stand as a testament to the beautiful culture of Filipino cuisine.

From the humble beginnings of simple lumpia to the heartwarming embrace of a cheesy Filipino-style spaghetti, each dish showcases the creativity and depth of Filipino home cooking.
So, the next time you're feeling hungry for a hearty, satisfying meal, don't hesitate to whip up one of these Filipino ground beef creations.

With the right ingredients, a pinch of patience, and a dash of love, you'll discover that Filipino cuisine has a place in your heart and your taste buds.
If beef is not for you, take a look at these ground pork recipes instead.
FAQs
Can I substitute ground beef with other proteins in these recipes?
Sure, you can experiment with different proteins like ground chicken, turkey, or even tofu if you'd like a veggie alternative. Just keep in mind that it might alter the traditional flavor a bit, but that's the beauty of cooking – making it your own.
Why put baking soda in ground beef?
You might have heard some people say that you should put baking soda in ground beef. This is because this boosts the pH of the beef, which makes it less acidic and, therefore, more able to attract more water. This locks in the moisture and leaves it more tender.
The 11 Best Filipino Ground Beef Recipes To Make
Course: Cookbooks
Directions
Select a recipe
Collect your ingredients
Prep your meal
Enjoy.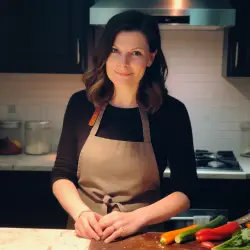 Latest posts by Barbara Hunt
(see all)