Filipinos are known for their delicious and flavorful dishes that often feature bold, aromatic spices and ingredients like coconut milk, vinegar, and soy sauce.
The slow cooker is a great way to make some classic Filipino comfort foods with minimal effort.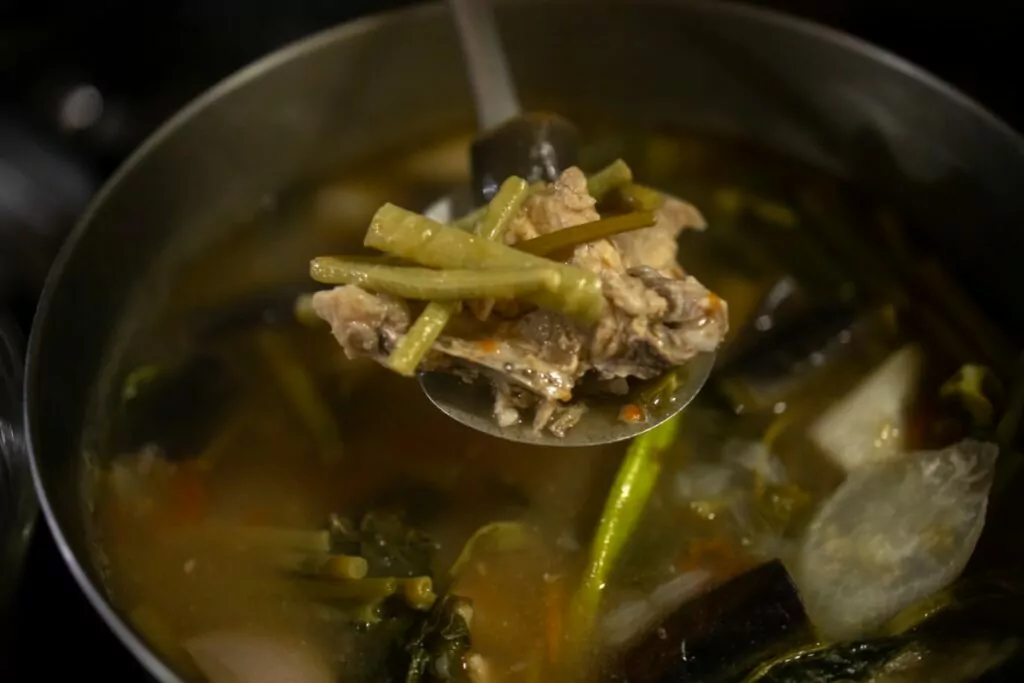 The moist, gentle heat allows flavors to meld together into wonderfully comforting meals.
Here are 18 of our favorite Filipino slow cooker recipes to try:
Filipino Soups And Stews For The Slow Cooker
Adobo is considered the unofficial national dish of the Philippines.
This flavorful meat stew features a tangy blend of soy sauce, vinegar, garlic, and black peppercorns.
Pork, chicken, or beef (or a combination) is slowly simmered until super tender and soaking up all the delicious adobo flavors.
This is a versatile recipe that works well in the slow cooker.
Just brown the meat first, then add to the slow cooker along with the marinade ingredients.
Cook on low for 6-8 hours and serve over rice.
Sinigang is a hearty and sour Filipino soup that's full of flavor.
It's made with tamarind paste or powder to provide that distinctly sour note.
Sinigang na baboy is a pork version loaded with veggies like okra, eggplant, tomatoes, daikon radish, and spinach.
Let this simmer away in a slow cooker until the pork is fall-apart tender.
The broth is incredibly tasty with steamed rice.
Tinola is a classic chicken soup that is both comforting and light.
It's flavored with ginger, fish sauce, chili peppers, and green papaya.
The papaya helps tenderize the chicken as it slowly cooks.
Additional veggies like chayote squash, spinach, or bok choy can also be added. Serve tinola with a side of rice to soak up the delicious broth.
Kaldereta is a rich, saucy stew traditionally made with goat meat but adapted with beef or chicken for easier versions.
It's a spice-filled dish with tomatoes, liver spread, chili peppers, and yogurt or coconut milk.
The slow cooker takes the hassle out of cooking tough goat meat, resulting in super tender chunks after a 6-8 hour cook time.
Don't skip the side of rice or some crusty bread for dipping in the incredible kaldereta sauce.
Menudo is a stew that typically combines pork, potatoes, carrots, and liver spread or paste.
We like that this version includes raisins and bell peppers.
The rich, thick sauce has a touch of tang from tomato sauce and fish sauce.
Allow the flavors to mingle in a slow cooker on low for 6-8 hours until the pork is fall-apart tender.
Enjoy menudo over hot steamed rice.
Nilaga is a comforting beef soup loaded with veggies. It's seasoned simply with fish sauce, black peppercorns, onion, and garlic.
Root veggies like potatoes and cabbage cook until super tender – we enjoy adding carrots to the mix, too.
Other nice additions include green beans, bok choy, corn, and squash.
Make this soup even more hearty by dropping in some small meatballs.
Kare-kare is a rich, peanut butter-based stew with oxtail, tripe, or beef and veggies.
It's flavored with fish sauce or shrimp paste, garlic, onions, and annatto seeds or powder, which gives it a reddish-orange color.
Traditional versions used ground rice and peanuts for the sauce, but peanut butter makes this easier for the slow cooker.
Cook for 6-8 hours, then serve over rice with a side of bagoong (fermented shrimp paste).
Monggo is a savory stew made with mung beans, meat, and a range of veggies.
It's seasoned with fish sauce or shrimp paste, pepper, and often bay leaves.
Pork, shrimp, beef, or chicken can be used – this particular recipe calls for belly pork.
Great additions include okra, tomatoes, eggplant, and spinach, but you can also add other veggies like carrots or green beans.
The mung beans break down and thicken the stew, and slow cooking makes the meat super tender.
Enjoy monggo with rice or as a soup on its own.
Unstuffed lumpia soup delivers all the tasty flavors of classic lumpia egg rolls in an easy, comforting soup.
It's made by simmering ground pork or chicken with traditional lumpia veggies like garlic, carrots, cabbage, and onion.
The slow cooker combines the ingredients into a savory, meaty broth that pairs perfectly with steamed rice.
There's no fussy wrapping or frying involved; just dump the ingredients in the slow cooker and let it simmer away.
The tender pork and veggies are full of classic lumpia flavor.
For a different take on traditional kare-kare, use pork shoulder or butt in place of oxtail or tripe.
The rich peanut sauce pairs well with the richer pork.
We like to add some crispy roasted peanuts on top for extra crunch.
The sauce thickens to coat the super tender pork after a 6-8 hour cooking time.
Serve over rice with a side of bagoong for dipping.
Beef pares is a classic Filipino beef stew featuring tender cubed beef and a tasty sauce.
It's flavored with soy sauce, garlic, and pepper. Adding lemon juice and bay leaves adds further depth.
We think carrots, potatoes, bell peppers, and onions are welcome additions.
Let this dish simmer on low for 6-8 hours until the beef is very tender.
Enjoy over hot rice or with a side of soup.
For a seafood version of sinigang, use shrimp as the protein.
Make the sour and savory broth with tamarind paste, onions and tomatoes. Include ginger for extra depth.
Add cleaned shrimp and let simmer for 1-2 hours until cooked through.
You can round out the dish with bok choy, okra, green beans, eggplant, and spinach. Serve alongside steamed rice, and enjoy.
Pochero is a hearty Filipino stew made with beef, saba bananas, and veggies simmered in a seasoned tomato sauce (this version is made with a clear broth rather than tomato, but both work well).
Good additions are potatoes, bok choy, corn, and plantains. This particular recipe adds a further layer of flavor with Spanish chorizo.
Cook on high for 5- 6 hours until beef is tender, and top with sliced hard-boiled eggs when serving.
It may sound unusual, but the sweetness of the banana pairs nicely with the savory beef.
Filipino Chicken Slow Cooker Recipes
While curry isn't native Filipino cuisine, this Filipino-inspired chicken curry is a delicious example of cultural fusion food.
It brings together creamy coconut milk, warm spices, garlic, ginger, and chicken – add some chilies if you want more kick.
Additional veggies like potatoes and bell peppers add texture and flavor – we also enjoy adding carrots and peas.
Let this curry simmer on low in your slow cooker for 6-8 hours for an easy weeknight meal over rice.
Chicken afritada is a Filipino tomato-based chicken stew loaded with veggies.
It's flavored with garlic, onion, lemon juice, soy sauce, olive oil and pepper.
Red potatoes, carrots, bell peppers, and peas round out the dish.
Simmer everything in the slow cooker on low for 4-6 hours until the chicken and veggies are super tender.
Enjoy as a hearty one-pot meal.
Meat And Fish Dishes
Embutido is a type of Filipino meatloaf that's stuffed with hardboiled eggs, raisins, carrots, and green onions.
A combination of ground pork, beef, or both is seasoned with garlic and onions. Many recipes also add soy sauce and fish sauce.
The mixture is formed around the stuffed ingredients and then baked or steamed until cooked through.
For a slow cooker method, form the meat mixture into balls around the stuffed ingredients or shape into a cylinder, and simmer on low for 4-6 hours until cooked through.
Daing na bangus consists of milkfish that is salted, dried, and then fried.
While traditionally a dried and fried dish, you can tweak the method for the slow cooker.
Marinate milkfish fillets in a mix of vinegar, garlic, pepper, salt, soy sauce, bay leaves, and water overnight.
Place the fillets in the slow cooker with some marinade and cook for 3-4 hours on low until the fish is cooked through and tender.
Then fry briefly to crisp the outside.
While traditionally a whole roasted suckling pig, lechon makes for an easy slow cooker version.
Season pork belly all over with salt, garlic powder, and pepper.
Place the seasoned pork in the slow cooker – this recipe doesn't call for any water, but you can add a little if you want.
Then cook on low for 8 hours until the pork is fork tender.
You may also enjoy these Filipino pork steak recipes.
In Summary
We love how Filipino food balances sweet, sour, salty, and savory flavors along with the complexity of different spices into satisfying dishes.
The variety of flavors and ingredients used in Filipino cooking makes for fantastic slow cooker meals.
These 18 slow cooker Filipino recipes highlight the culinary diversity of this country's cuisine, from rich stews to flavorful soups and classics like adobo.
Give some a try for easy meals packed with comforting Filipino flavors.
Your only challenge? Picking which recipe to sample first!
Ready for more inspiration? Take a look at these delicious sari-sari recipes.
The 18 Best Slow Cooker Filipino Recipes
Course: Other Recipes
Directions
Choose a slow cooker recipe from the list
Gather your ingredients
Let the slow cooker do all the work
Enjoy your dish!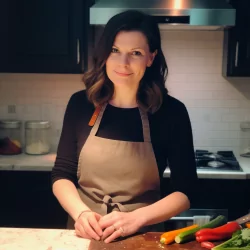 Latest posts by Barbara Hunt
(see all)