If one of your least favorite parts of cooking is standing over a hot stove, then a slow cooker can totally transform your cooking routine, freeing up your time and making cooking fun again.
Just imagine walking into your kitchen and immediately smelling a delicious, warming stew bubbling away in the pan, or a bowl of oatmeal already made for you - a slow cooker makes that possible!
Plus, slow cookers are a lot cheaper than people think, and are so worth the money.
Still, once you buy a slow cooker you may be wondering what you can cook with it, and that's where these slow cooker cookbooks written by female chefs (see also: 7 Female Chef Low Fat Cookbooks You Do Not Want To Miss)come in!
No matter what kind of cuisine you enjoy cooking the most, there is sure to be a cookbook that satisfies you below.
10 Female Chef Slow Cooker Cookbooks You Do Not Want To Miss
This updated version of Anupy Singla's bestselling cookbook now comes with 15 extra Indian recipes designed for your slow cooker. 
Since it was published in 2010, The Indian Slow Cooker has become the ultimate cookbook for those who have just bought a slow cooker and are still learning the ropes.
Designed to complement the convenience and simplicity of the slow cooker, these Indian recipes are a lot easier to make than their traditional counterparts, and healthier than what you would find at most Indian restaurants, as there is no additional fat and oil required.
The 'Indian Spices 101' chapter introduces you to the staple spices of Indian cuisine, as well as how to store, prepare, and use them in a variety of ways.
The recipes in the book include aloo gobi, sal, and palek paneer, as well as dishes like butter chicken and keema.
Put simple, this book is an amazing introduction to delicious, healthy Indian food that is simple to make in a slow cooker.
This collection of 60 easy slow cooker recipes aims to help you reach your health and wellness goals.
Each recipe makes use of particular ingredients that help to lower inflammation, improve your gut health, and reduce stress. 
Combining the ease of a slow cooker with accessible ingredients such as chocolate, ginger, mushrooms, and turmeric, no matter how skilled you are in the kitchen you can successfully make these recipes.
Every chapter has a detailed guide to the healthy ingredients, so you know how and why these ingredients are good for you.
Combining simplicity, innovation and tradition that have made her recipes so popular, Michele Scicolone has collected fascinating dishes from all over the Mediterranean and adapted them to the slow cooker. 
From fresh, simple classics like Greek shrimp with tomatoes and feta, to Moroccan vegetable tagine, sweet and sour meatballs from Israel, and Spanish coffee-caramel flan, Scicolone also provides more niche dishes like Portuguese port-braised chicken, Tunisian spiced frittata, and a delicious Cannoli Cheesecake.
A sophisticated approach to slow cooker cooking, Lynn Alley's Gourmet Slow Cooker contains 60 recipes.
With innovative recipes and fresh ingredients, you can create delicious meals in your slow cooker that will wow dinner party guests.
Inspired by slow cooking traditions from all over the world, The Gourmet Slow Cooker contains recipes such as French Provencal Chicken Stew, Italian Truffle Risotto, Indian Apricot Chicken, Mexican Chicken Mole, and Greek Lamb Shanks in Tomato Sauce.
Each chapter has introductions to the region, and discusses the slow-cooking techniques and traditions from that cuisine.
It even makes beer and wine suggestions, and features stunning full-color photographs of the dishes.
The Gourmet Slow Cooker takes your everyday dining to the next level, and turns your humble kitchen into a gourmet powerhouse, all while cutting down cooking time.
The Southern Slow Cooker is guaranteed to be a lifesaver for busy home cooks. It contains easy recipes that involve very little cooking time and budget-friendly ingredients.
The Italian Slow Cooker is another cookbook on our list by Michele Scicolone is an accessible cookbook that gives you all you need to make wholesome, hearty Italian dishes with ease.
It contains recipes for a wide variety of dishes containing legumes, meats, seafoods, and veggies, as well as sauces like ragù.
Another book from Michele Scicolone, The French Slow Cooker proves that even the most inexperienced cook can produce dishes worthy of a gourmet French restaurant with their slow cooker. 
The French Slow Cooker gives you the tools to make classic French dishes like bouillabaisse, chicken with garlic, and red-wine braised beef with mushrooms.
The French Slow Cooker makes cooking these dishes as simple as setting a timer and walking away.
But Scicolone takes slow cooker cooking to the next level with recipes for Crispy Duck Confit, Slow-Cooked Salmon with Lemon and Green Olives, Spinach Souffle, and desserts such as Ginger Crème brûlée.
Paleo diets and slow cookers are a match made in heaven. Slow cooking is perfect for creating tender, tasty meat dishes.
Making bone broth is possible in a slow cooker, which is one of the staples of a Paleo diet.
If you're on a paleo diet, you need this cookbook, and even if you're not on a paleo diet it's still a great cookbook to have on your shelf.
It contains 200 varied recipes that will have you thinking outside the box with your slow cooker.
Whether you want to make quick, midweek meals or more challenging recipes you dedicate some time to, there is bound to be a recipe in this cookbook for you.
It aims to keep its recipes simple, and its ingredients as accessible as possible. It's also full of variety, with recipes from cuisines around the world for you to try out.
Final Thoughts
We hope our picks for the best slow cooker cookbooks written by female chefs (see also: 7 Female Chef TV Show Cookbooks You Do Not Want To Miss)has inspired you to go out and buy a slow cooker, and reassured you that cooking with a slow cooker gives you a variety of options when it comes to recipes from around the world.
Frequently Asked Questions
Can You Put Something In The Slow Cooker For Too Long?
Although slow cooker recipes are intended to cook for extended periods of time, they can still overcook if they are on the incorrect setting for too long.
Do Slow Cookers Waste Electricity?
No, in fact, a slow cooker is one of the most energy efficient kitchen appliances you can own. A slow cooker uses about the same amount of energy as a standard electric light bulb.
Can You Put Raw Beef In A Slow Cooker?
Yes, you can absolutely cook raw beef in a slow cooker. However, it's worth caramelizing the beef before you put it in the slow cooker to ensure the flavor is as bold and rich as possible.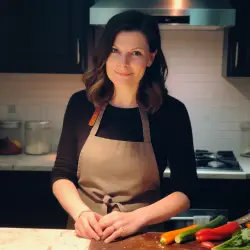 Latest posts by Barbara Hunt
(see all)