Don't ya just love Greek cuisine?

Simple, colorful and incredibly nutritious, there's plenty of olive oil, fish, lean meats, vegetables, herbs and grain.
So good for heart health. And all that fish and seafood, too.

And to top it all off, it makes you feel like you're right there soaking up the sun.

In this article, we'll be sharing with you our round-up of the best Greek cookbooks out there, and all of them come from female chefs.

Let's get straight to it, shall we? We hope your taste buds are ready for this!
Here follows our round-up - enjoy!

(The following cookbooks aren't listed in any particular order.)


Hoping to lose weight by following a good Greek diet? If yes, then this is the cookbook you need.

World renowned chef Maria Loi, lovingly known as the "Martha Stewart of Greece," has been working with the health journalist and former Olympic athlete Sarah Toland, to produce this wonderful book that combines recipes that are not only satisfying for the palate but also enable you to lose weight.

The book features 100 healthy, authentic Greek recipes for weight loss, all without having to adhere to unwanted dietary restrictions such as calorie counting, eliminating carbs, dairy, caffeine, or alcohol, or going at it hard in the gym.

It's a well-structured book, centered around the 12 pillars of the Greek diet, giving an entire chapter to each ingredient or pillar.

There are several different meal plans included to choose from to find the perfect Greek cuisine route to health for you.
There are handy shopping lists and every mealtime is covered.

Pros
Perfect for anyone wanting to lose weight without missing out on good Greek food
It's a very easy diet to follow with plenty of variety in the meal plans
Cons
Some readers have spotted contradictions and inconsistencies in the book
What could be more convenient than a meal you can prep, set and forget, getting the slow cooker to do all the hard work for you, while you carry on with the rest of your day, whatever that may hold?

That's what you get to enjoy with Eleni's cookbook.
There are almost 200 Greek recipes there for you to go through, including ones with poultry and game, fall-apart meats, fish and seafood, veg dishes, legume dishes, 3 breads, 5 egg and dairy dishes, and even desserts, too.

We tried several of the recipes and were suitably impressed. Most of them are an absolute snap to put together.
The highlights for us were the retro Greek mac and cheese with cream, and the deeply chocolatey chocolate cake.

Pros
Just set it and forget it recipes for the slow cooker or crock pot
There are almost 200 Greek recipes there for you to check out
Cons
There are many recipes that ought to have been included that weren't such as moussaka
Going vegetarian can do wonders for your health, and the environment.
And in this cookbook, Diane has come up with over 100 dishes that are 100% inspired by the traditional dishes and flavors of Greece.

The types of dishes vary from salads, grains and pastas, through to basic breads, soups, savory pies, stews, convenient one pot dishes, warm and cold appetizers, and more.

Diane is an American of Greek origin with several books on Greek cuisine to her name, so she knows what she's talking about.
The recipes are well written, and the book's chapters provide plenty of background information on traditional Greek cuisine and regional cooking.

The highlights for us were the potatoes stewed with kalamata olives and the grape leaves stuffed with hummus.

Pros
Over 100 recipes to try out and enjoy
Comes directly from well renowned chef Diane Kochilas
Cons
Not so much traditional Greek cuisine as Greek inspired recipes
There are very few vegan recipes included
This is a great cookbook, visually stunning and over 200 pages of delicious Greek recipes, including all the classic popular Greek dishes you already know and love.

Pemi Kanavos, for those of you who don't already know, is a classically trained pastry chef with a culinary arts degree and a love of sharing her Greek culture and cuisine.

The book is split into several sections, mezes, soups and salads, seafood, mains, pita bread, vegetarian meals, sides, souvlaki (food on skewers), breakfasts and desserts.

The highlights for us were the tzatziki (cucumber yogurt dip), and the loukoumades (Greek donuts)!

Better yet, this is a cookbook for all levels of at-home chefs, and readers rave about how easy the recipes are to make.

Pros
Includes all the most popular traditional, authentic, classic Greek dishes
This is a cookbook for all levels of at-home chefs 
Cons
There are occasional details missing from the pages
This Greek cookbook is somewhat different to other cookbooks you might find on Greek cuisine.
Why? Because this is cuisine from the Greek Islands rather than from the mainland.

It comes from Aglaia Kremezi who lives on the Greek island of Kea, where she teaches cooking, and always had the reputation of a gourmet cook.

She has been involved in the writing of several cookbooks, including an award-winning book on Greek cuisine, and her books provide plenty of lavish detail.

The book is a prominent bestseller in Greek cooking, has excellent customer ratings and reviews, and stunning food photography.

The recipes all translate easily to the American home kitchen, and there are handy features such as an A to Z glossary of Greek food terms, and substitutions for ingredients that are hard to find, and for ingredients that cannot be substituted, there's a listing of Greek food suppliers from all over America.

Pros
It comes from gourmet chef Aglaia Kremezi, who teaches cooking
It features a listing of Greek food suppliers from all over America 
Cons
Some of the recipes are quite labor-intensive
This cookbook is described by Amazon as being 2 books in one because it's split into two equal size halves, one that concentrates on traditional yet Americanized Greek inspired dishes, while the other half concentrates on Macedonian, Cypriot, Cretan, Aegean Islands, and Ionian Islands recipes.

The recipes are easy to follow and don't require too many ingredients.

The highlights for us were the Greek fried cheese and the rustic eggplant moussaka.

Pros
You effectively get two books for the price of one
It's not just Greek recipes but also other Mediterranean inspired recipes
Cons
You could argue that the chef lacks credentials
There aren't many reader reviews for this cookbook just yet
How To Choose A Greek Cookbook
Here Are Some Key Points To Consider When Choosing Your Greek Cookbook.
Number Of Recipes (As An Indication Of Value For Money)

Cookbooks can vary quite considerably in terms of the number of recipes they offer.
And as a general rule, the more recipes a cookbook has that you will make and enjoy, the better the book's value for money.
Most will offer at least 60 recipes, but the best will provide 100 or more.
What Else Do You Want From Your Greek Cookbook?
Are you looking for traditional Greek cuisine, or something more outside the box? Are you trying to lose weight or look after your heart health? 
Final Thoughts

We hope you've enjoyed browsing, you've sure got some really great options available to you.
Frequently Asked Questions
Who Is The Famous Female Chef In Greece?
Restaurateur and cookbook author Argiro Barbarigou is a Greek celebrity chef and the Global Ambassador of Authentic Greek Cuisine.
Unfortunately, the English translations of her cookbooks are hard to get hold of here in the US. 
What Is A Typical Greek Lunch?

The Greeks tend to have a light lunch, since they have their main meal at about 8pm.
A typical Greek lunch may consist of a vegetable stew, served with a side dish of cheese, bread, and salad, and often, a glass of wine.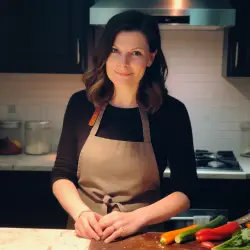 Latest posts by Barbara Hunt
(see all)