While a traditionally male dominated culture, there have been a number of female chefs who have also honed the grilling process, making numerous advances to the industry, and creating some tasty food in the process.
But this begs the question: what are the best female-written grilling cookbooks on the market, and what makes them so special?
Now that we have talked a little about the rise in grilling culture, and the number of resources on the market, it is now time to examine these in more detail - taking a closer look at some of the best female-written grilling cookbooks on the market, and what makes them so special.

So, without further ado, let's get started!
First on our list, we have Gas Griddle Cookbook by chef Debbie Person.

Containing 5000 delicious recipes, and boasting an array of tasty and affordable recipes for those looking to safely and effectively grill at home, the Gas Griddle Cookbook is a prime example of the sheer resources available to people in modern times - not to mention the amount of versatility and variety that this cooking process offers people.

Perfect for beginners and experts alike, what really makes this book special is that it is aimed at the general reader, and doesn't require any ingredients that cannot be readily acquired from local supermarkets and grocery stores - meaning that those who are interested can cook all of these delicious recipes with relative ease.

Pros
Widely accessible
For the general reader
Easy to access ingredients
Wide variety of recipes
Perfect for beginners
Moderately priced
Cons
Specifically aimed at the Outdoor Gas Griddle (but is transferable)
With her book Smokin' Hot In The South, Melissa Cookston explores how to use fire for cooking in all of its forms - taking the reader on a cultural journey, with 85 recipes that explore barbecue cooking from Mexico, France, Asia, and much more.

If you are a fan of grilling and barbecue in general, then you probably already know Melissa from her work on Netflix, and as such, this book is the perfect addition to anyone's cookbook library - giving you the top tips and advice you need to make great tasting barbecue recommended by the grillmaster herself.

Pros
Celebrity endorsed
Award winning author and chef
Large array of recipes
Good mix of world cuisine
Easy to access and follow
Cons
Slightly pricier than most
If you are looking for the perfect beginner's cookbook, then Gas Griddle Cookbook For Beginners by Maria Hatley is one you will not want to miss.

Featuring 5800 recipes, this is certainly one of the largest cookbooks on the market, offering a comprehensive look at grilling food, and the best meals you can prepare for yourself and your family.

Pros
Plenty of variety
High number of recipes
Accessible for beginners
Comprehensive and easy to follow
Thorough instructions
Great price
Cons
Specialized for the Outdoor Gas Griddle 
Featuring 168 modern recipes, this cookbook might not offer the most in-depth list of recipes, but what it does have is all the instructions you need to prepare the basics, accomplish some amazing dishes, and get well on your way to becoming a grillmaster in your own right.

What's more, this book shows you the best ways to prepare all manner of foods on the grill, including meats, fish, fruit, vegetables, and even bread - allowing you to create all manner of dishes at home, and showing you enough of the basics to allow you to experiment and get creative on your own.
Pros
Comprehensive instructions
Some great dishes
Accessible and easy to understand
Good price 
Cons
More limited variety than competitors
With 500 recipes designed for both the grill and smoker, this cookbook by Sarah Reyes really embraces modern grilling culture - giving you the best recipes, instructions, and tips to become the best griller you can be in no time at all.

What's more, at a low price, and with easy to follow, comprehensive recipes, this really is one of the best guides on the market for those looking to dip their toe into the world of grilling and see what all the fuss is about.

Pros
Low price tag
Comprehensive guide
Easy to follow instructions
Affordable ingredients
Easy to prepare recipes
Cons
More limited selection of ingredients
Designed for the Grill & Smoker model
Available as a free guide on Kindle, this grilling cookbook is the perfect introductory companion to the grilling world, offering you everything you need to make delicious grilled food for you and your family to enjoy.

While this guide might be extremely limited when compared to others on this list, it does represent the best value for money, and can be a good introduction to grilling meat, fish, vegetables, and all manner of dishes.

Pros
Free of charge
Good introduction to grilling
Easy to follow steps
Accessible
Cons
Extremely limited
Kindle only
Of course, in this modern world of ours, grilling is no longer solely reserved for those who eat meat - and in fact there are numerous ways that grills can be utilized to make and prepare vegan cuisine too.

This is where VBQ by Nadine Horn comes in - offering an easy to use guide to vegan grilling, and delivering numerous recipes for people to prepare vegetables, fruit, tofu, and all manner of other meat substitutes.

This really is one of the greatest new cookbooks on the market, and ensures that even those who have abandoned animal products can enjoy the natural cooking miracles that grilling can provide.
Pros
Inclusive
Moderately priced
Accessible
Comprehensive recipes
Unique ideas
Cons
What really makes Linda Ly's book stand out from the crowd is that it is focused exclusively for those who eat outside for every meal of the day - making it perfect for outdoorsy types who enjoy hiking, camping, and wild excursions in the wilderness.

Showing even the most basic camper how to make delicious meals in the wild, and to feed all the family while they are at it, this is really one of the best and most comprehensive guides on the market.

What's more, it is also extremely cheap, meaning that you can get a good, solid guide to outdoor grilling and food preparation, without breaking the bank.
Pros
Cheap price
Range of meals
Variety (i.e. breakfast, lunch, dinner)
Accessible and comprehensive
Cons
Nothing original
More limited recipes
Last on our list, but by no means least, we have 125 Best Indoor Grill Recipes by Ilana Simon.

Designed for grillings indoors in the comfort of your own home, this book is perfect for those who do not live in suitable weather environments for outdoor cooking, and who need to get creative indoors instead.

With 125 great tasting recipes, and the perfect set of comprehensive instructions to get you on your way, this really is a great addition to any home cookbook collection.
Pros
Good for indoor grillers
Comprehensive and accessible
Good price
Cons
Final Thoughts

It's true that the act of grilling meat and food has really taken off in recent years - undoubtedly spurred on by the rise in home cooking, and the incredibly large number of recipes and instructional guides online.
So if you are interested in learning more grilling recipes, then be sure to check out these great, female-written cookbooks.
Something tells me you won't be disappointed!
Frequently Asked Questions
Is Grilled Food Healthy?
Yes. Surprisingly, grilled food is healthier than other methods - such as frying and baking.
However, it entirely depends on the kinds of foods you are cooking, the method you are using to grill the food, and the additives you are adding to the dish.

Is Grilling Easy?
The answer entirely depends on how much practice you have had, and the quality of your grill and instructions.
However, the rise in grilling culture - and the number of grills now available on the market - should give some indication as to the ease and effectiveness of grilling.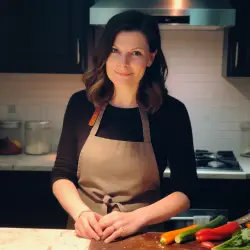 Latest posts by Barbara Hunt
(see all)