Don't you just love baking?

It's such a great family activity, getting the kids involved and creating lots of yummy treats to dole out.
But it's nice to bake goods that aren't too high in sugar or fat - so you don't have to feel guilty when they're ready to eat.

And with that in mind, we've put together this round-up of our favorite healthy baking cookbooks from female chefs (see also: 5 Female Chef Healthy Vegan Cookbooks You Do Not Want To Miss)for you to drool over (our mouths are watering already just thinking about it!).

Let's get straight to it!
We hope those taste buds are ready for this coming onslaught!

(The following cook books aren't listed in any particular order.)
Sarah Lynn's dessert cookbook features all your favorite desserts and treats, but with a healthy twist.
The recipes are intended for not just health, but also fitness.
Not only are they lower in calories, carbs and sugar, but in general they're also higher in protein as well.

There are 100 recipes included, with several plant-based, dairy-free, gluten-free, keto-friendly, and sugar-free options for anyone who's interested.

They all have real food ingredients, and there's no refined sugar to worry about, spiking your blood sugar levels, and no allergens like wheat, gluten or soy.

The highlights for us were the triple layer chocolate cake and the high protein cheesecake!

Pros
Perfect for treating anyone with allergies
Lots of keto-friendly and high protein treats
Sarah explains why she chooses certain substitutes
Cons
Some readers found certain ingredients hard to source
One of the key features of healthy baking is to use as healthy a flour as possible, and that's where coconut flour comes in…

Coconut flour is naturally gluten-free, and can even be used in recipes that are paleo diet approved.
It's grain-free, is packed with protein, is low-GI, and 4 times as much fiber than oat bran.

There are over 100 recipes in total, including breads, biscuits, cakes, muffins, donuts, pancakes, brownies, cookies, and more. Savory as well as sweet.
There are no fillers or additives, it's all-natural.

The highlights for us were the red velvet cupcakes and the pesto flatbread pizza!

Pros
Way healthier than baking with other flour!
The coconut flavor isn't overpowering
The recipes are great for gut health
Cons
Most of the recipes also require almond flour
This is a perfect baking cookbook not only for vegans but also for anyone who wants to lose or maintain their weight through calorie counting, since each serving of all the included recipes comes to no more than 300 calories.
And naturally, being vegan, you don't have to worry about dairy allergies.

The 60 recipes include cookies, brownies, cakes, pies, cobblers, breads, biscuits, and breakfast.

It also has a handy section where Jillian walks you through the ideal vegan baking essentials.

The highlights for us were the pull-apart cheesy bread, and the brownies with peanut butter swirl.

Pros
100% vegan and dairy free, as well as low calorie
Recipes can be adapted for different dietary needs
Features clever calorie reducing techniques
Cons
There are only 60 recipes provided
Rachel Conners was inspired to come up with new recipes when her sister had to go on a strict diet for health reasons.
And when her recipe blog took off, it was just good sense to follow it up with a cookbook.

The book is entirely made up of dessert recipes, and is aimed at beginner bakers.
All of the recipes, and there are over 100 of them, are all grain-free, gluten-free, dairy-free, and free of refined sugar as well.

The highlights for us were mocha chip cheesecake and the chocolate mousse pie.

Pros
Aimed at beginner bakers - anyone can do the recipes
Perfect for people on strict diets such as dairy-free, etc.
There are also paleo and vegan recipes to enjoy too
Cons
Quite a lot of the recipes have nuts, so it's not much use if you're allergic
If the paleo diet speaks to you, then this is the healthy baking cookbook for you.

For those of you who don't already know, the paleo diet is basically using the ingredients we would have come by before the dawn of agriculture.
This means that there is no refined sugar whatsoever, nothing processed, and everything is gluten-free and relatively low in carbs.

There are 60 recipes in the book in total.
They include the likes of cakes, cookies, muffins, brownies, pastries, breakfasts and more.

There were many highlights for us in this cookbook, but the stand-out ones were the double chocolate cherry cookies, and the salted caramel cookie crumble bars!

Pros
5-star user rating on Amazon.com!!
All the recipes are paleo diet compliant
Aimed at beginner bakers, it's easy to follow
Cons
There's no nutritional breakdown for the recipes
Not a good cookbook for people with egg allergies
When we saw just how many recipes were in this book, we had to check it out.
The cover proclaims there are a staggering 450 recipes, but the puzzle was, how come it's only 162 pages?
It turns out this is because there are several recipes on each page and no photos.

Anyway, it's centered around the keto diet, which is a diet that's meant to get your body using up your body's fat stores and burning fat rather than carbs for energy.

It's a well understood diet that's backed by science.
The keto diet involves eating no more than 6 grams of carbs per day, which is very little.
You'd generally have to cut potatoes, pasta, bread and more.

But with this cookbook, you can be on the keto diet, and still enjoy cookies, cakes, muffins, pies, and more.

The highlights for us were the cranberry orange muffins, and the huge variety of chaffles!

Pros
5-star user rating on Amazon.com!!
A staggering number of baking recipes!
All recipes are low-carb & keto compliant

Cons
No pretty photographs of the baked goods
Some users found that some recipes were too sweet
Gina is the founder of the Healthy Little Vittles blog, and in this cookbook she has put together 60 foolproof recipes that are not only gluten-free but also vegan friendly as well.

There are brownies, cheesecakes, pies, cookies, and more.
And the really great thing about this particular book is that the sections are arranged according to techniques such as egg swaps, dairy and butter alternatives, batter consistency and natural sweeteners, so it's a great problem-solver book.

The highlights for us were the yummy crème brûlée, and the bourbon peach ice cream.

Pros
It's not just a compendium of recipes, it's a thorough guide to gluten-free vegan baking
The sections are conveniently arranged according to techniques
Cons
There aren't a whole lot of customer reviews out for this book just yet
How To Choose A Female Chef Healthy Baking Cookbook
Here are a few things to consider when choosing a healthy baking cookbook.
What Does "Healthy" Mean To You?
People have different preconceptions when it comes to what is considered healthy.
Are you looking for low-sugar, low fat, or simply plenty of fruit?
Number Of Recipes
You could argue that for a cookbook to be worth buying, it has to feature recipes you just can't find on Google.
And the more recipes there are in a cookbook, the greater chance you'll have of finding unusual or unique recipes.
Final Thoughts
And that's a wrap. We hope you've enjoyed browsing through, and you've picked out a cookbook you'd like to try.
They're all highly recommended. Still here? Check out our FAQ section!
Frequently Asked Questions

What Is Mary Berry's Best Selling Cookbook?

Mary Berry has lots of bestselling cookbooks, but while many of them feature baking, none of them are actually centered on healthy baking, so if that's what you're interested in, you should look elsewhere.
Is Baking Healthier Than Store Bought?

When you bake at home rather than buying ready-made you have the option to make healthy swaps, which is inevitably healthier.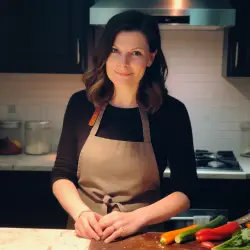 Latest posts by Barbara Hunt
(see all)