Regardless of whether you're a professional or amateur baker, we all share one formative experience: watching a loved one, perhaps a parent, whip up a delicious dessert for a special occasion – you may have even taken part yourself.
However, the next step is to perform some hands-on experience yourself. This is where baking cookbooks come in handy.
From studying the work of most of the world's most famous authors including Candace Nelson, Martha Steward, Dorie Greenspan, and, of course, Betty Crocker, you'll learn some invaluable lessons and tips when it comes to baking.
Thanks to these baking cookbooks, you'll know the importance of brushing a simple syrup over your cakes for a moist texture, as well as bringing your butter and eggs to room temperature before mixing them together.
With this in mind, this article will explore the best female chef baking cookbooks that you don't want to miss (see also: 5 Female Chef Japanese Cookbooks You Do Not Want To Miss)– you're sure to whip up a storm in no time.
Best Female Chef Baking Cookbooks
There is a wide variety of female chef baking cookbooks available on the market – so much so that it can sometimes become overwhelming.
Therefore, instead of sifting through the masses yourself, we have done the hard work for you. Let's delve into some of the best female chef baking cookbooks (see also: 8 Female Chef Healthy Baking Cookbooks You Do Not Want To Miss)on the market!
With the help of this classic cake cookbook, anyone can make exquisite and delicious cakes.
Rose Levy Beranbaum is a writer for women's magazines, food magazines, and newspapers, such as The New York Times, Beranbaum can certainly master the ability to transform complex instructions and directions into easy-to-follow and read recipes.
Essentially, each recipe is a joy to make – reaping great results every time. You're sure to find a range of recipes suitable for all occasions.
Pros
Tons of helpful tips and techniques.
Informative.
Delicious recipes.
Cons
Some readers found the recipes hard for beginners.
As a James Beard award-winning baker, Joanne Change is a popular baker known specifically for her eight infamous Flour bakeries located in Boston.
In addition, Chang has two published baking cookbooks surrounding her offerings from Flour. For instance, her insanely popular sticky buns.
Pastry Love is Chang's most comprehensive and personal book yet.
Here, you'll find 125 dessert recipes that you would never find in a bakery – for example, desserts that are best served warm and topped with whipped cream.
When it comes to baking and sharing sweet and savory treats with others, there is nothing that makes Chang happier – this passion can be seen in all her recipes.
Some of which include Malted Chocolate Cake, Mocha Chip Cookies, and Strawberry Slab Pie.
The recipes start off simple, however, as you get further into the book, they get incredibly harder – perfect for a range of abilities.
For instance, the book includes essential techniques and master lessons for making lemon curd, pastry cream, and puff pastry – ideal for beginners and professionals alike.
Pros
Fascinating background stories.
Instructions are clear, accurate, and easy to follow.
Inventive recipes.
Cons
Some readers found the book to contain too many gluten-free recipes.
The beauty of Alice Medrich's Sinfully Easy Delicious Desserts is that all the recipes are equal parts accessible and delicious. Here, you'll find tons of recipes for cakes, puddings, and pies.
Plus, the best part? They come together super quickly (with over 100 no-bake and fuss-free treats) – it is perfect for anyone with a sweet tooth who doesn't have much time for elaborate creations.
Additionally, there is a section in the book called "the desserts maker's basic pantry" whereby she outlined all the ingredients you can keep in your freezer, pantry, and fridge – as well as all the desserts you can whip up depending on the mood.
Pros
Unique recipes.
Delightful and easy recipes.
Complex instructions are made simple.
Cons
No nutritional information can be found. 
As you would expect with a Martha Stewart cookbook, all the recipes are well-written, easy to follow, and descriptive – offering you some beautifully presented, tested, and classic recipes that you need to try.
When it comes to baking, the self-made domestic goddess has shared her knowledge with her very own Baking Handbook.
Here, you'll find over 200 well-organized recipes, including bread, cakes, pastries, cookies, and much more.
You'll find everything from sweet and savory, including Sausage and Feta Hand Pies, Cherry Frangipane Galette, and a Classic Apple Pie.
Plus, the book offers a cache of photo-illustrated equipment and techniques – making it perfect for bakers of all levels.
Pros
The book covers all the essential baking techniques.
Options for novice and advanced bakers.
Easy instructions, taking you step by step.
Cons
Some of the recipes are very time-consuming.
Michelle Eskeri's Modern Sourdough will open your eyes to all the wonders of working with naturally leavened bread. This is sure to become one of your most-reached cookbooks.
Here, you'll find over 100 recipes inspired by Eshkeri's upbringing in both Australia and England.
There is a step-by-step guide to making sourdough from scratch, as well as the perfect techniques for all things folding, scoring, and more.
Both sweet and savory recipes can be found throughout, including naturally-leavened pizza, babka, cinnamon buns, and inventive loaves.
Pros
You don't need baking experience.
Easy to follow recipes.
Delicious results.
Cons
Some readers complained about errors.
Best Female Chef Baking Cookbooks Buying Guide
When it comes to baking cookbooks, there is a huge variety to choose from – each offering its unique approach to baking. Therefore, choosing the best one for you can be somewhat overwhelming.
Therefore, we have outlined the different factors to help make this process easier for you, below.
What You're Looking To Bake
The first thing you'll want to determine is what exactly you're looking to bread. Here, the possibilities are endless.
Whether you're looking to bake cakes, bread, or sweet and savory dishes – there is a cookbook dedicated to this.
Dietary Requirements
Another factor you should consider is your dietary requirements – this will help you narrow down your results.
For instance, if you're vegan, vegetarian, gluten-free, or lactose intolerant, opt for a book that can accommodate this.
Skill
Finally, you'll want to consider your skill level, too. Some baking cookbooks will be easier to follow than others.
Therefore, purchasing one that accommodates your skill is advantageous – allowing you to learn something new with each recipe.
For instance, if you're a beginner, you'll want something straightforward. However, if you're an experienced baker, you may want something more challenging.
Final Thoughts
There is nothing more wholesome than baked goods – the perfect way to spend your Sunday: creating a deliciously sweet treat.
If you're looking to improve your baking skills and find some unique recipes, then look no further than these baking cookbooks by female chefs.
Hopefully, this guide has informed you all about the best female chef baking cookbooks(see also: 7 Female Chef Dutch Oven Cookbooks You Do Not Want To Miss) that you need to check out.
Frequently Asked Questions
What Is a Female Baker Called?
A female baker is referred to as a Baxter – the term itself dates back to the year 1000.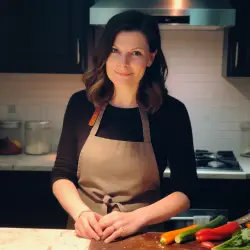 Latest posts by Barbara Hunt
(see all)