Paula Deen is a celebrated chef for creating hundreds of recipes that you can try yourself at home. Deen is known for creating delicious yet simple food that tastes just as good as it looks.
Hence, no matter your level of cooking ability, you will be able to give her recipes a go.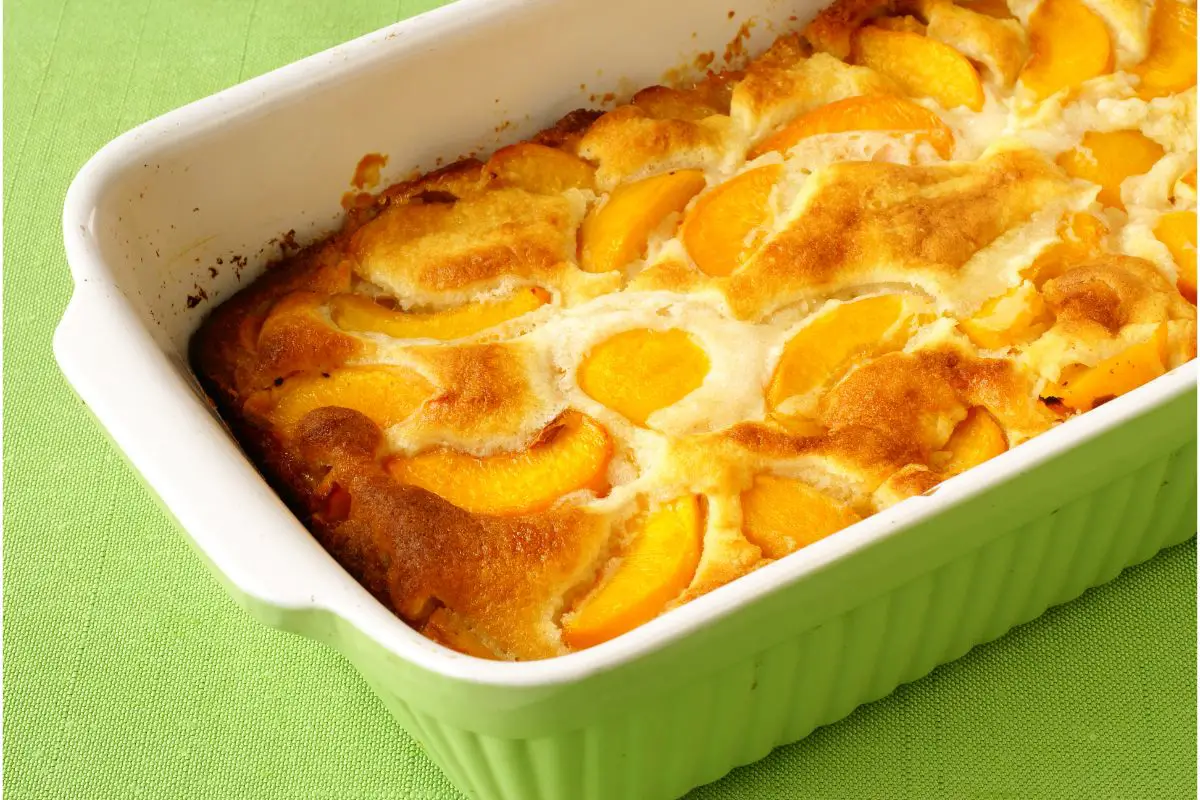 Peach cobbler is a family favorite dessert that consists of very few ingredients. However, there are various different peach cobbler recipes out there. Yet, nothing compares to the variants made by Paula Deen.
In this article, we have gathered 6 of the best Paula Deen peach cobbler recipes that you need to try today (see also "Best Kelly Leveque Recipes").
What Is A Cobbler?
Cobbler is a sweet dish made by pouring a fruit filling into a sizable baking dish, covering it with a batter, biscuit, or dumpling, and baking it.
The British American colonies are where cobblers first appeared. Due to a lack of appropriate supplies and cooking tools, English immigrants were unable to prepare traditional suet puddings (Also check out Best Paula Deen Bread Pudding Recipes).
Instead, they covered the stewed contents with a coating of raw plain biscuits or scone batter that fitted together.
The word cobbler, which means "wooden bowl," may be linked to this name, which was first used in 1859.
However, the name may also refer to the topping's appearance, which resembles cobblestones rather than the "smooth" paving that a rolled-out pastry topping would otherwise depict.
The following are the best Paula Deen peach cobbler recipes that you definitely need to give a go for your next family gathering. 
Paula Deen has created this simple peach cobbler recipe that will only take 30 minutes of hands on time or create. The overall cooking time of this recipe is 1 hour, until you have a golden brown and sweet dessert to enjoy. 
If that wasn't enough, you only require 7 ingredients to make this peach cobbler, and you most likely already have the majority of these ingredients in your cupboards.
Due to the peaches that are  combined with cinnamon, this adds a gentle spice which works well with the natural sweetness of the peaches.
However, you don't have to include the cinnamon, or you could substitute it for a different spice. 
The topping is made from a simple batter of flour, milk, and sugar. This creates a very dense yet sweet topping that works well with the often syrupy peaches.
You can easily serve this peach cobbler with either whipped cream or a dollop of ice cream. 
Paula Deen and her brothers have come together to create this delicious peach cobbler. With each spoonful, you can enjoy the flavors of both peaches and blackberries.
Since peaches are naturally very sweet, they are complimented well by the tartness that fresh blackberries provide. 
The cobbler topping is created with flour and brown sugar to create a richer topping. Then heavy cream is used to help combine these ingredients together.
The cobbler topping is dense on the top, but underneath it is quite soft, due to the natural juices that both fruit's release. 
Overall, there is a lot to enjoy with this variation of peach cobbler by Paula Deen. This recipe takes just over an hour to complete from start to finish, but the time is worth it to enjoy the delicious flavors this cobbler creates. 
When creating a peach cobbler, you can make one in your Dutch oven. You just need to ensure that you grease your Dutch oven well to prevent the peach cobbler from sticking.
This is a super quick and easy recipe to follow when you don't have much hands-on time available. 
Canned peaches are used, but you want to ensure that you don't throw any of those juices away.
Since, these juices or syrup are used in the cobbler, as it helps you to create a much more flavorsome dish and there is little work for you to do. 
In addition to the canned peaches, fresh blueberries are used, but you can leave them out if you don't wish to include them. Although, you may use a different berry in its replacement instead, such as raspberries. 
Everything about this recipe is quick and simple, as there is  very little for you to do apart from combining everything together. 
This variation of peach cobbler from Paula Deen will be unlike anything you've ever tried before. Peaches, cinnamon, and pecans are all mixed together and added to the cobbler batter.
This is then baked for up to 50 minutes, and then allowed an additional 30 minutes to cool down before serving. 
The inclusion of pecans adds another layer and texture to enjoy. Also, the pecans naturally have a nutty flavor, which works well with the juicy and sweet peaches.
Finally, the cinnamon adds a warmth to the whole dish, which makes it feel really comforting to eat on a cold fall day. 
Since you throw everything together in a pan, this is a really rustic looking peach cobbler. Yet the flavors of this cobbler are to die for. 
Peach and cinnamon are a well tested and beloved flavor combination. Fresh peaches are cooked with sugar, cinnamon, and lemon juice.
The lemon juice adds a hint of acidity that balances out the sweetness that the fresh peaches naturally release. While the cinnamon adds a subtle hint of spice and warmth to the cobbler.
The cobbler topping can be created in a food processor until a dough is formed. Then you can create small balls of dough which will be placed on top of your stewed peaches (Also check out Amazing Paula Deen Beef Stew Recipes).
As the filling cooks, the peaches will become sweeter and the juices will create a thick and sticky syrup to enjoy with the thick cobbler biscuits.
The entire family will want to try a piece of this peach cobbler. You could add other fruits if you wish, or stick to a plain peach and cinnamon cobbler. 
Paula and her son have created this lighter version of peach cobbler. Frozen or fresh fruits can be used, depending on what you have on hand.
Then your fruit, flour, brown sugar and lemon juice are placed in your baking dish to cook. While that is cooking, you can create the topping. 
Then you can place this topping on top of your cooked peaches and return to the oven for a further 25 minutes.
As a result, this peach cobbler can be created in just one baking dish, limiting the amount of washing up that is needed afterward. 
The cobbler topping in this recipe is very simple and much lighter in texture. Due to being lighter, the cobbler as a whole takes much less time to cook.
This may be a lighter version of peach cobbler, yet it still tastes fantastic.
Conclusion 
Peach cobbler is a loved dessert at the end of any meal or family gathering. The peaches are naturally sweet and work well with the dense and heavy batter or biscuit topping.
Paula Deen has created various different types of peach cobbler recipes for you could try yourself. Each of these recipes are really simple to follow and will provide you with a delicious dessert every time. 
We hope this article has been helpful. Now you know the 6 best Paula Deen peach cobbler recipes that you need to try (see also: 10 Best Paula Deen Cornbread Recipes To Try Today)yourself tonight!
Frequently Asked Questions 
Can You Make Peach Cobbler The Night Before?
If you want to get ahead, you can make your peach cobbler the night before it's needed.

However, you must make sure that your peach filling and cobbler topping are left separate until you are ready to bake the cobbler on the day. Otherwise, the topping will become too soggy and won't crisp up. 
Should Peach Cobbler Be Served Hot Or Cold?
Peach cobbler is best served warm, but that doesn't mean you can't eat it cold for leftovers the next day. With that being said, if you don't want to eat it cold, then any leftovers can be reheated in the oven or microwave. 
What Should You Serve With Peach Cobbler?
While peach cobblers are delicious by themselves, they can also be served with either whipped cream or ice cream.

In addition to that, you could top your peach cobbler off with a dusting of icing sugar once it comes out of the oven. 
What Are The Best Spices That Go With Peaches?
Peaches taste delicious, but you can elevate your cobbler even more by including spices. Some of the best species you could include are nutmeg, cinnamon, clove, and ginger.
6 Best Paula Deen Peach Cobbler Recipes To Try Today
Course: Recipes
Are you looking for a delicious peach cobbler recipe? Read on to discover the 6 best peach cobbler recipes from Paula Deen that you need to try today.
Directions
Pick a recipe from above
Click the recipe name and visit the website
Collect the ingredients and the food
Enjoy – don't forget to leave a review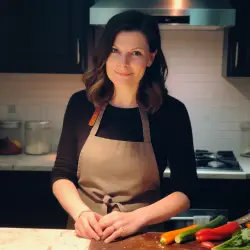 Latest posts by Barbara Hunt
(see all)