Lasagna has to be one of the easiest, most comforting, and most versatile family-friendly dishes we can make.
We can use a huge range of different ingredients to make a hearty dinner the whole family can enjoy with very little hassle.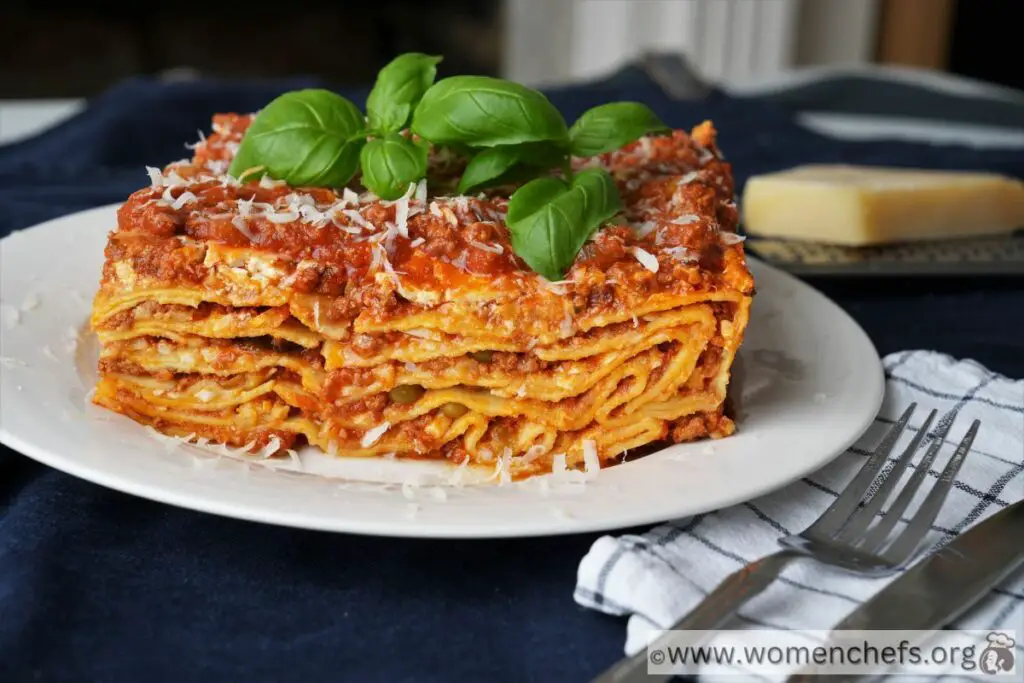 It is also a very easy dish to adapt to various dietary needs such as vegetarianism. However, finding the best lasagna recipe can be difficult.
Luckily for us, Paula Deen has a long list of excellent lasagna recipes to choose from.
No matter what type of lasagna recipe you're after, celebrity chef, cookbook author, and TV personality Paula Deen has a recipe you can enjoy. Today, we're going to show you the best Paula Deen lasagna recipes you can try (see also:  Paula Deen Pumpkin Pie Recipes To Try Today).
We'll look at classic recipes, veggie recipes, and unique recipes that will make your taste buds tingle. Without further ado, let's take a look at our list!
For us, Paula Deen's best lasagna recipe is her messy lasagna recipe. An ultimate recipe, this monster lasagna is big enough to serve 20 people. As you can probably tell, this makes it a great option for family gatherings and parties.
Some of the ingredients you need to make this lasagna are turkey sausage, onion, pasta sauce, ricotta cheese, lasagna noodles, and parmesan cheese. One thing we love about this recipe is the turkey sausage. 
The recipe calls for a hot turkey sausage that gives the recipe a lovely hint of spice. For extra cheesiness, the addition of mozzarella cheese is appreciated too.
If you're a big meat eater, you have to make Paula Deen's lot's o'meat lasagna at least once. This lasagna is jam-packed with ground chuck and Italian sausage to create a lasagna that's hearty, meaty, rich, and flavorful.
The only thing that makes this recipe better is the combination of different cheeses that give the dish more richness, heartiness, and creaminess.
Some of the cheeses you'll need to make this lasagna include Parmigiano Reggiano, mozzarella, and cottage cheese. 
To give the lasagna a more classic flavor, herbs such as basil, oregano, and garlic are thrown in. You can make this lasagna in less than 30 minutes so why don't you give it a try?
This next recipe is perfect for anyone that wants to make a delicious chicken lasagna. Loaded with veggies and creamy cheese, this lasagna takes just under 2 hours to make and calls for 17 different ingredients.
The ingredients list for this recipe might be quite extensive but the results are well worth it. You'll be left with a creamy, cheesy, classic, and healthy lasagna recipe packed with nutrients and goodness.
Some of the veggies you need to make this lasagna include zucchini, carrots, spinach, and mushrooms.
If you follow a vegetarian diet, one of the best Paula Deen lasagna recipes you can make is the five-veggie, four-cheese lasagna.
This vegetarian recipe is packed with portobello mushrooms, red onion, zucchini, artichoke hearts, and fresh spinach. 
These ingredients all bring something special to the recipe but it's the combination of different cheeses that steals the show.
Arguably the cheesiest lasagna recipe on this list, you'll need parmesan, mozzarella, provolone, and ricotta cheese to make this lasagna.
As you can imagine, the cheese pull on offer is pretty spectacular. This lasagna will serve 8 to 10 people so you could make it for your next family dinner.
Paula Deen has also created some pretty unique lasagna recipes that we can make if we want to mix things up. One of the most unique lasagna recipes she makes is her tastes like lasagna soup.
Yes, you read that right, a lasagna soup. As strange as this recipe sounds, it totally works. The recipe is exactly what it sounds like. It is a lasagna turned into a soup.
Like any soup, this recipe is hearty, filling, comforting, and hot.
To make this soup, a classic ground chuck lasagna is made in a chicken broth with a rich tomato sauce and lasagna noodles. This recipe also teaches you how to make a garlic baguette to go with your soup.
Another unique Paula Deen lasagna recipe is this shrimp and scallop lasagna. Perfect for larger gatherings, this recipe puts a unique seafood twist on a classically meaty dish.
In less than an hour, you can use this recipe to make a large lasagna that's big enough to feed 20 people.
Some of the key ingredients you'll need to make this lasagna include sea scallops, shrimp, Romano cheese, lasagna noodles, and parmesan cheese (Also check out Paula Deen's Cheese Pie Recipes).
This lasagna does have a more unique flavor profile but we're sure you'll love it.
One of the quickest Paula Deen lasagna recipes you can make is the lady of sons lasagna. It will only take you 40 minutes to make and once again, this recipe can feed 20 people.
The ingredients list is extensive, calling for more than 20 different ingredients but the end result is well worth it. Besides, the recipe itself is very easy to follow.
A portion of the ingredients list is taken up by different kinds of cheese.
You'll need 6 different kinds of cheese to make this lasagna. Those are cheddar, Gruyere, Swiss, cottage, cream, and mozzarella cheese. This combination of cheese gives the lasagna an awesome cheesy and creamy texture. 
Other filling ingredients include ground beef, bell peppers, onion, and tomatoes.
Next up, we have Paula Deen's eggplant lasagna. This recipe is a good option for anyone following a low-carb, keto diet. Instead of using traditional pasta lasagna sheets, this recipe uses eggplant instead.
Of course, the texture is quite different but the overall flavors of the lasagna are pretty similar.
This lasagna recipe is also vegetarian as it contains no meat. Instead, the filling consists of mushrooms, spinach, and three different types of cheese.
This is probably the healthiest lasagna recipe on this list so if you want to make a healthier meal, give it a try. However, it could be worth noting that this recipe only feeds several people.
If you really want to impress your guests with a Paula Deen lasagna recipe, we recommend giving the Fuentes family lasagna recipe a try.
Arguably the best dinner party lasagna recipe on this list, the Fuentes family lasagna is incredible. 
It takes a classic lasagna recipe and takes it to a whole new level by combining interesting ingredients to create an aromatic, flavorful, and delicious lasagna.
This recipe also calls for eggplant instead of lasagna noodles, but it uses chorizo too. This gives the lasagna a spicy and meaty flavor that you'll love. For more crunch, this recipe also calls for pine nuts. 
This is a unique but much-appreciated addition that helps elevate the dish. 
The final Paula Deen lasagna recipe we have for you is perfect for anyone trying to bring more veggies into their diet (see also "Amazing Paula Deen Shepherds Pie Recipes"). Family-friendly, this lasagna recipe is loaded with a wonderful variety of fresh vegetables.
This includes carrots, zucchini, yellow squash, mushrooms, bell peppers, onions, and tomatoes. Aside from bringing more flavor and nutrients to the dish, these veggies also offer a great splash of color.
The creaminess and cheesiness of the recipe is provided by 4 different kinds of cheese. Those cheeses are provolone, mozzarella, cottage cheese, and cream cheese.
This lasagna recipe only takes 40 minutes to make and serves 20 people.
Final Thoughts
It's probably fair to say that Paula Deen specializes in making the most amazing lasagnas. No matter what type of lasagna it is you want to make, there's a very good chance you'll find a Paula Deen recipe you'll enjoy.
In this post, we've shown you 10 delicious Paula Deen lasagna recipes you can try today (see also "Best Paula Deen Potato Soup Recipes"). Now you have this list, you should narrow down the options and decide which lasagna recipe you want to try first.
We already know you'll love whichever one you choose.             
Frequently Asked Questions
How Many Layers Should A Lasagna Have?
Most lasagna recipes will ask you to make at least three lasagna layers. Anything less than that and it is widely accepted that you can't call the dish a lasagna. If you opt for more than three layers, the maximum you should go with is five. 

Anything more than that is a bit excessive.
What Cheese Do Italians Use To Make Lasagna?
In Italy, most lasagnas are made using ricotta and mozzarella cheese. However, recipes vary across the country. Of course, individual preferences play a huge part in things too. Other ingredients used to make a classic Italian lasagna include meat ragu and lasagna sheets.
Should Lasagna Sheets Be Pre-Cooked?
No, you don't have to pre-cook lasagna sheets before making your lasagna. Oven-cooking the lasagna sheets with the rest of your dish will offer the best results.
10 Amazing Paula Deen Lasagna Recipes To Try Today
Course: Recipes
One of the best family-friendly recipes you can make is a hearty lasagna. This post looks at the best Paula Deen lasagna recipes you can make at home.
Directions
Pick a recipe from above
Click the recipe name and visit the website
Collect the ingredients and the food
Enjoy – don't forget to leave a review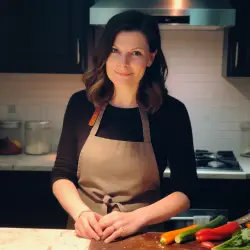 Latest posts by Barbara Hunt
(see all)