Welcome to a flavorful journey through the versatile world of eggplant recipes! Whether you're a fan of savory delights for breakfast, mouthwatering creations for dinner, or indulgent treats for dessert, this article has you covered. 
Eggplant, also known as aubergine, is a nutrition-packed vegetable that is incredibly versatile for a myriad of dishes on the culinary spectrum.
In the morning, you'll be delighted by eggplant frittatas and breakfast hashes, using the rich flavors of eggplants to their fullest potential for kickstarting your day. 
As the sun sets, prepare to enjoy a sumptuous dinner with hearty eggplant lasagnas, tacos, and roasted delights, perfect for satisfying both vegetarians and meat-eaters alike. 
And don't think that the eggplant's magic stops there! We'll reveal delicious dessert options such as eggplant chocolate bread and eggplant crisp, proving that this humble vegetable can even satisfy your sweet tooth. 
So, explore these yummy eggplant recipes that will transform your meal plans like never before! 
Breakfast 
Using eggplants for breakfast adds a tasty twist to your morning routine. The rich flavors and nutritious benefits of eggplants elevate the breakfast experience and provide a wholesome start to your day. 
Start your day with a burst of exotic flavors with this Middle Eastern-inspired dish. The combination of eggs poached in a spicy eggplant and tomato stew will leave you craving more. 
The rich flavors of eggplant and tomatoes meld together, creating a delightful base for the perfectly cooked, runny eggs. 
Sprinkle with fresh herbs and feta cheese for an unforgettable breakfast that's hearty and satisfying. It's perfect for those who enjoy a little heat to kickstart their morning. 
Up your breakfast game with this hearty and wholesome eggplant hash. Packed with nutritious veggies, aromatic herbs, and perfectly seasoned eggplant, this dish will keep you energized and satisfied all morning long. 
Dice the eggplant and sauté it with onions, bell peppers, and potatoes until everything is gold and tender. Add in your favorite spices for an extra lift in flavor. 
"Wow!" your taste buds with this delightful fusion of flavors. The tender eggplant and tangy tomatoes come together harmoniously, while the runny eggs add a luscious creaminess to the dish. 
This versatile recipe allows you to experiment with various spices and herbs to suit your taste. Serve it with a side of crusty bread or pita for a satisfying morning meal that's easy to make and a visual feast. 
Looking for a delicious way to brunch? Look no further than this eggplant frittata. It's a savory delight with the goodness of eggplant and other flavorful ingredients, making it an excellent option for lazy weekends. 
Serve it with a refreshing side salad for a wholesome and protein-packed breakfast that's sure to impress. 
Take a twist on the classic pancake recipe with these eggplant-infused pancakes. These treats offer a unique and scrumptious flavor profile that will both surprise and satiate your palate. 
Top with a dollop of Greek yogurt, a drizzle of honey, and a sprinkle of chopped nuts for a delicious breakfast that's both tasty and nutritious. 
Dinner
When it comes to dinner, using eggplants opens up a whole world of delicious possibilities. This versatile vegetable adds a rich and savory flavor to any dinner spread. 
Whether you're a vegetarian or simply looking to add more plant-based options to your meals, eggplant dishes are sure to leave you feeling satisfied. 
Transport yourself to the Mediterranean with this iconic eggplant dip. Smoky, creamy, and enriched with tahini, Baba Ganoush is perfect for dipping pita bread or veggie sticks. 
Char the eggplant over an open flame or roast it in the oven to achieve that smoky flavor. Then, blend it with tahini, garlic, lemon juice, and olive oil for a velvety texture that pairs wonderfully with various grilled meats or simply on its own. 
If a taste of France is more your speed, then this vibrant and colorful eggplant stew is what you're looking for. Combining eggplant, tomatoes, peppers, zucchini, and herbs, ratatouille is a vegetarian delight that will impress any dinner guest. 
Ina Garten, the Barefoot Contessa, brings her magic to this classic Italian dish. Layers of roasted eggplant, marinara sauce, and gooey cheese make this a comforting and satisfying dinner option. 
Roast the eggplant slices until golden brown and tender, then assemble them with marinara sauce and layers of mozzarella and parmesan cheese. 
Bake until bubbly and irresistible, serving it over a bed of pasta or with a side of garlic bread for a memorable Italian meal. 
Elevate your taco night with these flavorful and crispy eggplant tacos. Packed with texture and topped with fresh ingredients, these tacos are a delicious alternative to traditional meat fillings. 
Stuff your crispy eggplant into soft or crispy tortillas and add your favorite taco toppings, such as shredded lettuce, diced tomatoes, avocado slices, and a drizzle of tangy lime crema. 
Enjoy the indulgent combination of eggplant, creamy sauce, and melted cheese in this wonderful gratin recipe by the one and only, Paula Deen. A true comfort food that will have you coming back for seconds. 
Layer thinly sliced eggplant with a rich and creamy béchamel sauce and a generous sprinkling of cheese. Bake until the top is beautifully bubbly, and serve it as a scrumptious side dish or a satisfying main course. 
Whether you're a vegetarian or just looking to switch things up, this eggplant lasagna is a must-try. 
Replace traditional lasagna noodles with thinly sliced eggplant, then build layers with your favorite marinara sauce, ricotta cheese, and a blend of mozzarella and parmesan. 
Bake until the cheese is melty and golden, creating a flavorsome and hearty lasagna that will satisfy everyone around the table. 
Rachael Ray adds her signature touch to these delectable eggplant patties. Served with a tangy tomato sauce, these patties are a delightful way to enjoy eggplant in a different form. 
Grate the eggplant and mix it with breadcrumbs, cheese, and spices to form patties. Fry them until golden and crispy, then serve with a zesty homemade tomato sauce. 
These eggplant patties are fantastic for a meatless meal or a tasty appetizer to share with friends and family. 
Dessert
It may sound surprising to incorporate eggplants into your dessert options, but their mild flavor and versatile texture make them an excellent addition to sweet treats. 
Using eggplants within your dessert recipes adds a subtle depth of flavor that harmonizes beautifully with sweet ingredients. 
Satisfy your sweet tooth with this surprising dessert that incorporates eggplant into a chocolate bread. The eggplant adds a moist and rich texture, creating an unforgettable dessert experience. 
Crispy, crunchy, and full of deliciousness, this eggplant crisp is a unique twist on a traditional fruit crisp. This recipe is a perfect substitute for apple crisp, especially when it's out of apple season. 
Slice the eggplant thinly and toss it with sugar, cinnamon, and a hint of lemon zest. Layer the seasoned eggplant in a baking dish, alternating with a buttery crumb topping. 
Bake until the topping is golden brown and the eggplant is tender, resulting in a delightful dessert that's both sweet and savory. 
This Italian culinary delight is a wonderfully unique dessert. Melanzane Al Cioccolato combines eggplant and chocolate to create a heavenly and indulgent layered treat that is perfect for any occasion. 
Cut the eggplant into small cubes and cook until soft, then mix them into a luscious chocolate sauce. Chill the mixture until it thickens, creating a velvety-rich dessert that's perfect for serving in elegant glassware or over a scoop of vanilla ice cream. 
Conclusion
From sunrise to sunset and beyond, eggplant has proven its versatility in the kitchen, providing a delightful experience for every meal of the day. 
With these 15 amazing eggplant recipes, you can now savor the goodness of this nutritious vegetable in various culinary forms. 
Go ahead, explore, and create unforgettable meals that will leave a lasting impression on your palate!
Frequently Asked Questions
Why Do You Soak Eggplant Before Cooking?
Soaking eggplant before cooking is a common technique used to remove bitterness and improve its texture. Soaking helps to draw out some of the bitter compounds, making the eggplant taste milder and more palatable.
Should You The Peel Skin Off Eggplant Before Cooking?
This is entirely dependent on personal preference, the recipe you're following, and the type of eggplant you have. Consider the cooking method and recipe before deciding whether or not to peel eggplant. 

Ultimately, the decision to peel or not to peel is up to your personal preference and the requirements of the recipe. Feel free to experiment and find out what works best for you.
15 Amazing Eggplant Recipes For Every Meal
Course: Other Recipes, Recipes
Directions
Pick a recipe from above
Click the recipe name and visit the website
Collect the ingredients and the food
Enjoy – don't forget to leave a review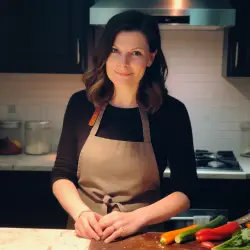 Latest posts by Barbara Hunt
(see all)