Eggplants, with their rich, meaty texture and versatile flavor, make excellent side dishes for a wide variety of meals.
Whether you're in the mood for something quick and simple or something a bit more elaborate, this versatile vegetable offers a plethora of options.
In this article, we will explore some of the best eggplant side dishes that you can make at home.
Quick And Easy Eggplant Sides
We have some simple eggplant side dishes that you can create in a jiffy:
For a no-fuss approach, you can't go wrong with simple roasted eggplant slices seasoned with salt, pepper, and a drizzle of olive oil.
Roasting concentrates the flavors and can be done in advance, making this a stress-free option.
For added flavor, you can also include herbs like parsley and thyme or even a sprinkle of parmesan.
Coated in breadcrumbs and oven-baked, these fries are a lighter alternative to their potato counterparts, and they are simple to prepare.
They pair wonderfully with a dipping sauce of your choice – we suggest tzatziki – and a cut of lamb.
Quickly sautéed with olive oil and garlic, as well as salt and pepper, this is a fast and tasty option that highlights the natural flavors of the eggplant.
Serve with chicken, grilled fish, or a plant-based meal.
This dish is a minimalist's dream, requiring just a handful of ingredients yet delivering maximum flavor.
Slices of eggplant are arranged in a baking dish, topped with a breadcrumb mix, and seasoned with Italian herbs.
When baked, the eggplant slices become crispy and golden, providing a delightful topping that contrasts the tender vegetables below.
Sides Inspired By Different Cultures
If you'd like to bring the flavors of different cultures to your plate, we have some delicious dishes to tempt you:
This Korean steamed eggplant dish is a flavorful option that introduces an international twist to your meal.
Seasoned with sesame oil, garlic, and a sprinkle of sesame seeds, Gaji-namul brings authentic Korean flavors to your table.
Serve with a hearty helping of rice and other sides.
This Italian classic combines eggplant with tomatoes, capers, celery, and olives for a tangy and savory treat.
It can be made in advance and even tastes better the next day.
We enjoy this side dish paired with grilled fish.
An authentic staple in Chinese cuisine, Eggplant in Garlic Sauce is a sautéed delight that boasts spiciness and sweetness.
Typically, Asian varieties of eggplant are used, which are slender and less bitter than their Western counterparts, but you can still create this dish without them.
The eggplant is first sliced and then stir-fried until tender, absorbing the flavors of the sauce it's cooked in.
The sauce contains soy sauce and garlic, and you can also add a touch of sugar or hoisin sauce for added depth.
Red pepper flakes or Chinese chili paste can be used to introduce heat, while a garnish of chopped green onions and sesame seeds adds a layer of texture and flavor.
This side dish pairs wonderfully with steamed rice and a main course of meat or tofu.
A quintessential Middle Eastern dish, Baba Ganoush is the epitome of culinary simplicity and flavor complexity.
The eggplant is first roasted until the skin becomes charred, giving the interior flesh a smoky flavor.
After removing the skin, the eggplant is mashed and blended with tahini, a paste made from sesame seeds.
The dish is seasoned with minced garlic and freshly squeezed lemon juice for acidity. Olive oil often serves as the finishing touch, along with a sprinkling of smoked paprika or cumin.
Served chilled, Baba Ganoush makes for an excellent appetizer or side dish, especially when accompanied by warm pita bread or crunchy vegetables.
A classic Provençal dish, Ratatouille is a medley of summer vegetables like eggplant, zucchini, bell peppers, and tomatoes.
Sautéed your ingredients separately to maintain their distinct flavors before being combined and simmered in a tomato-based sauce.
We like to infuse this dish with herbs like thyme and basil to create an end result that is both vibrant and comforting.
As a side, Ratatouille pairs well with a variety of proteins, be it poultry, fish, or tofu.
This Asian-inspired dish features eggplant, also known as brinjal in some regions, simmered in a luscious coconut milk-based sauce.
The combination of creamy coconut milk, aromatic spices, and the eggplant's unique texture creates a side dish that pairs exceptionally well with rice and spicy mains.
Infused with flavors of ginger, chile, and coriander, it's a rich and satisfying accompaniment to many dishes.
Briam is a traditional Greek dish that includes a mixture of roasted vegetables, such as eggplant, zucchini, potatoes, and red bell peppers, all cooked together in a tomato and olive oil sauce.
Herbs like oregano, basil, mint, and parsley elevate the dish.
Served as a side, Briam makes a flavorful companion to grilled meats or a satisfying option for a plant-based meal.
Drawing inspiration from the classic Italian Caprese salad, this version includes grilled or roasted slices of eggplant along with fresh tomatoes and mozzarella.
Drizzled with a basil vinaigrette, this salad offers a delicious blend of textures and flavors.
The smoky undertone of the eggplant complements the creaminess of the mozzarella and the tanginess of the tomatoes, making it a well-rounded side dish that pairs wonderfully with various mains, from grilled fish to roasted chicken.
Healthy Choices
Eggplant is a healthy option in itself, but cooking techniques and added ingredients can increase calories.
For our health-conscious readers, we have a selection of super healthy sides to try:
Grilled to smoky perfection, this eggplant side dish is both healthy and delicious, seasoned simply with olive oil, salt, and pepper.
This easy recipe showcases the flavors of the eggplant and pairs well with proteins like chicken or fish.
Combining roasted or grilled eggplant with chickpeas, herbs, and a drizzle of balsamic vinegar and a yogurt and tahini dressing makes for a nutritious and filling side dish.
This side pairs particularly well with lamb or fish.
This wholesome salad combines roasted chunks of eggplant with cooked quinoa, cherry tomatoes, and parsley.
A light dressing of olive oil, lemon juice, and a hint of garlic brings all the elements together.
This high-protein, fiber-rich dish is not only nutritious but also exceptionally flavorful, with the nutty quinoa and earthy eggplant complementing the sweet tomatoes.
It's a perfect side for health-conscious individuals and those looking for a lighter yet satisfying option.
In this simple yet delicious side dish, chunks of eggplant and mushrooms are roasted together in the oven.
The process brings out the earthy flavors of the mushrooms and the creamy texture of the eggplant.
Seasoned with olive oil, garlic, salt, and pepper, this dish provides a hearty and rustic complement to a wide array of main courses.
For Special Occasions
If you're in search of an eggplant side dish that is perfect for a special occasion, we've got you covered:
Impress your guests with this visually stunning combination of eggplant and pomegranate seeds, perfect for festive occasions.
This recipe, right from Jamie Oliver's kitchen, takes just 20 minutes to make, and the finish is exquisite.
Stuffed Eggplant is a hearty and adaptable side dish that can be tailored to suit a variety of culinary traditions.
The eggplant is first hollowed out, and its flesh is sautéed along with an array of vegetables like bell peppers, onions, and tomatoes.
You can make the dish your own by adding grains like rice or quinoa to the sauteed veg mixture – or add ground meat for a more filling option. The flavors are enhanced with basil and parsley.
Once the stuffing is prepared, it's packed back into the hollowed-out eggplant shells and baked until tender.
The dish is topped with breadcrumbs and a layer of grated cheese that turns golden brown in the oven.
Stuffed Eggplant serves as a wonderful side dish but is substantial enough to be a vegetarian main course.
In Summary
Whether you're looking for something simple and quick, super healthy, or a recipe fit for a special occasion, there's an eggplant side dish for you.
This versatile vegetable lends itself well to a variety of cooking methods and flavors, making it a stellar choice for almost any meal.
Give these Filipino eggplant dishes a try next.
Frequently Asked Questions
What does eggplant pair well with?
Eggplant is versatile and pairs well with robust flavors like garlic, tomatoes, and a variety of herbs.
What protein goes best with eggplant?
Chicken, lamb, and fish are good protein options to pair with eggplant.
Do you eat eggplant skin?
The skin is edible and nutrient-rich, though some people prefer to peel it off for certain recipes.
What is the healthiest way to eat eggplant?
Grilling and roasting are the healthiest methods, as they require less oil compared to frying.
18 Eggplant Side Dishes That Are Too Good To Ignore
Course: Other Recipes
Directions
Select an eggplant recipe from the list
Gather your ingredients
Prepare your dish
Enjoy.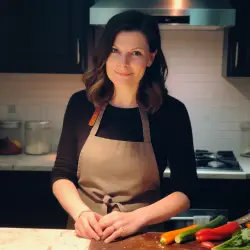 Latest posts by Barbara Hunt
(see all)