Tex-Mex cuisine is a delightful fusion of flavors that combines the bold and vibrant taste of Mexico and Texas dishes.

One ingredient that plays a starring role in this culinary journey is corn.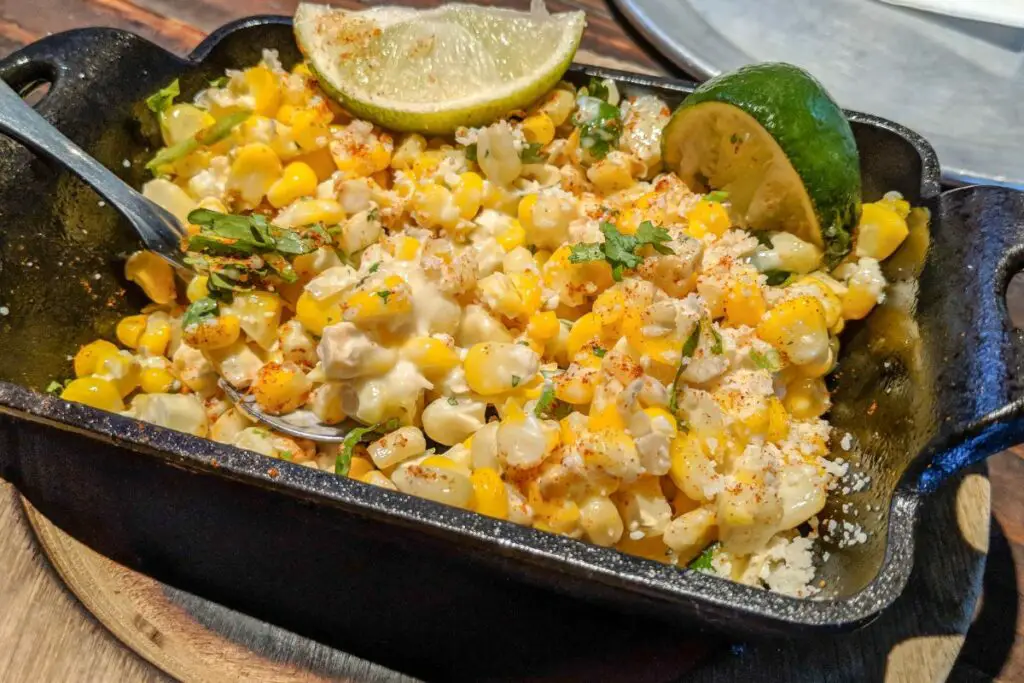 Whether it's in the form of Mexican street corn, creamy casseroles, or zesty salads, corn brings a delightful sweetness to the Tex-Mex table.
In this article, we present 15 mouthwatering Mexican corn side dishes that will elevate your Tex-Mex night to a whole new level of deliciousness. Get ready to savor the flavors of the South.
Mexican Street Corn Inspired
Let's start with the classic Mexican street corn, off the cob – also known as elote. This dish features grilled corn on the cob slathered with a creamy mixture of mayonnaise, sour cream, and Mexican spices.

The dish is all tied together with a finish of cotija cheese and a squeeze of lime.
Cooking Tip: To achieve perfectly grilled corn, soak the corn in its husk in water for about 30 minutes before grilling. This helps prevent the husk from burning and keeps the corn moist.
Pairs With: Serve with chicken fajitas for a balanced and flavorful Tex-Mex feast.
Give Mexican street corn a twist with Exquisites, a street corn salad.

This dish deconstructs the flavors of elote into a convenient salad. Making it easy to enjoy all the delicious elements without the mess.
Cooking Tip: You can grill the corn kernels in a grill pan before assembling the salad for a smokey flavor.
Pairs With: Serve with beef or chicken enchiladas for a Tex-Mex fiesta on your plate.
Spicy Corn Dishes
Add a spicy kick to your Tex-Mex night with spicy Mexican cornbread.

This savory and slightly sweet cornbread is infused with jalapenos, cheddar cheese, and chili powder, making it the perfect accompaniment to your favorite Tex-Mex dishes.
Cooking Tip: For extra heat, leave the seeds in the jalapenos. To mellow the spice, remove the seeds and membranes before adding them to the batter.
Pairs With: Enjoy with a hearty bowl of chili or a place of enchiladas for a satisfying meal.
Spice up your Tex-Mex night with east spicy corn salsa. This salsa combines the sweetness of corn with the heat of jalapenos and the tang of lime juice.

It's a fantastic topping for tacos, nachos, or as a dip with tortilla chips.
Cooking Tip: To control the spiciness, adjust the amount of jalapenos and seeds you use in the salsa.
Pairs With: Use it as a topping for grilled steak or chicken.
Rachael Ray's corn on the cob with lime and chili is a zesty take on a classic side.

Grilled corn is brushed with a mixture of lime juice, chili powder, and butter for a tangy and spicy kick.
Cooking Tip: Brush the limi-chili mixture onto the corn just before serving to preserve its freshness.
Pairs With: Pair with a Tex-Mex skirt steak for a bold and flavorful meal.
Ina Garten adds a touch of sophistication to sweet corn with her Chipotle parmesan sweet corn.

This dish features sweet corn kernels sauteed in smoky chipotle butter and finished with parmesan cheese.
Cooking Tip: Adjust the level of smokiness and heat by controlling the amount of chipotle pepper you use.
Pairs With: Serve alongside Tex-Mex grilled fish for a delightful combination of flavors and textures.
Spiced corn ribs are a delightful twist on corn on the cob.

These corn "ribs" are sliced lengthwise, brushed with a spicy butter mixture, and roasted to perfection.
Cooking Tip: To make slicing easier, cut the corn into smaller sections first before slicing lengthwise into ribs.
Pairs With: Serve with grilled pork chops for a satisfying combination of flavors.
Corn Salad Varieties
Mexican corn salad is a refreshing and vibrant side dish that combines sweet corn, bell peppers, red onion, and cilantro in a zesty lime dressing.

It's a burst of flavors and colors that complements any Tex-Mex spread.
Cooking Tip: For the best flavor, roast the corn on the grill or stovetop until it's slightly charred. This adds a smoky depth to the salad.
Pairs With: Pair this salad with grilled shrimp tacos for a light and satisfying dinner.
Our next recipe is one from Paula Deen; this time, we have a simple yet flavorful side dish that brings together corn, bell peppers, and onions in a sweet and tangy dressing.
Cooking Tip: For added color and flavor, use a mix of yellow and white corn kernels in the salad.
Pairs With: Enjoy with grilled chicken thighs for a delightful dinner.
Frito corn salad is a Tex-Mex twist on the classic corn salad, adding a satisfying crunch with the addition of Frito corn chips.

The chips remain crispy even when mixed with the creamy dressing.
Cooking Tip: To keep the Fritos crunch until serving, add them just before serving or let guests add their own as they plate their salad.
Pairs With: Pair with a Tex-Mex burger for a satisfying combination of flavors and textures.
Celebrate the flavors of summer with this next recipe for summer corn salad.

This refreshing dish combines corn, cherry tomatoes, basil, and mozzarella with a balsamic vinaigrette.
Cooking Tip: Use fresh sweetcorn during the peak of summer for the best flavor. Blanching the corn briefly can help enhance its sweetness.
Pairs With: Enjoy with Tex-Mex chicken quesadillas for a light and summery meal.
Mexican corn and black bean salad is a hearty and satisfying side dish that combines corn, black beans, tomatoes, and avocado with a cilantro-lime dressing.
Cooking Tip: Be sure to drain and rinse canned black beans before adding them to the salad to remove excess sodium and starch.
Pairs With: Pair with Tex-Mex vegetable fajitas for a nutritious and balanced dinner.
For another Rachael Ray recipe, try this zesty corn pasta that combines pasta, corn, zucchini, and a zest lemon dressing for a refreshing and hearty Tex-Mex side.
Cooking Tip: Add a generous amount of cilantro and a spritz of lime juice just before serving.
Pairs With: Enjoy with Mexican shrimp tacos for a complete and satisfying meal.
Creamy Corn Creations
For a creamy and comforting side dish that brings together sweetcorn and cream cheese for a luscious Tex-Mex treat, you need to try out this recipe for stovetop cream cheese corn.
Cooking Tip: To prevent the cream cheese from curdling, melt it over low heat and gradually add the corn while stirring continuously.
Pairs With: Enjoy this rich side with a serving of spicy Tex-Mex chili for a comforting meal.
Paula Deen's Southern corn casserole is a comforting and cheesy dish that combines creamed corn, sour cream, and cornbread mix for a delightful Mexican side dish.
Cooking Tip: Add a touch of sweetness to the casserole by incorporating a tablespoon of honey or sugar into the mixture.
Pairs With: Enjoy with Mexican barbecue ribs for a mouthwatering combination of flavors.
Final Thoughts
Considering how simple and diverse Mexican cuisine is, it's not hard to see why it's so popular around the world.

With the 15 Mexican corn side dishes, you'll have an array of flavorful options to spice up your Tex-Mex night.

From the bold and spicy to the sweet and comforting, these dishes celebrate the versatility and vibrancy of corn in Mexican cuisine.
These side dishes are perfect for large gatherings of family or friends, busy weeknight meals, or even just enjoyed at a table for one. However big your gathering is, these dishes are sure to satisfy.
So, gather your ingredients and prepare for a Tex-Mex feast that's sure to impress your taste buds.
Frequently Asked Questions
Can I Make Elote Without A Grill?
Absolutely! You can achieve a similar effect by roasting the corn in the oven or using a stovetop grill pan. It might not have the same smokey quality, but you'll still have a delicious meal at the end of it.
Are There Any Vegan Variations Of The Mexican Side Dishes Mentioned Here?
Many of the dishes can be made vegan by subbing out ingredients like sour cream, mayonnaise, or cheese with plant-based alternatives.
Can I Make These Tex-Mex Corn Dishes Ahead Of Time For A Party Or Gathering?
Yes, most of these dishes can be prepared in advance and stored in the refrigerator until serving. However, be mindful of the texture of ingredients like Frito or corn chips, which may become less crispy over time.
15 Delicious Mexican Corn Side Dishes To Spice Up Tex-Mex Night
Course: Other Recipes
Directions
Choose a recipe from above
Collect your ingredients
Prepare your dish
Enjoy.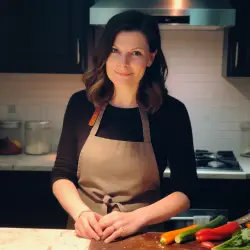 Latest posts by Barbara Hunt
(see all)