Perfect for a summer's lunch or quick and easy dinner, corn salad is a healthy dish that can be made in many different ways.
More often than not though, corn salad is made with corn kernels, a variety of vegetables, herbs, spices, and a salad dressing.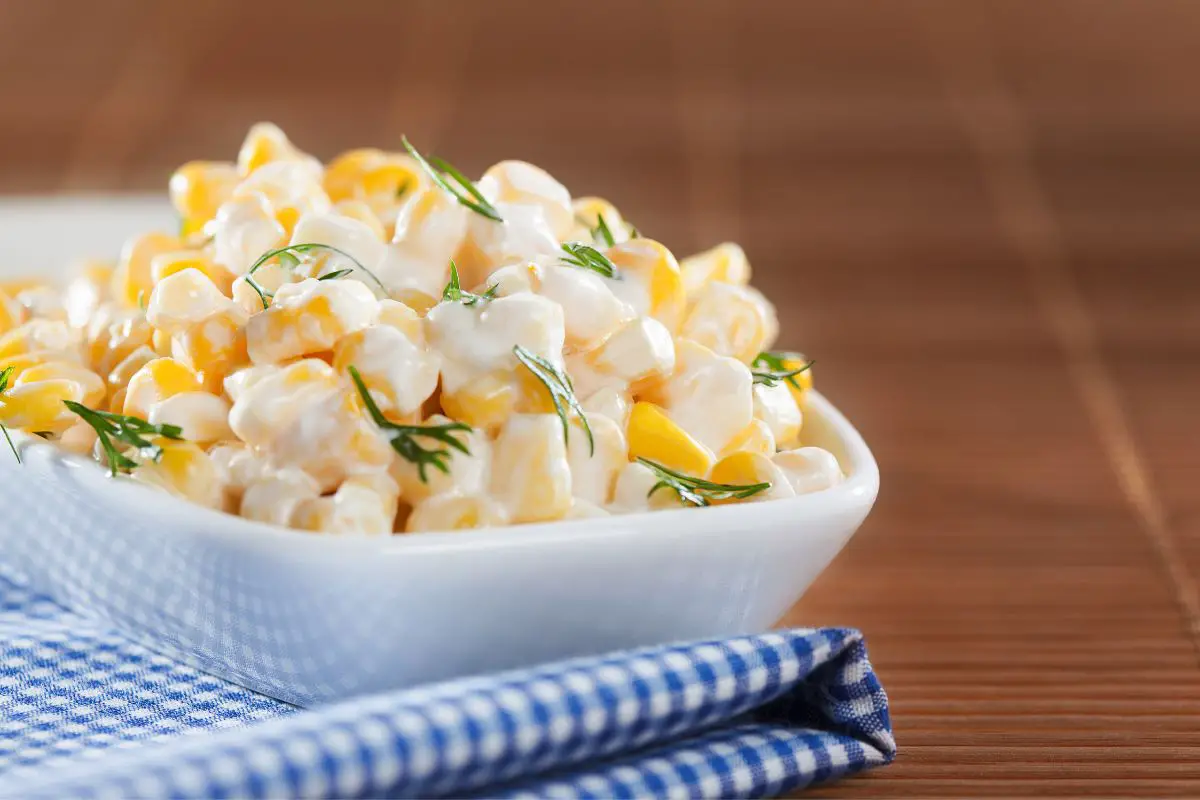 Aside from being a quick lunch or dinner, corn salad is a healthy and vibrant dish that we can serve to guests. Therefore, you need a good corn salad recipe if you're going to impress. 
However, there are hundreds upon thousands of corn salad recipes to choose from, which can make it hard to find the perfect recipe.
To make your life easier, we're going to show you the best corn salad recipes from TV personality, cookbook author, and celebrity chef Paula Deen.
We're going to show you 10 amazing recipes you can make in a flash so stick around if you want to learn more!
The first Paula Deen corn salad recipe we have for you is a delicious charred corn salad recipe. This light, colorful, sweet, and tangy salad is packed with healthy ingredients and powerful flavors.
The salad only takes 35 minutes to make and can serve 4 to 6 people. You will need 10 ingredients to make this salad. The most important of which are corn, black beans, brown rice, red onion, lime, and tomatoes. 
What we love most about this salad is the combination of sweet, savory, and tart flavors.
The tomatoes and corn offer a fresh sweet flavor, while the lime brings a zesty flavor to the party. Meanwhile, the rice and black beans offer a more filling savory flavor.
If you're on the lookout for a fresh, healthy, and light salad to serve alongside a main dish, this fresh corn and cucumber salad could be perfect.
It's super easy to make, requires very few ingredients, and is low in calories. 
The only ingredients you need to make this salad are fresh corn, cucumber, sweet onion, and bell peppers.
All of these ingredients are jam-packed with sweet flavors and essential vitamins, making this salad extremely beneficial.
One thing we love about this recipe is the dressing Paula Deen helps us make too.
This salad recipe is accompanied by a rich and zesty orange marmalade and red wine vinegar dressing recipe that helps elevate the dish.
Next up, we have the most amazing snapper, corn, and onion salad that comes with a creamy lime cumin dressing. This is the corn salad recipe you should try if you want to blow your guests away.
As you can probably already tell, this salad isn't designed to be a side dish. Instead, it's designed to be the star of the show. Featured in Deen's At The Southern Table, this salad is light, yet surprisingly filling.
It has a longer ingredient list but still only takes 25 minutes to make. Thanks to the spicy and tart lime dressing and the sweet corn kernels, the snapper is imparted with intense flavors.
You can make this asparagus, corn, and tomato salad in just 3 simple steps and with 11 basic pantry ingredients.
You'll probably find that you already have most of the ingredients you need to make this corn salad in your cupboards.
This dish is only small, so you could serve this corn salad alongside a main dish, as an appetizer, or on a buffet table. What we love about it most is how flavorful it is.
The veggies used to make the salad are already full of flavor, but the different herbs and spices thrown in help create a more powerful flavor.
Ingredients like basil, shallots, Champagne vinegar, and whole-grain help a lot.
The sweetness the honey provides is much appreciated too.
A similar Paula Deen salad you can make is a corn, avocado, and tomato salad. The main reason you would make this salad as opposed to the salad recipe above is because it's much healthier. 
That's because it contains avocado which is a superfood packed with healthy nutrients and minerals. Of course, corn and tomatoes are healthy too. This makes this salad one of Deen's healthiest corn salads. 
This salad is complete with a light and tangy dressing made from lime zest, lime juice, salt, pepper, and fresh cilantro. The dressing gives this salad a seriously special flavor.
Paula Deen's tomatoes stuffed with chicken salad recipe is a perfect appetizer so give it a try if you have guests coming over(see also: Paula Deen Turkey Salad Recipes To Try Today).
This recipe features fresh tomatoes stuffed with a creamy, rich, and flavorful chicken filling. 
The filling is made from corn, chicken, red bell pepper, red onion, lemon juice, Dijon mustard, mayonnaise, and lettuce. The creaminess of the salad is provided by the mayonnaise and Dijon mustard. 
This mixture blends beautifully with the sweetness of the corn and red bell pepper, while the mustard offers a hint of spice. 
A grilled corn and watermelon salad is sure to please at any summer BBQ. The sweet, juicy, and fresh flavors of the corn and watermelon are seriously refreshing and light, making the salad a great addition to any meat dish.
Personally, we like to add some of this salad to a beef burger. The lightness and sweetness of the corn and watermelon complement the heaviness, richness, and meatiness of the beef perfectly. 
One serving of this salad only contains 119 calories. Ready in 15 minutes, the only ingredients needed are watermelon, corn kernels, and rice wine vinegar.
If you like the thought of trying something completely different, take a look at this corn and carrot salad with golden raisins.
Bright orange and yellow in color, this salad recipe has a strong sweet and fruity flavor that goes nicely alongside a range of dishes.
This might just be the easiest recipe on this list because all you have to do is throw all the ingredients in a bowl and mix them together.
To counteract some of the sweetness, this salad recipe also calls for a creamy, tart, and tangy lemon and mayonnaise dressing.
Thanks to this dressing, the salad is a lot nicer to eat and less overpowering. You could quite easily make this salad in less than 10 minutes, so why don't you give it a try.
Paula Deen's Southwestern corn and black bean salad is a healthy and vibrant addition to any potluck or picnic. We've also found that it makes a great quick and easy burrito filling.
This salad recipe takes 20 minutes to make and serves 10 people. There are 9 staple kitchen ingredients you need to make this salad.
Those are corn, poblano pepper, bell pepper, fresh cilantro, lime juice, chili powder, cumin, and olive oil.
The result is a salad that's light, spicy, sweet, and very healthy. 
We bring this list to an end with Paula Deen's fire roasted corn salsa recipe(see also: 7 Best Paula Deen Corn Casserole Recipes To Try Today).
It could be argued that this recipe isn't a salad at all, but its texture and the ingredients used make it a versatile dish that can be used in many of the same ways.
Compared to other salsa recipes, this salsa is more like a salad than a dip.
Therefore, it can be served as a salad side dish. If you want to bring some Mexican flair to your barbecue, make sure you give this recipe a try.
It will take 30 minutes to make the salad and 9 ingredients. The ingredients list includes corn, tomatoes, avocado, jalapenos, tortilla chips, and red onion. 
Final Thoughts
Now you've made your way through our list, you should have a much better idea of what a good corn salad recipe entails. We've shown you 10 of Paula Deen's best corn salad recipes that you can try today (see also: 6 Best Paula Deen Peach Cobbler Recipes To Try Today).
Whether you're looking for a light appetizer, a filling dinner, or something more unique to try, there's a corn salad recipe on this list that you will love.
Now all you have to do is find out which one that is. We recommend trying as many of these corn salad recipes as you can so you can find out what you enjoy most.
Frequently Asked Questions
Can You Eat Corn Raw?
Yes, you can eat raw corn. In fact, most corn salad recipes mix raw corn kernels with fresh vegetables and fruit. A simple raw corn salad won't require any cooking whatsoever.
How Healthy Is Corn Salad?
Corn salad is an incredibly healthy type of salad. Aside from being low in calories, fats, and carbohydrates, a traditional corn salad contains a lot of vitamins, minerals, and antioxidants that help keep our bodies healthy.
How Many Books Does Paula Deen Have?
To date, Paula Deen has 22 different books, of which 21 are cookbooks that contain hundreds of kitchen tips and recipes.
10 Best Paula Deen Corn Salad Recipes To Try Today
Course: Recipes
Directions
Pick a recipe from above
Click the recipe name and visit the website
Collect the ingredients and the food
Enjoy – don't forget to leave a review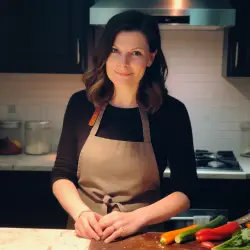 Latest posts by Barbara Hunt
(see all)