Potato salad is an easy dish to make that always goes down well at a BBQ, picnic, garden party or buffet. It is something that you can make in advance and you know that everyone is going to enjoy it.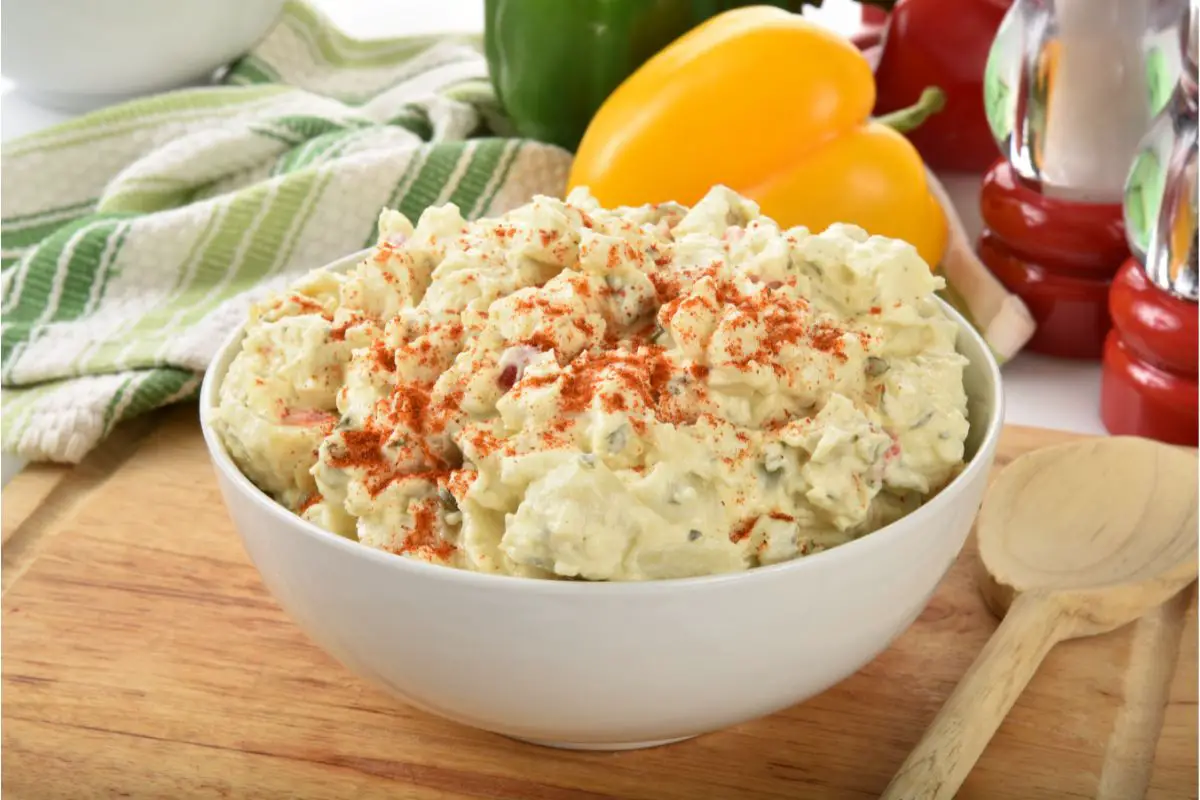 You can also make a big potato salad ahead of time and use it as a side dish for your weeknight meal, or even as a pre-prepared lunch. 
If you want to find the best recipes for making potato salad then look no further than Ina Garten
She is a popular television chef and presents her own cooking show, 'Barefoot Contessa', where she makes wholesome meals and simplifies complex recipes. 
Ina Garten has some fantastic recipes for potato salad (see also "Best Ina Garten Potatoes Au Gratin Recipes"). Keep reading to find out which one you want to try today (see also "Best Emily Meggett Recipes To Try Today").  
If you are looking for some nostalgia and a taste of home, why not make this old fashioned potato salad recipe? It is Ina Garten's most popular potato salad recipe and it looks as good as it tastes. 
This recipe uses red potatoes, which gives it an interesting pop of color. The potatoes are simmered until almost cooked, then left in their own steam to become nice and soft.
While you are waiting for the potatoes, you can start preparing the rest of the ingredients. 
Whisk mayonnaise with dijon mustard, buttermilk, dill, salt and pepper. This will form the flavorsome coating of sauce for the potatoes.
Once the potatoes are cool enough to touch, you can chop them up into halves or quarters. Add the dressing you just made, along with chopped celery and red onion.
You can serve the potato salad immediately if you want to, but it is best to leave it in the refrigerator for a few hours to let all the flavors mingle.
This will give you a potato salad that has a perfect taste and ideal texture. It also means that all of the ingredients will be the same temperature. 
This potato salad recipe is perfect if you have guests coming over and you want to impress them. It is more than just your classic potato salad – it is filled with delicious chunks of succulent lobster meat. 
To make this potato salad you start by cooking Yukon Gold potatoes. While the potatoes are simmering and steaming, make the dressing for the salad.
This consists of vinegar, mustard, garlic, egg yolk, salt, and pepper. You don't add store bought mayonnaise, as you are making your own vinaigrette instead. 
Add wine and capers to the vinaigrette, Then add half of it to the prepared potatoes. Toss the potatoes to make sure that they are fully covered.
Add scallions, lobster meat, celery and red onion to the potato salad and then pour in the last of the vinaigrette. Make sure that all of the ingredients are mixed together evenly. 
Once the ingredients are mixed, cover the salad with plastic wrap and refrigerate it for one hour to allow the flavors to blend. Take the salad out of the refrigerator about 15 minutes before serving to take the chill off. 
There are some occasions when you just need a classic potato salad that everyone will tuck into and enjoy. This recipe is perfect for that occasion.
It is perfect for summer cookouts, and you can easily customize the recipe to add in any extra ingredients that you fancy. This is perfect for using up odds and ends in your refrigerator. 
You need small white potatoes to make this recipe. You can choose your favorite variety or see which locally grown varieties are available. The dressing for the potatoes is made with mayonnaise, buttermilk, mustard and dill.
The salad is seasoned with salt and pepper and you can add extra vegetables like celery or red onion for more texture and flavor. 
This French potato salad is simple but delicious. It doesn't contain any dairy products, making it the perfect potato salad to make if you have vegan guests to cater for.
The boiled potatoes are tossed in wine and stock while they are still warm. Make sure the stock is vegetable if you are making this for vegans.
The potatoes are left to absorb the liquids before any further ingredients are added, giving them extra flavor. 
Whisk vinegar, mustard, olive oil and salt and pepper to create a dressing. Add the dressing to potatoes, then stir in dill, parsley, basil, scallions, and more salt and pepper.
This potato is best served at room temperature, but you can store it in the refrigerator for up to 3 days. You can also serve it while the potatoes are still warm if you want to. 
This potato salad makes a great side dish when served alongside steak or roasted French vegetables. You could also serve it with some grilled fish for a light dinner. 
Tarragon is a herb that is often overlooked. Many people don't quite know what to do with it. Ina Garten has created the perfect recipe to showcase the flavor of tarragon.
This potato salad uses tarragon vinegar and fresh tarragon to create an aromatic and delicious taste that works really well with the potatoes.
Other ingredients include scallions, dill, mayonnaise, red onions, yukon gold potatoes, and lemon juice 
This recipe uses ingredients from both the French potato salad recipe and the tarragon potato salad recipe.
The potatoes are simmered and steamed until they are soft and cool enough to handle, then they are chopped into halves or quarters. 
To make the dressing for the potatoes, wine and chicken stock is mixed with mustard, garlic and lemon juice. The dressing is then seasoned with salt and pepper.
Olive oil is added to make the emulsion, then the dressing is ready to add to the potatoes. Finally, you add chopped onion and fresh herbs including parsley and tarragon.
Toss all of the ingredients together, then cover the potato salad and leave it in the refrigerator for several hours. 
You can serve this potato salad cold or at room temperature. You can also store it in an airtight container in the refrigerator for several days, so don't worry if you have leftovers.
The potatoes will absorb the dressing, so might need to add more. 
If you love creamy potato salad then you will love this recipe. It takes less than 40 minutes to make from start to finish and it tastes fantastic.
The recipe uses sour cream and mayonnaise for a creamy texture, and is flavored with mustard, fresh herbs and finely chopped dill pickles.
You can also add hard boiled eggs if you want to make sure that there is plenty of protein in your potato salad. 
Some people prefer potato salad that has a tangy, sour taste. To achieve this flavor, you need to use more sour cream than mayonnaise.
If you want to make sure you get the balance just right, follow this recipe for a sour cream potato salad.
It is rich and savory with celery, green onions, dijon mustard and cayenne pepper. The flavors are balanced with a little bit of sugar and plenty of black pepper. 
Try to chop the potatoes into chunks. The chunks should be small enough to eat easily, but not so small that they lose their shape and turn to mush.
The other ingredients should be finely diced so that they mix well with the potatoes. 
A lot of potato salads are vegetarian, but it can be super tasty to add salty bacon to your potato salad.
In this recipe, the crispy bacon is paired with punchy chive to create a perfect balance of flavors alongside the creamy dressing.
It can be eaten warm or cold as it is delicious either way, and is sure to be a big hit at any BBQ.  
Frequently Asked Questions
Here are some frequently asked questions about potato salad. 
What Type Of Potato Should You Use In A Potato Salad? 
One of the best varieties of potato to use in a potato salad is Yukon Gold. A lot of people also like using new potatoes or baby new potatoes. 
Can You Substitute White Potato For Sweet Potato In A Potato Salad? 
Before the potatoes are added to a potato salad, they need to be boiled. Sweet potatoes go very soft when boiled, so they might be too mushy to go in a potato salad.

Alternatively, you could roast them before adding them to the salad instead. 
Do You Have To Use Mayonnaise In A Potato Salad? 
Mayonnaise is a common ingredient in potato salad. However, you can make potato salad without mayonnaise by using a vinaigrette instead. 
9 Best Ina Garten Potato Salad Recipes To Try Today
Course: Recipes
A guide to the best recipes for potato salad that were created by Ina garten or inspired by her wholesome style of cooking.
Directions
Pick a recipe from above
Click the recipe name and visit the website
Collect the ingredients and the food
Enjoy – don't forget to leave a review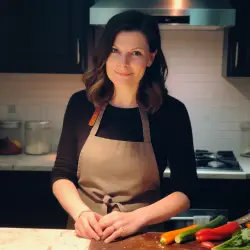 Latest posts by Barbara Hunt
(see all)