Who doesn't love a good potato salad? It makes the perfect side dish for a variety of different meals, and always goes down great at any summer garden party or potluck you need to make a bowl up for.
However, sometimes, making the same potato salad recipe over and over again can start to feel a little stagnant, that's why we present to you 15 easy (but impactful) potato salad options that you can try right now.
Starting off with a classic, this sour cream potato salad from the Spruce Eats is sure to be a crowd-pleaser and only takes about half an hour to prepare – though you'll have to make sure you make it in advance as it needs at least two hours to chill in the refrigerator. 
Luckily, the time it takes to make it is more than made up for in the crisp and fresh flavor that you can serve to up to 12 different people. This makes it perfect for a potluck or a barbecue.
If there's anyone who knows how to make a good potato salad it's people in the American South – and this recipe is no exception.
Mix your favorite kinds of potatoes with celery for crunch, cooked eggs for protein, and a creamy mustard dressing for that classic Southern taste. 
You'll want to make sure that you season as you go, but also remember that the longer you leave this recipe in the fridge, the more intense the flavors will grow. 
What sets apart a bland potato salad from a great "can't-stop-eating-it" potato salad is the dressing – something that Joanne from Fifteen Spatulas knows all about. 
Though the dressing in this recipe uses only a limited amount of ingredients, you'll be blown away by how flavorful this dish ends up.
With just mayonnaise, olive oil, Dijon mustard, and either red or white wine, you can make a dressing that is so tasty, you'll have to stop yourself from eating it from the bowl. 
For a bit of a change of pace from your typical potato salad, check out this recipe for a baked potato salad. It incorporates all of the flavors we love in a loaded baked potato into a next-level side dish that will be a real fan-favorite at any bbq or potluck. 
So grab your cheese, bacon, and green onions, and enjoy experimenting with this hearty meal. 
Speaking of bacon, Avery from Avery Cooks brings us this no-mayo bacon potato salad. We hear what you're saying – a potato salad with no mayonnaise? How can that be? Well, you'd be surprised at how creamy and flavorful this recipe can be, even without that vital ingredient. 
This recipe is ready in just 30 minutes and doesn't require any time to chill in the refrigerator, though if you want to, you can make it ahead as it keeps in the fridge for up to 4 days. 
Another fantastic Southern potato salad, this time with the sweet addition of pickles (or relish). What we love about this recipe is that it is incredibly easy to put together, and uses only very basic ingredients, but still manages to be a smash-hit with guests. 
It can be made even easier if you use a thin-skinned potato variety because you can keep the skins on and save yourself the hassle of peeling. 
This next recipe is developed by Catherine Brookes over at Tasting Table, and is a step up from your traditional potato salad, though it only adds a couple of new ingredients.
The addition of dill, garlic, and lemon brings a refreshing new profile to this potluck staple. 
If you don't mind your potato salad warm, you can serve it immediately, meaning that you can have this on the table in about 30 minutes.
However, if you would prefer, you can always leave it to cool to room temperature on the side before covering it and letting it sit in the refrigerator for a couple of hours – up to 4 days. 
The only contender to potato salad's cookout throne is potentially the devilled egg, which is why we love this recipe. It combines two of our favorite potluck dishes into one and does so perfectly. 
It's creamy, tangy, and, most importantly, super tasty. It makes a lot of sense when you think about it, as devilled eggs and potato salad essentially consist of the same ingredients. 
Here we have another no-mayo recipe – hopefully, you trust us after how great the last one was. This particular recipe has a bunch of herbs that bring a lot of unique and hearty flavors to the dish. 
What we really like about this particular dish is the fact that it is great if you're on any kind of special diet. Whether you're dairy-free, gluten-free, egg-free, or vegan all at the same time, so whatever your restrictions, you can rest assured that you'll be safe with this recipe. 
Want a taste of Europe? Try out this authentic German recipe that differs from American potato salads in one main area. Where American salads are tossed with creamy – usually mayo-based – dressings, a German salad will be tossed with a tangy vinegarette with bacon bits. 
Another major difference is that this kind of salad will usually be served warm instead of cold like an American potato salad, although it should be noted that there are some people who prefer it at room temperature. 
We're moving on to our celebrity chef recommendations now, starting off with an old-fashioned, classic potato salad from Paula Deen. 
How does Paula make her classic dish? Well, she starts by using a Dutch oven to boil her potatoes, the style of the bowl making the potatoes cook much quicker. 
Paula uses a nice amount of bacon and eggs to bulk out this recipe, leaving it a fantastic side dish that's almost as filling as a main meal. 
Another celebrity dish, this time from Rachael Ray. For this dish, we're going back to the basics, with no new spin or major variations, however, we think that it's important to make sure you have a solid foundation for your recipes before you start trying to mix things up. And we don't think there's any better recipe to give you a great basis for other recipes than this creamy, crunchy, simple side dish.
Another take on devilled potato salad, this Rachael Ray recipe is sure to win over any crowd — if you end up with leftovers we'd be very surprised. There's something so devilishly moreish about this potato salad, so it's no surprise why it's consistently rated as one of the best online.
Why not try experimenting with the kind of potato that you use to see which one you like the best and which suits your tastes?
We tried Paula Deen's old-fashioned potato salad, and now it's time to try Ina Garten's. For this dish, you'll need red potatoes — leave the skin on — mayo, and her secret ingredient, buttermilk.
This addition makes this dish even creamier and more melt-in-your-mouth than any of the other entries on this list. It also calls for both Dijon mustard and wholegrain mustard, which both round out the flavor very nicely.
The last entry on our list, but by no means the least, is Ina Garten's French take on this classic side dish. Similar to the German recipe earlier in the list, this salad comes with a vinegar-based dressing, rather than mayo. 
In this case, we have champagne vinegar and dry white wine that Ina specifies has to be a good one; can a recipe even get any more French than that?
I wouldn't worry though, I'm sure the dish will taste just as good with whatever wine fits your budget.
Conclusion 
That closes out our list of easy potato salads. Hopefully, you've come across one that you think will be the next big crowd-pleaser at your neighborhood cookout or office potluck this summer. 
Frequently Asked Questions
Why is Potato Salad So High in Calories?
For the same reason that it's so tasty. It's full of mayonnaise, oily dressings, and (most of the time) bacon, all of which bump up the number of calories.
Do You Need to Let Potatoes Cool Before You Make the Salad?
It depends if you're making a mayo-based dressing or a vinaigrette. With a vinegar-based dressing you need to use the potatoes whilst they're hot, but the opposite is true if using mayonnaise.
15 Easy Potato Salad Recipes For Your Next Potluck
Course: Other Recipes, Recipes
Directions
Pick a recipe from above
Click the recipe name and visit the website
Collect the ingredients and the food
Enjoy – don't forget to leave a review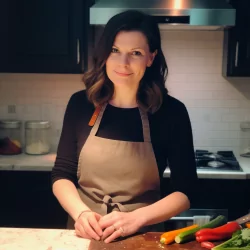 Latest posts by Barbara Hunt
(see all)