A lentil soup has the capacity to be either a delicious, warming meal on a cold night or a bland bowl of poorly flavored watery goop.
Getting it right can be a bit of an art, so if you're ready to say goodbye to boring, uninspired lentil soup for good, check out these 15 recipes and say hello to your new favorite dish.
What better place to start than with a self-proclaimed "seriously amazing" lentil soup? Nagi from RecipeTin Eats states this recipe will have you coming back for seconds and even thirds. 
She recommends using any color of dried lentils and adding a splash of lemon to really bring out all of the flavors (make sure you have plenty of lemons if you're going to be experimenting, they'll be coming up a lot more). 
What's better than a seriously amazing lentil soup? What about the BEST lentil soup? Well, that's what Kate from Cookie & Kate claims that her recipe is one of the best that you'll find online, but what makes it so great? 
Made from mostly pantry staples, this soup is loaded with green veggies and plenty of spices to elevate this to a really tasty soup. 
Though the previous two recipes didn't specify what kind of dry lentils you should use, here we have our first specific red lentil soup. 
This recipe is based on a traditional Turkish dish called mercimek corbasi, which has bold spices and a vibrant red color and surprisingly takes less than an hour to make. 
Once again, add a hit of lemon juice to round the dish out. 
Next, we come to a hearty and healthy traditional soup that's ready in just 30 minutes. This is a Lebanese recipe and its Arabic name is Shorbat Adas – apparently loved by many as a soothing and filling meal. 
The author states that this is a variation of the traditional recipe, passed to her by her mother (don't all the best recipes come from moms?).
Along with the rest of the lentils, onions, and cumin, this recipe also recommends adding short-grain rice and carrots in order to make it more filling and even more colorful. 
For a quick and easy meal, check out this instant pot lentil soup. If you're running low on time on a weekday night, you can get all of your ingredients into your instant pot and have a  healthy, vegan meal ready in just 25 minutes. 
Don't have an instant pot? Don't worry, this recipe includes instructions for cooking on the stovetop, as well as in a slow cooker.
If you prefer a taste of Asian cuisine, then you need to check out this delicious Asian carrot, ginger, and lentil soup. This recipe is packed full of veggies, protein and fiber.
Using sesame oil and soy sauce brings out so many great Chinese flavors, and you can always add some rice if you find that you want it to be more filling. 
This recipe calls for dried brown lentils, the typical onions, celery, and carrots, and a long simmering time.
Something that makes this recipe so delicious is a step right at the beginning that calls for you to caramelize the vegetables prior to adding the lentils and broth – it might take a little bit of extra time, but it's so worth it for the enhanced flavors. 
We're moving onto more complicated lentil soup recipes now, starting off with this fantastic lemon and turmeric option. It's more watery than a lot of the other recipes on this list, however, that doesn't mean that it's weak.
In fact, you'll find that the combination of turmeric, cumin, and black pepper really packs a punch and will leave you feeling warm and full after a nice big bowl. 
For a taste of the Mediterranean, we recommend this fantastic recipe from Debra, the self-title Soup Queen over on Bowl Me Over.
Full of fresh coriander, hearty vegetables, and plenty of dried lentils, this recipe is sure to be a family favorite that you find yourself going back to time and time again. 
Top this dish with fresh lemon and parsley and you'll see what we mean!
Moving on to our celebrity chef recommendations, we're first looking at this hearty option from Paula Deen. This recipe adds a ton of protein to a typically vegan meal through the pulled pork and controversial sauerkraut.
Just like lentil soups, sauerkraut sometimes gets a bad rap, however, if you follow this recipe you'll see (and taste) a whole new side to this contentious veggie. 
Paula Deen likes her lentil soups with a lot of protein, and this one is no exception.
The idea seems to be that a lentil soup doesn't always have to be a light meal for people cutting calories, but can be a fully satisfying meal all on its own (though that doesn't change the fact that it's still pretty healthy just by being lentil soup in the first place). 
This recipe is full of chorizo sausages and smoked ham, which gives the dish a hearty and meaty flavor, so much so that you'll have trouble turning down a second bowl, no matter how full you might get. 
Another meaty dish here from Rachael Ray, a woman who certainly knows her way around a soup bowl. Instead of chorizo, Rachael wants you to use sweet Italian sausages for a more subdued flavor, that still manages to wow whoever you're serving the meal for. 
There are plenty of fresh greens used in this recipe as well, such as kale, rosemary, and bay leaves, which all add a great boost of vitamins and minerals to this soup – if you're feeling under the weather, a bowl of this should bring you back round in no time. 
If a typical lentil soup just isn't filling enough for you, you need to check out this next Rachael Ray recipe, that packs the soup full of vegetables and potatoes.
The addition of piquillo peppers, sherry, paprika, and even saffron make this recipe one you'll want to save for your next big group dinner. You can even make it a vegan meal by just using vegetable broth instead of chicken broth. 
Serve this with a loaf of fresh garlic bread and let the compliments roll in. 
The last celebrity chef we will be looking at is Ina Garten, so you know that these last two recipes are going to be packed with hearty goodness. 
Ina uses French green lentils for this dish and plenty of vegetables. Make sure you have a big pot ready because this recipe can make up to 10 servings!
Of course, if that sounds like way too much, you can always switch up the amount of each ingredient that you're using in order to make less – or more if you want to eat delicious hearty lentil soup for several days.
You can keep this soup in an airtight container in your fridge for up to 4 days – if you can make it last that long before it's all eaten up. 
Finally, we come to the last recipe, another great Ina Garten option. This recipe once again calls for sausage, this time it's a pound of kielbasa – and is there anything that shouts out "hearty, warming meal" like a bunch of kielbasa sausage? 
What we really like about this recipe is the inclusion of the homemade chicken stock recipe that is included on the same page.
Though it does take a lot longer than some of the other entries on the list, there's something so homely about a completely homemade meal, don't you think? 
Conclusion
As we said, a good lentil soup can be hard to find, but with these recipes in your arsenal, you can be confident that you're going to be dishing up filling and heart-warming meals for years to come. 
Frequently Asked Questions
Do Lentils Need to Soak Before Being Added to Soup?
Nope! Luckily, lentils are so small that they will absorb all the water they need just as they're being cooked.
Are Lentils Good For You?
Yes! Nutritionists have suggested that regularly eating lentils can promote good health as it can reduce your risk of diseases like diabetes, obesity, and heart disease, however, you should always talk to your doctor if you're curious about this kind of thing.
15 Great Lentil Soup Recipes You Can Make Right Now
Course: Other Recipes, Recipes
Directions
Pick a recipe from above
Click the recipe name and visit the website
Collect the ingredients and the food
Enjoy – don't forget to leave a review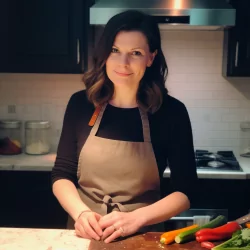 Latest posts by Barbara Hunt
(see all)