Picture this: it's a chilly autumn day, and you've been starting to feel under the weather. Not enough to claim that you're actually sick, but you're definitely not 100%.
You stare around your kitchen wondering what you can make to perk you up when all of a sudden you know exactly what it is you need – a big bowl of tomato soup.
There's nothing better for warming you up and improving your mood than a delicious, creamy bowl of tomato soup. But sometimes it can feel like you're just eating the same thing for the whole of the colder months, and that can get a little tedious. 
So, if you're looking for a few great ways to boost your tomato soup game and find some hearty new recipes, check out our favorite (and easy) tomato soup dishes below.
Let's kickstart our list with this deliciously simple and creamy tomato soup recipe from Natasha's Kitchen. With just a few basic ingredients, you can create a fantastic tomato soup that's perfect with a few slices of crusty bread or, if you want to create a more filling meal, why not try it with a grilled cheese sandwich? 
What we love about this recipe is how the author recommends that you saute the onions in butter and really, is there any other way to saute your onions? 
Now, we know that we called the previous recipe simple, but what could be more basic than just three ingredients? And we know what you might be thinking: how can just three ingredients make anything resembling a tasty dish?
Well, just wait until you try it. Combining butter, onions, and plenty of tomatoes, this recipe is creamy and surprisingly flavorful. This is definitely the easiest soup that you can make from scratch, and it's perfect for lunches or a light evening meal. 
Here we have another very basic but super tasty weeknight meal. Again, this recipe only requires three ingredients and is super easy for anyone, even those with busy schedules. 
This author states that the recipe is best with canned tomatoes, but also says that you can use fresh tomatoes if you prefer, they just require a little more work. 
Once everything is cooked, it's best to use an immersion blender to whisk everything up before serving, however, if you need to use a regular blender, then that will also work absolutely fine. Just make sure that you blend it all together until your soup is silky smooth. 
We're moving onto some more complicated recipes now, but still very beginner-friendly. 
This dish includes a lot of pantry staple ingredients, so you probably won't have to buy much. With chicken broth, garlic, and flour, this soup is as hearty as it is delicious. 
When you come to dish it up, be sure to serve it with croutons and a generous amount of your favorite cheese- we highly recommend a good parmigiano-reggiano.
For this next recipe, you'll need to have a high-speed blender so that it can cook your ingredients whilst they blend. However, if you happen to have one of these fancy machines, then you'll be delighted to know that the meal will only take you about 5 minutes from start to finish.
This means that it's a great meal to have ready in your back pocket if you ever find yourself in a major rush on a weeknight. 
If you're looking for a soup that really packs a punch with its flavor and leaves you feeling much more satisfied than a lot of other soups that can sometimes feel a little light, then this hearty, roasted tomato soup could be a winner. 
With loads of fresh tomatoes and herbs, this recipe is one of our favorites with just how much flavor the author has managed to cram in it.
What we love about tomato soup is how it is a simple, vegetarian, and gluten-free meal, and this author even gives you options to make it dairy-free or vegan if you need to. 
Sometimes a regular tomato soup isn't enough to fight the chills, and you need something that's going to warm you to your bones. For nights like that, you need to try this spicy tomato soup. 
With the addition of red chili flakes and bacon, we LOVE this recipe for turning a basic meal into something absolutely mouth-watering. 
Did we hear you say you wanted more dairy-free options for your tomato soup? Well, we hear you loud and clear. 
Here we have a fantastic option for anyone who needs to keep their diet dairy-free. This recipe is also packed with a bunch of other tasty vegetables like zucchini, carrots, and celery. This recipe is so filling, you'll find that you struggle to finish even one bowl – though you'll really want to. 
If you prefer a totally vegan recipe, don't worry – we've got you covered. It doesn't take much to make a tomato soup vegan, but this author does it so well. Although a lot of vegan recipes would have you use plant-based milk, this recipe uses coconut milk, which rounds out the flavor so nicely. 
Now this is a real mouthwatering meal you won't want to skip. This recipe includes a bunch of flavorful ingredients that create a fantastic profile that will leave you coming back for more.
However, the absolute best part of this dish is the cheesy baguette croutons which are absolutely delectable. 
We're going to move on now to a few celebrity chef recipes, starting off with this easy Ina Garten tomato soup recipe. This is another dish that has you creating grilled cheese croutons, and honestly, is there anything that sounds better than a grilled cheese crouton? 
Paula Deen is another fantastic celebrity chef that we love a lot, and if you try to make this easy tomato soup, you'll understand why.
Though there's nothing extravagant about this recipe, if there's anything that you should know about tomato soup is that you can still make something absolutely delectable with ingredients like tomatoes, butter, and onions. 
Another Paula Deen recipe, this time with a few additions to really spruce it up. With just the inclusion of lemon pepper seasoning and some fresh dill, Paula takes a basic weeknight meal to something that would work great for a fancy evening meal or even a date night. 
Moving on from Paula Deen to Rachael Ray, we come to this delicious and hearty meal, guaranteed to satisfy regardless of what time of day or occasion.
Something that we love about this recipe is the amount of color and flavor that you can pack into a still relatively simple meal like this. Because of the use of cherry tomatoes, you can use yellow, orange, and red to create a feast for your eyes as well as your stomach. 
The final meal that we're going to recommend today is Rachael Ray's quick and creamy tomato which can be ready and on the table in less than half an hour. What we love about this recipe is that it's another one that makes a delicious garlic and cheese topper for the soup which makes it even more filling and delicious. 
Conclusion
There's nothing better for a cold autumn day than a warm bowl of hearty tomato soup, and hopefully, with this list, you have a whole arsenal of new and interesting soup recipes that you can try out next time you start to feel a chill. 
Frequently Asked Questions
What Can I Add to Tinned Soup To Make It Better?
If you're not able to create your own fresh soup for any reason, you might find yourself opening a can of soup instead. If this is the case, then you could always try adding a few extra ingredients to spruce up your meal.

For example, a couple of tablespoons of butter and some minced garlic can take your tinned soup from pretty good to great!
Is Tomato Soup Better With Milk or Water?
Definitely milk. Water can leave your soup too weak and thin, whilst milk will thicken up and add a lot of creaminess to your meal.
How Can I Make My Tomato Soup Thicker?
If your soup is too watery or thin, try adding more flour or cornstarch – you shouldn't add it directly to the pot though – take a spoonful of your soup into a different bowl, whisk the starch in the bowl, and then add it to the pot. That way it won't clump up.
15 Easy Tomato Soup Recipes Everyone Needs To Know
Course: Other Recipes, Recipes
Directions
Pick a recipe from above
Click the recipe name and visit the website
Collect the ingredients and the food
Enjoy – don't forget to leave a review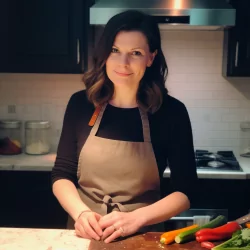 Latest posts by Barbara Hunt
(see all)