If there's one thing that screams date night to us, it's a well-made, creamy pasta carbonara. Originating in Italy, there's something about this meal that keeps people coming back to it.
Maybe it's the earthy and almost tangy flavor, perhaps it's the creamy, bacon-y sauce. Whatever it is, people love carbonara, and we can't blame them.
If you're like us, then the idea of actually making your own carbonara can be pretty intimidating. There seem to be so many steps involved, how can you make sure you get it right?
Maybe you're wanting to impress someone for a date night, or maybe you're just looking for your next family-favorite weeknight meal. 
Whatever your reason, you can rest assured that somewhere in these 15 easy carbonara recipes we're about to go through, you will find a dish that feels right for you. 
Kicking off the list is this super basic, super simple, and yet still super tasty meal from Damn Delicious. The author, Chunguh, claims that this 5 ingredient recipe can be made and on your table in just 15 minutes.
We don't know about you, but that sounds like a very practical meal that everybody should keep in their arsenal.
Only have a very short amount of time in between appointments in the evening? Crack out this Carbonara and trust that you and anyone else at the table will be very satisfied. 
What could be better than crispy pork, silky cheese, and a good kick of pepper? If you happen to find something, let us know. 
Until then, check out this simple pasta carbonara, where the simplicity lies in the quality of the ingredients. If you want to follow this recipe, you might need to spend a little extra in order to make it authentically, however, if it's just a once in a while fancy meal, it might be worth splashing out a bit. 
For example, most simple recipes are going to tell you to use bacon, but that's not how it is traditionally made. Typically, a proper Italian carbonara will be made with cured meats like guanciale or pancetta. 
If you manage to get your hands on these fancier, step-up ingredients, you'll find that you can make the most incredible dish. 
Next up is another authentically made carbonara, not a drop of cream in the recipe anywhere to be found! This dish relies solely on the cheese and eggs to make the silky smooth sauce that carbonara is so well loved for. 
What we love about this recipe, and Nagi from RecipeTin Eats in general, is how she adds an economical note that assures you that it's okay if you need to use bacon instead of guanciale, and parmesan instead of Parmigiano Reggiano.
If you're not able to purchase the expensive ingredients, or it's just not economical for you, there's nothing wrong with using alternatives. 
This recipe is really more intermediate, rather than beginner-friendly, but if you're looking for a challenge, we think that you experiment and try this dish out. 
Altogether, the meal should take less than half an hour to create. It's important to start your pasta off first so that it is ready and hot by the time you come to add the sauce and meat, this is so the heat from the pasta cooks the eggs within the sauce without completely scrambling them – it's a sauce, not an omelet. 
Traditional carbonara doesn't have any cream in it, but Jo from Jo Cooks wants more creamy goodness in her meals. That's why she calls this "creamy carbonara", and accepts it as a variation on the typical dish. 
Something that we love about this recipe is how nice the sauce comes out with the extra cream, plus the fact that she encourages a liberal amount of cheese to be used – in our books, the more cheese, the better.
We LOVE the addition of rigatoni in this recipe and find that this type of pasta complements the rest of the dish really well. Particularly when the bacon finds its way into a rigatoni tube with plenty of the sauce and then you get everything in one bite. 
Though this recipe is a far cry from an authentic carbonara, there's something a lot more familiar about a creamy pasta with bacon and garlic in it that might suit the tastes of kids or picky eaters more than the tangy and earthy taste of a traditional carbonara. 
So if you find that you don't particularly enjoy a "proper" carbonara, definitely give this one a try. 
Another more American variation of authentic carbonara, this time with some added peas and plenty of black pepper. Ree from Pioneer Woman calls her carbonara recipe a bowl of pure joy, and it's not hard to see why. 
A pot of bacon, garlic, and cream definitely screams joy to us. 
If you're someone who prefers their food with a bit of a kick, then why not check out this spicy pasta carbonara for a twist on the traditional recipe? Something that we love about this carbonara is how everything comes together whilst the pasta is cooking. That means that altogether it takes less than half an hour to create this amazing dish. 
The spice comes from the chili garlic paste blends perfectly into this meal to give a spicy twist to the authentic Italian dish. 
Here we have another classic, authentic pasta carbonara that will transport you to the sunny hills of Italy. Something that we love about this specific recipe is how many variations and substitutions it gives you depending on what's affordable or available to you.
If you're someone who needs to avoid eggs, or if you don't like the cheese that they recommend, there are a lot of other options. 
Moving onto our celebrity chef options, we begin with this mouthwatering Paula Deen Tuscan Carbonara. The dish only takes 10 minutes to make and is therefore a lot easier than some of the other recipes on this list. 
The main difference between this Tuscan carbonara and an Italian one is the use of heavy cream and onions to make a truly creamy sauce. 
Another very tasty Paula Deen recipe, this time with sugar snap peas and asparagus. Although it might not be traditional, we really like the way that these extra greens add more minerals and vitamins to the dish, as well as some much-needed color. 
Speaking of color, this Ina Garten recipe is packed with even more greens. If you found that typical carbonara was nice but didn't always fill you up, then you need to try this amazing hearty dish. 
The last celebrity chef we'll be looking at is Rachael Ray, who first brings up this delectable recipe that she likes to make her husband as either a special birthday meal or just as a quick late-night meal when they've been out. 
That's the best thing about carbonara: how absolutely versatile it is. 
Finally, we have Rachael Ray's Carbonara with crab meat (crabonara?). If you like carbonara, but you LOVE seafood, then this dish might be for you. We haven't lost the cured meat, it's just simply taking a supporting role here, instead of being the star of the show. 
Again, we know that this isn't a traditional carbonara, but it's a fantastic variation for people who prefer a fishy flavor to their meals.
Conclusion
Having a good carbonara recipe in your arsenal is never going to come in the wrong. So the next time you're looking to make a meal that is sure to impress everyone at the table, even if you're the only one eating, why not try one of these easy carbonara dishes? 
Frequently Asked Questions
Is There A Golden Rule to Carbonara?
Typically, when people talk about making a carbonara, they might mention one golden rule, and that is to cook on low heat when you add the eggs to ensure that you don't end up scrambling them. Even better yet is to add the sauce straight to the still-hot pasta and let that cook the eggs.
What is the Difference Between Alfredo Sauce and Carbonara Sauce?
The most significant difference between the two is the inclusion of guanciale in the carbonara. This is what gives a carbonara sauce a more earthy and tangier flavor when compared to Alfredo sauce, which is essentially all creamy, buttery goodness.
15 Easy Carbonara Recipes For Date Night
Course: Other Recipes, Recipes
Directions
Pick a recipe from above
Click the recipe name and visit the website
Collect the ingredients and the food
Enjoy – don't forget to leave a review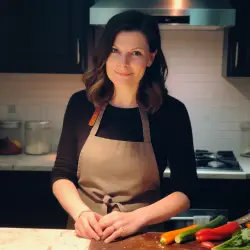 Latest posts by Barbara Hunt
(see all)