If you're a fan of carbonara, then this article will have you drooling really soon, and all thanks to Rachel Ray and her recipes!
With her unique twists and flavor combinations, Ray takes this classic Italian dish to a whole new level, and, in this article, we have 9 of her best carbonara recipes to try today.
So, get ready to whisk some yolks, and let's go!
This recipe for spaghetti or rigatoni carbonara will yield a classic Italian dish that is packed with flavor and personality thanks to Rachel's unique approach to cooking.
The pancetta adds a salty and savory taste, while the red pepper flakes give it a little bit of a kick for those who don't mind the spice!
The garlic and white wine complement the flavors perfectly, and the Romano cheese adds a rich and tangy taste.
As for the preparation, this is a relatively easy dish that comes together in about 30 minutes, so don't worry you'll be spending too much time in the kitchen!
As for an extra tip, the key to creating the perfect sauce, make sure you temper the egg yolks with starchy cooking water to get a smooth and creamy sauce without scrambling the eggs!
This pumpkin and pancetta pasta recipe by Rachael Ray is a fall-flavored dream come true!
Starting with the pancetta, you will be adding that salty, meaty flavor before the pumpkin puree comes to seal the deal with its creamy, slightly sweet taste.
The shallots, garlic, and sage will then round out the flavors perfectly, and the grated pecorino and Parmigiano-Reggiano cheeses will give it a nice tang.
While this dish sounds and feels already complete, make sure to add the toasted pumpkin seeds or hazelnuts on top for that crunch!
Rachel Ray's Butternut Squash Carbonara recipe is straight-up delicious!
This dish takes the classic carbonara and gives it a cozy, autumnal twist with the addition of butternut squash puree.
The sauce is velvety and creamy, with a subtle sweetness from the squash that perfectly balances out the salty pancetta and savory Parmesan cheese.
And the best part? It's another one of Ray's recipes that is so easy to make!
All you need to do is cook up some pancetta, shallots, garlic, and sage in a pan, and then stir in some white wine and pumpkin puree.
Once you toss it all together with some cooked pasta, grated cheese, and toasted pumpkin seeds, you'll have a fancy-looking, restaurant-quality meal that's sure to impress your friends and family. Even yourself!
Rachel Ray's carbonara with saffron and shrimp is another one of her delicious twists on the classic pasta dish.
The recipe calls for chicken stock and saffron to create a flavorful base for the sauce, while pancetta and shrimp add meatiness and texture.
The sauce is made by whisking egg yolks and cheese together, then slowly adding the saffron stock to avoid scrambling the yolks.
And once all that is ready, the cooked pasta is tossed in the sauce with pancetta and finished with the shrimp mixture and a generous sprinkle of parsley.
So, what you will end up with is a creamy, indulgent dish with a hint of spice and tang from the lemon juice that is just perfect for a special occasion or a fancy dinner at home!
Well, this dish is certainly not for the faint of heart with 'nduja, a fiery Calabrian spreadable salami, taking center stage.
But trust us when we say it's totally worth it!
To make it you need to first whisk together egg yolks and Pecorino Romano cheese to create the base for the carbonara sauce.
Then, you simply have to cook the spaghetti in boiling salted water until it's almost done but make sure you don't forget to reserve a cup of pasta water before draining!
After that comes the fun part as it's time to heat up some EVOO and melt in the 'nduja until it's nice and spicy.
Some chopped spring garlic and white wine are then simmered before everything is mixed together with the tempered egg and cheese mixture,
Serve with some freshly ground black pepper and lots of extra cheese and EVOO on the side, and your taste buds will thank you for this one!
Another unique take on the classic spaghetti carbonara, this time with two ingredients you don't see that often in a pasta dish: horseradish and peas!
Of course, the usual suspects, bacon or pancetta, are also there, in addition to the ramps or leeks.
However, it is the fresh peas, horseradish, and mustard that give this dish a burst of flavor that makes it differ from all the other carbonara dishes you've ever tasted!
While this recipe may seem complex, it's actually fairly easy to make.
The sauce comes together quickly in a skillet, and the pasta is cooked separately before being tossed with the sauce and egg mixture.
Just make sure to temper the egg mixture with hot pasta water before adding it to the pasta to prevent the eggs from curdling!
Another carbonara dish that will transport you to Italy is Rachel Ray's carbonara with asparagus and peas.
From its rich, aromatic chicken stock that pairs perfectly with the salty pancetta and sweet, tender peas to the asparagus, shallots, and garlic that add depth and complexity to the sauce, there are so many things you won't find in your average pasta dish (Also check out Amazing Rachael Ray Leftover Pasta Recipes).
Now, we won't lie to you; this recipe is a bit of a challenge!
You'll need to keep an eye on multiple pans and remember to temper those egg yolks with the saffron stock to avoid a scrambled egg mess.
But it's all worth it in the end, so put that extra effort in!
A few tips: make sure to generously salt your pasta water for optimal flavor, and don't overcook those veggies!
You want them to be tender-crisp, not mushy.
And when it's time to toss everything together, use tongs or a pasta claw to evenly distribute the sauce and egg mixture.
Finally, don't forget to sprinkle on some extra grated cheese before serving, because, as we all know, there's no such thing as too much cheese.
This recipe is another perfect example of how simple ingredients can create a complex and satisfying dish.
It is hearty, flavorful, and easy to make, making it an ideal option for a weeknight dinner for vegetarians!
Portobello mushrooms are a perfect substitute for meat thanks to their meaty texture and umami flavor.
However, you can also use oyster mushrooms, which are delicate and add a unique flavor and texture to the dish.
Moreover, the smoked paprika or ground cumin also adds a smoky, earthy flavor that pairs perfectly with the mushrooms and makes for a simple touch that elevates the entire dish.
And let's not forget about the garlic, which is essential in Italian cuisine, and adds a pungent, sharp taste that complements the mushrooms and herbs.
As for the level of difficulty of this recipe, it is not too high, but there are a few tips that can make it even easier.
First of all, make sure to reserve some of the pasta cooking water before draining.
This starchy water is a key ingredient in creating the creamy sauce that coats the pasta.
Secondly, when adding the egg mixture to the pasta and mushrooms, make sure to do it off the heat to prevent the eggs from scrambling.
Finally, make sure to finely chop the fresh herbs finely to ensure they distribute evenly throughout the dish.
And don't forget to serve with extra grated cheese for an added layer of flavor!
For last we've saved what we think is the best carbonara recipe Rachel Ray has! Why is that?
Because it takes a classic pasta dish, spaghetti carbonara, and transforms it into a delicious and unique breakfast or brunch item!
This dish is a great way to switch up your usual breakfast routine or impress your guests with something unexpected, and regardless of whether you're a fan of carbonara or not, this frittata is sure to become a new favorite.
The combination of the rich and creamy frittata and the fresh and tangy salad makes for a perfectly balanced meal.
And what makes this recipe even better is the addition of ricotta cheese, pancetta, and garlic which take it to a whole new level, adding depth and complexity to the flavor.
The Bottom Line
From spaghetti carbonara with peas and pancetta to carbonara frittata with a salad, Rachael Ray's carbonara recipes are a must-try (see also "Amazing Rachael Ray Stoup Recipes To Try Today")!
With her creative flair and simple cooking techniques, these dishes are easy to make and perfect for any occasion, so try one today and become a master in the kitchen like her(see also: Jessica Holmes Recipes To Try Today)!
9 Amazing Rachael Ray Carbonara Recipes To Try Today
Course: Cookbooks
Directions
Pick a recipe from above
Click the recipe name and visit the website
Collect the ingredients and the food
Enjoy – don't forget to leave a review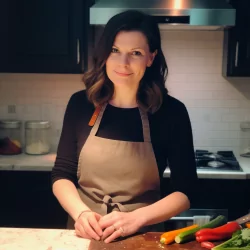 Latest posts by Barbara Hunt
(see all)