Are you ready to get your soup on? Because we've got something hot and delicious to share with you in this article and that's none other than Rachael Ray's 8 best chicken noodle soup recipes!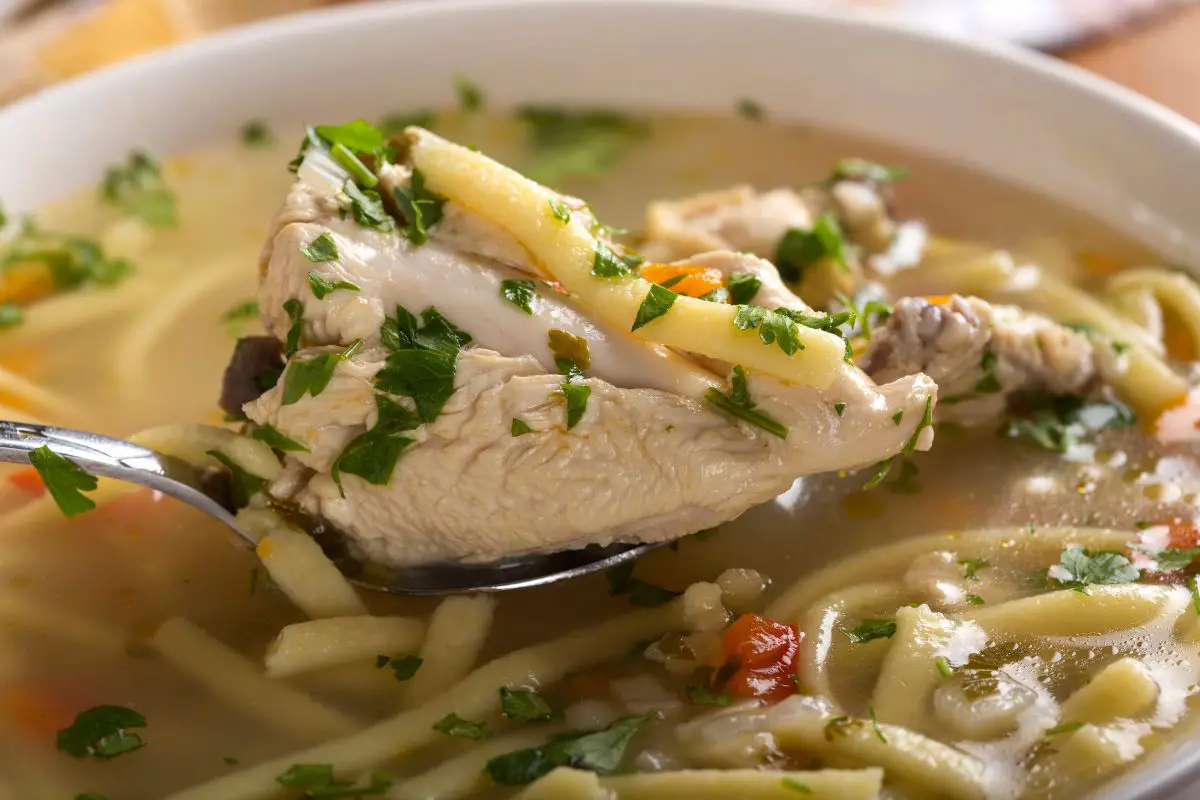 We all know Rachael Ray and her serious meal game and these 8 amazing recipes are a guarantee to take your taste buds on a wild ride.
So, whether you're looking for a classic and comforting chicken noodle soup or something a little more unique, Rachael's got you covered.
From her zesty Lemon Chicken Noodle Soup to her spicy Chipotle Chicken Noodle Soup, these recipes are sure to satisfy!
This Korean-style chicken noodle soup recipe is super yummy and packed with different flavors thanks to ginger, garlic, Korean soup soy sauce, and fish sauce.
The chicken is crispy and delicious, and the veggies are fresh and healthy. Oh, and did we mention the noodles?
They are so good, and you simply have to cook them separately and add them to the soup just before serving.
 Perfect any time of the year, this soup is a must-try for anyone!
Rachael's Rags of Chicken and Noodles Soup is a total flavor explosion!
The poached chicken is cooked to perfection in a herb-infused broth, and the meat is tender and juicy.
The soup is chock full of colorful veggies, like carrots, leeks, and celery, and seasoned with salt and white pepper.
But the star of the show has to be the egg noodles that are cooked to a perfect al dente and are oh-so-satisfying.
Top it all off with fava beans, sliced radishes, and a squeeze of lemon and you'll end up with a bowl of comfort you won't want to miss!
Get ready for a deliciously satisfying bowl of chicken noodle soup!
This recipe is packed with flavor and is guaranteed to warm you up from the inside out.
It is an easy-to-follow chicken noodle soup recipe that takes around 30-40 minutes to prepare and cook.
As for the ingredients, they are simple and easy to find at your local grocery store, and even if you're not an experienced cook, you can whip up a delicious batch of soup that will have your taste buds singing with joy.
The combination of fresh vegetables, chicken breast, and wide egg noodles make for a hearty and filling meal, while the fresh herbs like parsley and dill add a burst of freshness and bring all the flavors together.
And if you like your soup a little thinner, you can always add some extra water and then just grab a spoon and dig into that bowl of goodness!
This is the kind of soup that's perfect for those chilly evenings when you need something to warm you from the inside out.
The green rice adds such a lovely depth of flavor to the soup, with its combination of cilantro, lime, spinach, scallions, and jalapeño.
And let's not forget about those beautifully charred poblanos that add a smoky depth of flavor.
The flavorful combination of its ingredients makes for a mouthwatering dish that's sure to satisfy.
And if you're looking for a meatless option, substitute chicken with some vegan 'chicken' strips!
With its heat and nourishing ingredients, this soup is perfect for a cold day or whenever you're feeling under the weather!
This hearty Italian-style chicken noodle soup is yet another perfect blend of flavors, textures, and feelings that will warm your soul.
The combination of tender chicken, al dente penne pasta, and the rich creaminess of Parmesan cheese creates a comforting and satisfying sensation with every bite (Also check out Amazing Rachael Ray Leftover Pasta Recipes).
The sweetness of the red beans, the nuttiness of the chickpeas, and the subtle notes of the bay leaf come to complement each other perfectly to create a robust and flavorful broth.
And in case you have some vegan friends at the table and are looking for substitutes, this recipe is versatile and can be easily adapted to vegetarian or vegan options by replacing chicken with tofu or using vegetable stock instead of chicken stock.
And if you want to make it gluten-free, simply switch out the whole wheat pasta for a gluten-free option.
As the soup is finished off with a delightful crunch from the parmesan pita chips and the sharpness of freshly grated Parmigiano-Reggiano cheese, every spoonful comes with a mix of flavors and textures that will leave you feeling warm and content!
If you have some leftover rotisserie chicken and don't want to cook some more, then put it to good use by making this noodle soup!
Similar to the Italian-style chicken noodle soup we just talked about, this recipe makes a difference by replacing chickpeas and red beans with green beans and bell peppers.
It is also a wonderful twist on the classic chicken noodle soup, with the addition of the Parmigiano-Reggiano rind lending a rich depth of flavor to the broth.
While it is perfect just the way it is, what we highly recommend is to use homemade chicken stock when making this soup (if possible).
Why is that? Because fresh homemade stock will add an incredible richness and depth of flavor that you just can't achieve with store-bought stock.
And if you don't have time to make your own, at least try to find a high-quality organic chicken stock at your local market.
When it comes to serving this soup, consider pairing it with a simple green salad dressed with lemon vinaigrette.
The bright acidity of the lemon will complement the richness of the soup and help balance the flavors, so don't think about it too much and just do it – you will be highly rewarded!
Ramen is essentially a soup, so we could not but include one of Rachael's top ramen recipes: the Chicken and Egg Ramen.
This tantalizing soup is packed with crunchy toppings, fragrant veggies, and a spicy kick from chilies and ginger, making it the ultimate remedy for cold winter days.
The ingredients include mouthwatering elements like tender rotisserie chicken or meatless grilled chicken, zesty ginger root, aromatic garlic, vibrant chili peppers, and a variety of mushrooms for a rich umami flavor.
The broth is prepared with chicken bone broth, vegetable stock, or vegan "chicken stock," enhanced with a dash of mirin or rice wine vinegar and soy sauce.
To complete the experience, serve the ramen with a delightful assortment of toppings.
Pickled ginger, matchsticks of radishes or watermelon radishes, and your favorite hot sauce provide a burst of tanginess and heat.
And don't forget to add perfectly boiled eggs and sprinkle scallion greens for an extra touch of color and freshness!
Now we'll have you intrigued!
Last, we saved this chicken 'Gurley' soup that's packed with so many delicious veggies, and the addition of zucchini noodles instead of regular pasta really ups the health factor.
One thing that's missing from this recipe is a little bit of acid, so try adding a squeeze of fresh lemon juice to the soup right before serving.
Also, when it comes to the cayenne pepper, use it sparingly if you're not a fan of spicy foods.
A little bit goes a long way, and you don't want to overpower the other flavors!
And don't forget to season the chicken with salt and pepper before cooking to ensure it is seasoned properly.
Finally, when serving, feel free to garnish with some extra chopped herbs, like parsley or cilantro, for a pop of color and freshness.
And if you're feeling extra indulgent, a slice of crusty bread on the side wouldn't hurt!
The Bottom Line
Rachael Ray's chicken noodle soup recipes are a must-try for anyone who loves a comforting and hearty bowl of soup (see also "Amazing Rachael Ray Chicken Recipes To Try Today").
From classic and simple to more unique and flavorful variations, there's something for everyone to enjoy.
And with Rachael's celebrity status and expertise in the kitchen, you can trust that these recipes are guaranteed to satisfy your taste buds.
So don't wait any longer, grab your ingredients and get cooking!
Frequently Asked Questions
How To Make Chicken Noodle Soup Taste Better?
You can add more flavor to chicken noodle soup by using homemade chicken broth, adding herbs and spices, sautéing vegetables, using quality ingredients, and seasoning to taste.

Does Chicken Soup Taste Better The Longer You Cook It?
Not necessarily! While longer cooking times can enhance the depth of flavor, overcooking can also make the soup taste too salty or mushy.

Therefore, it is best to follow the recipe's instructions.

8 Amazing Rachael Ray Chicken Noodle Soup Recipes To Try Today
Course: Recipes
Directions
Pick a recipe from above
Click the recipe name and visit the website
Collect the ingredients and the food
Enjoy – don't forget to leave a review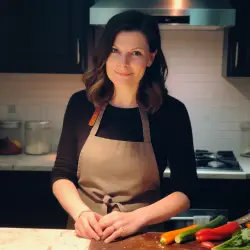 Latest posts by Barbara Hunt
(see all)