Are you ready for a dive into the world of stoup?
Yes, we are talking about that magical dish that's somewhere between a soup and a stew, and who better to guide us through this culinary wonderland than the one and only Rachael Ray?
In this article, we have 6 amazing stoup recipes, courtesy of Rachael Ray, to warm your belly and satisfy your cravings for soups and stews.
So, if you are like us indecisive at times and wish you could combine these two dishes in on, then keep reading below to see the best ways to do it!
first on our list is Rachael's chicken and vegetable stoup, a simple dish that turns into something uniquw thanks to the combination of hearty soup with some warm, buttered, herbed noodles.
The stoup itself is packed with flavor, with tender chicken, a mix of colorful vegetables, and a savory broth.
The chicken is cooked to perfection and the vegetables are perfectly tender-crisp, providing a satisfying texture and a bright pop of color to the dish.
As for the broth, it is rich and flavorful, with a depth of flavor that only comes from slow simmering. However, the real star of the show is the buttered, herbed noodles!
These noodles are soft and chewy, with just the right amount of buttery goodness, making them irresistible!
Last but not least, the herbs add a subtle complexity to the dish that elevates it to the next level, with all these ingredients combined to create a true masterpiece!
For a flavorful punch there's only one stoup you need to try: Rachael's Chipotle Chicken Stoup!
This recipe yields a dreamy dish for anyone who loves bold and spicy flavors but also wants the comfort of a warm and hearty soup.
The smoky chipotle peppers in adobo sauce add a depth of flavor that is perfectly balanced by the tender chicken and comforting broth.
The lettuce and radishes added on top provide a freshness and a pop of color, while the cilantro and hominy added in the stoup add a thickness and flavor, respectively, to the dish.
This stoup is the perfect example of how a few simple ingredients can come together to create something truly delicious, and how you can turn up the heat at the table with a simple-to-cook dish!
And, as with all of Rachael's stoups, this recipe is also very versatile as you could easily substitute the chicken for tofu or tempeh for a vegetarian or vegan option or swap out the hominy for quinoa or another grain of your choice.
If you love the spiciness but not the burning effect of a chili pepper, this chicken, sausage, and escarole stoup is a perfect balance of hearty and comforting flavors that has the spice without the burn!
The combination of chicken and sausage in the dish adds a rich and savory flavor, while the escarole provides a light and slightly bitter taste, creating a delicious flavor contrast.
The broth in this recipe is made from chicken stock, offering a warm and savory taste to the dish, whereas the diced tomatoes and cannellini beans provide a subtle sweetness and add a slightly creamy texture.
Then, the addition of escarole takes this dish to a whole other level as the sweet and savory meet its slightly bitter taste.
Another perfect dish and one of the many stoups you need to try!
Heads up, cooks: You can use 'Nduja or Spanish sobrasada paste (about ¼-⅓ pound), as a substitute for the sweet or hot sausage in this soup.
Melt it into oil, then add onions and proceed with the recipe.
The combination of white beans and sausage is quite familiar to many people – English breakfast, anyone? – but when you add the greens and make a stoup, it becomes a whole new experience!
Not only is this stoup delicious but it also brings together the perfect balance of protein, carbs, fat, and fiber.
So, if you're in need of a healthy and delicious meal that's quick and easy to make, then this recipe is just what you need.
Indeed, the creamy white beans provide a protein-rich, smooth and satisfying base for this stoup, while the chunks of spicy sausage add a punch of flavor and fat that will wake up your taste buds and make this dish more wholesome.
And let's not forget about the greens that are the perfect addition to any soup, adding a slightly bitter and earthy flavor that compliments the creaminess of the beans and the spiciness of the sausage.
If you're looking to make this dish even healthier, you can easily substitute the sausage for a plant-based protein such as tofu or tempeh.
You could also add extra greens like kale or spinach to give it an extra nutrient boost. Or, if you're looking to add a bit of heat to the dish, you could add some red pepper flakes or cayenne pepper.
One thing to keep in mind with this recipe is that the beans can take some time to cook, so be sure to plan ahead and soak them overnight to reduce cooking time.
And, as with any soup or stew, the longer you let it simmer, the more the flavors will meld together and the more delicious it will become!
If you fancy having a curry night or afternoon but don't feel like having a classic chicken curry, then you should detfinitely go for this Curry Chicken and Mushroom Stoup!
This aromatic and satisfying soup is packed with delicious flavors and textures that are sure to impress everyone at the table.
Why is it so great? Well, where to begin with!
From the tender, shredded chicken breasts that are poached in a flavorful broth with a fresh bay leaf and quartered onion to the portabella mushrooms that are sliced thin and browned in a large soup pot with EVOO, this stoup is simply mouthwatering (Also check out Amazing Rachael Ray Chicken Noodle Soup Recipes)!
The addition of veggies like carrots, celery, sliced onion, ginger and garlic deliver some even more complex flavors, while the curry powder comes to add its bold and spicy kick to the mix.
The soup is then simmered with chicken stock, reserved poaching liquid, and mango chutney, which adds a sweet and tangy flavor that compliments the heat from the curry powder.
And as if you're not already drooling, let us tell you that what follows is a roux that comes to thicken the soup to a luscious, creamy consistency.
However, if you're not a fan of mushrooms, don't think you shouldn't try this stoup; rather, just substitute them with another type of vegetable, such as sliced bell peppers or diced zucchini.
Similarly, if you prefer a milder curry flavor, feel free to use a mild curry powder instead of medium! No matter how you make it, this Curry Chicken and Mushroom Stoup is a must-try!
In all the recipes so far, chicken and/or sausage are the stars which might make you wonder: is there an original vegetarian stoup? And the answer is this spicy butternut and vegetable stoup!
Rachael has, of course, catered for her veggie fans and this recipe is packed with so many flavors without any meats involved.
This flavor-packed recipe is ideal for chilly veggie-only evenings as it features a blend of sweet and savory flavors, with the warmth of curry and cinnamon spices complementing the sweetness of the butternut squash and apples.
The recipe begins with cooking Basmati rice in chicken or vegetable stock, along with butter, which creates a delicious base for the stoup.
In a separate pan, olive oil is heated and used to sauté diced butternut squash, chopped onion, apples, and celery with leafy tops.
A bay leaf is then added, along with salt and pepper to taste.
Next, a blend of curry powder, chili powder, cinnamon, and nutmeg are mixed in with the vegetables, creating a fragrant aroma that will fill your kitchen.
To complete the stoup, you just have to add a can of diced or chunky crushed tomatoes along with sweet mango chutney, which adds a tangy and sweet flavor to the dish.
Finally, the cilantro or parsley and sliced scallions are stirred in, giving the stoup a fresh and herbaceous taste.
The stoup is then topped off with a squeeze of lime juice, which adds a bright and zesty finish. Yummy in your tummy!
The Bottom Line
Soups and stews are some of the most comforting dishes for a cold day or night, and these 6 stoup recipes are the best of both worlds.
So, next time you are craving a soup and/or a stew, go for a stoup and you'll be thanking yourself (and Rachael Ray) for your decision (see also "Amazing Rachael Ray Chicken Recipes To Try Today")!
6 Amazing Rachael Ray Stoup Recipes To Try Today
Course: Recipes
Rachael Ray has brought us many amazing recipes over the years, but these 6 stoup recipes – a soup and stew combo in a bowl – are a must-try!
Directions
Pick a recipe from above
Click the recipe name and visit the website
Collect the ingredients and the food
Enjoy – don't forget to leave a review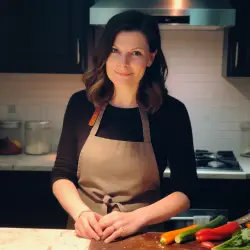 Latest posts by Barbara Hunt
(see all)