Pork tenderloin is a lovely cut of pork to cook with, but it can be daunting if you don't know what to do with it. It is a boneless piece of pork meat that comes from the muscle that runs along the backbone of the pig.
It is very lean, but when cooked right it can be incredibly juicy and flavorsome. The tenderloin is narrower and smaller than the pork loin.
If you are looking for the perfect way to cook pork tenderloin, you should definitely try one of Ina Garten's recipes(see also: 9 Best Ina Garten Corn Salad Recipes To Try Today).
Ina Garten is a popular American chef who is well known for her cooking show 'Barefoot Contessa'. She simplifies recipes and makes it easy to recreate impressive meals in your own kitchen. 
Here is a collection of pork tenderloin recipes that were created by Ina Garten or inspired by her style of cooking. Any of these recipes would be perfect for you to try today (see also "Best Kelly And Ryan Recipes").  
This is Ina Garten's most well known pork tenderloin recipe. It is the perfect meal to cook if you are entertaining friends and you want something impressive but not too difficult, that will leave your guests feeling satisfied. 
In this recipe, the pork tenderloin is rubbed with a mixture of rosemary, thyme, salt, pepper and olive oil. This gives the meat a wonderful flavor.
It is then wrapped in prosciutto before being baked in the oven. This adds a salty element and gives the meal a gourmet feel. 
The key to this recipe is making sure that you pat the meat dry with kitchen roll before you start seasoning it.
It is also important to tie the tenderloin with string before you roast it, as this will keep the prosciutto in place and seal all the tasty herbs in. 
This recipe also includes instructions for making your own apple chutney. The chutney pairs perfectly with the pork, and you can serve this dish with seasonal vegetables. 
This is another classic Ina Garten recipe that you can use to make the perfect pork tenderloins. It's an easy recipe, so if you don't have much experience in the kitchen you should still be able to pull it off and make a lovely meal. 
The cider is mixed with maple syrup, fennel, salt, peppercorns, cinnamon, ginger, rosemary and coriander to make a marinade.
Leave the pork to marinade for 8 hours or overnight to make sure that the meat has absorbed the flavors. 
Before you roast the pork loins, remove them from the marinade and pat them dry. Rub them with more oil and season with salt and pepper before roasting, then allow the meat to rest when you take it out of the oven. 
This pork can be served with plum chutney which is also included in the recipe. You can also serve it with seasonal vegetables and some warm bread. 
This recipe is for pork loin rather than pork tenderloin, but you can easily adapt it by reducing the cooking time to about 30-35 minutes. The pork is seasoned with a mixture of fresh thyme, mustard, garlic and salt.
This mixture is spread over the pork and left for around 30 minutes while the pork comes up to room temperature. 
The pork loin is roasted in the oven alongside fennel, carrots, potatoes and onions. The vegetables are tossed in melted butter and seasoned with salt and pepper before roasting.
Make sure you let the meat rest for 10-15 minutes before slicing and serving, as this will help the pork to stay juicy. 
This meal looks particularly appetizing when you slice the meat and arrange it on a platter with the roasted vegetables. 
This recipe uses fatty pork butt, which is a good choice of flavorsome pork if you don't have any pork tenderloin. You can also amend the recipe and use it for pork tenderloin by reducing the cooking time.
If you want to recreate the slow-roasted fat, ask your butcher for some pork fat or fat offcuts. Make sure you score them before cooking. 
This pork is seasoned with a lovely combination of cumin, chili, oregano, jalapeno, salt, pepper, vinegar and olive oil. The pork is also roasted in wine to give it some extra flavor and moisture as it cooks.
Once the meat is cooked and rested, you can serve it with a sprinkle of sea salt and some fresh wedges of lime. This delicious pork would work well in sliders or tacos, or served alongside rice and roasted peppers. 
This recipe is inspired by Ina Garten's simplistic and reliable cooking style. The pork tenderloin is seared before it is baked, making it perfectly crispy on the outside and delightfully juicy in the middle.
The honey and garlic sauce forms a sticky glaze over the meat, as well as creating an incredible flavor that compliments the delicate meat. 
All you need to make this recipe is 6 ingredients along with salt and pepper  – pork tenderloin, honey, soy sauce, fresh garlic, vinegar and paprika.
It takes about 35 minutes to make this recipe, so you can have an impressive dinner on the table without spending hours in the kitchen. 
Pork tenderloin recipes don't need to be complex – you can keep it simple just like Ina Garten. This recipe uses garlic and herbs to flavor the meat and it takes less than 40 minutes to cook.
It is best to marinate the meat for 12 to 24 hours to really make the most of the flavor. The best way to do this is in a ziplock bag in the refrigerator. 
When the meat has been marinated in Italian dressing and you are ready to roast it, season it with salt and pepper. Heat up the oil in a pan and sear the tenderloin to create a lovely golden color.
Transfer the meat onto a baking sheet and coat it with a mixture of fresh herbs (basil, oregano, garlic, thyme, parsley, sage) and garlic, and dot it with butter. Wrap the meat in foil and bake it in the oven. 
Once the meat is fully  cooked (You can check this with a meat thermometer), let it rest in the foil before cutting and serving. Leave a small gap in the foil so some of the steam can escape, but don't let the juices run out. 
This recipe uses the pork tenderloin to create pork medallions – slices of lean, tender pork – that are served in a creamy mushroom sauce.
You can cut the pork tenderloin into 1 inch rounds yourself, or you can ask the butcher to do it for you. 
The pork medallions are seared in a skillet pan for several minutes on each side. Remove the pork and set aside. Add butter to skillet and let it melt – the butter will mix with any meat juices in the pan to get some extra flavor.
Saute the mushrooms in the butter and then add mustard, wine (or broth if you prefer), garlic and seasoning. Once the liquid is bubbling you can remove the pan from the heat and add the heavy cream. 
This dish can be served with rice, pasta, potatoes, vegetables, warm bread- whatever you fancy. Taste it before you serve to check for seasoning – you may need to add more salt and pepper.
You can also add a garnish of fresh parsley if you want to. 
This recipe is similar to Ina Garten's spiced pork, but it is more simple and designed specifically for pork tenderloin. The meat is flavored with paprika, cumin, garlic, oregano, and cinnamon.
The pork is also rubbed with salt and pepper and olive oil then roasted in the oven. 
Final Thoughts 
And there we have it – eight amazing recipes by Ina Garden to enhance your pork tenderloin dishes. Now all that's left to do is figure out which one you're going to try next! 
Happy cooking! 
Frequently Asked Questions
Here are some frequently asked questions about cooking with pork tenderloin. 
What Is The Best Way To Cook Pork Tenderloin? 
If you want to get the most flavor and the best texture out of your pork tenderloin, it is best to roast it or bake it in the oven. You can seal it first in a pan if you want to. 
What Does Pork Tenderloin Taste Like?
Pork tenderloin is often compared to chicken because it is lean and has a subtle, delicate flavor. It is very versatile and goes well with lots of different seasonings. 
What Can You Substitute For Pork Tenderloin? 
If you want to make a pork tenderloin recipe but you can't find that particular cut of meat, you could try using pork loin instead. You will need to increase the cooking time as pork loin is larger and wider than tenderloin.

Alternatively, you can use beef tenderloin instead of pork. 
8 Amazing Ina Garten Pork Tenderloin Recipes To Try Today
Course: Cookbooks
A guide to the best recipes for pork tenderloin that were created by Ina Garten or inspired by her style of cooking 
Directions
Pick a recipe from above
Click the recipe name and visit the website
Collect the ingredients and the food
Enjoy – don't forget to leave a review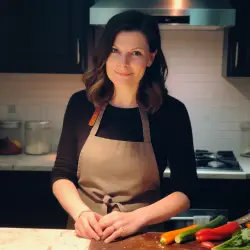 Latest posts by Barbara Hunt
(see all)