When it comes to Filipino cuisine, there are so many dishes to choose from, depending on whether you want something sweet, salty, or sour. Just a few staples that come to mind include adobo, sinigang, and menudo!
But if you're looking for something simple to whip up that will satisfy your craving without taking too much time or effort, Filipino-style pork chop won't disappoint.
So, to give you some Filipino cooking inspiration, we've rounded up the 15 best Filipino pork chop recipes for you to try right now.
Whether you're cooking for one or the whole family, these are the perfect dishes to make if you're yet to try Filipino food!
Easy Filipino Pork Chop Recipes
Enjoy a satisfying Filipino dish in no time with these easy Filipino pork chop recipes.
This easy pan-fried pork chop recipe really is easy – since it only takes five minutes to prepare and 10 minutes to cook. The dish is a sweet and savory marinated pork chop that's crispy on the outside and juicy on the inside.
Marinating the pork chop is the key to the flavor, and the longer you marinate it, the better. For the marinade, all you need is oyster sauce, vegetable oil, paprika, and ground black pepper.
If you want to try a pork steak recipe, that's really Pinoy, this Filipino-style pork steak recipe is about as traditional as it gets, common in the Philippines due to how easy it is to cook. It's also delicious!
The best thing is you can use any meat, including chicken and beef. You can also get creative with the sauce. The main ingredients in this recipe include soy sauce, calamansi, onions, white granulated sugar, plus salt and pepper.
Adding breadcrumbs is a great way to make your pork chops a guaranteed hit at any Filipino gathering. This recipe is easy to make too, involving just five steps before it's ready to serve.
All in all, it's super yummy and tasty, tender-moist on the inside and golden crispy on the outside. Other than pork chops, you'll need salt and pepper, flour, garlic powder, and breadcrumbs.
Juicy, charred pork shops infused with a bright, citrusy marinade? Yes please! This Filipino grilled pork chops recipe involves more ingredients, but the result is worth it.
Once marinated, all you have to do is add salt and pepper, then grill the pork chop until it's cooked through the middle. Add grilled scallions to complement the dish with a slightly more peppery flavor.
If you own an air fryer, here's a much healthier alternative to frying your pork chops in oil that doesn't sacrifice on Pinoy flavor. And this recipe has plenty of that thanks to a marinade of oyster sauce, soy sauce, banana ketchup, sesame oil, and brown sugar.
You might also be glad to know that this recipe doesn't take long – just 20 minutes in total. For a spicy kick, you can also baste the pork chops in hot sauce.
For more pork inspiration, take a look at these pork hock recipes.
Flavorsome Filipino Pork Chop Recipes
Make your mouth water with these flavorsome Filipino pork chop recipes.
This Filipino pork chop recipe is loaded with flavor. And thanks to its salty and sour taste, it's the perfect recipe to try if you're yet to sample Filipino cuisine. What's more, it only takes 5 minutes to prepare and 10 minutes to cook!
For this recipe, you'll need five ingredients: bone-in pork chops, toyomansi sauce (toyo and calamansi), ground black pepper, peanut oil, and crushed garlic. Just make sure to marinate the pork chops overnight for the best results.
Filipino-style pork chops don't get more sweet and tangy than this. And if you like your meat grilled, it's another reason to try this Filipino recipe first! It involves marinating the pork in soy sauce, garlic, ketchup, and brown sugar, then grilling to perfection.
You'll need at least three hours to marinate the pork chop, but cooking time tops off at just 15 minutes. Just add steamed rice and pickled vegetables to complete the dish.
Fun fact: "bistek" means beef steak. There's no beef steak here, however; this recipe simply uses the traditional Filipino marination method and replaces beef steak with pork chop, rounded off with caramelized onions.
The taste is the perfect balance of savory, tang, and sweetness! You can also customize how you marinate the pork, using your own combination of light soy sauce, lime or calamansi juice, black pepper, sugar, honey, and garlic powder.
This toyomansi pork chop recipe is simple to make but packed with flavor. It involves a marinade of soy sauce, calamansi, garlic, and pepper, gaining its name from the soy sauce (toyo in Filipino) and calamansi.
What we love about this recipe is that it gives you three ways to cook it: on the stovetop, on the grill, or in the oven. Just make sure to use bone-in pork chops if you like your pork chops extra juicy!
Love creamy sauces? This Filipino pork chop recipe uses a creamy mushroom sauce that will make each spoonful melt in your mouth. It takes less than an hour to make as well: 20 minutes to prepare and 30 minutes to cook!
For the sauce, you'll need button mushrooms, beef stock, cream, butter, flour, white onion, garlic, parsley, ground black pepper, and salt. This is an easy dish to make last minute as there's no marination involved.
Traditional Filipino Pork Chop Recipes
Enjoy an authentic taste of the Philippines with these traditional Filipino pork chop recipes.
If you prefer savory over sweet, this savory pork chop recipe is the dish you'll want to try first. It only takes 10 minutes to prepare, requiring soy sauce, garlic, salt, pepper, and Filipino-style tomato sauce.
The pork chops will be more flavorful the longer you marinate them. Two hours or more is recommended here, but leaving them to marinate overnight will give you the best results!
Adobo is one of the most popular Filipino dishes – if not the most popular. So, if you haven't tried adobo, this adobo-marinated grilled pork chop recipe is a must-try, using a traditional adobo sauce as the marinade.
It's also super easy to put together. The ingredients you'll need include cane vinegar (Datu Puti brand if you want true authenticity!), soy sauce, garlic, black peppercorns, bay leaf, and bone-in pork chops.
The moment you taste this smothered pork recipe, you'll see why we had to include it on this list. It involves seasoning the pork chops with beef broth and heavy cream, making it a simple yet mouth-watering dish that's guaranteed to go down a treat.
This is another Filipino pork chop recipe that won't take much of your time, requiring only 20 minutes of prep time and 50 minutes of cooking time – for just over an hour in total. Both easy and delicious!
If you can get your hands on MAGGI Magic Sarap—one of the most popular seasoning sachets in the Philippines—then this creamy pork chop recipe is well worth trying – especially if you can never get enough of creamy sauces.
Other than Magic Sarap seasoning, you'll need soy sauce, brown sugar, calamansi juice, ground pepper, and all-purpose cream. The result is a pork steak dish that's creamy, sweet, and savory!
Sinigang is a well-loved staple in the Philippines – and for good reason. It's the perfect combination of savory and sour, with the option to add as many of your favorite vegetables as you like.
For this recipe, you're simply switching traditional pork belly for pork chop, and the result is to die for! It takes just over an hour in total to make, and we definitely recommend trying it if you're yet to taste Filipino sinigang.
Final Thoughts
And that wraps up our list of the 15 best Filipino pork chop recipes – all easy and quick to make.

Pork chops and rice is a simple but satisfying staple in the Philippines, so these recipes are perfect if you're yet to try Filipino cuisine!
For more inspiration, take a look at these pork dishes or try these ground pork recipes.
Frequently Asked Questions
What Are Traditional Filipino Foods?
Just a few traditional Filipino foods and Filipino dishes include adobo, sinigang, lechon, pancit, lumpia, and marinated pork chops. These Filipino dishes are popular in the Philippines and represent a rich blend of flavors, from savory to sweet and sour.
What Is A Common Filipino Food?
Common Filipino foods and dishes that are popular in households across the Philippines include marinated pork steak, adobo, sinigang, pancit, tinola, nilaga, and lumpia. Some of the most common Filipino desserts are halo halo, leche flan, and puto.
The 15 Best Filipino Pork Chop Recipes
Course: Other Recipes
Directions
Choose a recipe
Collect your ingredients
Prep your meal
Enjoy.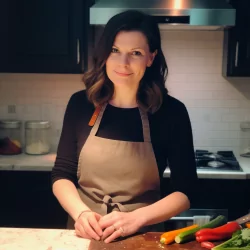 Latest posts by Barbara Hunt
(see all)