Pork is a staple meat in Filipino cuisine. There are many Filipino dishes and recipes that use pork as the main ingredient, including adobo, sinigang, sisig, lechon, and pancit – just to name a few!
So, if you have pork in your fridge, there's definitely a tasty Filipino dish that you can make by adding it to a few extra ingredients.
To give you some cooking inspiration, here are the 15 best Filipino pork recipes to try today.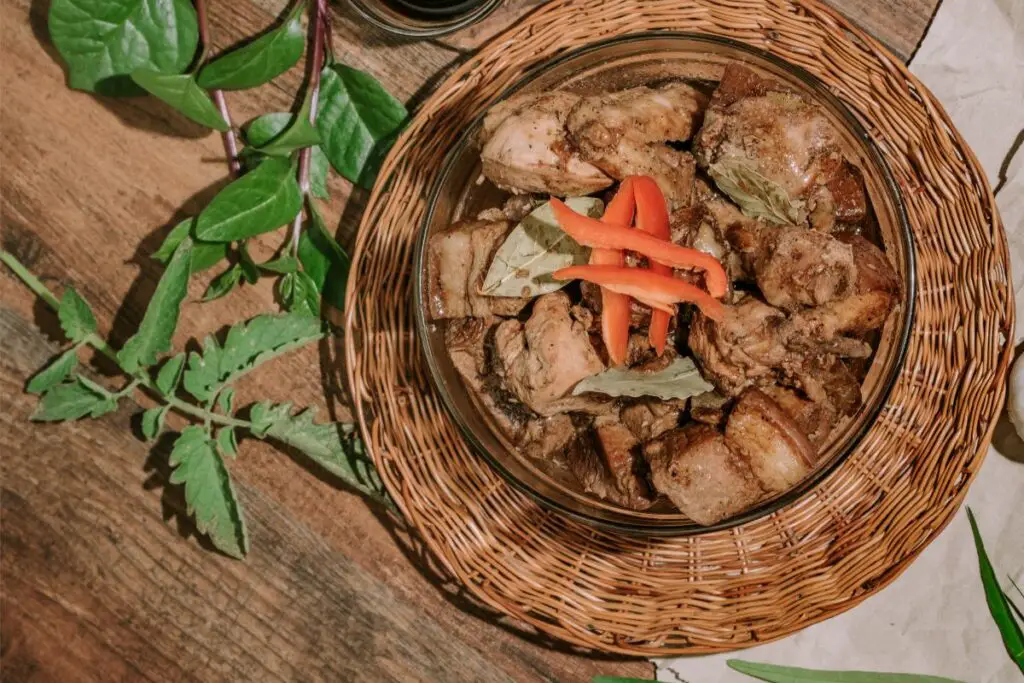 The following recipes include simple Filipino recipes and popular staple dishes that are sure to make your mouth water!
Sweet Filipino Pork Recipes
Satisfy your sweet craving with these sweet Filipino pork recipes.
Menudo is a popular comfort dish in the Philippines made from ground pork, peas, tomatoes, potatoes, liver, peppers, carrots, and more. It's a sweet and savory meat stew, which you can eat on its own or serve with rice.
This Filipino pork menudo recipe is our favorite, offering an authentic taste with minimal ingredients. Use both fish sauce and soy sauce for a traditional flavor, and add raisins to give it a slightly fruity, sweeter taste!
If you're having a summer cookout with friends and family, why not add Filipino pork barbecue to the menu? This recipe offers authentic Pinoy flavor – a mixture of sweet, salty, and tangy by marinating the pork.
Pork butt (kasim) is the best pork cut to use for this recipe, which isn't too fatty or lean. For the marinade, you'll need soy sauce, vinegar, oyster sauce, and banana ketchup.
Tocino is a marinated pork dish in the Philippines that's loved for its sweet flavor. It's easy to make, too, and won't disappoint because it looks and tastes authentic.
You only need a handful of ingredients for this recipe: pork butt, sugar, salt, garlic powder, pepper, canola oil, and red food coloring. If you want to eat tocino like a Filipino local, serve it with fried rice and a fried egg to make a Filipino dish called "tocilog"!
These Filipino BBQ pork skewers are marinated in banana ketchup, one of the most popular condiments in the Philippines, known for its slightly sweeter taste than regular ketchup. For the best results, marinate the pork for at least six hours!
Alongside pork shoulder and banana ketchup, you'll need soy sauce, oyster sauce, brown sugar, and white vinegar. If you can find it, use Datu Puti vinegar brand for extra authenticity.
Lechon is a popular Filipino dish at parties and special occasions. What's great about this pork belly lechon roll recipe is that it tastes super authentic, both moist on the inside and crispy on the outside.
If you're heading to a Filipino gathering, this recipe is a definite crowd-pleaser. It takes six hours to cook, so just make sure to give it enough time! You will need one whole pork belly flavored with salt, pepper, vinegar, lemongrass, shallots, and garlic.
Savory Filipino Pork Recipes
Enjoy the perfect balance of flavor with these savory Filipino pork recipes.
Sinigang is a widely loved dish in the Philippines due to its sour and tangy taste, which comes from the tamarind seasoning. It's made with pork or fish (or sometimes plant-based substitutes), but pork, "baboy" in Tagalog, is the most popular choice.
What sinigang offers is a comforting, healthy dish that can be eaten as a soup or served with rice. If you love vegetables, sinigang is loaded with veggies that include eggplant, spinach, green beans, tomato, okra, bok choy, and more!
A Filipino classic, this pork Filipino bistek tagalog recipe is the ultimate comfort food!
The recipe combines pork and shallots with a marinade made from soy sauce, black pepper, honey, lime juice, and garlic. Prep time is only 25 minutes, but make sure to marinate the pork for at least one hour.
Toyomansi is a flavorsome blend of toyo and calamansi. So, if you have spare pork chops in the fridge and are craving something savory and citrusy, this recipe won't disappoint. It's also easy to make as it's ready to serve in 10 minutes!
You'll need six ingredients in total: pork loin rib chops, pepper, soy sauce, calamansi juice, garlic, and canola oil. For the best texture and flavor, use bone-in pork chops that are about one and a half inches thick.
Adobo is arguably one of the most popular dishes in the Philippines. If you're yet to try adobo, this adobo recipe is the best we've tried so far! The recipe is authentic and even includes pineapple, which isn't uncommon to see in Filipino adobo dishes.
The key to this dish's flavor is marinating the pork for as long as possible. The main ingredients include pork shoulder steaks, rice vinegar, soy sauce, and pineapple, with a total preparation and cooking time of one hour and 30 minutes.
Pancit is one of the most widely eaten dishes in the Philippines, cooked in Filipino households due to how inexpensive it is and also served at birthday parties. It's an easy stir-fried noodle dish using pork, vegetables, and sauce.
The best thing about this Filipino pancit recipe is that it's traditional and authentic, using thin Thai Vermicelli rice noodles, pork, cabbage, carrots, onions, and garlic. It's quick and simple, too, requiring just 30 minutes to make.
Must-Try Filipino Pork Recipes
Give your taste buds a treat with these must-try Filipino pork recipes.
Filipinos love sisig – a dish that's both made at home and served in restaurants and bars around the Philippines. It can be eaten as a side or paired with rice. Either way, it's flavorsome, spicy, and chewy!
For this sisig recipe, you'll need pork belly, chicken liver, red onion, lemon (or calamansi juice), soy sauce, chili peppers, and ground black pepper. What we love about this recipe is how it tastes so close to the real thing.
Bicol express is a staple dish in the Philippines, loved for its creamy taste and spicy flavor profile thanks to the chili and peppers mixed with coconut milk. It takes one hour to make, but the time and effort are worth it if you are yet to try bicol express!
To make this bicol express recipe, the main ingredients include pork shoulder, long green peppers, onion and garlic, chili, shrimp paste, ground black pepper, and coconut milk. For an authentic touch, add diced siling labuyo (small red chilis).
Lumpia is a tasty Filipino delicacy that's essentially fried spring rolls. The filling can be made from vegetables and meat or both. This recipe serves up the best of both worlds, however, with a combination of pork, cabbage, carrots, onion, and cilantro.
Use thin lumpia wrappers if you want to make the dish extra authentic. Lumpia is also often eaten with a simple sauce that consists of soy sauce, rice vinegar, and garlic. This recipe takes just over one hour in total to prepare and cook.
Kare-kare is one of the most unique Filipino dishes, made using pork hock or beef that's cooked in a peanut butter sauce. If you're yet to try kare kare, we recommend cooking this recipe first!
The main ingredients include smooth peanut butter, pork hocks, string beans, pork broth, annatto powder, bok choy, onion, eggplant, and garlic. If you want to make the dish extra authentic, serve it with sauteed shrimp paste.
Last but not least, Filipino pork mechado. This staple dish is similar to pork menudo, except it offers a more savory taste – as opposed to being sweet and tangy. It's perfect on its own or served with rice. Either way, it's comforting and delicious!
The main ingredients here include pork shoulder, potato, red and green bell peppers, green peas, pork stock, garlic, onion, soy sauce, and salt and pepper. To make the dish more authentic, use calamansi juice instead of lime juice.
Final Thoughts
And that wraps up our list of the 15 best Filipino pork recipes to try today.

Pork is a key ingredient in many popular and widely loved Filipino dishes, so these recipes won't disappoint if you love pork and want to try an authentic taste of the Philippines!
Frequently Asked Questions
What Meat Do Filipinos Eat The Most?
Many staple Filipino dishes include pork or chicken, which are the most popular meats in the Philippines. Just some of the most eaten pork and chicken Filipino dishes include adobo, sinigang, sisig, bicol express, and tinola.
What Does Filipino Food Taste Like?
Filipino cuisine offers a variety of flavors, from savory to sweet and tangy. This flavor profile comes from common Filipino ingredients such as soy sauce, oyster or fish sauce, vinegar, calamansi, coconut milk, and evaporated milk.
The 15 Best Filipino Pork Recipes To Try Today
Course: Other Recipes
Directions
Choose a dish
Gather your ingredients
Prepare your dish
Enjoy.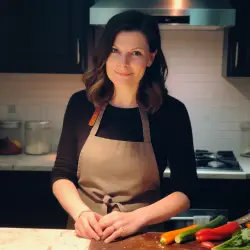 Latest posts by Barbara Hunt
(see all)