This Ina Garten raspberry bar recipe is one of my favorite raspberry crumble bar recipes.
The base is like a crisp shortbread, short and flakey to bite. The jam filling is punchy sweet and will make your taste buds tingle. The crumble topping adds a crunchy texture which compliments the chewy jam and crispy base. Perfect for a sweet breakfast on the go or a delicious afternoon snack.
The other good thing, it is simple to follow and so easy to make – you probably have all of the ingredients in your pantry already.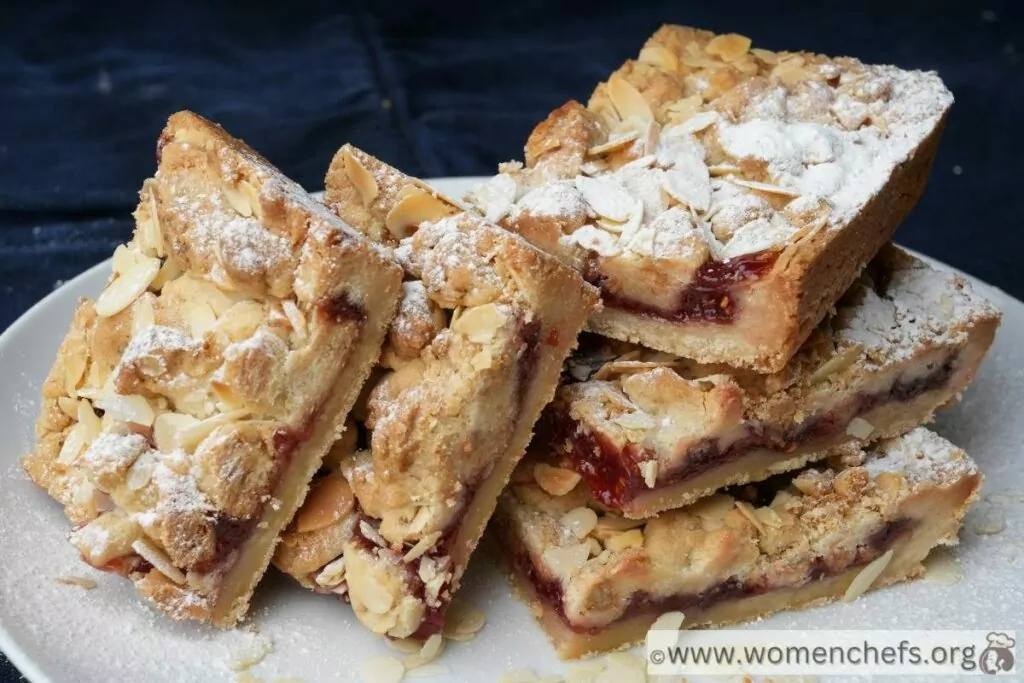 It also doubles as a solid dessert with ice cream or cream and makes our list of Ina Garten dessert recipes everyone should try.
How To Make Barefoot Contessa's Raspberry Bars – Step By Step Photos And Tips & Tricks
I have made this recipe a few times so I have also added photos of each step and any tips and tricks.
This will give you a guide on what your bake should look like as you go.
You can head to the next section if you dont need the photos and want to go directly to the ingredients and directions.
Step 1: Preheat The Oven

No explanation needed here. The raspberry bars are baked in the oven, so it's important that the oven is preheated before the baking dish goes in the oven.
Step 2: Beat The Sugar And Butter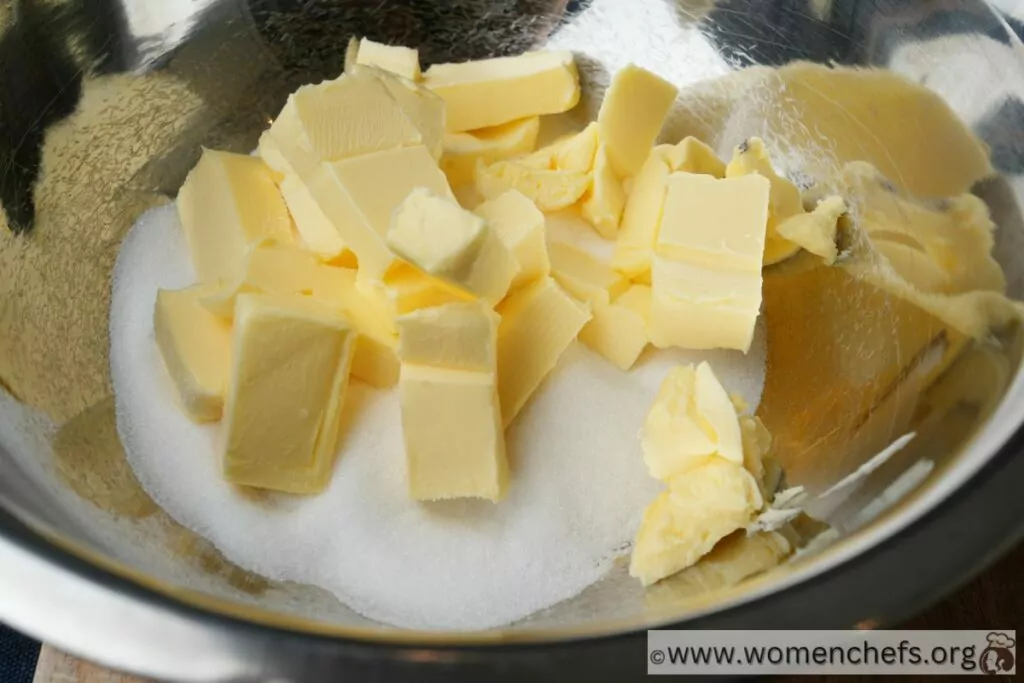 There are many ways to cream butter and sugar together; some use an electric whisk, others do it manually. I like using a cordless hand mixer.

The most important thing is that both the sugar and butter are nicely combined, until you reach a silky smooth consistency. (The vanilla is then added and mixed again)

Step 3: Sift In The Flour & Salt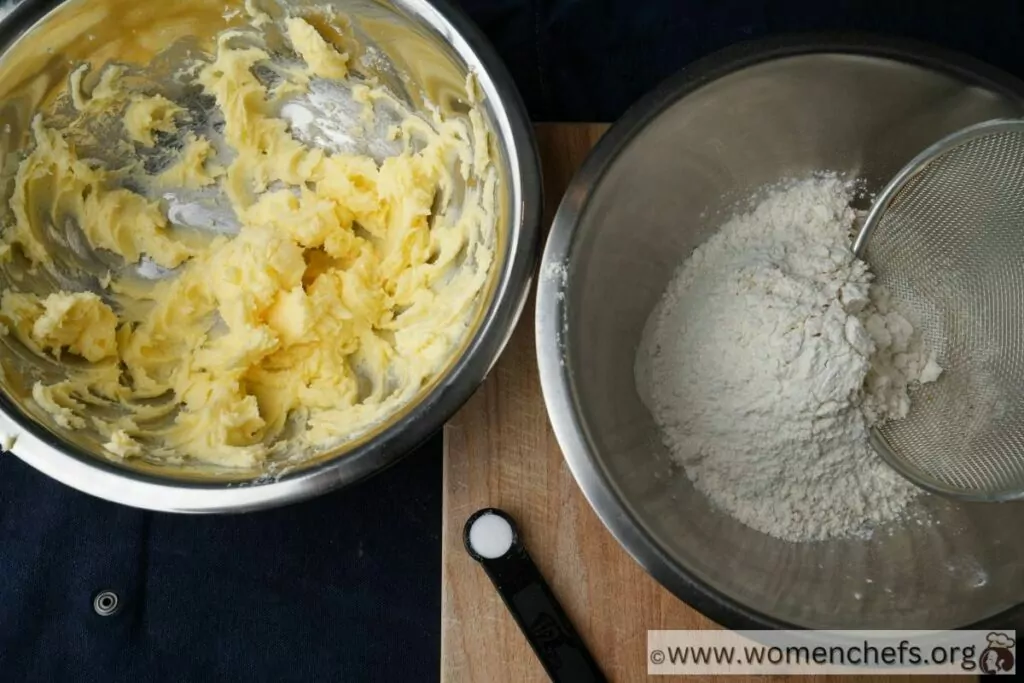 Flour and salt are then added to the creamed butter and mixed again until everything is combined.
The dough should clump together in a ball, almost like wet sand. It wont be overly sticky (not like a sticky bread dough for example).
Do not overmix, otherwise, you might end up with a tough mixture.

Step 4: Press Most Of The Dough In a Pan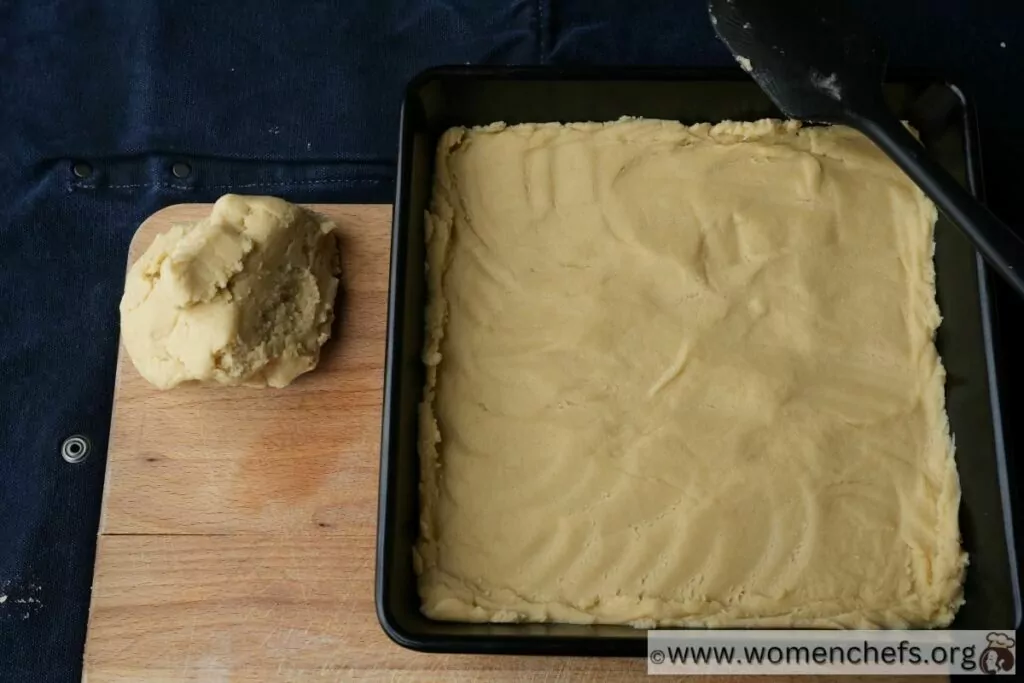 Use a spatula or even your hands to evenly press about two-thirds of the dough into the base of a 9-inch square baking pan, allowing it to extend approximately a quarter-inch up the sides.
The dough should feel a little like wet sand so it might break up initially but can be formed together into a flat base like in the photo.

Step 5: Mix Jam And Lemon

In a bowl, mix together the raspberry jam with lemon zest and juice.

When I first made the Barefoot Contessa's raspberry bars recipe, I found that the jam was overwhelmingly sweet, which is why I cut down the jam quantities in half. I also added lemon zest and juice which helped cut through the sweetness of the jam.
If you want full punchy sweet and thick oozy jam, go for the full amount. If you want less sweet and more taste focus on the base and the crumble, then reduce the jam like I do. This will depend on what you are after.

Step 6: Spread The Jam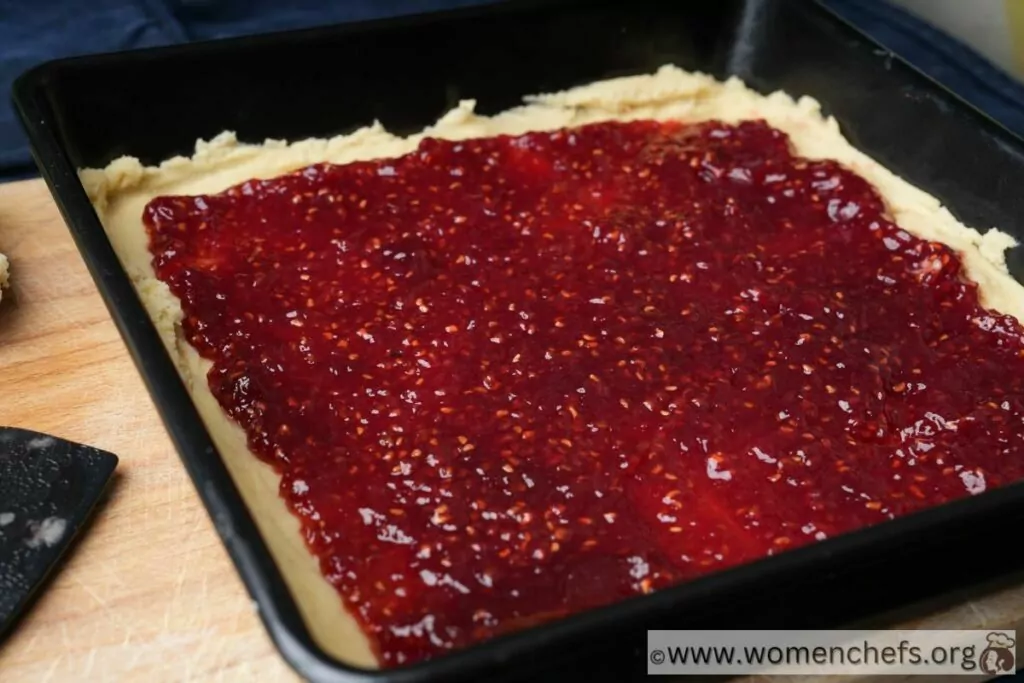 Easily done with the back of a spoon or spatula. Leave a border around the edges.

Step 7: Mix Granola With The Remaining Dough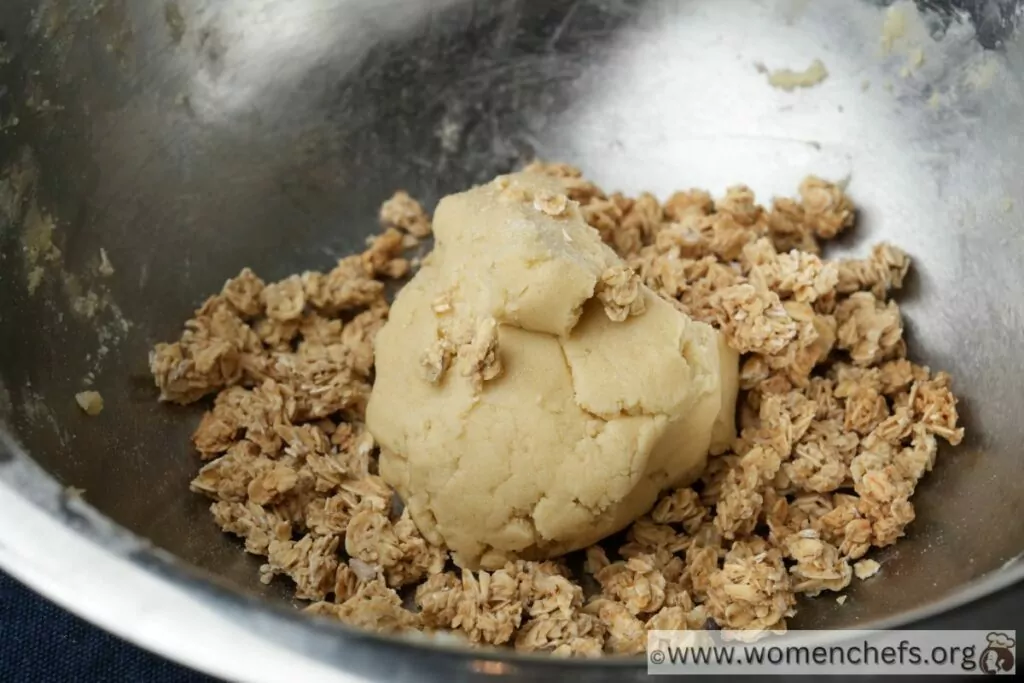 Mixing granola through the remaining dough adds crunch and extra texture to the bars.
Ina's recipe calls for plain granola, as opposed to granola with fruit. Personal preference but I agree plain is best because additional fruit would add more sweetness and a chewy element to the crumble – you want maximum crunch!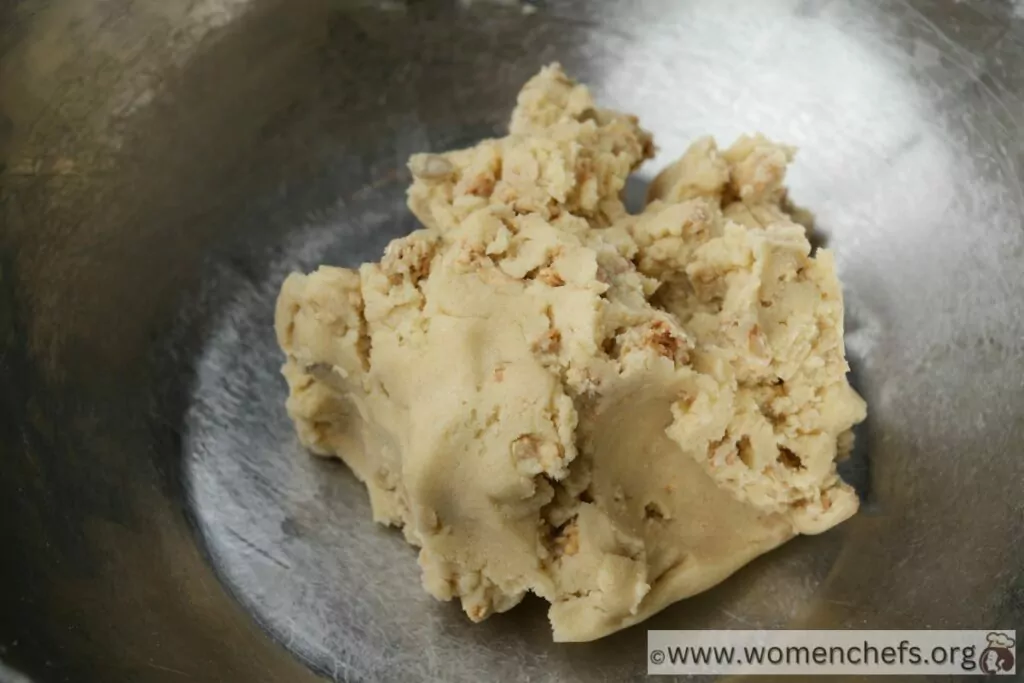 The dough is like wet sand and should hold together in a ball. It shouldn't stick to your hands like a bread dough.
Step 8: Spread The Dough and Granola Mix And Sprinkle Almond Flakes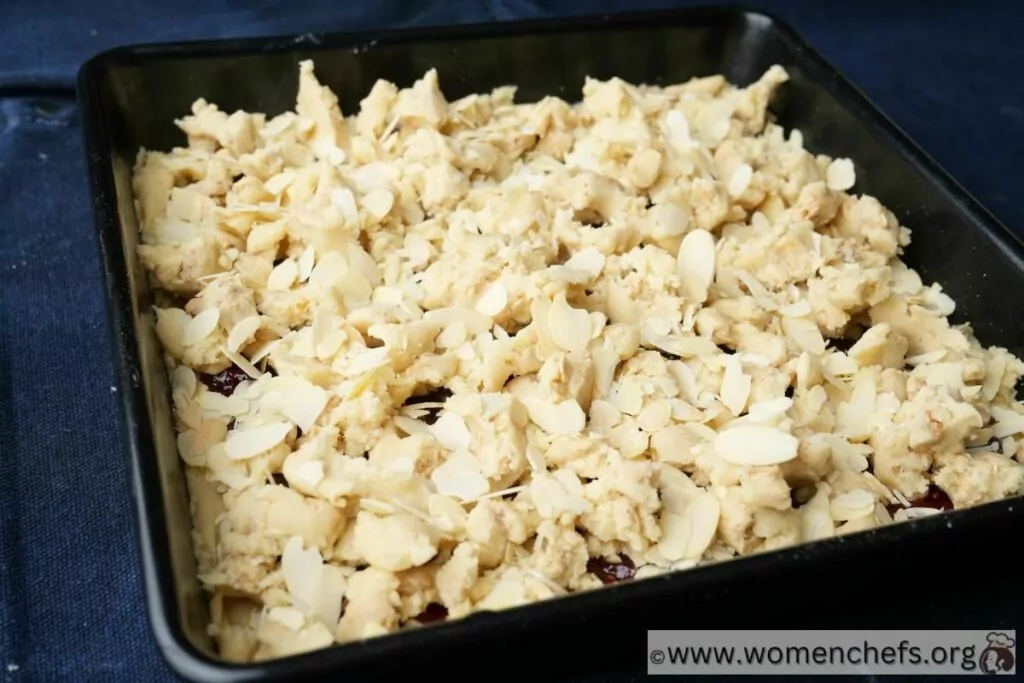 Using your hands, break off pieces of the dough and granola mix and spread over the top of the dish, covering most of the gaps.
The final touch is the almond slices. I absolutely love the crunch and nuttiness the almond flakes give to these raspberry bars.

Step 10: Bake!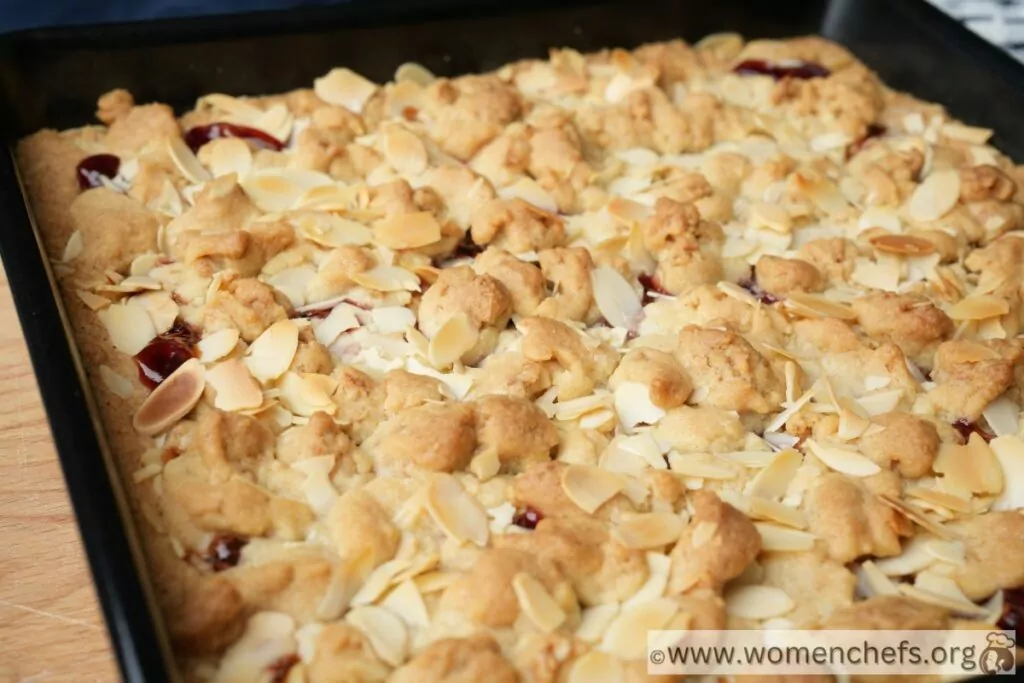 Now it's time to bake. The pan goes in the oven for about 45 minutes, until golden brown.

Allow it to cool fully before adding any confectioners sugar and slicing.
Tasty Twists You Can Add To Barefoot Contessa's Raspberry Bar Recipe
You can add so many twists to this classic Ina Garten dessert recipe.

Here are some ideas:

Use a different type of jam. I have made this recipe before using apricot jam, blueberry, grape, etc. They all work so well.

Top the bars with chocolate chips. My kids absolutely love chocolate, so I replaced the almond flakes once with chocolate chips and the result was delicious. The chocolate chips melted and gave the bars a delicious chocolatey twist.

Mix in lemon zest in the dough. I like to add lemon zest and lemon juice to my raspberry jam to cut through the sweetness. I've also added a couple of times now lemon zest directly to the dough and it gave it a nice zesty taste.

Sprinkle cinnamon. Just before the pan hits the oven, I like to sometimes sprinkle ground cinnamon. It give the bars a really nice aromatic smell, and it works really well with the almonds.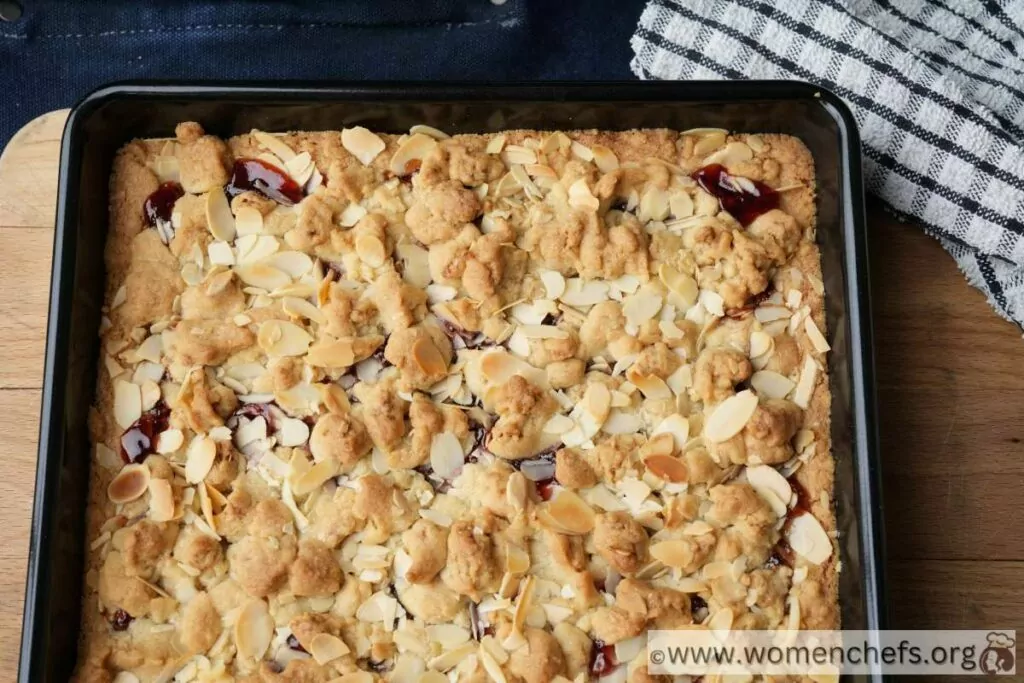 Ina Garten Raspberry Bars Commonly Asked Questions:
1. How Do I Store Raspberry Bars?
The best way to store Ina's raspberry bars is by allowing them to cool fully once baked.
Then, slice them into portions and transfer them into air-tight containers and refrigerate them. They should last in the fridge for up to 5 days.
2. Can I Freeze Ina Garten's Raspberry Bars?
Yes, Ina's raspberry bars can easily be frozen. Once the bars have cooled and you've cut them into portions, add them to freezer-friendly bags or containers and place them in the freezer. They can easily last in the freezer for up to 2-3 months.
3. What Are The Best Ways To Eat Ina Garten's Raspberry Bars?
My favorite ways to eat them are:
– For breakfast
– As a snack
– Served warm with a scoop of ice cream
– Warmed up with heavy cream
– Warmed up with hot custard
More Ina Garten Dessert Recipes
Ina Garten Raspberry Bars
Course: Snacks, Dessert
Cuisine: American
Difficulty: Easy
Indulge in Ina Garten's delectable raspberry bars recipe. A perfect blend of buttery crust, sweet raspberry jam, and a hint of almonds.
Ingredients
2 sticks of unsalted butter, softened to room temperature

3/4 cup of white sugar

1 teaspoon of vanilla extract

2 1/3 cups of all-purpose flour

1/4 cup of sliced almonds (you can buy pre-sliced)

1/2 teaspoon of fine salt

1 lemon zested and juiced

6 ounces of raspberry jam (*see notes for how to make homemade jam)

2/3 cup of plain granola (without dried fruit or chocolate chips)

Confectioners' sugar for dusting
Directions
Preheat your oven to 350F.
In the bowl combine the softened butter and sugar. Beat with an electric mixer until they are just incorporated. While mixing, add the vanilla.
Sift the flour and salt together. Gradually add the flour and salt mixture to the butter mixture, while stirring with a wooden spoon, mixing until the dough is almost formed into a ball. Transfer the dough to a clean surface.
Gently press down two-thirds of the dough evenly into the bottom of a 9-inch square baking pan, extending it about a quarter-inch up the sides.
In a separate bowl, combine the raspberry jam, lemon zest, and lemon juice together.
Spread the raspberry jam over the dough, ensuring there's a quarter-inch border.
Use your hands to combine the granola with the remaining dough. Break the dough into small pieces and scatter it over the jam, covering most of the surface. Sprinkle the sliced almonds on top.
Bake the bars in the preheated oven for approximately 45 minutes, or until they turn lightly brown.
Allow the bars to cool completely, then cut them into either 9 or 12 bars. Lightly dust the bars with confectioners' sugar.
Notes
*Quick Homemade Raspberry Jam
Ingredients:
2 cups fresh raspberries
1 cup granulated sugar
Instructions:
In a saucepan, combine the fresh raspberries and granulated sugar.
Cook over medium heat, stirring occasionally, until the mixture thickens and the raspberries break down, about 15-20 minutes.
Remove from heat and let it cool.
Transfer the jam to a clean, airtight container and refrigerate.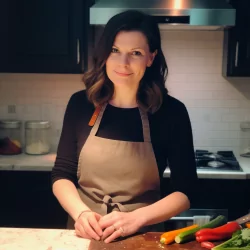 Latest posts by Barbara Hunt
(see all)