Ina Garten is a household name across the globe. The American cook and author is most famously known for her Food Network program Barefoot Contessa, which originally started as a gourmet food store before developing into a large brand.
With her iconic home-style recipes and easy-to-follow instructions, you can't go wrong with an Ina Garten recipe. 
One of Ina's most beloved recipes is her humble peach cobbler. Peaches are an underrated fruit when it comes to desserts, so if you have a bunch of peaches in your kitchen that need to be used, why not turn it into a tasty dessert? 
If you've got peaches ready to be cooked into something delicious, you've come to the right place. Here are 7 amazing Ina Garten peach recipes to try today, including some great alternatives.
 
(see also: 7 Amazing Ina Garten Scone Recipes To Try Today)
One of Ina's most popular peach recipes is the humble peach pie. This is the perfect pie to make in summer when peaches are harvested at the best time, making for a comforting and satisfyingly sweet dessert on a summer's evening.
A slice of this pie with a scoop of vanilla ice cream or double cream is like a slice of heaven. 
The best part about this recipe is that it is very easy to make, even for beginners who have never made a pie before.
This recipe comes with an additional recipe for Ina's iconic Perfect Pie Crust, which is very easy to make. If you are a beginner, however, you can always use pre-made pie dough if you have some available. 
The key to this recipe is to be patient and follow the instructions exactly.
While it's not completely confusing, thanks to Ina's straightforward instructions, you need to make sure you don't accidentally burn the peaches or the sweet juice.
Within 45 minutes to an hour, you'll have a beautiful golden crust filled with bubbly peaches. 
Arguably one of Ina Garten's most popular peach recipes (see also: 5 Amazing Ina Garten Cake Recipes To Try Today)is her peach and blueberry crumbles.
This summertime dessert is best served with a large scoop of vanilla ice cream or custard, and can be easily made and stored hours before you have dinner. Ideal for a summer barbecue or garden party!
This is a fairly simple dessert that only consists of 10 ingredients, with the fresh blueberries and ripe peaches being the main event of the dish.
Considering the sweetness of these fruits, you won't have to add too much flavoring for this dessert, other than the complementary lemon, sugar, and cinnamon. 
It's worth noting that this recipe requires an electric mixer to get the best texture for the crumble.
You can use your hands if you don't have a mixer, but this will take longer, and might not reach the desired consistency. 
Another great use for peaches is to make a fresh peach cake, which is somewhat of an underrated cake flavor in the dessert world.
This is a fantastic Ina Garten recipe that features fresh peaches, nuts, and cinnamon in a warm, moist, and oh-so soft cake.
It can be served on its own, or warmed with a scoop of vanilla ice cream or double cream. 
The cake batter is actually a standard sour cream and butter cake. Sour cream might sound like an odd ingredient for a cake, but it actually works to add moisture without making the batter soggy or runny.
It also doesn't add a sour flavor. The peaches also help to add density to the cake without it becoming too heavy or too light. 
If you have a nut allergy, or if you're just not a fan of pecans, you don't have to worry about this recipe being inaccessible to you.
The nuts are only sprinkled on the top for decorative purposes, so they can be easily substituted for more brown sugar, or decorative blackberries. 
While a peach crumble and peach cobbler might seem like very similar desserts, there is a clear difference between the two.
A crumble has a more crumbly texture that is designed to be cooked while dry, whereas a cobbler features a more dense topping that is baked while smooth. 
Still, considering how delicious both a cobbler and a crumble are, it makes sense to make one of Ina's peach cobblers.
This popular summertime dessert goes beautifully with your favorite outdoor summer foods, such as grilled meats and barbecue food.
It is typically served warm with a scoop of vanilla ice cream or double cream. 
If you don't have ripe peaches available, you can always use canned peaches as a replacement.
This is handy, because fresh peaches are often expensive and hard to find outside of summer.
Of course, fresh peaches are the preferred option, but it's always good to have canned peaches in your pantry just in case. 
Another one of Ina Garten's beloved Barefoot Contessa recipes (see also: 7 Best Ina Garten Parmesan Chicken Recipes To Try Today)is the peach and raspberry crisp-cobbler.
A crisp-cobbler is basically a mix between a crumble and a cobbler, for those who like the crumble texture of a crumble but also the denser topping of a cobbler. Great for adding some new textures to a regular cobbler!
This peach cobbler is extra special thanks to the inclusion of raspberries. Ina Garten has proved time and time again that baking and cooking is meant to be about experimenting with flavors and ingredients.
So, if you want to add more than just peaches and raspberries, or maybe substitute the raspberries for another fruit, now is the time to experiment!
This peach and raspberry crisp-cobbler is best served warm with a scoop of vanilla ice cream, custard, or double cream. We especially like the addition of the orange zest, which adds a satisfyingly tangy citrus flavor. 
Tortes are kind of like a mixture between a layered cake and a large tart, most popularly made with seasonal fruits or chocolate (You might also want to check out Ina Garten's  Lemon Cake Recipes).
This peach and almond torte is a fantastic summer dessert, especially thanks to the complementary flavor of the almonds with the sweet peaches. 
While a torte might look challenging to beginner bakers, rest assured that this is a fairly straightforward recipe to follow.
The addition of almond extracts also helps to complement the nutty flavor profile, making this a surprisingly refreshing dessert after a large meal. 
Of course, this is not a good dessert for those with a nut allergy. If you simply don't like pecans, you can always experiment with other nuts or berries, such as walnuts, almonds, raspberries, or blueberries.
This torte is best served warm with a sprinkling of raw sugar, and a scoop of vanilla ice cream or double cream. 
A crostata is an Italian pie or tart, which is similar to an open fruit tart – except far more rustic.
If you're not bothered about creating a perfectly decorated baked dessert, this summer fruit crostata is the ideal summertime dessert for you. 
The best part about this summer fruit crostata is that the recipe encourages you to use whatever summer fruits you have available in your pantry.
Whether that's peaches with blueberries, raspberries, or even strawberries, any variation will make a delicious crostata. 
Due to the rustic nature of a crostata, you can't really mess up the pastry. The key is balancing the ingredients properly, but the main event is the fruity filling.
Bake for 20-25 minutes until the crust is golden brown, and then serve warm with a scoop of vanilla ice cream or double cream. 
Summary
Ina Garten is known for an abundance of iconic recipes, but nothing quite matches up to her variety of peach desserts.
If you have fresh peaches in your kitchen, or even canned peaches in your pantry, now is the time to turn them into something special. Happy baking!
Frequently Asked Questions
What Can I Do With An Abundance Of Peaches?
If you have an abundance of peaches, you'll be happy to know that there are countless things to do with them!

As for desserts, you can make a peach cobbler, peach crumble, peach pie, peach cake, peach crostata, and even a peach torte.

Peach works beautifully with other summer fruits, too, such as blueberries and raspberries. 

Alternatively, there are several savory dishes you can make with peaches to add a bit of sweetness.

This includes soup, grilling the peaches and adding it to grilled meats, or even turning them into a chutney or relish to enjoy with cheese and breads.

You can also use the juice of peaches and turn it into drinks, such as peach iced tea or sangria. 
Do You Have To Peel Peaches Before Baking With Them?
Honestly, it comes down to the recipe you're following. The skin of peaches is soft enough as it is, so it breaks down even further during the baking process.

If you wish to peel the peaches, you are more than welcome to if you don't want the skin to be included in the dessert. Otherwise, the skin can be a nice addition!
7 Amazing Ina Garten Peach Recipes To Try Today
Course: Recipes
Directions
Pick a recipe from the list above
Click the recipe name and visit the website
Collect the ingredients and cook the food
Enjoy – don't forget to leave a review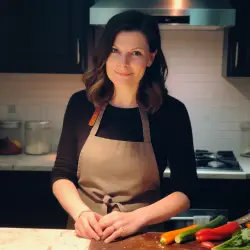 Latest posts by Barbara Hunt
(see all)