There are tons of different cakes out there, chocolate, red velvet, caramel, toffee…you name it, there's a recipe out there. But you'll often find that many cake recipes are super rich, very decadent, and sickly sweet. 
While for those with sweet tooths, this might seem like a dream come true.
For many of us, it can simply be a little too much. Sometimes, it's much nicer to strip things back and opt for a much lighter and more refreshing choice. 
Enter lemon cake. 
These citrusy, fluffy, and scrumptious cakes offer a delicious option that isn't overpoweringly sweet.
They may not be as in your face as a double-triple chocolate cake with cream, ganache, fudge, and all the works, but there is definitely something to be said for the delicate delightfulness of a lemon cake. 
So, what are we waiting for? Let's check them out now. 
This lemon yogurt cake is such a tasty option. Ina Gaten states that it's at a difficulty level of intermediate, so it may be a little tricky for beginner bakers, but we'd still encourage you to try. It's just too scrumptious not to. 
The loaf is so sticky and moist, it's almost too easy to just eat slice after slice of the stuff.
The addition of yogurt really does wonders for the overall texture, and you definitely cannot forget that sugary lemon juice drizzle over the top. 
Ina Garten herself has said that this cake makes for the perfect Thanksgiving dessert.
And we've got to hand it to her, she's, of course, totally correct. So, if you're ready for a break from the standard Thanksgiving pie, you'll need to give this a go. 
It's a lot richer than many of the other lemon cake recipes here, but it is equally delicious. This cake is essentially like gingerbread, except it actually backs in even more flavor. If that's even possible? 
It's also super easy to make meaning that even beginner bakers should be able to recreate it to an impeccable standard. 
Lemon poppyseed cake is one of those familiar favorites that everybody enjoys. It has such a light and delicate flavor that is so refreshing and scrumptious.
You can easily make your way through quite a few slices of this citrusy cake, though, so beware. 
The cake is moist and melt-in-the-mouth but it has this little extra crunch thanks to the poppyseeds.
Now, it's worth noting that this cake will take around a total of four hours to be ready, so you'll want to prepare it ahead of time. 
When the warm weather comes around, there's no better time to dig into this super light, airy, and fluffy cake. Ina Garten states that it works amazingly well as a dessert for any Easter or Springtime celebration (Also check out Amazing Ina Garten Easter Recipes). 
Also, it's a super easy recipe to recreate, which means that you'll spend much less time slaving away in the kitchen and more time enjoying the rest of your day.
It also requires minimal ingredients, so there's no need to worry about a long and expensive shopping list. 
This is the perfect recipe to make with the kids or when you're pushed for time because it's so simplistic.
There are literally no more than 5 steps to making this scrumptious cake, and the reward is 6 slices of the most delicate citrusy cake you'll ever try.
Plus, it takes just 85 minutes to transform from a bunch of ingredients into a moreish dessert. 
The cake is so light, super fluffy, and really moist and the lemon bursts through with each bite. It goes amazingly well with either a drizzle of cream or a drop of custard. 
Ina Garten's lemon bars are a fan-favorite recipe and it's not hard to see why (see also "Best Ina Garten Lemon Pasta Recipes"). They're a little tricky to get right, but the result is astounding.
I guess, technically, it's not quite a cake, but it's pretty close and is far too tasty to leave off this list. 
Encased between a buttery, sugary, crunchy crust is the most moreish citrusy lemon curd-type filling.
Each bite is an explosion of flavor in your mouth and the crunchy and smooth juxtaposing elements of the dessert create the most interesting texture that everyone is sure to enjoy. 
Okay, so again, this isn't technically a cake in the fluffy, moist, and airy sense of the word. But cake is right there in the name, so it definitely qualifies for this list. And oh my, is it delicious. 
The ricotta cheese adds such a creamy and moreish element to the cheesecake. It's light and luscious and doesn't have quite the dense quality that you can usually expect.
This recipe also creates such a refreshing take on a usually rich dessert. 
And since they're portioned into bite-sized squares, they are the perfect option for any party so that you can share them around. 
Do you love the sound of the Ina Garten lemon cake recipes but are unable to eat them due to the animal byproducts used in the recipe?
Well, never fear, because this recipe is completely vegan but still has that delicious lemon flavor and stunning texture.
This cake can be made in under an hour and uses only ingredients that you'll likely already have in your kitchen making it a quick and easy option.
And who knew that a cake so easy could taste so good? It's bright-tasting, really render, and is frosted with a super simple sweet and tart lemon frosting that is so good, you'll definitely be coming back for seconds. 
Not being able to eat gluten shouldn't stop you from being able to tuck into a fantastic-tasting lemon cake whenever you feel like it. And that's why we've provided this scrumptious recipe. 
It can be made in just one bowl and contains just a few simple ingredients and yet it still produces the moistest, spongy, and citrusy cake you'll have ever tried.
You will then smother your scrumptious cake in a hearty slathering of tangy dairy-free buttercream frosting. 
This cake is also so pretty. It would make the perfect birthday cake that will be sure to impress all your friends and family. 
If you're trying to achieve a healthier diet by cutting down on the calories, it can sometimes feel like you have to swear off all desserts for good.
But that definitely doesn't have to be the case as this amazing recipe proves. 
Plus, everything is fine as long as it is in moderation. Well, this cake is made with wholesome ingredients and is pretty healthy. Even the frosting on the top (which is super creamy and decadent) is nice and healthy too. 
It also happens to be gluten-free which is a bonus! 
This cake is super tropical and totally tasty. This cake is so moist and soft and has these mild and soft sweet flavors that shine through with each and every bite.
The lemon is the shining star of this dessert, but the nuttiness from the flaked coconut topping just steps things up to a whole other level. 
Top tip for baking this delightful recipe – use fresh lemons. It means that you miss out on that artificial flavoring and instead get a really fresh and bright lemon frosting. 
If you're desperate to satisfy that lemon cake craving, then this cake recipe is the one for you. It takes just 15 minutes to prepare and then the oven will do the rest of the work for you. 
And oh, is it delightful. It packs such a tart and sweet citrus flavor. The cake melts in your mouth and it's that moist and the addition of ricotta makes it so much fluffier than your average lemon cake. 
Be sure to serve this delightful dessert with a big helping of whipped cream to create the ultimate treat. 
What could possibly improve a delicious lemon cake? A great slathering of lemon curd. You know, just to double down on that lemon flavor. And if you like lemon, well, this cake has it in the bucket loads. 
You'll have two layers of light and fluffy lemon cake, which are sandwiched between a thick and sticky lemon curd, which is then completely covered in a bright and fresh lemon buttercream frosting. 
Final Thoughts 
When it comes to lemon cake, there is no end to the varying recipes that you can try.
Each one is a little unique and a little bit different, but ultimately, they all share that light and bright delicate, and soft flavor that tastes amazing when accompanied by the sunshine. 
Regardless of which recipe you opt for, we can assure you that you will not be disappointed. 
13 Best Ina Garten Lemon Cake Recipes To Try Today
Course: Cookbooks
Directions
Pick a recipe from above
Click the recipe name and visit the website
Collect the ingredients and the food
Enjoy – don't forget to leave a review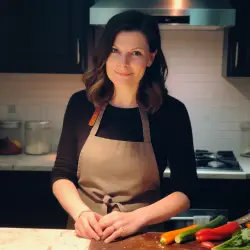 Latest posts by Barbara Hunt
(see all)