Ina Garten's zucchini bread gives you a light and airy savoury snack, combined with the woodiness and crunch of walnuts and a touch of sugar sweetness.
Other than being delicious, zucchini bread Ina Garten style is simple to make and is impressive to look at, with an overall warm brown tone, sprinkled with flecks of green from the zucchini and white from the chopped walnuts.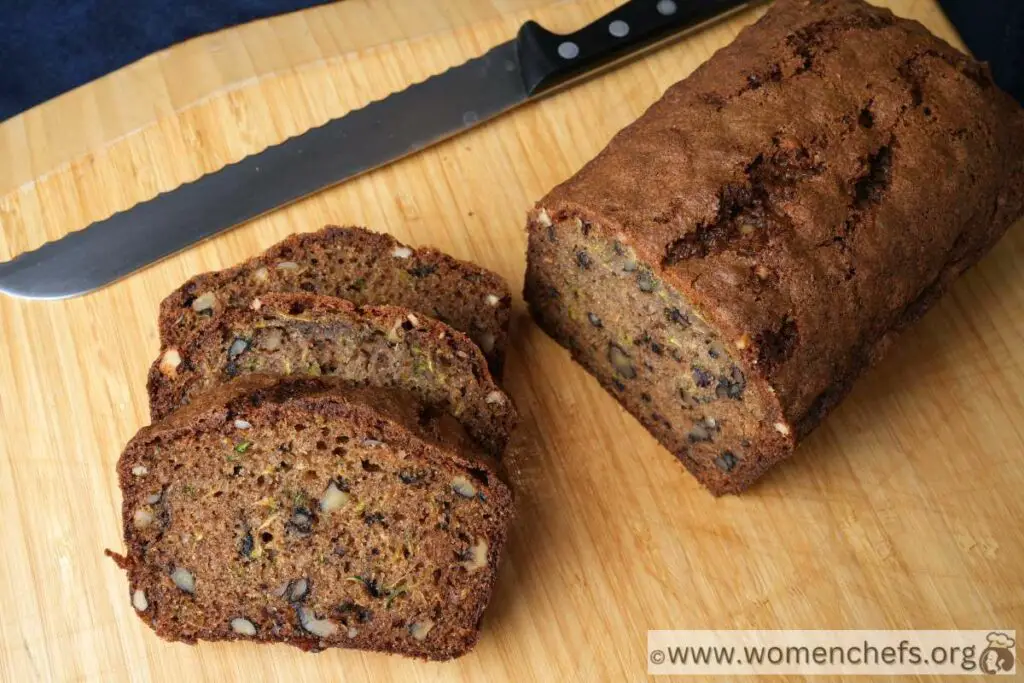 As you can see from the photos, if you follow Ina's zucchini bread recipe you should end up with a beautifully formed loaf that is soft and airy, not dense. Its endlessly versatile – you can eat it for breakfast, dessert or afternoon snack. Its perfect served warm with butter.
Its very similar to Ina's banana bread but I find it is less sweet – because zucchini doesn't give the same sweetness as ripe bananas.
It is also more savoury than other sweet fruit and vegetable bakes such as carrot cake or lemon cake.
Check out the recipe below or even watch our video of how to make this delicious Ina Garten snack.
Tasty Twists You Can Make To Barefoot Contessa's Classic Zucchini Bread Recipe
You are not a real home cook if you don't add your own touch and twist to recipes, including classic recipes!
I have made Ina Garten's zucchini bread recipe several times, and I added twists to the recipe that I found worked very well.

Here are some of the twists I made that might inspire you:
Make it chocolatey. Many zucchini bread recipes have chocolate in them, which I personally love, and so do my little ones. I have experimented with adding chocolate chips directly into the batter, as I fold my walnuts in, and the result was fantastic. I have not tested sprinkling chocolate chips on top of the batter, rather than folding them, but I imagine it would work just as well!
Fold in dried fruit. If you love dried fruit, they can work very well with the walnuts already in the recipe. 1 cup is plenty. Chopped dates, raisins, and even dried cranberries work well.
Swap the walnuts for other nuts or seeds. You don't have to use walnuts, you can use other nuts too, such as pecans, sliced almonds, and even pistachios nuts. If you are nut-free, use seeds such as sunflower seeds or pumpkin seeds.
Make it zesty! Mixing through freshly zested lemon can add a nice fresh taste to your loaf. Lemon and zucchini pair well too. 
Glaze it up! For a sweeter and shinier loaf, you can add multiple different glazes once the loaf is baked and cooled. My favorite is powdered sugar glaze. Alternatively, you can brush lemon juice and sugar on top of the loaf.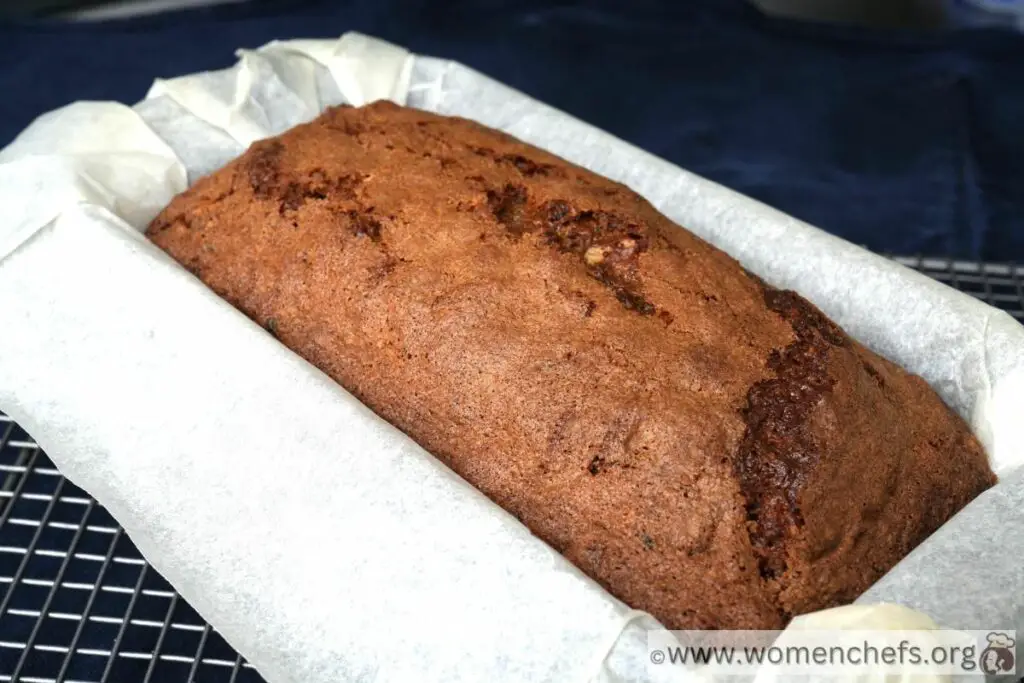 Best Ways To Eat Zucchini Bread
People who have made homemade zucchini bread for the first time are not often sure what the best way to it is.

Since zucchini bread is neither regular bread nor cake, how do you eat zucchini bread?

Here is how my family loves to eat zucchini bread, which could give you some ideas…
Spread some butter on it.
Spread chocolate spreads (like Nutella, yum!).
With sliced banana on your zucchini bread slices and a drizzle of honey.
Use it as a regular toast for your morning scrambled eggs (yes sweet and savory is a thing!).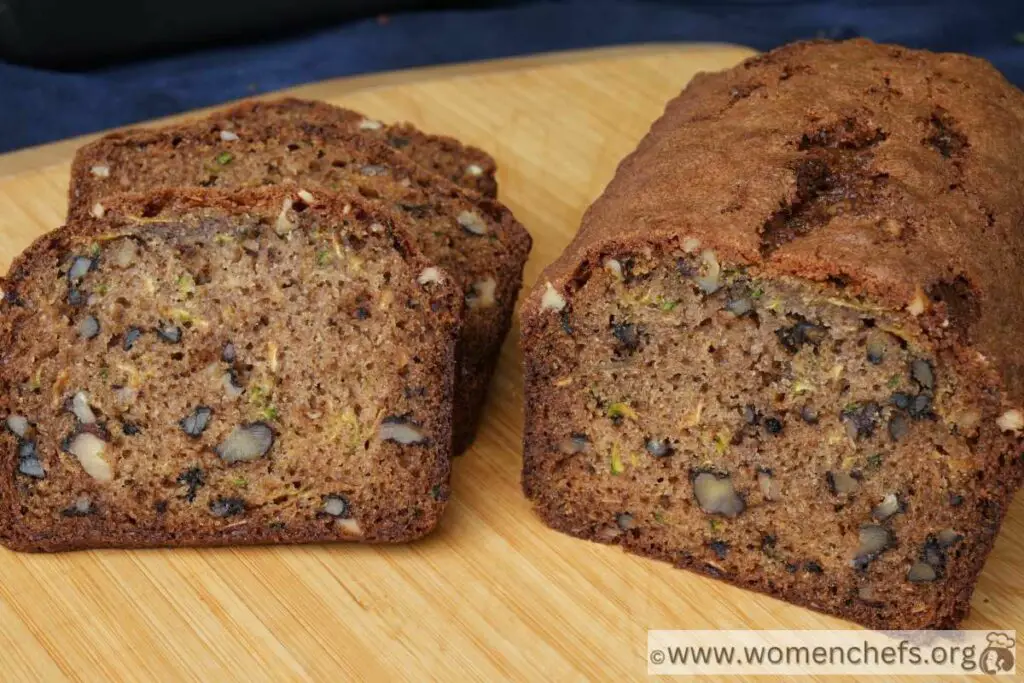 Zucchini Bread Recipe Frequently Asked Questions:
1. What Are The Best Way To Shred Zucchinis?
There are many different ways to shred zucchini; the easiest way to do that is by simply coarsely grating the zucchini! Other methods include shredding them in a food process, by using the coarse or shred button.
2. Should I Squeeze The Water Out Of The Zucchini Before Adding Them To My Zucchini Bread?
I have tested both methods; and honestly I like to leave the shredded zucchini as they are without squeezing the water out of them. This makes the zucchini bread moist and fluffier.
3. Should I Peel The Zucchini For Zucchini Bread?
It is not necessary to peel the zucchini for zucchini bread. In fact, I recommend that you avoid doing that. The skin of the zucchinis contains lots of nutrients, especially fiber. The skin also gives you those lovely green speckles throughout the finished loaf when sliced. If you are concerned, buy organic zucchinis and make sure you wash them thoroughly before use.
More Ina Garten Recipes You May Like To Try:
Ina Garten Zucchini Bread
Course: Ina Garten, Snacks
Cuisine: American
Difficulty: Easy
Ina Garten's moist and delicious zucchini bread recipe. Perfect for any occasion. A delightful way to enjoy zucchinis.
Ingredients
2 cups of all-purpose flour

1 ½ cups of granulated white sugar

2 teaspoons of bicarbonate of soda

1 tablespoon of ground cinnamon

1 teaspoon of salt

3-4 eggs (depending on their size)

2 cups of shredded zucchini (roughly 2 medium-sized zucchinis)

¾ cup of vegetable oil (e.g sunflower seed oil, rapeseed, avocado)

1 tablespoon of vanilla extract (or 1/2 tsp of vanilla bean paste)

1 ½ cups of chopped walnuts
Directions
Preheat your oven to 350F.
Prepare one 8-inch loaf pan by greasing and lining it with non-stick parchment paper. In a medium-sized mixing bowl, mix together the flour, sugar, baking soda, ground cinnamon, and salt. Set aside.
In a large mixing bowl, beat the eggs. Stir in the shredded zucchini, vegetable oil, and vanilla. Combine the dry ingredients with the wet mixture, and gently fold in the chopped walnuts until they are evenly distributed.
Pour the mixture onto your prepared loaf pan. Place the pan in the middle of the oven.
Bake in the preheated oven for 50-60 minutes or until a toothpick inserted into the center comes out clean.
Allow the loaf to cool in the pans for 10 minutes before transferring it to a wire rack to fully cool.
Slice the loaf once it's fully cooled and enjoy!
Notes
To store leftover zucchini bread, wrap the zucchini bread or zucchini bread portions if already sliced, and refrigerate them. Alternatively, you can wrap and freeze individual portions.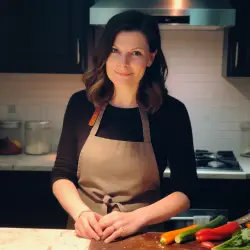 Latest posts by Barbara Hunt
(see all)