If you love pastry desserts and bakes, you will love Ina Garten's rugelach recipe!
Ina Garten Rugelach are bite sized pastries (think cookie size) that are crunchy on the outside, chewy in the middle and make the whole kitchen smell like cinnamon. Great for a large party, with coffee or tea, or as a sneaky treat on their own.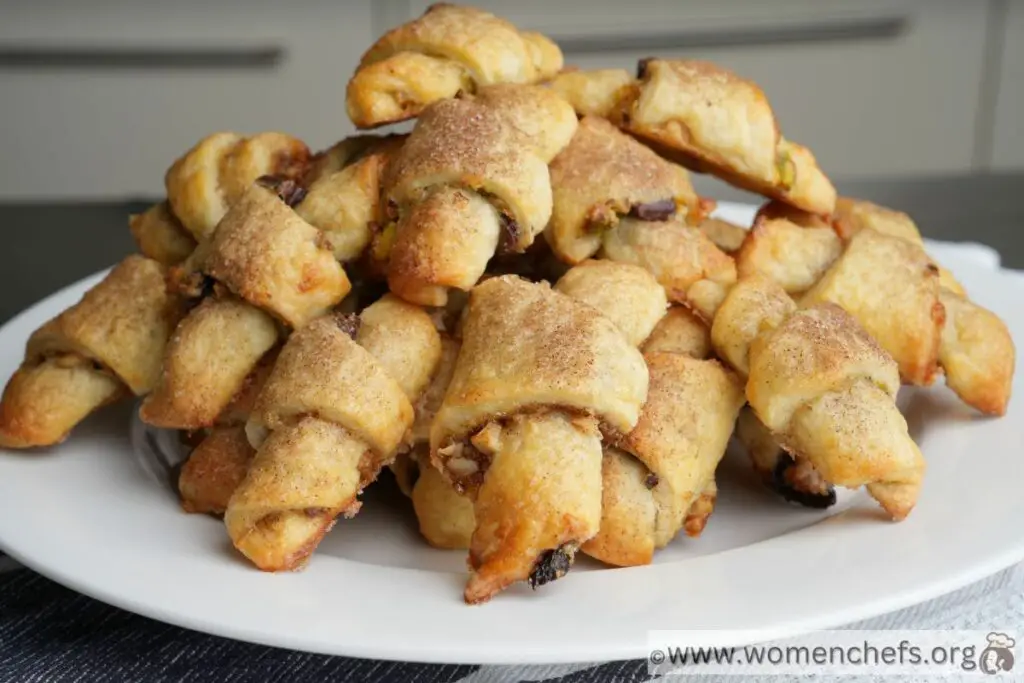 The only catch to making any rugelach recipe is, they are small and fiddley and can be tricky to make with written instructions only.
To make it easier for you, I broke down an Ina Garten rugelach recipe and took photos of each step, showing you what everything should look like, the texture and the method.
Follow along and your rugelach will be a success. Of course if you know what you're doing, you can skip straight to the recipe and directions section.
Reasons Why You Should Make Ina Garten's Rugelach
If you follow the Barefoot Contessa's rugelach recipe you will end up with 48 individual rugelach pieces, enough for a big get together. They also store well over a few days in an airtight container so can be made in advance.
Here are some reasons why I think you will absolutely love these rugelach bakes:
They make a great breakfast.
They are great for an afternoon treat.
Taste great hot and cold.
They are great for picnics.
The rugelach freeze very well, which means whenever you fancy a sweet pastry, they are literally available to you in 10 minutes. I like to reheat the frozen rugelach in the oven.
They make a great fun family project at home with the kids! Allowing my little ones to fill and roll them was a fun Sunday activity.
They are a great alternative to cookies and look a little more fancy for adults (although there are some great Ina Garten chocolate chip cookie recipes out there).
Even though making these delicious Israeli bakes can be time-consuming, it is so worth it.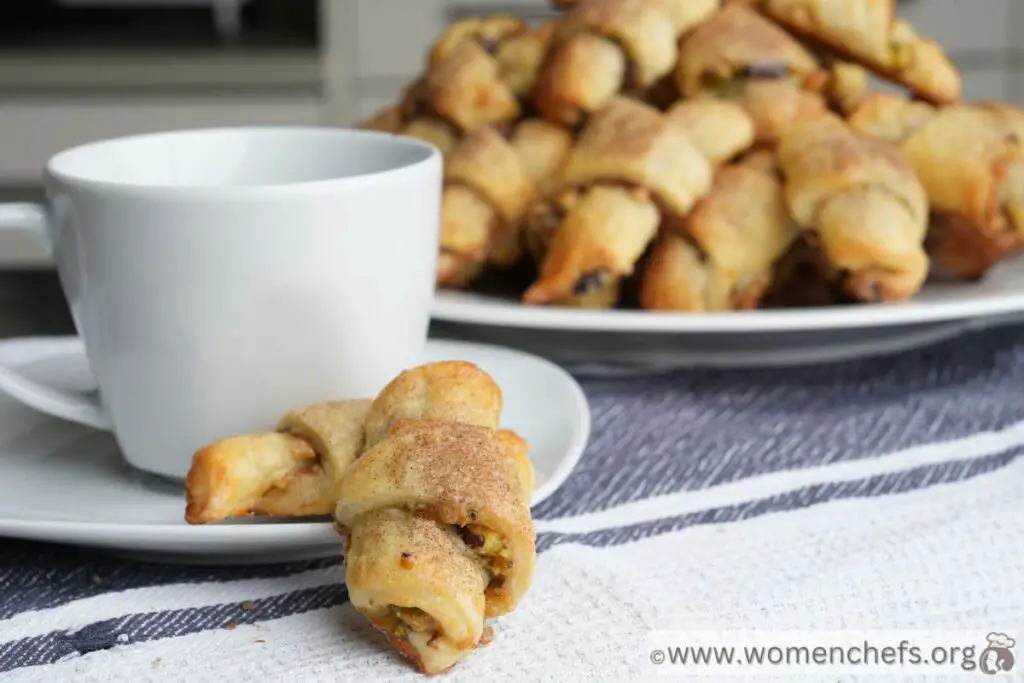 Tips For Making The Perfect Rugelach 

Here are my tips to making rugelach Ina Garten style:

1. Make several fillings. Since the recipe makes 48 bakes, you don't want to have the same flavor and filling, make it interesting and use different fillings. In the recipe I am sharing with you today, I have left 2 filling options for you. Remember to crush the filings up well, or it will be hard to roll the pastries.

2. Ensure your butter and cream cheese is at room temperature. I attempted to make these rugelach once using cold butter and cream cheese straight from the fridge, and the mixing was a bit tricky. So, an hour before you decide to make the rugelach, take the cream cheese and butter outside the fridge and let them warm up a bit.

3. Don't be shy with the flour after mixing. Expect the dough to be sticky initially, especially if your kitchen is warm and the butter and cream cheese are super soft. Flour your hands and the work surface well.
4. Shape the dough into 4 equal patties and refrigerate. This is critical to firm up the butter and cream cheese. It makes the dough more workable and much less sticky when rolling later – you can use some flour when rolling if needed.

5. Blend the apricot conserve. Using a blender or a food processor, it's crucial that you process it before spreading it onto your dough. This really makes the spreading so much easier.

6. Use the base of a cake tin or something similar as a guide for size and shape. When you roll the dough, it should be a nice round shape (this recipe aims for 9 inch pastries), which is why I find it easier to use a guide size. A large cake tin is what I typically use. I cut off the excess dough that doesn't fit into the cake tin.

7. Spread the apricot conserve on the dough before cutting the dough into segments. You will find it much easier to spread the apricot conserve when the dough is initially rolled out, rather than when it's cut into segments.

8. Cut the dough into triangles – similar to pizza. After spreading the conserve and toppings, use a pizza cutter to cut the dough. Start by cutting equal quarters (once horizontally and once vertically), then cut each quarter into 3 – giving you 12 triangle pieces per dough ball. The pieces may vary in size but will be roughly 2 inches wide at the outer edge. Cut slowly and watch the dough because it can get stuck to the cutter and might fold over on itself.

9. Try to keep the roll tight and press the filling into the dough as you go. Continue to roll until the end, leaving the pointy end underneath. The four dough balls will produce 48 individual rugelach this way.
How To Make Ina Garten's Rugelach Recipe: Step By Step
Since the process may sound quite complicated when you just read the recipe out, I will break down each step for you with pictures, so you can easily understand the process and achieve the perfect rugelach bakes!
#Step 1: Mix The Dough Ingredients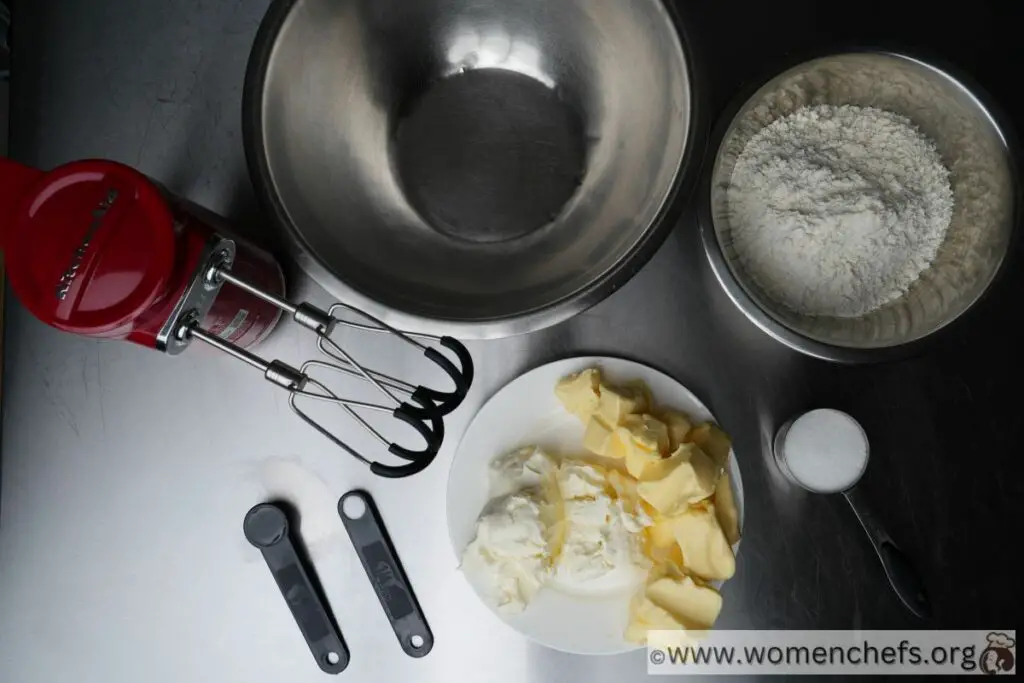 The first step is making the dough, because it will require chilling in the fridge.
The method is simple; using an electric mixer, combine the dough ingredients until it comes together. The ingredients are super soft so a hand blender should be fine.
We love using the KitchenAid cordless blender for things like this – it is so much easier without the cord to get in the way.
#Step 2: Shape The Dough Into a Ball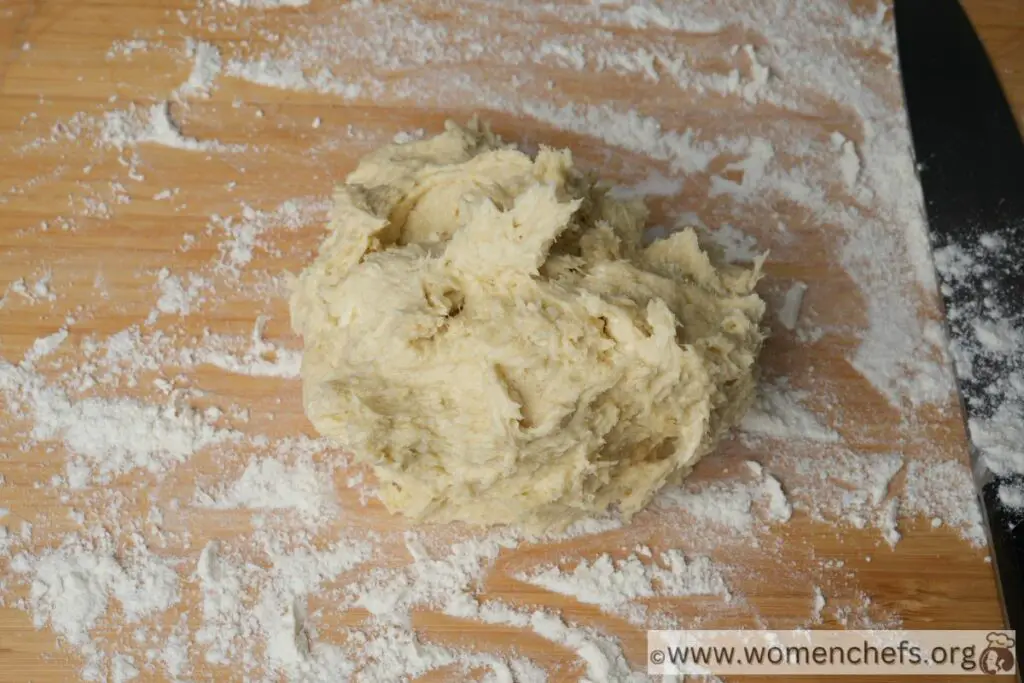 Once the dough ingredients are mixed, tip the dough onto a floured surface and shape it into a bowl. It will be quite sticky, especially if your kitchen is warm so use plenty of flour on your work surface and your hands if necessary.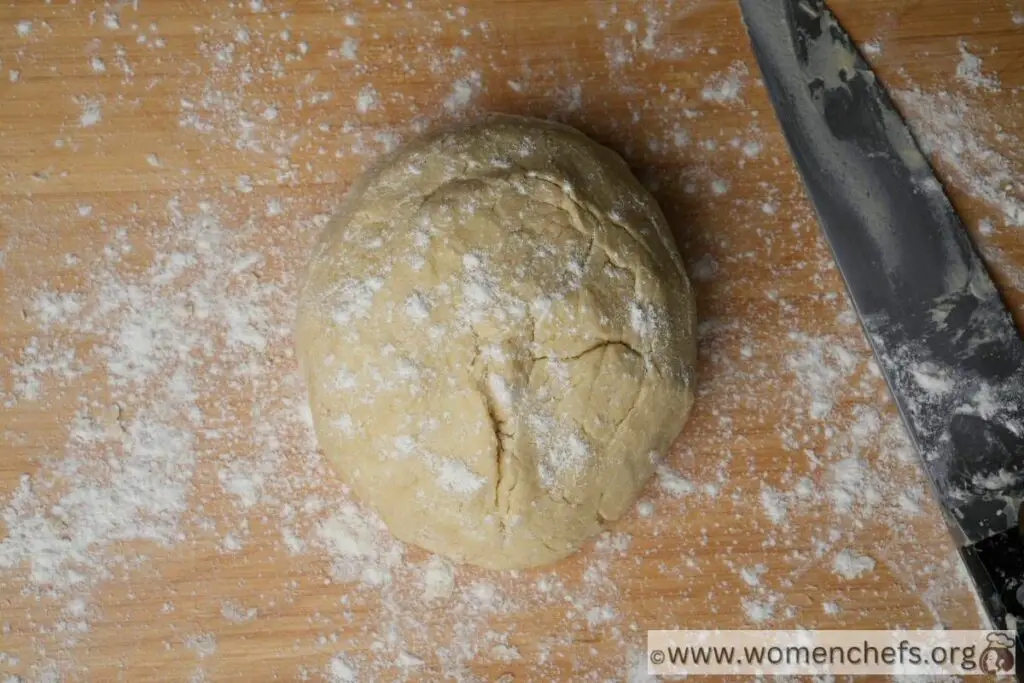 #Step 3: Cut The Dough & Chill It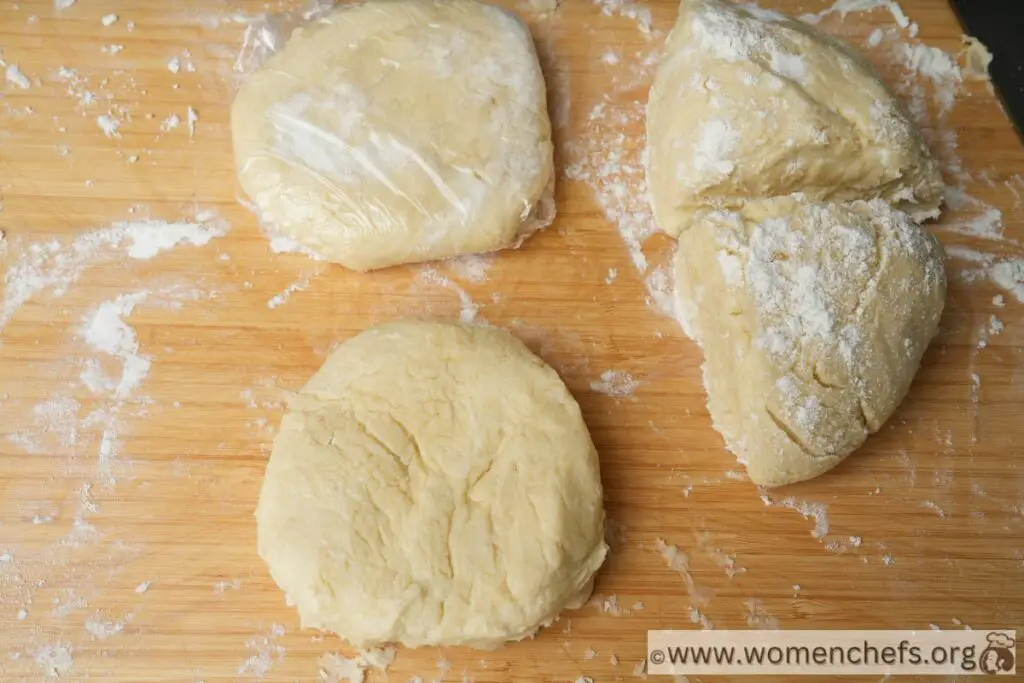 The dough is still very soft and sticky. Flour the top of the ball and cut the dough into 4 equal quarters and form them into round patties about an inch thick. Wrap them individually and chill them in the fridge for 1 hour.
#Step 4: Prepare The Fillings!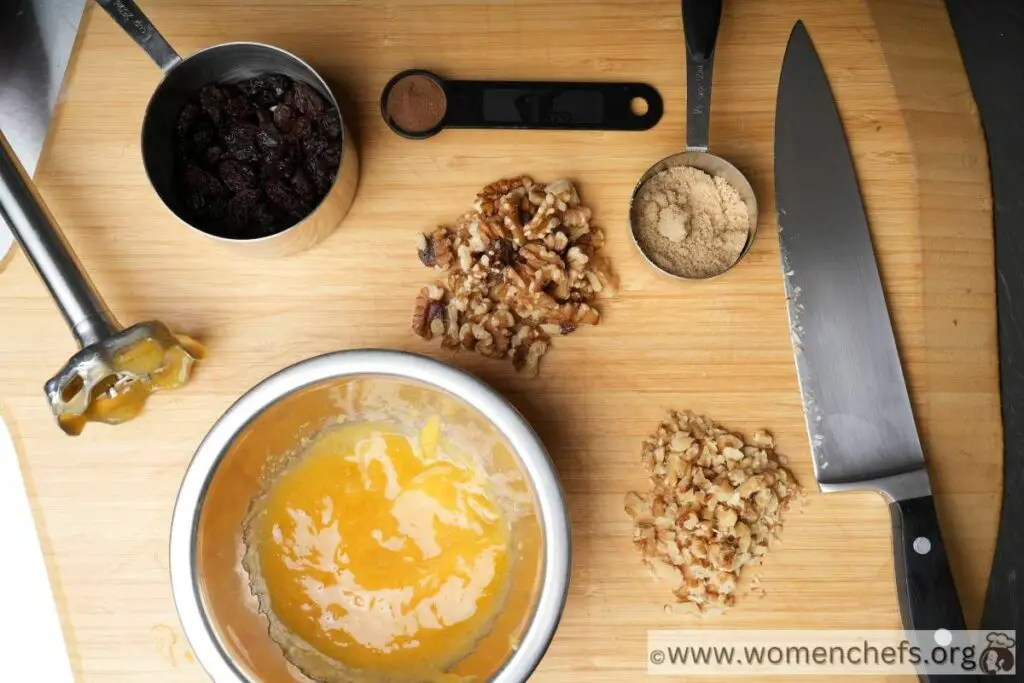 This is also a good time to blend the apricot conserve so it's ready for spreading to your dough later! Keep this mixture in one bowl.
In another bowl, combine your dry filling ingredients. I made 2 different fillings – one was Ina's recipe of walnuts, raisins, spices, and sugar and the other was similar but I used pistachios, macadamia nuts and chocolate chips (instead of walnuts and raisins).
You can really create whatever combination you like here.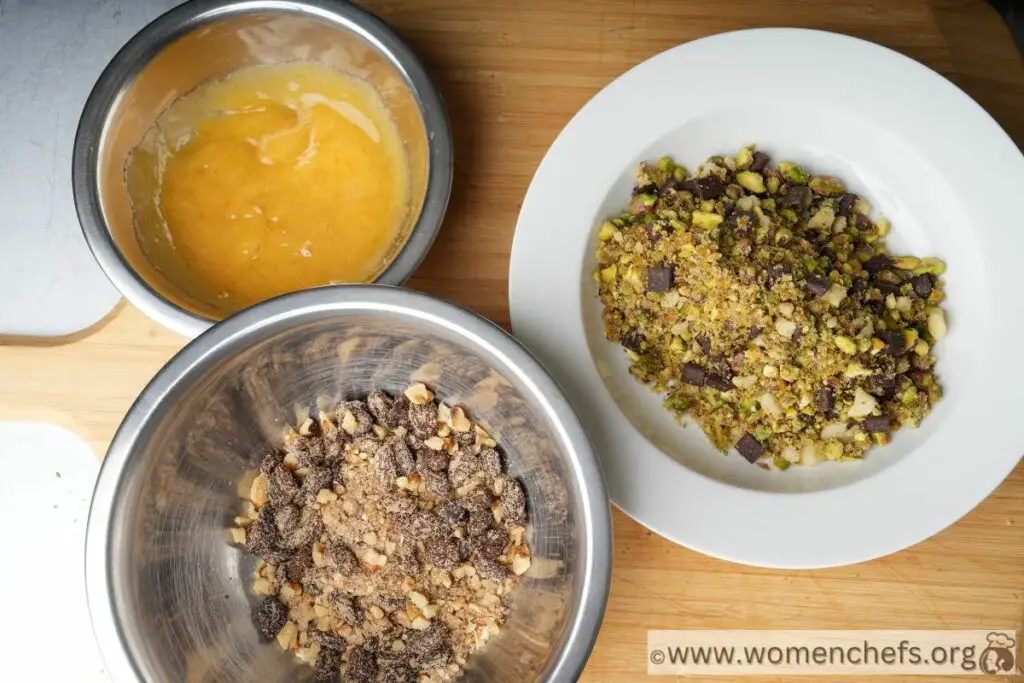 #Step 5: Roll The Dough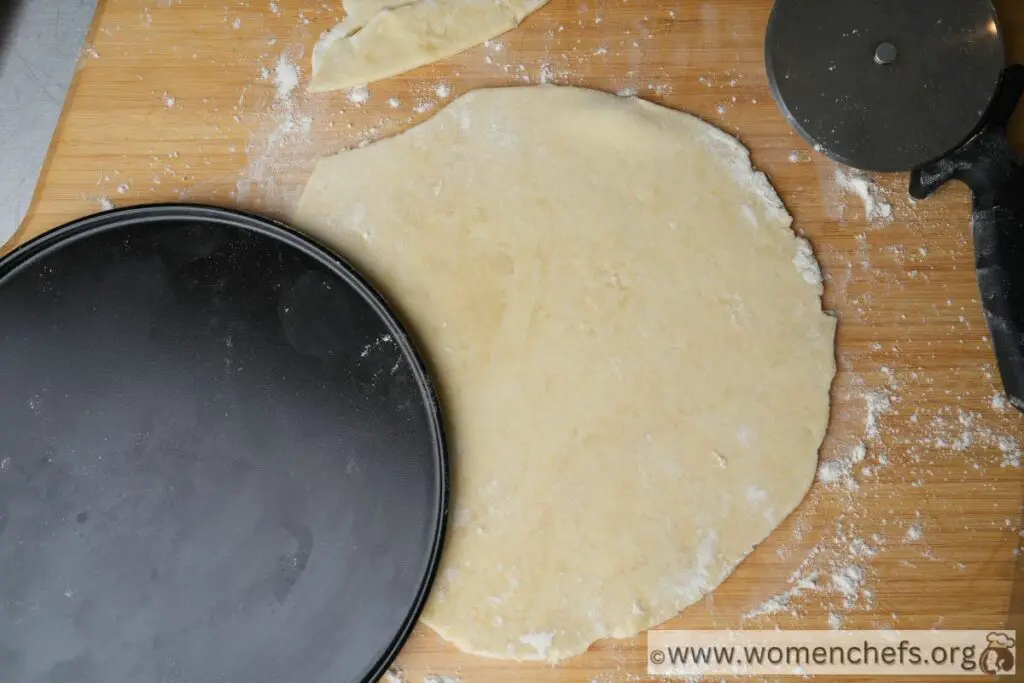 Once the dough has had an hour to chill, it's time to roll it. Using a rolling pin is easiest. Use a little flour on the base and the rolling pin if it sticks.
You are aiming for 9 inch circles – use the base of a cake tin, or something similar as a guide. Cut off any dramatic excess.
#Step 6: Spread The Fillings And Slice Like Pizza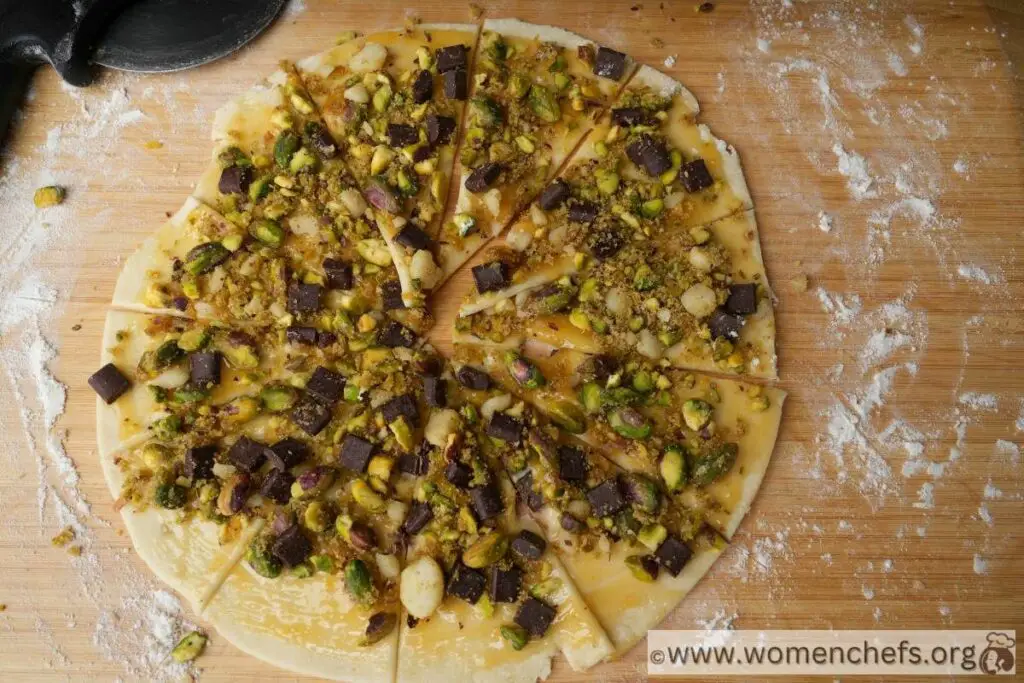 Brush on the apricot conserve first, then press your fillings on top of the dough.
Cut into 12 slices – start by cutting into quarters, then slice each quarter into 3.
#Step 7: Roll Into Shape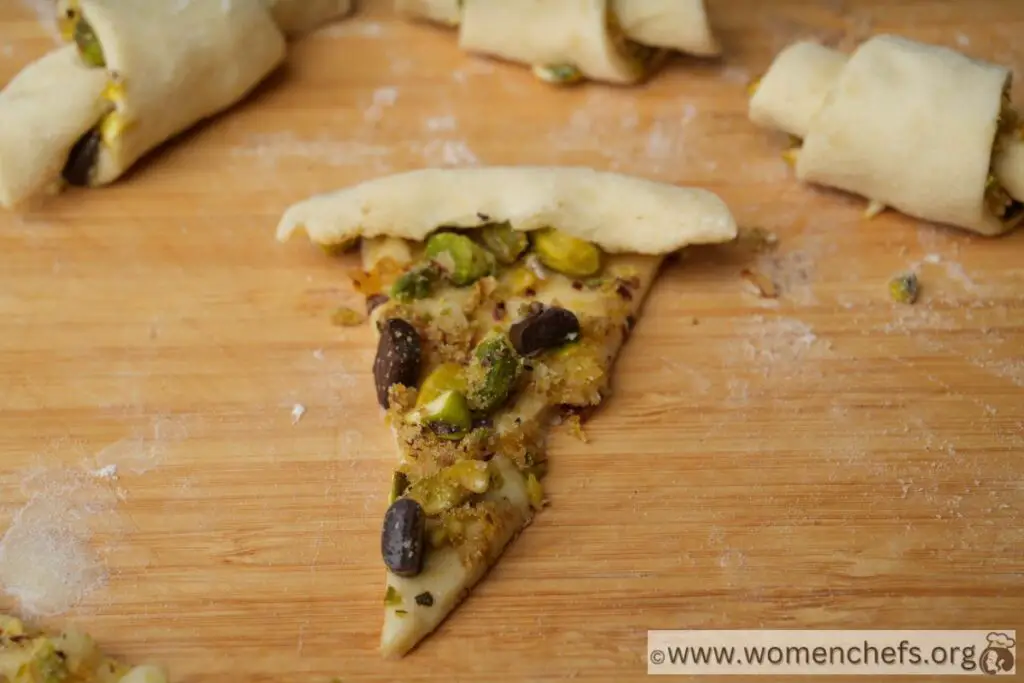 Start at the wide end and roll towards the point, pressing the ingredients into the dough as you go.
Roll all the way, leaving the point tucked underneath.
#Step 8: Prepare To Bake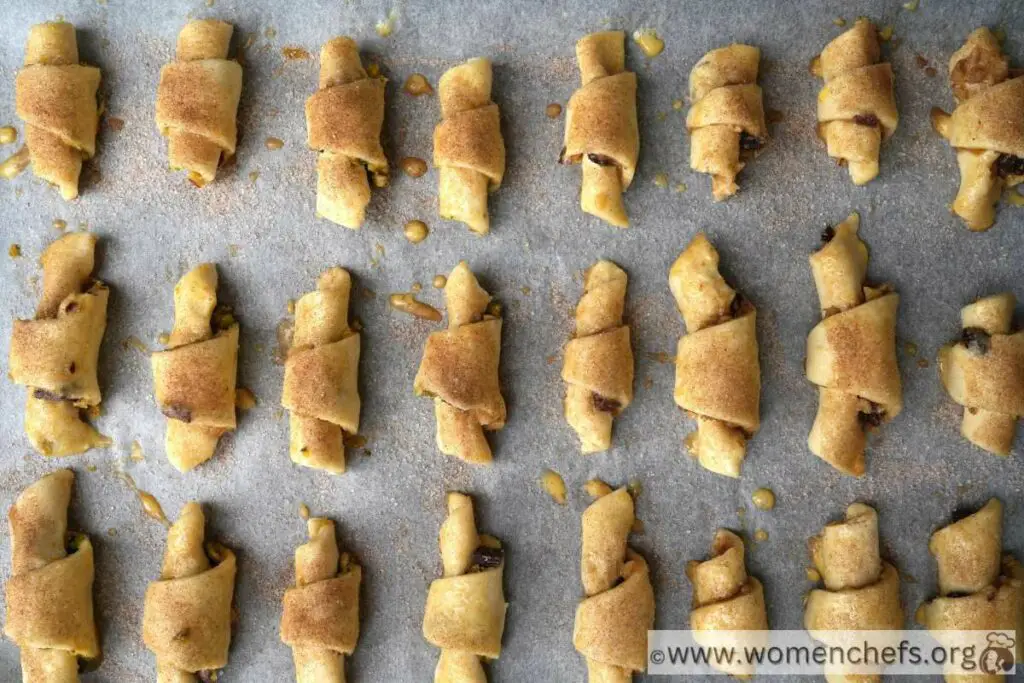 Baste with the egg wash and sprinkle with sugar and cinnamon.
The baking doesn't take long. They are ready once evenly browned, approximately 25 minutes or so. Keep an eye out not to burn the cinnamon.
#Step 9: Let Them Cool On a Wire Rack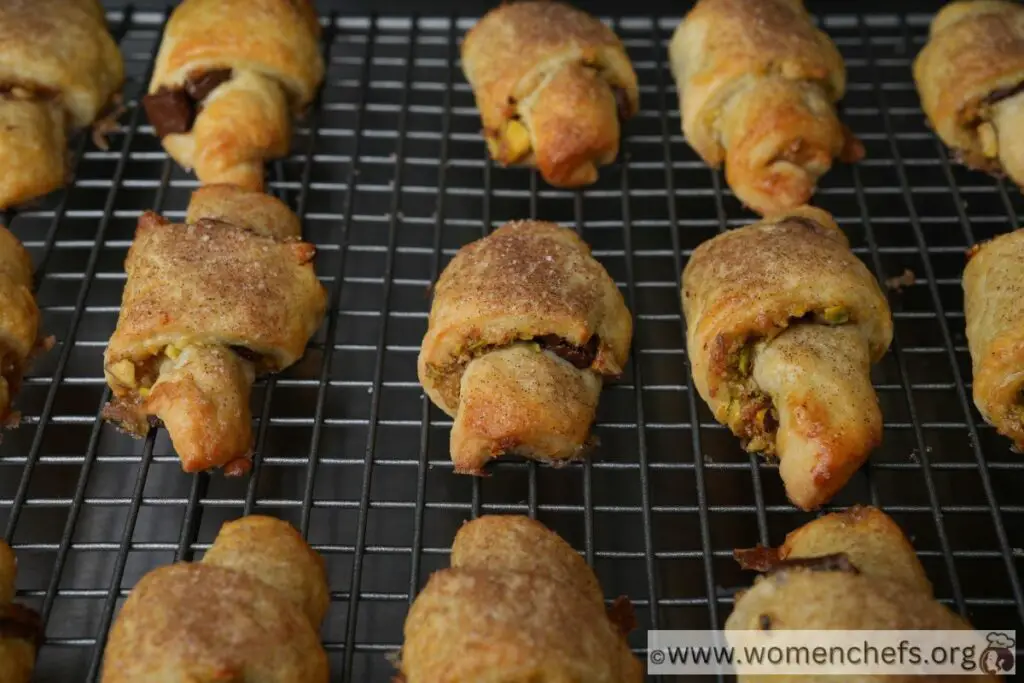 Once the rugelach is baked, they can still be a little soft (and very hot due to the conserve). Immediately transfer the bakes onto a wire rack until they cool slightly – they will also firm up.
Once cool and firm, they are ready to eat!
Ina Garten's Rugelach Recipe
Course: Snacks
Cuisine: Israel
Difficulty: Moderate
Discover Ina Garten's delicious rugelach recipe! Bite sized pastries, crunchy on the outside, chewy in the middle and make the whole kitchen smell like cinnamon. Great for a large party, with coffee or tea, or as a sneaky treat on their own.
Ingredients
For the Dough:

10 oz all-purpose flour

1/4 tsp salt

4 oz unsalted butter, at room temperature

4 oz cream cheese, at room temperature

1.75 oz sugar

1 tsp pure vanilla extract

For The 1st Filling:

2.25 oz sultanas

2.25 oz walnuts, finely chopped

2.25 oz apricot preserves, pureed in a food processor

3 tablespoons of sugar

1 tsp ground cinnamon

2 tablespoons of light brown sugar, packed

For the 2nd Filling:

2.25 oz of chocolate chips

2.25 oz a mix of chopped pistachios and macadamia nuts

2.25 oz apricot preserves, pureed in a food processor

3 tablespoons of sugar

1 tsp ground cinnamon

2 tablespoons of light brown sugar, packed

1 large lemon zested

For the Egg Wash:

1 egg beaten with 1 tbsp milk
Directions
In the bowl of an electric mixer equipped with the paddle attachment, blend the cream cheese and butter until the mixture is light. Add 1.75 oz sugar, the salt, and vanilla. With the mixer on low speed, incorporate the all-purpose flour until just combined.
Transfer the dough onto a generously floured surface and shape it into a ball. Dust the top of the bowl with more flour, then divide the ball into four portions, wrap each in plastic wrap, and refrigerate for 1 hour.
To prepare the fillings the method is the same for both, all of the ingredients are mixed together in a bowl EXCEPT the apricot preserves. Obviously, each filling should be prepared in a separate bowl.
On a well-floured surface, roll each dough portion into an 18 cm circle. Spread of apricot preserves on the rolled dough and sprinkle 1.75 oz of the fillings. Each circle should contain a different filling.
Gently press the filling into the dough. Slice the circle into 12 equal wedges by first dividing it into quarters and then cutting each quarter into thirds. Starting from the wider end, roll up each wedge. Place the cookies, with the pointed end tucked underneath, on a baking sheet lined with parchment paper. Chill for 30 minutes.
Preheat the oven to 350°F, Gas Mark 4.
Brush each cookie with the egg wash. Combine 3 tablespoons of sugar and 1 teaspoon of cinnamon, then sprinkle it over the cookies. Bake for 15 to 20 minutes, or until they are lightly browned.
Transfer to a wire rack to cool before serving.
Notes
Store the leftover Rugelach in an air-tight container and refrigerate. Consume within 3-4 days.
Ina Garten's Rugelach FAQs:
How Do I Store Rugelach? 
Once the baked rugelach is cooled, transfer the cookies into large air-tight containers.
You can either freeze them or refrigerate them. If you are freezing them, they can last up to 2 months, if you are refrigerating them, they should be eaten within 3-4 days.
How Do I Warm Up Rugelach?
The best way to warm up rugelach without ruining the taste or texture, is to pop them into a preheated oven (300F) and bake them for 5-7 minutes. This by no means will overcook them, it will simply help warm them through without ruining their crunch.
What Does Rugelach Taste Like?
Rugelach has a sweet and crunchy taste. Depending on the fillings, it is somewhat similar to many French pastries, such as
croissants.
More Ina Garten Dessert Recipes You May Like: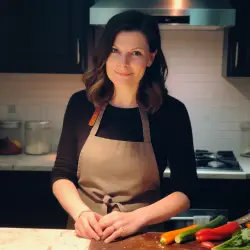 Latest posts by Barbara Hunt
(see all)