If you're looking for some delicious, reliable recipes to try on Thanksgiving, The Barefoot Contessa, otherwise known as Ina Garten, is a great source! 
Ina has a wealth of tasty recipes that are sure to your Thanksgiving extraordinary. You'll find some of Ina Garten's best Thanksgiving recipes below. 
Whether you're visiting family, planning a Friendsgiving, or enjoying a couple's feast with your partner, these are sure to please everyone gathered around the table. 
If you're ready to discover some luscious dishes that are packed with traditional Thanksgiving flavors, keep reading! 
We'll start this list off with these tasty green beans.
They may not be as popular as other Thanksgiving sides, like cranberry sauce or mac and cheese, but these beans are full of flavor and go well with a lot of main dishes. 
These green beans are made with lemon zest, pine nuts, and Parmesan cheese, making them extra decadent. Toss with high-quality olive oil and plenty of black pepper before serving!
Brussels sprouts are another nice side dish to enjoy at Thanksgiving. 
This recipe tosses the vegetables with balsamic vinegar and pancetta. These ingredients give the sprouts tasty flavors that can convert any Brussels sprouts haters! 
The pancetta gives the sprouts a hearty feel, while the vinegar adds an acidity that cuts through each bite. 
The pancetta pieces are sure to keep people coming back for more sprouts, even if you have any picky eaters at the table!  
Parsnips and carrots are often enjoyed at Thanksgiving. 
This recipe involves preparing the vegetables with orange juice, which gives the dish a nice, satisfying tang.
Sliced shallots give the vegetables sharp, slightly sweet notes, while red pepper flakes add a pleasant spice. 
If you don't have shallots on hand, you can substitute for half a small onion, but keep in mind that this will make the dish taste sharper, and less sweet. 
Ina Garten has said that this recipe is the creamiest and crustiest mac and cheese she's ever come up with (see also "Best Ina Garten Mac And Cheese Recipes")! It's certainly a decadent dish, thanks to the heavy cream, sharp white cheddar, butter, and breadcrumbs. 
Each bite has a crisp crust and a velvety, thick cheese sauce that pleases the senses. You'll also notice hints of nutmeg running through, giving the dish a gentle, fall-appropriate spice.
The great part about this dish is that you can put it together in under half an hour. This is perfect to take the stress out of a Thanksgiving day full of preparing other meals.  
Apples and butternut squash are both reminiscent of fall, and what better way to enjoy them than in this creamy soup? 
You'll be blending onions, butternut squash, apples, and cider to make this recipe. This dish is full of savory and sweet notes, as well as a gentle spiciness from the curry powder. 
If you don't drink, you can swap the cider for apple juice. This will give the soup similar fruity flavors, without any alcohol. 
Enjoy this warming soup (Also check out Best Ina Garten Italian Wedding Soup Recipes) with slices of toasted, crusty bread topped with goat's cheese – simply divine! (Also check out Best Ina Garten Tomato Soup Recipes)
Figs and goat's cheese are a match made in heaven, and this recipe makes the most out of this pair! 
These toast slices work great as an easy-to-make appetizer, as you can have these made in just a few minutes. 
You'll be toasting small slices of bread and topping them with fig slices and goat's cheese. A drizzle of balsamic vinegar brings out all of the different flavors in each piece, adding a pleasant, slightly sweet, acidity. 
If you decide to make these, remember to choose a thicker fig spread, as this makes it easier to layer the cheese on top. 
A salad bowl is always needed at a get-together, and this cape cod salad won't disappoint! 
It's packed with tasty ingredients, like walnuts, apples, and cranberries. You'll also notice a crunch from the thick-cut bacon, and a creamy, slightly salty element from the blue cheese. 
The dressing helps tie everything together. Orange juice and cider vinegar add some acidity, while mustard gives each forkful a little kick. 
You'll also be using maple syrup for a little sweetness, which is perfect for adding to a Thanksgiving plate! 
Thicker bacon pieces work best for this salad, so remember to avoid chopping them too thin. 
This recipe is Garten's update from traditional pots of cranberry sauce as it's full of fresh, fruity flavors. 
You'll be heating fresh cranberries and apples with orange and lemon peels. This creates a homemade sauce that is tart, sweet, and juicy – great for enjoying with a Thanksgiving turkey! 
The sauce is also mixed with nuts and raisins, which give each spoonful a nice crunch. Make sure you give the conserve enough time to cool down, as it needs to be served chilled. 
Ina Garten's traditional turkey recipe feels like it was made for sharing around a Thanksgiving table! 
You'll be dressing the turkey with plenty of seasoning and stuffing it with flavorful herbs, garlic, and onions. 
Once you're ready to cook, the bird is brushed with a zesty, creamy, butter blend. The result is a golden brown turkey that's crisp on the outside and soft on the inside. 
Before you transfer the bird to a platter, make sure you cover it with foil and let it stand for 20 minutes. This ensures that the bird doesn't dry out, keeping it as tender and moist as possible. 
If you want to garnish the turkey, herb sprigs, and fresh fruit, like grapes and orange slices, work best! 
If preparing a turkey, along with other dishes, for Thanksgiving stresses you out, this recipe should be your go-to. 
You can make this turkey earlier in the day, pre-carve it, then present it on a gravy layer platter as you serve it to guests.
One drawback is that you won't be able to carve it at the table, but it ensures you are relaxed, preparing food in a relaxed, leisurely manner. 
The gravy recipe is also incredibly delicious. You can prepare this a day earlier than the turkey, keeping it in the fridge until you're ready to use it. 
As you layer the turkey on top of the gravy, consider adding grapes, figs, or rosemary sprigs around it for decoration! 
This stuffing recipe involves lots of fall-appropriate ingredients, like apples, rosemary, and almonds (Also check out Ina Garten Stuffing Recipes). It's also very decadent, thanks to the French bread pieces and butter in every spoonful. 
Celery and parsley give the dish savory notes, while onions give the stuffing a nice sharp feel, with a slight sweetness as it cooks. 
This stuffing is the perfect dish to soak up any leftover gravy on your Thanksgiving plate, so it's sure to go down a treat!
It wouldn't be Thanksgiving without a side of mashed potatoes. These garlic mashed potatoes are savory, creamy, and incredibly delicious! 
The beginner-friendly recipe is similar to other mash recipes, except you'll be adding garlic to the potatoes before you process them. 
Heavy cream ensures that the dish is thick and indulgent, but if you'd prefer a lighter dish, you can substitute it for crème fraîche instead. 
If you're not a fan of mashed potatoes, give these smashed potatoes a try! 
This update from a traditional holiday recipe involves red potatoes and parmesan cheese. This recipe is cheesy, creamy, and full of incredible flavors. 
The parmesan gives the dish distinct salty flavors, while the red potatoes infuse it with an underlying sweetness.
This dish is also very easy to make, which gives you more time to focus on preparing other Thanksgiving dishes. 
Top with plenty of fresh chives and a little sea salt for maximum flavor! 
People regularly debate over whether pumpkin pie or apple pie is better during Thanksgiving. If you prefer the former, this pumpkin pie is full of traditional flavors that always go down a treat! 
Classic ingredients, like pumpkin puree and brown sugar, blend with fall-appropriate spices, like ginger, nutmeg, and cinnamon.
Orange zest adds a gentle tang to each slice, while heavy cream keeps the dessert incredibly decadent. 
The secret ingredient here is the rum whipped cream. As you ladle a dollop onto every slice, the cream's sweet, toasted, and slightly boozy notes will complement each creamy bite of pie well. 
This pumpkin pie is a crowd-pleaser, so don't be surprised it disappears before your eyes! 
If you and your guests prefer apples over pumpkins, treat them to a slice (or two!) of this deep-dish apple pie. 
This dessert involves mixing apples with traditional spices, like cinnamon and nutmeg, with zest and juices from lemons and oranges. You'll be filling a thick, flaky pie dough with this sweet, slightly tart mixture. 
The dessert is pleasantly soft and flaky on the outside while being moist and juicy on the inside. It's the perfect way to finish off your Thanksgiving meal!
Final Thoughts
Ina Garten is the queen of simple, uncomplicated recipes. The list above is just some of her recipes that go great with Thanksgiving, but this isn't an exhaustive list! 
Garten has many more recipes to choose from, but if you're feeling stuck on what to serve around the holidays, this list is a nice starting point. 
We hope you enjoy making some of these Ina Garten Thanksgiving recipes (see also: 5 Amazing Ina Garten Cookie Recipes To Try Today)and sharing them with your loved ones! 
Frequently Asked Questions
What Are 5 Must-Haves On A Thanksgiving Dinner?
Though households differ on what items to serve at Thanksgiving, five common features are oven-cooked turkey, mashed potatoes, gravy, cranberry sauce, and a pie of sorts for dessert.

A side dish of vegetables is also recommended, like asparagus or green beans. 
What's The Hardest Thing To Make On Thanksgiving?
Many people agree that cooking a turkey is one of the hardest jobs to do on Thanksgiving.

Preparing the turkey in enough time, preventing it from overcooking, and keeping it warm enough to serve are all common worries on the day. 
Should You Bring A Gift To Thanksgiving?
It doesn't matter what the occasion is, but if you're visiting another person's house for dinner, particularly on Thanksgiving, it's always polite to bring a small gift.

A bottle of wine, cheese and crackers, craft beer, and flowers are all nice choices. 
15 Amazing Ina Garten Thanksgiving Recipes To Try Today
Course: Recipes
Ina Garten is known for her tasty recipes, some of which are great to try around the holidays! Find some amazing Ina Garten Thanksgiving recipes here.
Directions
Pick a recipe from above
Click the recipe name and visit the website
Collect the ingredients and the food
Enjoy – don't forget to leave a review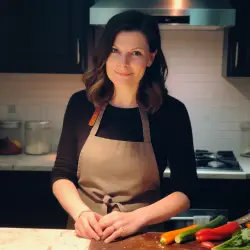 Latest posts by Barbara Hunt
(see all)