Ina Garten's seafood recipes are great to prepare for weeknight dinners, as well as for special events.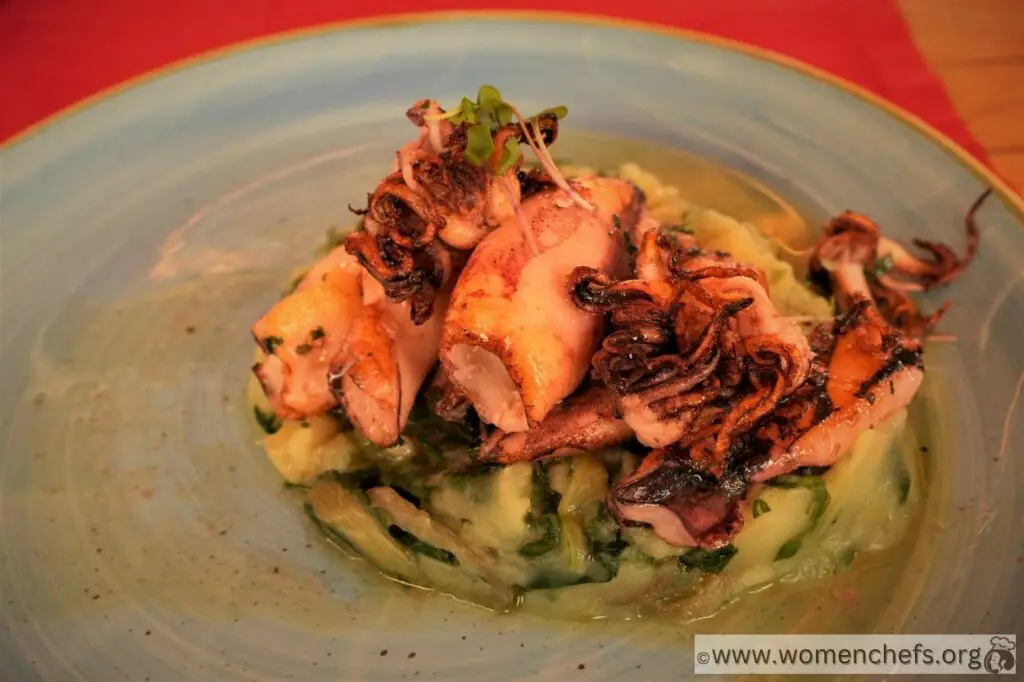 Many of these recipes are made with flavorful types of seafood, like lobster, shrimp, and crabmeat. These dishes also contain other complementary ingredients that tie all the flavors together in each dish. 
If you're looking for some simple, balanced, and tasty seafood dishes, keep reading! You'll find the best Ina Garten seafood recipes in this post (see also "Amazing Ina Garten Pie Recipes To Try Today"). 
Whether you need a quick recipe when you're short on time, or a complex dish to please guests, you'll find a range of Garten's delicious seafood recipes below. 
Keep reading to discover some of The Barefoot Contessa's best seafood dishes! 
We'll kick this list off with Garten's filling seafood gratin. Also known as seafood casserole, this recipe is a traditional dish that contains a mix of different seafood. 
Scallops, lobster, and shrimp are mixed with a thick, creamy sauce, along with some vegetables, then layered with a breadcrumb topping. The gratin then stays in the oven until it turns bubbly and golden brown. 
This dish is certainly decadent, thanks to the butter, white wine, and heavy cream. Garlic and fresh herbs add a nice zing to the dish, which cuts through some of the heavier ingredients. 
You can make this seafood gratin earlier and keep it in the fridge before you need it, so it's a nice choice to serve to dinner guests. 
This linguine recipe will soon turn into one of your favorite dishes! It's certain to go down a treat with your loved ones, thanks to all of the hearty, delicious ingredients.
You can prepare this dish in just under half an hour, making it great for quick dinners when you're short on time. You can save even more time by purchasing deveined and pre-peeled shrimp, instead of ones that need to be cooked. 
This linguine goes great with thick, crusty bread slices, and salad on the side (Also check out Best Ina Garten Garlic Bread Recipes). The recipe involves hot pepper flakes, but if you're not a fan of spice, extra parsley leaves work well as a substitute. 
If you're looking for a salad recipe that is anything but boring, you need to give this lobster cobb salad a try! 
Traditional cobb salad tastes great on its own, thanks to filling bacon, cheese, and avocados. These ingredients taste even better when you add lobster meat to the mix. Lobster has a decadent feel that elevates this salad to new heights. 
The vinaigrette's Dijon mustard gives the salad a pleasant kick, while lemon juice complements the lobster's juicy, moist meat well. 
Keep in mind that using cooked lobster means you can make the salad faster, but it usually costs a lot more than fresh lobster. It may be worth preparing fresh lobster a couple of days before you make the cobb salad. 
Shrimp cocktail is a well-loved appetizer that is also very quick to prepare! 
Most shrimp cocktail recipes involve poached or boiled shrimp. Garten's recipe, however, involves roasted shrimp, which changes the starter for the better. 
Roasted shrimp are sweet, soft, and packed with flavor. The shrimp have a nice bite to them and soak up some notes from the sauce's ingredients, like lemon juice, Tabasco sauce, and Worcestershire sauce. 
You can enjoy this dish straightaway, or allow it to chill before serving. No matter which you choose, never leave the cocktail out for two hours, or just one hour if it's quite warm. 
This curry recipe is great for beginners. It contains a lot of ingredients, but don't be put off, as the steps are very easy! 
This curry is full of flavorful, fragrant spices, like cumin, cayenne, turmeric, and curry powder. This gives the curry a wonderful heat that isn't overbearing, but if you like it spicy, feel free to add some chili powder. 
The swordfish and shrimp are tender and moist, soaking up some of the curry's fresh flavors. You'll also be adding lime juice and zest to the dish. 
These have a zestiness that complements the seafood's meaty texture, which also goes well with the ginger, garlic, and jalapeño peppers.
Just remember to take care when you mix the lime in, as the swordfish's soft texture can come apart easily.  
Here's another easy recipe that you can have ready in just one hour! 
This lobster dish is full of traditional paella ingredients, like onion, rice, and stock. The basmati grains soak up all of the stock's chicken flavors, while saffron gives the dish a gorgeous yellow hue. 
In addition to lobster, you'll also be adding kielbasa sausage to the dish. These two protein sources ensure that the paella is hearty and filling. 
Interestingly, Garten's recipe involves adding licorice-flavored liqueur to the dish. This gives the paella a sweet, slightly metallic flavor that complements the rich ingredients well. 
Top your paella with parsley and lemon wedges for a nice touch! 
Ina Garten has a lot of lobster recipes and these fishcakes do not disappoint! This recipe is suited to intermediate-level cooks, though the steps are relatively simple. 
The bulk of these fishcakes comes from cod fillets and lobster meat. The cod is quite easy to work with, while lobster and Japanese breadcrumbs give each bite a luxurious, decadent feel. 
Other ingredients, like lemon zest, Dijon mustard, and yellow onion give each portion a pleasant sharpness, as well as a slightly sweet feel as the onion cooks. 
You'll also be making a Remoulade sauce on the side. This contains high-quality mayonnaise, mustard, cornichons, and champagne for an incredibly grand dip.
The result is a creamy sauce with a slight acidity, which complements the seafood's tender, light flavors well. 
Enjoy the fishcakes soon after they are cooked, as they are best enjoyed hot. 
Cioppino is a tomato-based stew that's packed with tasty seafood. 
Cioppino can be made with practically any type of seafood, but Garten's keeps things simple by sticking with mussels, cod, scallops, and shrimp.
The recipe also involves making garlic toast. This is easy to prepare and tastes amazing when dipped into the stew. 
You'll also be adding other tasty ingredients, like onion, fennel, white wine, and crushed tomatoes (Also check out Best Ina Garten Tomato Soup Recipes). The seafood stock is also prepared at home, but fear not, as this is a lot easier than it looks!
The stock involves simmering vegetables, tomato paste, and shrimp in white wine. The result is a savory liquid that will elevate your stew to new heights. 
One thing is to remember that you'll need to add the seafood in the right order: cod, shrimp, scallops, then mussels for last. This ensures that the softer fish pieces don't break up while you stir the stew. 
If you're looking for a way to make mac and cheese even better, try this Ina Garten's lobster version! The lobster elevates this classic dish, making it a nice choice to serve to others at anniversaries, Thanksgiving, or Valentine's Day. 
You'll need to cook the lobster before you make the mac and cheese. You can purchase precooked lobster, but keep in mind that this often costs a lot more compared to fresh. 
A tip is to save the water you use for cooking the lobster and cook the pasta in it. This will infuse the pasta with the same, savory seafood flavors. 
You'll be using extra sharp cheddar and Gruyere cheese for this recipe. These give the dish a creamy, slightly sharp feel. Garten also uses nutmeg for this dish, which adds a gentle spicy note through each bite. 
This lobster mac and cheese goes well with fresh, crusty white bread slices, but it tastes great on its own too! 
Final Thoughts
Those were some of Ina Garten's best seafood recipes! You'll find a mix of recipes above, from easy, straightforward dinner options to elegant, lavish entrées. 
Have fun trying some of these Ina Garten seafood recipes (see also: 8 Best Ina Garten French Toast Recipes To Try Today)out for yourself and see which one's take your fancy. You never know, you just might find a new favorite! 
Frequently Asked Questions
How Do You Cook Shrimp And Keep It Moist?
Instead of preparing shrimp at a lower temperature for a longer period, it's best to either sauté or sear shrimp on a higher heat. This will give the shrimp a nice consistency, keeping them tender and moist instead of wiry and chewy. 
What Goes Best With Ina Garten's Seafood Dishes?
Ina Garten's shrimp scampi goes well with a small starter, like chicken soup. If you're drinking, a nice white or rosé wine will complement the shrimp well.

You can also finish off with a slice of Garten's chocolate cake. The dessert and main have similar rich, hearty flavors that go well with each other. 
What Is The Best Seafood For Beginners?
If you're a beginner, choose a fish that complements several flavor profiles. Cod has a gentle taste to it and a flaky, soft consistency. It's also relatively easy to prepare compared to other types of fish, like salmon.

Another example is tilapia, though this is less firm compared to cod, so beginners may find it harder to work with.
9 Amazing Ina Garten Seafood Recipes To Try Today
Course: Cookbooks
Directions
Pick a recipe from above
Click the recipe name and visit the website
Collect the ingredients and the food
Enjoy – don't forget to leave a review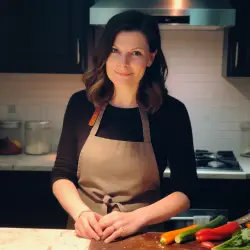 Latest posts by Barbara Hunt
(see all)