If you're ever getting bored of the same dishes you make each week, you need to try some of Ina Garten's recipes! 
Known as The Barefoot Contessa, Ina is known for her simple, easy, and extremely delicious recipes. These always go down a treat with others and can save you from kitchen monotony, helping you fall in love with cooking again. 
Ina's shrimp recipes are examples of great dishes that will keep you and your family satisfied. 
If you're thinking about cooking with shrimp for your next meal, here are some of Ina Garten's best shrimp recipes (see also: 7 Ina Garten Roasted Shrimp Recipes To Try Today)to choose from. 
Whether you need a quick starter to tide you over till your next course, or a comforting main dish that is full of different flavors, you're bound to find a shrimp recipe that suits your taste in this post!
Ready to discover some of the Contessa's incredible shrimp dishes? Keep reading! 
This baked shrimp scampi can be enjoyed on its own as a starter, or spooned over some rice or pasta for a main course. This dish is quick and easy, as you can have it ready in under half an hour! 
This is a very simple recipe, The shrimp are marinated in white wine, olive oil, and buttery breadcrumbs. They are then baked until the shrimp turn pink and the dish forms a crisp, tasty crust.
The result is a hearty, butter dish that is full of tasty flavors, thanks to the rosemary, pepper, parsley, and lemon zest. 
This baked shrimp scampi is great for weeknight dinners, but it's elegant enough to serve on special occasions too. 
These grilled shrimp skewers are perfect for backyard gatherings, especially as the weather turns hot! 
The shrimp are light, yet satisfying, as they soak up all of their marinade flavors. Onions and Dijon mustard give each skewer a little kick, while lemon juice adds a nice acidity that cuts through the protein well. 
The mango salsa is a must, as mangos, brown sugar, and orange juice give the shrimp a touch of sweetness, while mint and jalapenos add spicy, peppery notes.
This dish is the perfect blend of sweet, savory, and spicy notes – just delicious! 
You'll need to marinate the shrimp for two days before making this dish, so remember to plan accordingly.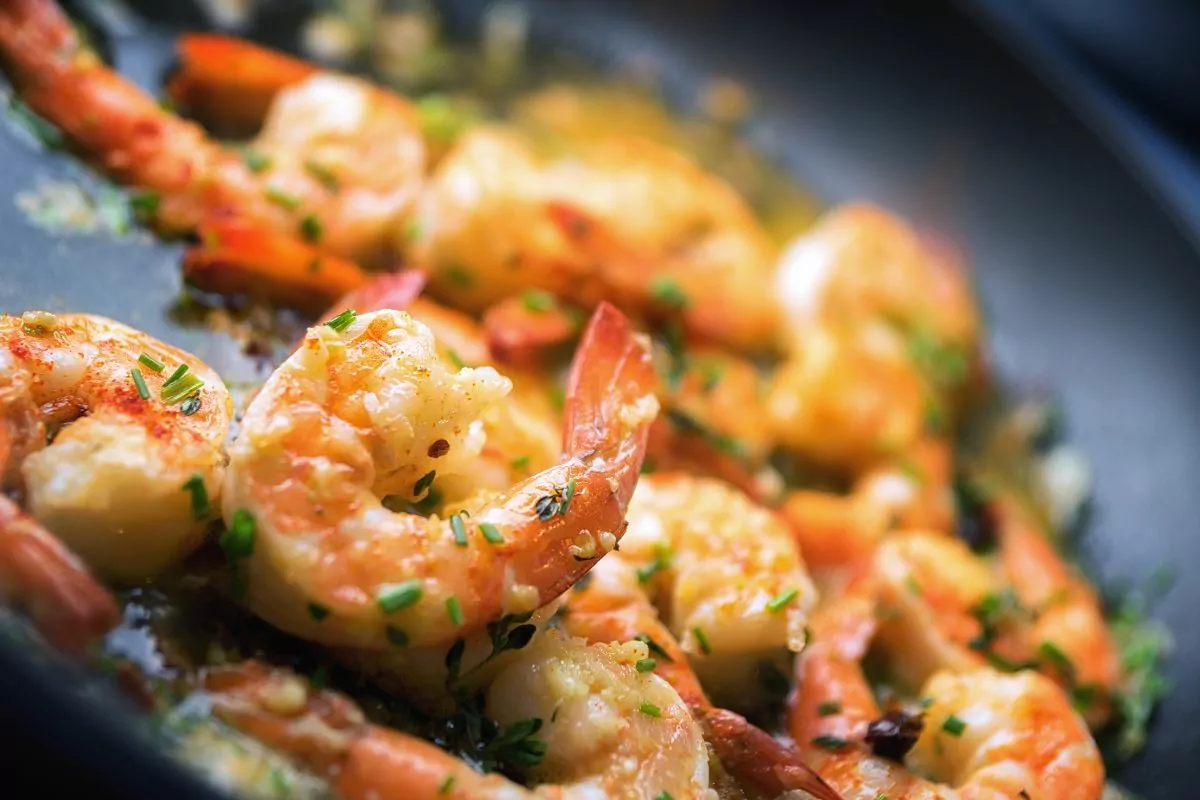 This shrimp dish looks complex, but it's incredibly easy to put together! It works well as a starter paired with slices of crusty bread, as each slice soaks up the shrimp's tasty juices.
You'll be cooking shrimp with some flavorful ingredients, like olive oil, fennel, red pepper, and
Garlic. The fennel gives the dish a peppery, distinct taste, while garlic and olive oil keep each bite tasting rich and delectable. 
Pernod is optional, but we'd recommend it. This anise-flavored liqueur gives the shrimp licorice flavors, with strong notes of mint, coriander, and fennel. 
Remember to keep an eye on the shrimp while they cook to ensure they turn pink. Top the dish with black pepper and chopped fennel to tie everything together! 
Here's a shrimp cocktail recipe with a difference! 
Most shrimp cocktail recipes involve steamed or boiled shrimp. Ina's recipe roasts the shrimp instead, which makes each piece crisp on the outside and soft in the center. 
All the shrimp pieces soak up some of the cocktail's flavors, thanks to ingredients like lemon juice, chili sauce, and Sriracha. 
Mayonnaise keeps the cocktail thick and creamy, while Worcestershire sauce adds a nice, savory touch.
Capers and green onions also give each spoonful a satisfying kick, particularly when paired with the horseradish. 
This shrimp cocktail is great for serving as a starter at important events, but as it can be prepared in just 30 minutes, you can enjoy it as a treat too! 
This main course is perfect for weeknight dinners, especially if you only have time for a quick meal. You only need 25 minutes to put this pasta dish together, which is great when you have other things to do later on. 
You'll be cooking shrimp with olive oil and plenty of seasoning, then tossing them in angel hair pasta, butter, and lemon juice.
The butter and olive oil gives the pasta a rich, hearty feel, while lemon juice adds a zing that cuts right through the shrimp. 
The result is a buttery, filling, and incredibly satisfying meal which takes minutes to prepare! This is dish is sure to go down well with your family members, so remember to make enough to go around! 
Chowder is usually a quick recipe that's prepared on the stove, but Ina's recipe involves the oven in addition to the stove.
This adds time to the recipe, so you'll need over two hours to put it together. Try not to be put off by this, as the extra steps make the result incredibly delicious! 
This chowder is packed with seafood pieces, including monkfish, scallops, shrimp, and crabmeat. 
You'll be cooking the fish with corn, carrots, onions, and potatoes in a thick, seafood stock. The fish takes on flavors from the stock and vegetables, while potatoes make the dish very filling. 
Heavy cream is optional, but we'd recommend using it. It transforms the chowder into a warming, comforting, dish that's perfect for cold nights in. 
This shrimp curry is made with warming spices and vibrant colors that brighten up any dinner table!
The bulk of this meal comes from the fish, as you'll be using protein-filled shrimp and swordfish. You'll also be cooking flavorful ingredients, like bell peppers, jalapenos, onions, and ginger in butter and oil. 
Cayenne pepper, curry powder, and turmeric give the dish a nice spiciness that isn't too hot.
The turmeric also gives the curry a beautiful yellow tint, which looks amazing in contrast with the red tomatoes and green jalepeńos. 
Lime juice adds a pleasant zing that complements the richer ingredients, particularly the fish that absorb all of the curry's flavors. 
This curry tastes amazing spooned over some basmati rice, or on the side with some fresh, warm naan. 
This shrimp salad is perfect for warmer days, as it's light, refreshing, and tasty! You can put all the ingredients together in just 20 minutes, though you will need to let it chill in the fridge before serving. 
You'll be boiling the shrimp in a mixture of water, salt, and Pernod. The shrimp take on some of the liqueur peppery flavors, which makes them taste even better later on. 
You'll also be making a classic creamy salad, with scallions, tarragon, celery, and mayonnaise. The sauce coats all of the leaves, while lemon juice gives the salad a satisfying tang. 
This salad tastes best chilled or at room temperature, but avoid leaving it out for too long, as the shrimp may go bad. 
A bisque is a thick, hearty soup that often contains seafood. It's like a chowder, except the bisque ingredients are pureed, instead of keeping the seafood whole. 
The name may make this dish sound complicated, but it isn't hard to make! 
Ina's bisque contains classic ingredients, like shrimp, seafood stock, and olive oil. Cayenne pepper, garlic, and black pepper give the soup a nice kick, while brandy and dry sherry deliver underlying sweet notes. 
You'll also be using half-and-half to give the bisque a pleasant creamy texture, as well as flour to help the liquid thicken. 
This tastes amazing on its own, but thick bread pieces go very well with the bisque, especially when topped with garlic butter!  (Also check out Best Ina Garten Garlic Bread Recipes)
Final Thoughts
Those were some of Ina Garten's best shrimp recipes. The list above should help you out, whether you're looking for a guest-pleasing starter or a simple, yet filling, dinner option. 
Have fun experimenting with Ina's shrimp recipes at home and see which one you like the best! (Also check out Amazing Ina Garten Fish Recipes)
Frequently Asked Questions
Should You Cook Shrimp Fast Or Slow?
Shrimp cooks quickly, so it's best to sauté or sear them at a high temperature, for a shorter amount of time. Keep a close eye on the shrimp.

Their color should begin to change, from grey to pink, taking on a curved shape as they cook. Medium-sized shrimp will need around two minutes to cook through, while larger ones will need around three minutes.
Should I Rinse Shrimp Before Frying?
It's best to rinse shrimp before cooking to ensure it's free from any dirt or debris. Give your shrimp a rinse with cold water to remove any grime or loose shell pieces from the seafood.

Once you're done cleaning the shrimp, lay them to dry on a paper towel before adding them to your recipe. 
Are Shrimp Healthy To Eat?
Shrimp is a healthy food as it contains a lot of minerals and vitamins, as well as being full of protein. Even though shrimp is low in calories, they contain antioxidants and iodine that can have several health benefits.

Eating shrimp may also improve brain function and heart health, as it contains a lot of omega-3 fatty acids.
9 Amazing Ina Garten Shrimp Recipes To Try Today
Course: Recipes
Directions
Pick a recipe from above
Click the recipe name and visit the website
Collect the ingredients and the food
Enjoy – don't forget to leave a review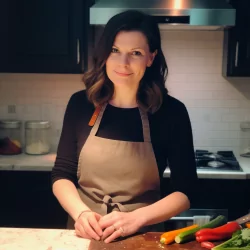 Latest posts by Barbara Hunt
(see all)