Ina Garten has become a popular TV food personality thanks not only to her knowledge of food but also because of her welcoming personality.
Her recipes often provide us with an understanding of cuisines beyond our own, those of Europe and wider afield, but always presents the information in a way that American audiences understand, teaching while also entertaining.
One thing Ina knows well is her meats, and today we are going to look at her turkey recipes.
Whether you want to become more comfortable with the low calorie meat, or are looking for things to do for Thanksgiving, or even using Thanksgiving leftovers, we have you covered. 
If you want to learn more about turkey and cooking in general, keep reading to find out more today.
If you are one of those who struggles at Thanksgiving, maybe without the cheffing ability or confidence to successfully spin all those plates at once, this recipe can really help clear things up.
This make ahead Turkey is a foolproof guide to have succulent turkey and an impressive gravy, should you be prepared to put a few days aside to guarantee success.
This is one of Ina's favorites, and likely one that has helped get Turkey to the table for many American households; the foolproof plan works and has clear instructions.
In addition, Ina provides what is a really luxurious gravy that helps make sure your turkey goes the whole nine yards without any waste, and you can get every last bit of Thanksgiving success from your turkey, impressing guests and family to boot.
Maybe you aren't after a full turkey, but simply want to start using this leaner meat in your day to day life then this recipe might be better suited to you.
Ina provides easy to follow steps to reach a perfectly cooked and seasoned turkey breast.
It can take around 1-2 hours altogether, but if you do a few you can get your weeknight dinners done in one foul swoop, with plenty of leftovers.
While a little time consuming, you can guarantee it's achievable even as a beginner, coming from Ina's well thought through cookbook Barefoot Contessa How Easy Is That?
In any case, her recipe seasons the breast with a classic herb rub of rosemary, sage, thyme, mustard and other ingredients that is a really great meat seasoning you could use on any cut of meat, and is great to have in your arsenal.
This is a great way to use leftover turkey that you have shredded up or diced in an effective ground, or just a way to get comfortable with ground turkey uses.
Whatever reason you are making this meatloaf, it's one that is great to make ahead of time and bring to a potluck or bbq for something substantial and satisfying.
This is one of Ina's classic recipes from the original Barefoot Contessa Cookbook from 1999 but it shows Ina's class that the recipe has lasted this long and still makes something really satisfying for modern American families.
The recipe is a basic meatloaf recipe, so it does present some good opportunity to add your own favorite things in to make it your own.
A roulade, if you didn't know, is an alternate way you can roast a bird. It usually takes the breast of a bird, or any meat cut, and butterflies it, allowing you to roll it up, providing an opportunity to add stuffing as well.
Put simply, if you aren't keen on dealing with a full turkey carcass, and aren't too skilled at carving, a roulade is a good alternative that yields similar results with less chance of a bad carving – as Ina puts it "An alternative to the traditional turkey feast".
This said, you may need some basic knife skill to successfully butterfly the turkey breast. In any case, the star of the show here is the stuffing Ina suggests, perfect for Christmas or Thanksgiving.
If you can source the ingredients hse suggests such as Calvados, an apple brandy, you will be in for a real treat. But even if you simply adapt some of her flavors with more accessible swaps, you will still be in for a win.
If you are more of a tried and tested homecook and are looking for a turkey recipe that goes a little further, this could be for you.
To be honest, this recipe isn't particularly hard, it's more about what you can restrict yourself from doing, but is more about sourcing the ingredients.
Truffle being the ingredient to source here, many are often gifted truffles around Christmas or Thanksgiving, but many don't know what to do with it, and here's your solution which could even use leftover turkey breast.
Moreover, you could even get  a cheaper cut of turkey and baste it in the truffle butter as directed by Ina, as the truffle will be the dominant flavor here.
This recipe is from Ina's TV show on Food Network and the source of the recipe has gladly written it up for us to use.
On the TV show Inas has some useful tips, such as not basting the bird for crispier skin, and simply stuffing it with garlic in order to ensure an even cook on the bird.
A great way to use leftover turkey meat, especially when you are sick of those holiday  flavors and want something completely different, is Ina's clever turkey chili recipe.
If you are looking for authentic Mexican flavors, this isn;t it, but if you want a simple way to use your leftovers that maximizes flavor and is still healthy and able to serve lots of hungry mouths, look no further than Ina's turkey chili.
This is much more of an American take on the chili, but comes out easy and tasty. While this recipe uses ground turkey, you can use leftover turkey just as easily,or any meat for that matter.
The seasonings are generally traditional, with chili powder, cumin, red pepper flakes, paprika and oregano, but feel free to riff on this as you see fit.
The addition of beans also helps boost the protein of the dish as well as bringing welcome health benefits.
Using turkey for meatballs is often a mistake in the kitchen, ground or leftover, as some will already know that on its own it can make the meatballs a little tough and dry.
Yet, this recipe from Ina shows how to easily overcome this simple hurdle by combining them with Italian pork sausage and prosciutto (Also check out Amazing Ina Garten Pork Tenderloin Recipes).
The meats pair perfectly with the Italian seasonings that Ina suggests. The recipe is a perfect lesson in pairing meats and how this changes as texture changes.
The outcome is a really tender and tasty meatball, that is perfect for any weekday ragu and spaghetti, or can even work as little appetizers.
The recipe also suggests using Asiago which is great if you have it, but something like parmesan or pecorino would also be great.
Final Thoughts
Ina Garten is a wealth of culinary information, and here we can see this is true as she helps us figure out how to use leftover turkey, as well as getting the most out of a full bird.
Whether you are looking for  a foolproof guide to get a full Thanksgiving bird on your table, or simply want a fun and easy leftover turkey recipe for your repétoire, Ina has you covered.
Check out any of her cookbooks or TV shows for further instruction on how to be the perfect homecook.
Whether looking for tonight's dinner, or preparing for the holidays, we hope that whatever you were looking for you found the inspiration necessary to get into the kitchen and cook with confidence – if Ina can do it, we are sure you can too.
Frequently Asked Questions
Who Is Ina Garten?
Ina Garten has been a mainstay of American food TV for a while, since the success of 'Barefoot Contessa'.

The latter is both her gourmet food store where she rose to popular fame, but is also the TV show she hosted on the Food Network, where most of us were introduced to her beaming personality.

She has hundreds of cookbooks, often with 'Barefoot Contessa' in the title which sums up her M.O. when it comes to cooking, to make rustic and homely food to serve family and friends, but still being a little chic and European, learning from traditional culinary history as well as adapting to modern circumstances where appropriate.

People love her style as it shows how to cook efficiently and cost effectively without losing any shine or chic in the process, a perfect opportunity for beginners as well as intermediate homecooks to learn and grow.
7 Best Ina Garten Turkey Recipes To Try Today
Course: Cookbooks
Directions
Pick a recipe from above
Click the recipe name and visit the website
Collect the ingredients and the food
Enjoy – don't forget to leave a review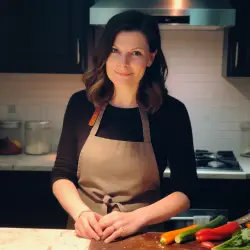 Latest posts by Barbara Hunt
(see all)